Our substitute for Cream of Mushroom Soup tastes better and is healthier than canned cream of mushroom, and you can use it in so many recipes! Perfect for your favorite casseroles and no funky ingredients!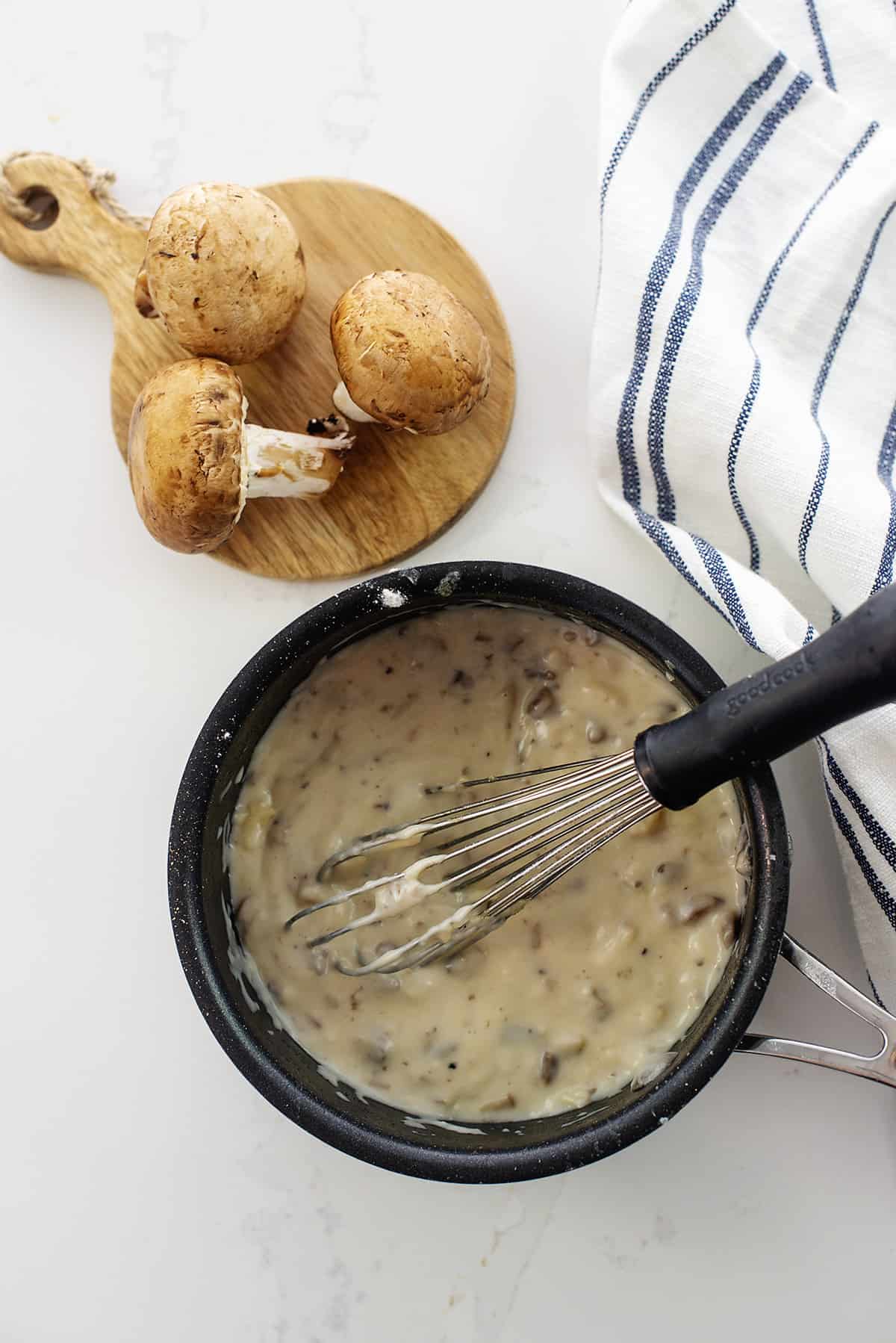 It probably comes as no surprise to any of you that have followed our recipes for long that I am a true Casserole Lover, with capital letters and everything.
I grew up in the Midwest – casseroles flow through my veins. Along with ranch dressing and corn, obviously.
We love casseroles and we're certainly not afraid to use canned soups, but I do try to keep things a little healthier and a little more 'made from scratch' where possible. Also, sometimes I'm midway through a recipe and realize I have no cans of cream soup glop in the pantry. 😉
That's where this Cream of Mushroom Soup substitute comes into play! It tastes better, is much healthier, and works perfectly as as swap for canned cream of mushroom soup.
This is a riff on our ever popular Cream of Chicken Soup substitute, which has been used by thousands of people around the world and always gets rave reviews!
Ingredient Notes: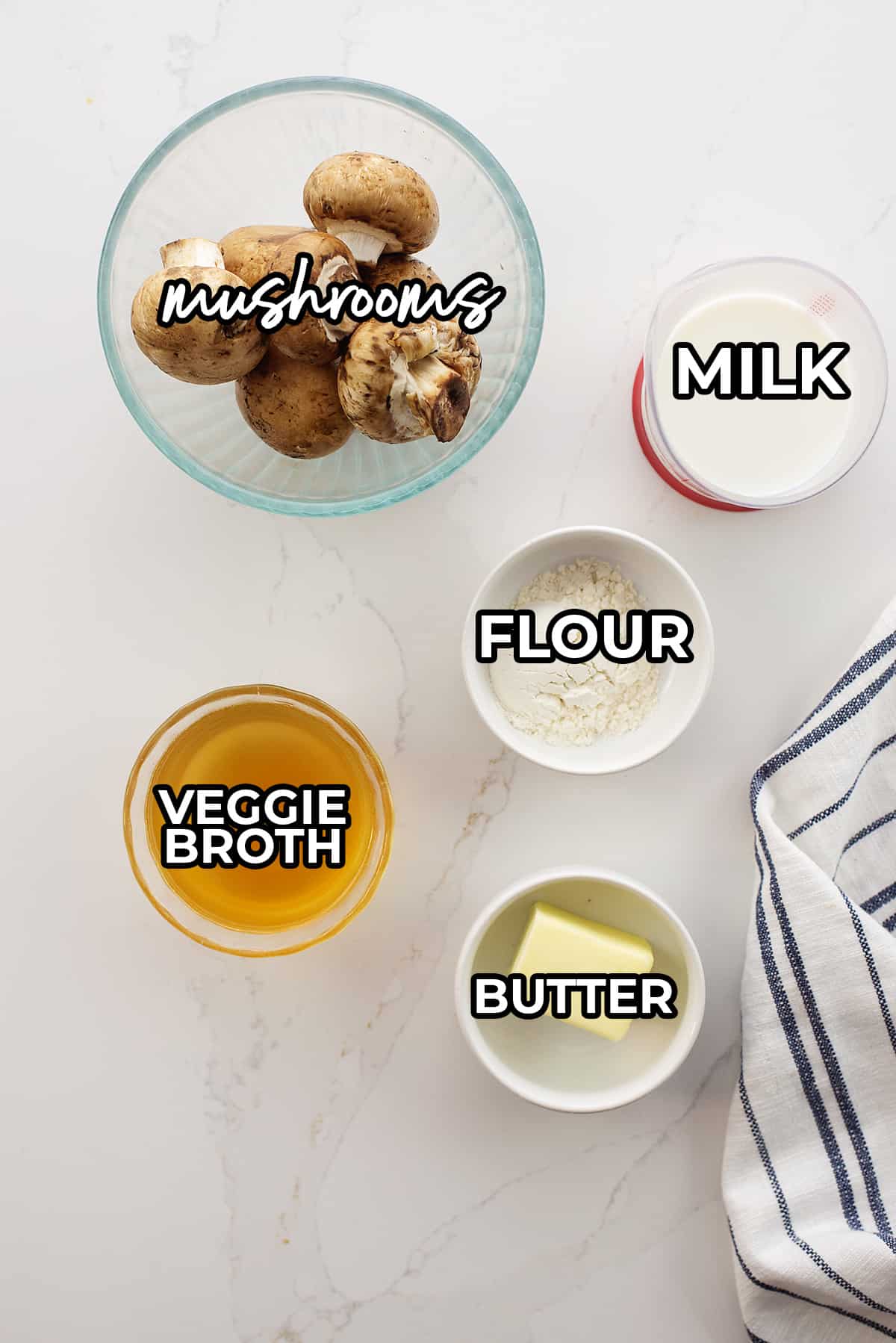 Mushrooms – You can use whatever variety of mushrooms you want in this soup! Cremini or white button mushrooms are pretty common, but other types will work too. They just need to be finely chopped. You can even use a jar of mushrooms instead of fresh, if that's what you've got.
Butter & Flour – We're making a roux to thicken up this creamy soup.
Vegetable Broth – Adds a deeper flavor to the soup, though you could get away with beef broth as well. Water even works in a pinch, but add a bit of seasoning to the soup.
Milk – We usually have 2% on hand, so that's what we use. Any variety should be fine, though the soup will be creamier with higher fat milks. Almond, oat, and coconut milk will also work though the flavor will change a bit. It won't be noticeable in a casserole, though.
What We Love About This Recipe:
There are countless recipes that you can use this cream of mushroom substitute in. If you need some ideas, I've listed a bunch below!
It's not as easy as the canned stuff, but it definitely tastes better.
This one is easy to customize – fresh mushrooms or jarred, veggie broth or beef broth, milk or a dairy free alternative!
How to Make Cream of Mushroom Soup: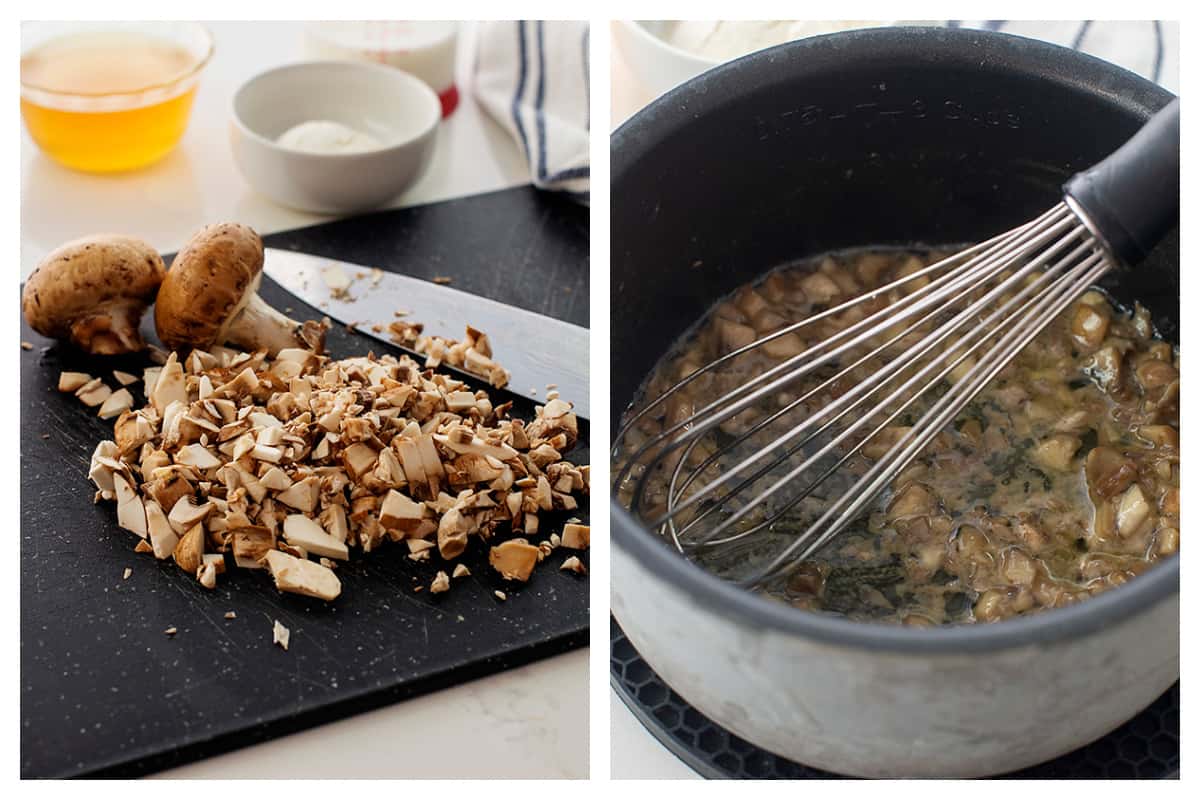 Mushrooms: First up you'll prepare the mushrooms. These need to be finely chopped and then cooked in a saucepan with butter for about 4 to 5 minutes or until they've softened. It shouldn't take long with small pieces.
Flour: To finish off the mushrooms go ahead and sprinkle the flour over them and stir it up well, continuing to cook for another minute.
Broth & Milk: To turn this into a soup go ahead and pour the vegetable broth and the milk into the saucepan with the mushrooms and flour. Whisk it all together over medium heat until it has thickened, about 4 to 5 minutes.
Helpful Tip!
If the soup doesn't seem to be thickening up, turn the heat up a bit and keep cooking and whisking. It just needs a bit of heat and time to thicken up.
Finish: Add some salt and pepper to taste and then remove from the heat. You'll need to let the homemade cream of mushroom soup cool for 15 minutes before using it in any other recipe.
Helpful Tip!
Thick Cream of Mushroom Soup
Keep in mind that most casserole recipes are calling for undiluted cream of mushroom soup in a can – it's a very thick mixture. This won't be quite as thick as the canned soup, but it should be thicker than a traditional soup you'd eat with a spoon!
Want to enjoy our cream of mushroom soup substitute as a rich bowl of soup? No problem, just whisk in extra milk or broth after the soup has thickened to reach your desired consistency! This soup goes pretty great with a side salad and bread. Our cheesy, garlicy air fryer bread is a good choice, homemade biscuits, or our quick dinner rolls!
Recipe Suggestions:
There are lots of great recipes that'll work with this substitute for cream of mushroom soup, and I've listed some below. A few of these use cream of chicken soup, which is pretty interchangeable with the mushroom soup.
FAQs:
How to store cream of mushroom soup?
You can keep this soup in the fridge in an airtight container for about a week. It'll likely thicken up a bit more as it cools. I have never tried freezing or canning this.
Is cream of mushroom soup gluten free?
We use all-purpose flour in our cream of mushroom soup substitute, but I've heard that a 1:1 gluten free flour blend works well in place of the flour.
Is cream of mushroom soup vegetarian?
Our cream of mushroom soup recipe is vegetarian.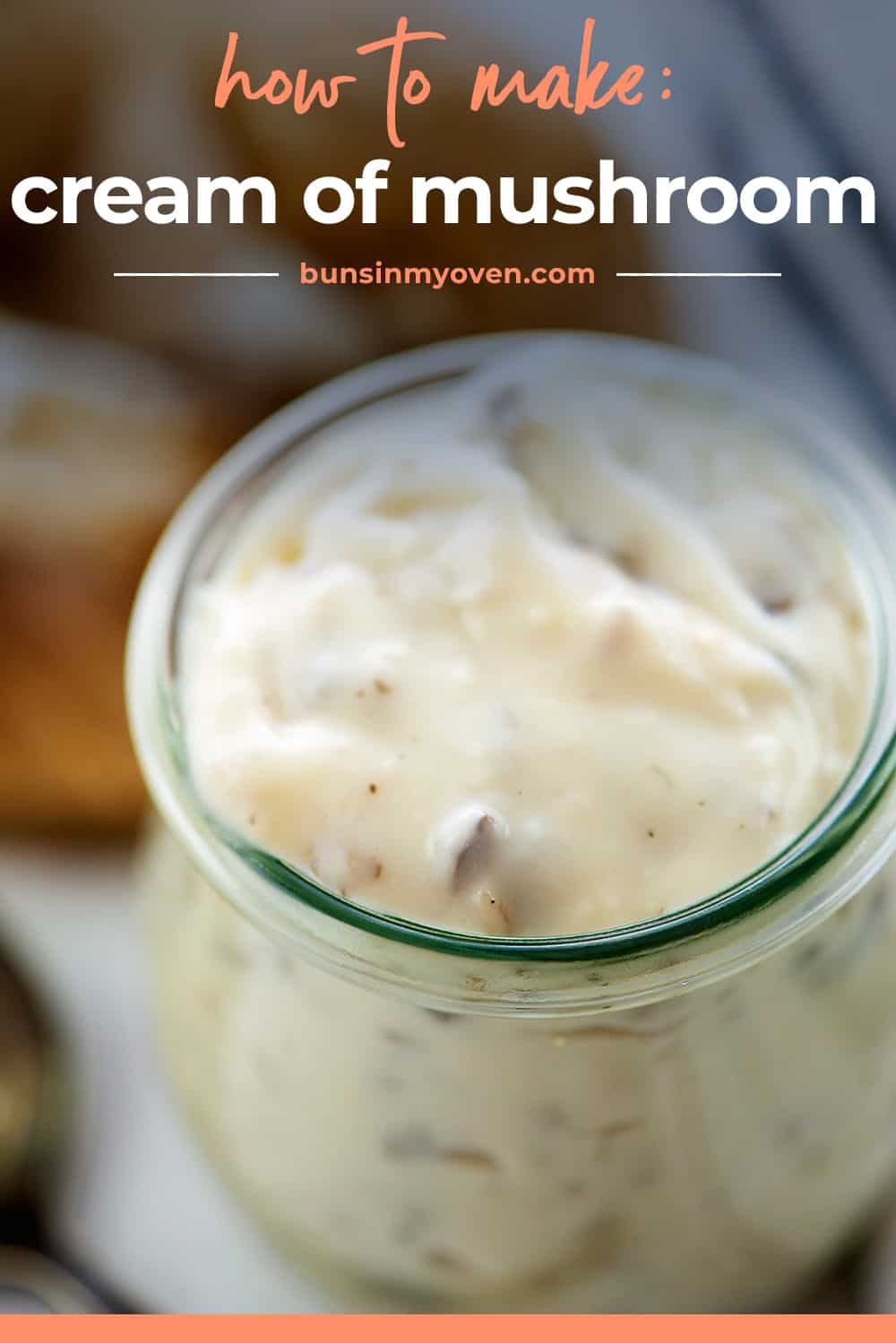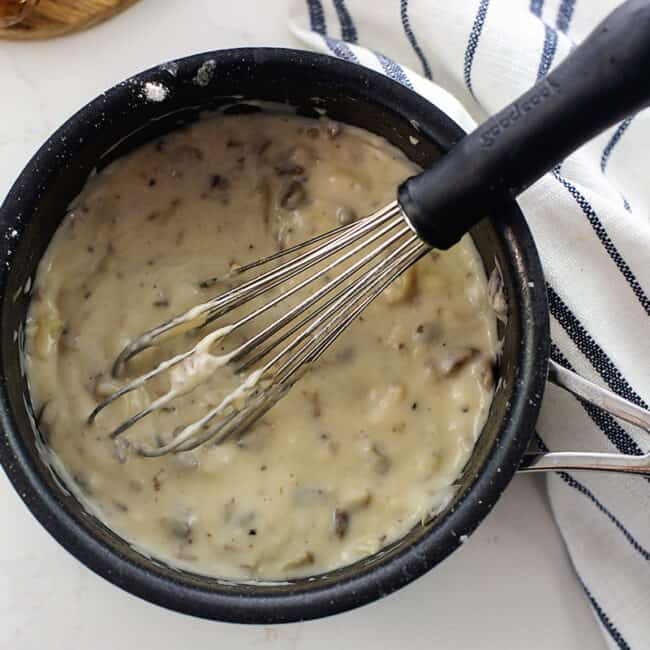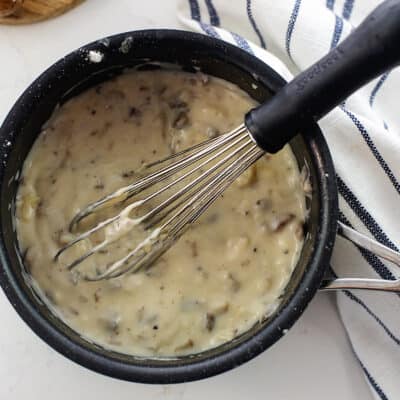 Substitute for Cream of Mushroom Soup
This substitute for cream of mushroom soup is a simple and healthier way to make your favorite casserole! Just stir it in any recipe that calls for canned cream soup. This recipe makes the equivalent of one can of soup.
Prep5 minutes
Cook10 minutes
Total15 minutes
Ingredients
3 tablespoons butter
½ cup finely chopped mushrooms
3 tablespoons flour
½ cup vegetable broth
½ cup milk
Salt and pepper to taste
Instructions
Add the butter to a saucepan over medium heat and melt. Stir in the mushrooms and cook for 4-5 minutes or until softened.

Sprinkle the flour over the mushrooms and stir well, cooking for 1 minute.

Add the broth and milk to the pan and whisk over medium heat until thickened, about 4-5 minutes. The mixture should be quite thick, similar to the consistency of condensed cream soup. It will thicken more as it cools.

Remove from heat and let cool for 15 minutes before using as a replacement for canned cream of mushroom soup in casseroles and other recipes.
Tips & Notes:
To enjoy this as a soup, add more milk or broth to the soup after it has thickened to reach the consistency that you prefer. Season to taste. This recipe makes the equivalent of one 10 ounce can of cream of mushroom soup. Use in any casserole calling for canned cream soup. We prefer fresh mushrooms, but jarred mushrooms also work fine.
Nutrition Information:
Calories: 473kcal (24%)| Carbohydrates: 26g (9%)| Protein: 8g (16%)| Fat: 38g (58%)| Saturated Fat: 24g (150%)| Polyunsaturated Fat: 2g| Monounsaturated Fat: 10g| Trans Fat: 1g| Cholesterol: 105mg (35%)| Sodium: 789mg (34%)| Potassium: 370mg (11%)| Fiber: 1g (4%)| Sugar: 8g (9%)| Vitamin A: 1497IU (30%)| Vitamin C: 1mg (1%)| Calcium: 165mg (17%)| Iron: 1mg (6%)