This Broccoli Cheese Casserole is total comfort food thanks to the melty cheese and crunchy buttery cracker topping. This broccoli casserole with Ritz crackers is made with fresh broccoli, but it's still super quick and easy to get in the oven.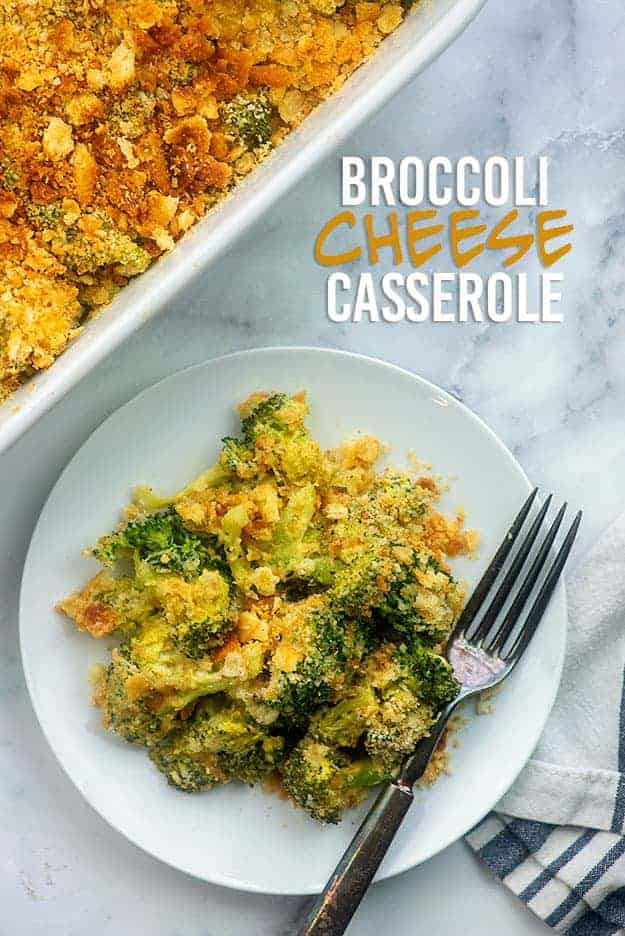 The one vegetable that my entire family eats without a single complaint is broccoli.
Actually, that's not totally true – we just converted my teenage daughter into a salad-eater. Not a salad-lover, but at least she'll eat it without complaints these days.

Anyway, broccoli is the 'safe' veggie in my house. I know that I can serve it up in just about any form and it will get eaten by the whole family. Every mom needs a vegetable like that, right? 🙂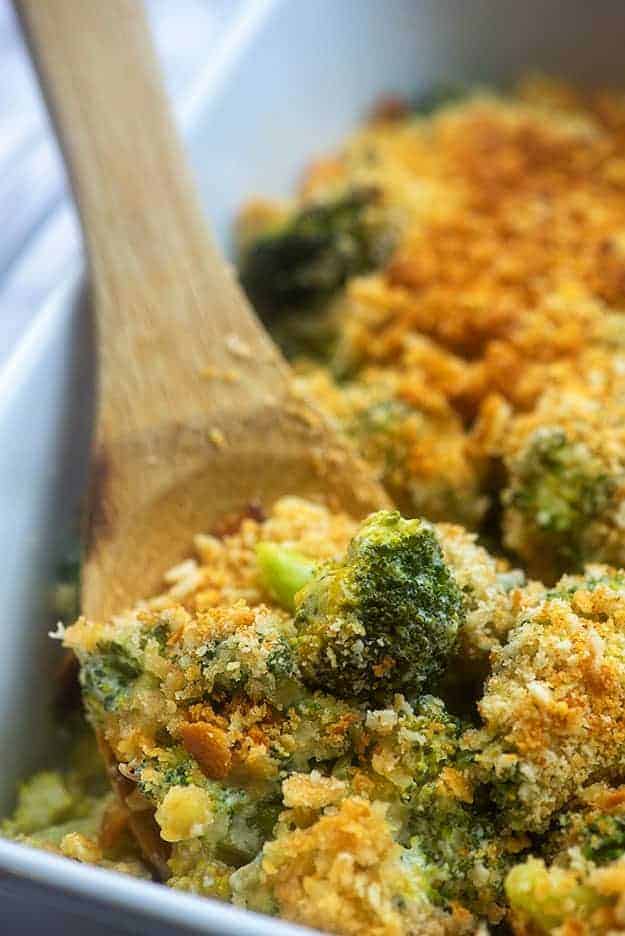 I usually just steam the broccoli and we eat it with a little salt (I hear that's weird, but somehow my kids like it!), but every now and then I like to mix things up. This broccoli cheese casserole is always a hit, thanks to the melty cheese and Ritz cracker topping. Who can resist??
Ingredient Notes:
Broccoli – We use fresh broccoli whenever possible and highly recommend it for the best taste and texture.
Cream – This is a creamy, cheesy broccoli casserole recipe and to get all that creamy flavor you'll add in sour cream along with some cream of chicken soup. Try my homemade recipe or cheat and just buy a can of the soup!
Cheese – Cheddar is a classic, but feel free to use what you've got in the fridge.
Crackers – We make this broccoli cheese casserole with Ritz crackers that we've finely crushed. They make the perfect buttery topping.
What Readers are Saying!
"Great recipe! It was my first time baking the Broccoli Cheese Casserole for dinner and it turned out great! My sister and I enjoyed it! Thank you for sharing!" – Christine
How To Make Broccoli Casserole:
Steam: Toss the broccoli florets into a large microwave-safe bowl and add 1/4 cup of water. Cover tightly with plastic wrap and microwave for 5 minutes.
Let set for 2 minutes before carefully removing the covering and draining the liquid. This gets the broccoli steamed a bit so that it cooks perfectly in the oven. Plus, the hot broccoli helps everything mix together easier.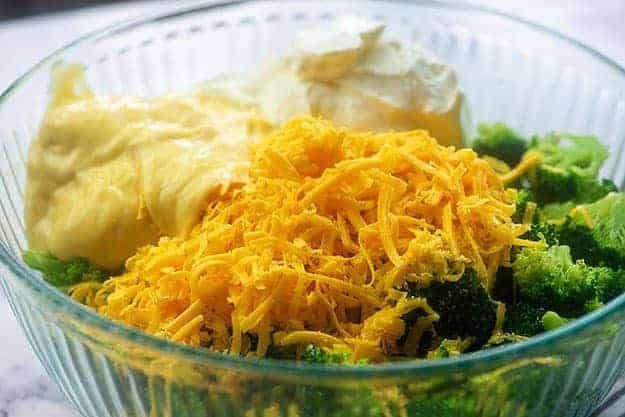 Mix: Add in the sour cream and your cream soup – either chicken or mushroom. We don't love mushrooms in our house, so we use my cream of chicken soup substitute. You can use the canned kind if you're short on time! Stir in the cheddar, salt, and pepper as well.
Topping: Add the broccoli cheese casserole mixture to a 9×13 baking dish and sprinkle with some crushed butter crackers, such as Ritz. Drizzle a little melted butter over the top and then you're ready to bake!
Bake: This broccoli & cheese casserole bakes uncovered in about 30-40 minutes, depending on how soft you like your broccoli. We like a bit of crispness, so we pull this dish at the 30 minute mark, but if you like really soft veggies, keep on baking until it's where you want it.
How I got my kids to like broccoli:
I'm a big believer that the key to getting kids to eat their veggies is to just keep offering them.
We have a 3 bite rule in our house and it's worked well for us. 1 bite to test, 1 bite to get used to the texture/flavor, 1 bite to be sure how they feel about it.
My kids don't love every veggie they try, but they ALWAYS try new foods without complaint (it took a while to get there) and they've learned so much about what they do/don't like.
For example, my daughter loves cauliflower with cheese, thinks it's fine as rice, but hates it roasted. She actually gets excited to try new foods these days and see what new recipes she'll enjoy. You should have seen her little face when she discovered how much she loved my cauliflower mac and cheese the first time I made it.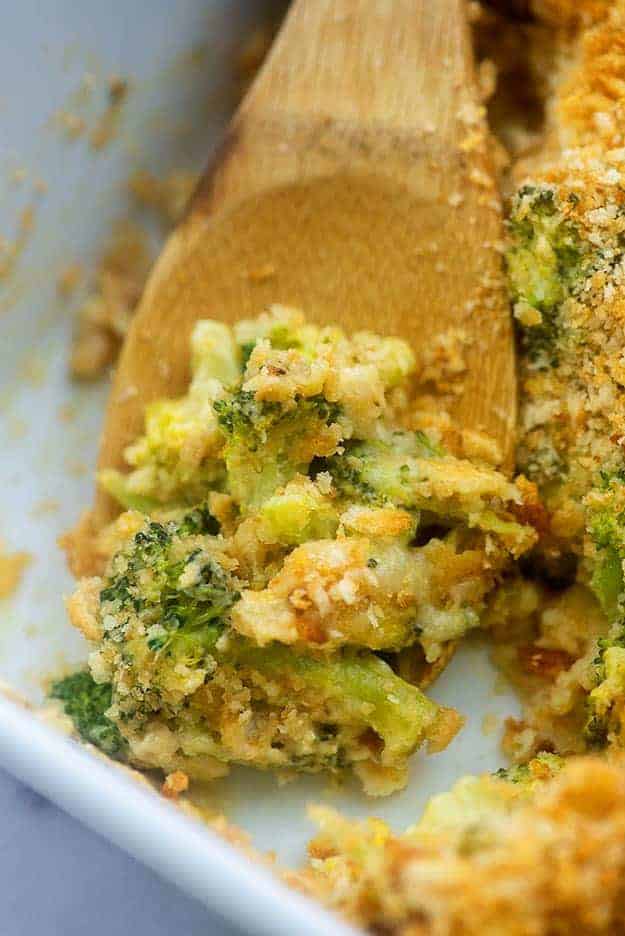 FAQs:
How to store broccoli cheese casserole?
Like most casseroles this one will store pretty well in the refrigerator! It should last at least 3 to 4 days. The cracker topping may not be as crunchy after reheating.
Can I prepare this ahead of time?
Yes, you can prepare the broccoli cheese casserole ahead of time to bake the next day. I would hold off on adding the crushed cracker topping until just before baking though!
MORE FAVORITE BROCCOLI RECIPES!
Chicken and Rice: One skillet and packed with veggies!
Penne Alfredo: Bacon, broccoli, pasta, and Alfredo – it doesn't get yummier than this!
Air Fryer Frozen Broccoli: The air fryer is a quick and easy way to make broccoli!
Keto Broccoli Casserole: The low carb version of broccoli cheese casserole!
Instant Pot Broccoli Cheese Soup: Our go-to soup on busy nights!
Crockpot Broccoli Cheese Soup: This classic recipe is perfectly creamy and cheesy!
Broccoli Casserole Recipe:
Broccoli Cheese Casserole
This broccoli and cheese casserole is made with fresh broccoli and topped off with buttery Ritz crackers for the perfect crunchy topping!
Prep10 minutes
Cook35 minutes
Total45 minutes
Ingredients
32 ounces fresh broccoli florets
10 ounces cream of chicken soup
1 cup sour cream
2 cups shredded cheddar
1 teaspoon salt
1/2 teaspoon cracked pepper
1 1/2 cups crushed Ritz crackers more or less, to taste
2 tablespoons melted butter
Instructions
Preheat oven to 350 degrees. Spray a 9×13 baking dish with non-stick spray.

Add the broccoli to a large microwave safe bowl along with ¼ cup of water. Cover tightly with plastic wrap and microwave for 5 minutes. Let stand, covered, for 2 minutes.

Carefully remove the plastic wrap and drain the liquid.

Add the cream of chicken soup, sour cream, cheddar, salt, and pepper to the bowl with the broccoli and stir well to combine.

Pour broccoli mixture into prepared baking dish.

Top with the cracker crumbs and drizzle with the melted butter.

Bake for 30-40 minutes, or until broccoli is as tender as you'd like and cheese is fully melted.

Serve immediately.
Tips & Notes:
Cream of mushroom or cream of celery soup also works well in this recipe. We like lots of cracker topping on ours, but you can use less if you prefer. Just sprinkle it on until it feels right.
Nutrition Information:
Serving: 1| Calories: 165kcal (8%)| Carbohydrates: 14g (5%)| Protein: 4g (8%)| Fat: 11g (17%)| Saturated Fat: 5g (31%)| Cholesterol: 20mg (7%)| Sodium: 579mg (25%)| Potassium: 344mg (10%)| Fiber: 3g (13%)| Sugar: 3g (3%)| Vitamin A: 830IU (17%)| Vitamin C: 81mg (98%)| Calcium: 86mg (9%)| Iron: 1mg (6%)