These 7 Up Biscuits are the easiest biscuits you'll ever make and they turn out perfect every time, with just 4 ingredients!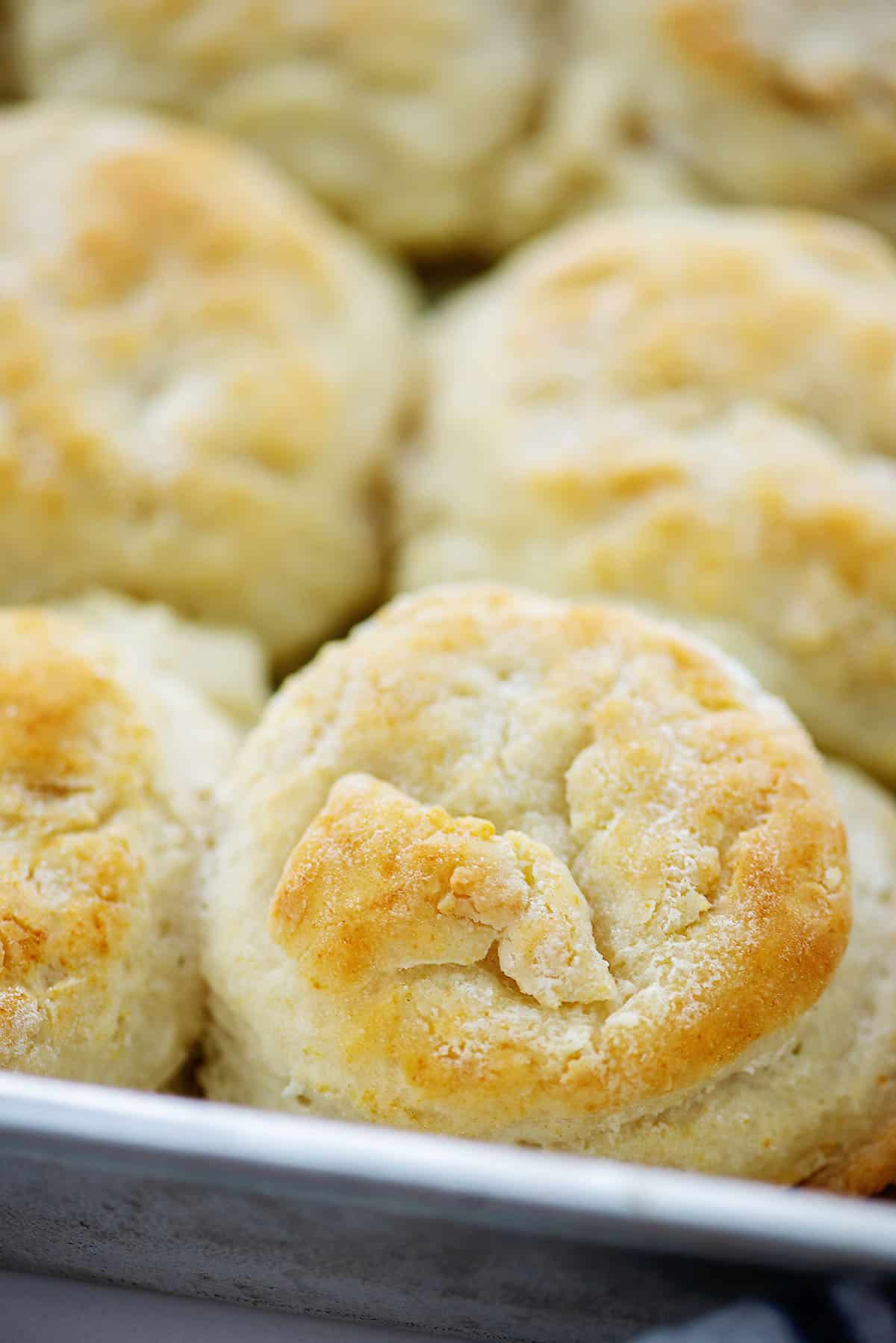 It's no secret that I'm a sucker for a good biscuit.
Has to be buttery. Has to be soft in the center with just the tiniest hint of crisp edges. Has to melt in my mouth.
These 7 Up Biscuits are hands down the easiest way to get biscuit perfection.
You all know my dad's homemade biscuits – they're one of the most popular recipes on my website. They're absolutely divine and they're what we make for a breakfast to serve with sausage gravy.
These 7 Up biscuits are easier to make with less ingredients than my dad's biscuits and I'd honestly have a really hard time choosing which one I like best…except for that my dad's biscuits are my dad's biscuits so they have to win by default. 😉
We think this 7 Up Biscuit recipe produces a similar biscuit to KFC – at least, back when KFC biscuits were soft and they melted in your mouth.
👩‍🍳Ingredient Notes:
Biscuit Mix – We'll keep things simple and use an easy store bought biscuit mix like Bisquick. We haven't tested this with Carbquick, but if you try it, please let us know how it goes.
Sour Cream – This makes the biscuits so soft and moist! You won't taste sour cream in the finished product.
Soda – Our secret ingredient! Well maybe not so secret, since it's in the title. 7 Up is the brand we're using but Sprite would work too if that's what you've got. Why use 7 Up? Because it works as a leavening agent, just like baking soda! You won't taste lemon and lime in these biscuits, though.
What Readers are Saying!
"I cannot believe it! After over 50 years of trying, I finally made a tasty, soft, fluffy biscuit. I made them for chicken and biscuits but could not resist saving one to eat by itself as dessert. It was so good!" – Beth
🍽How to Make 7 Up Biscuits:
This post contains affiliate links. As an Amazon associate and member of other qualifying programs, I earn from qualifying purchases.
Mix: Add all but a half cup of the Bisquick to a bowl with the 7 Up soda and the sour cream. Mix it all up until it is just combined! It'll be a mess still at this point – don't worry about it.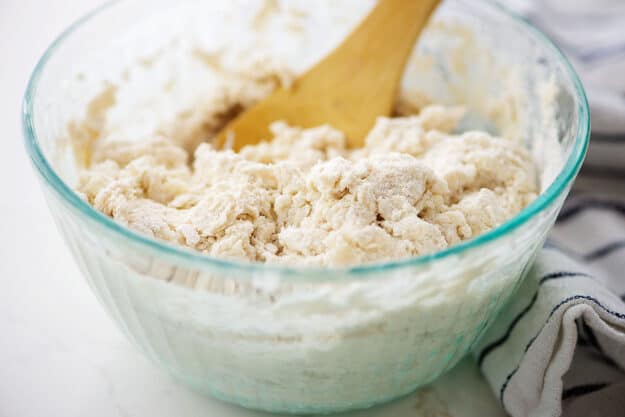 Dough: Sprinkle your countertop with half of the remaining Bisquick, dump the biscuit dough onto the floured counter, and then sprinkle the rest over the top.
Use your hands to mix the Bisquick in with the dough. You're going for a very soft dough that just holds together. If you need to you can add additional Bisquick – sometimes you need more and sometimes you don't.
Pat the dough out until it is about a 1/2 inch thick and use a biscuit cutter to cut out 9 biscuits. Rework the dough as needed.
We've had these handy little biscuit cutters for years. They come in 3 different sizes and have sharp edges to cut the perfect biscuit.
Butter: Melt the butter and dump it into an 8×8 baking dish and plop the biscuits right into the pool of melted butter. Can I be a 7 Up biscuit in my next life, please? Just floating around in a pool of butter…
Bake: Once ready you can pop the baking dish into the oven and bake these easy 7 Up biscuits in about 12 to 15 minutes or until they've turned a nice golden brown color and are cooked through!
We like to brush a little extra butter on top before serving, but this step is completely optional.
🥓Serving Suggestions:
These biscuits are honestly good enough to be eaten straight from the pan. They really do melt in your mouth and they're already nice and buttery.
But, it's always fun to doctor things up…
Keep it simple with raspberry jelly or whip up a batch of our cinnamon honey butter.
Serve these up for breakfast and drown them in our chocolate gravy! A true Southern classic, right up there with sausage gravy!
Go the savory route and serve these next to our crockpot chicken and gravy or fill them with pimento cheese or our cheese spread.
Helpful Tip!
❄Freeze Leftover Biscuits:
Keep your freezer stocked with homemade biscuits – it's easy!
Cool your baked biscuits completely and then wrap tightly in plastic wrap or foil. Place biscuits in a freezer safe bag and store for up to 3 months.
Reheat at 350 degrees for 10-15 minutes. Cover with foil, if needed, to keep your biscuits from getting too brown.
❔ FAQs:
Can I use self-rising flour or all-purpose flour instead of Bisquick?
No, you'll need Bisquick to make these 7 Up Biscuits. You can try a homemade Bisquick recipe if you prefer not to use a box mix.
Can I skip the butter bath?
We haven't tested this recipe without the butter, and I wouldn't recommending skipping it entirely. You may be able to cut the amount down, but I'd still add a bit of melted butter to the baking dish.
Can I use diet soda, Sprite, or ginger ale?
Any type of clear, carbonated soda should work well here, including Sprite, ginger ale, or diet soda.
Are these soda biscuits sweet?
These biscuits aren't any sweeter than a traditional biscuit.
My biscuit dough is very soft/sticky, where did I go wrong?
This dough is supposed to be very soft, but you will probably need to add extra Bisquick while patting the dough out – just enough to get it to a point where you can work it. It shouldn't be stiff at all – it should JUST hold together.
MORE FAVORITE BREAKFAST RECIPES!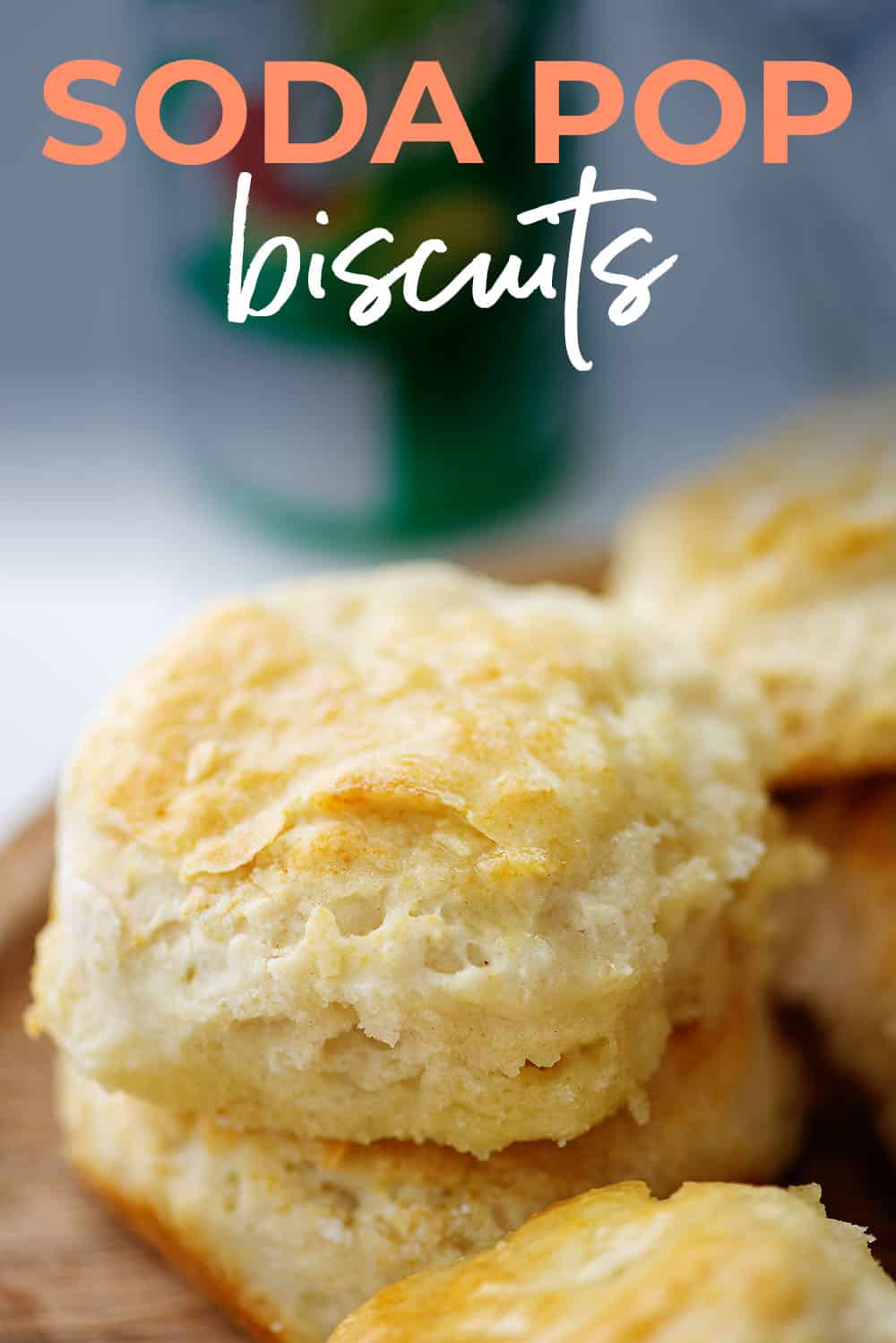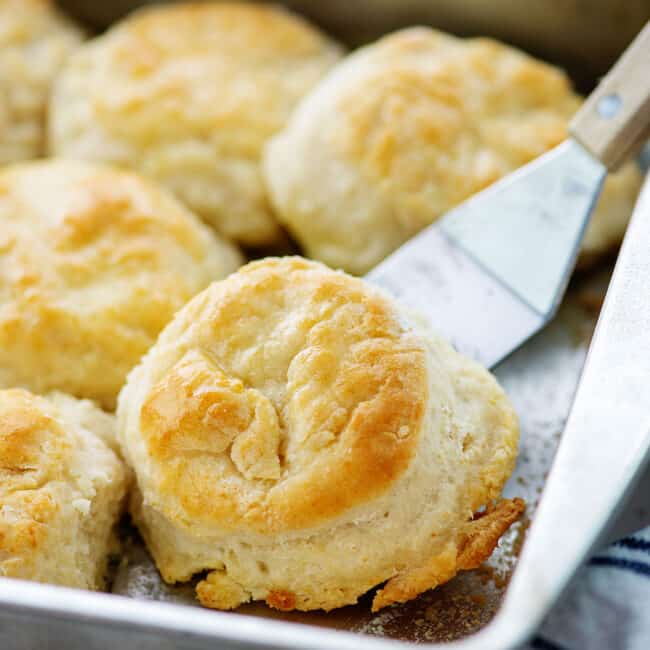 7 Up Biscuits
It's hard to believe that such perfectly buttery, moist, and soft biscuits can come from 4 simple ingredients, but these will make you a believer in no time!
Prep10 minutes
Cook12 minutes
Total22 minutes
Ingredients
2 1/2-3 cups baking mix such as Bisquick, divided
1/2 cup 7 Up soda
1/2 cup sour cream
1/4 cup butter melted
Instructions
Preheat oven to 450 degrees.

In a medium sized bowl, stir together 2 cups of baking mix, soda, and sour cream until just combined.

Sprinkle the counter top with 1/4 cup of baking mix and dump the dough out onto it. Sprinkle the remaining 1/4 cup baking mix on top of the dough as needed, using your hands to mix into the dough and pat the dough out to about 1/2 an inch thick.

Add additional Bisquick as needed to form a very soft dough that is just holding together.

Pour the melted butter into an 8×8 baking dish. Cut the biscuits out and place them in the pan of butter.

Bake for 12-15 minutes or until golden brown and cooked through.
Tips & Notes:
You'll want to use just enough Bisquick to get the dough to hold together – this may be around 2 1/2 cups or it may be a bit more. Add extra Bisquick slowly until the dough just comes together. We've used both 7 Up and Sprite in this recipe and both work well. Diet soda also works. I do not recommend skipping the butter in the bottom of the pan, though you may be able to reduce it some if you're trying to cut down on the calories/fat.
Nutrition Information:
Serving: 1biscuit| Calories: 218kcal (11%)| Carbohydrates: 23g (8%)| Protein: 3g (6%)| Fat: 13g (20%)| Saturated Fat: 6g (38%)| Polyunsaturated Fat: 1g| Monounsaturated Fat: 5g| Trans Fat: 1g| Cholesterol: 21mg (7%)| Sodium: 482mg (21%)| Potassium: 74mg (2%)| Fiber: 1g (4%)| Sugar: 6g (7%)| Vitamin A: 239IU (5%)| Vitamin C: 1mg (1%)| Calcium: 75mg (8%)| Iron: 1mg (6%)
This post was originally published in 2012. Photos updated February 2022.