These 7 Up Biscuits are the easiest biscuits you'll ever make and they turn out perfect every time!
Alright, friends. I've done it now.
I don't know if you guys have heard of 7up biscuits before, but they are so very much better than they sound. Like, majorly better.
In fact, I think these are basically a PERFECT copycat for the KFC biscuit recipe and y'all know that the colonel knows his biscuits. Buttery, fluffy biscuit love.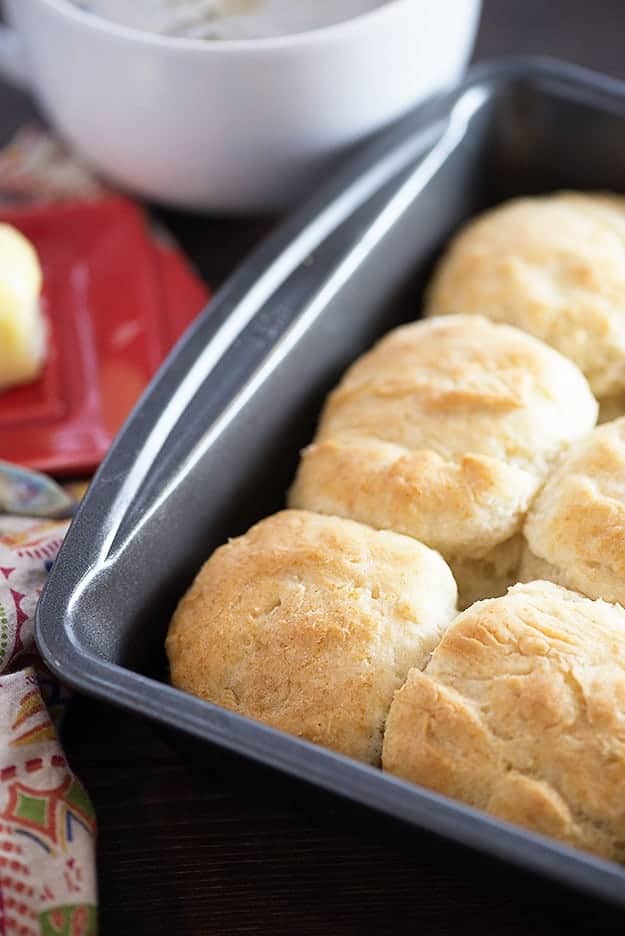 So, as you know, my dad perfected homemade biscuits and I shared the recipe with you. Those biscuits are amazing.
They're certainly not hard to make, but they are definitely fussier than these guys.
So, I vote that you make both and then let me know which you like best. I honestly can't choose myself – I like the homemadeness of my Dad's recipe better, but I love the ease of this recipe more.
They just are both biscuit winners, in my book.
These 7up biscuits use just three ingredients for the dough!
Bisquick baking mix, sour cream, and 7up soda! Sprite works too.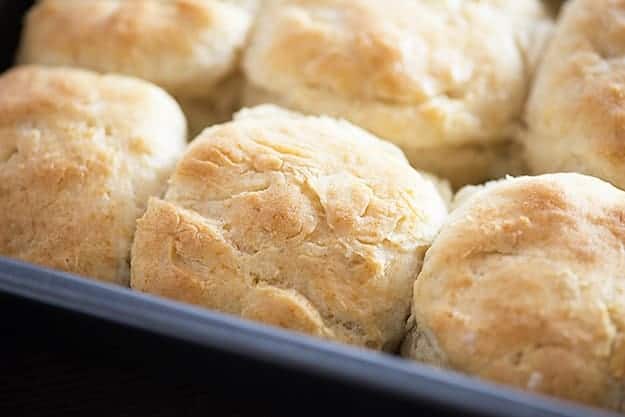 You'll mix these together real quick, pat 'em out on some extra Bisquick, and then cut your biscuits.
At that point, the butter comes into play.
You knew I wasn't going to make biscuits without butter, right?!
You just melt the butter and dump it into an 8×8 baking dish and plop the biscuits right into the pool of melted butter.
Can I be a 7 Up biscuit in my next life, please? Just floating around in a pool of butter.
I like mine slathered in lots of butter and raspberry jelly.
They're also perfect with sausage gravy or chocolate gravy!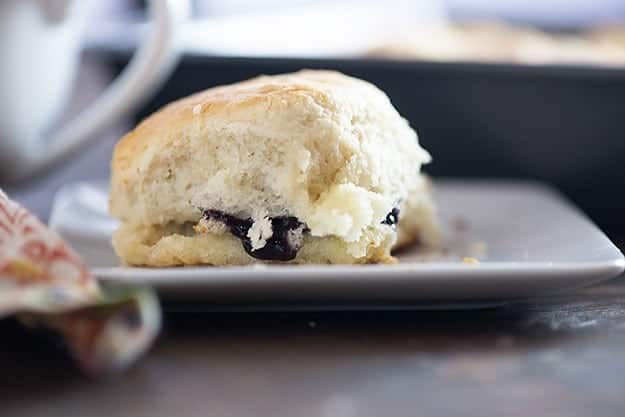 7 Up Biscuits are a hit around here!
FAQ:
Can I use self-rising flour or all-purpose flour instead of Bisquick? Nope, sorry. They're not the same thing. I'd recommend trying this homemade Bisquick instead.
Can I skip the butter? I haven't tried it, but I don't recommend it. Biscuits need fat.
Can I use diet soda, Sprite, or ginger ale? I personally don't like diet soda and haven't tried it with that, but if the taste is okay by you, it should work fine here too. Sprite and ginger ale also work fine in place of the 7Up.
Are these sweet? Nope, I don't find them any sweeter than a traditional biscuit you'd eat for breakfast.
My dough is very soft/sticky, where did I go wrong? This dough is supposed to be very soft, but you will probably need to add extra Bisquick while patting the dough out – just enough to get it to a point where you can work it. It shouldn't be stiff at all – it should JUST hold together.
This 7 Up biscuit recipe is a great one to keep around for busy mornings!
7 Up Biscuits
These biscuits only need 4 ingredients and are super quick and easy to whip up!
Prep10 minutes
Cook12 minutes
Total22 minutes
Ingredients
2 1/2 cups baking mix such as Bisquick, divided
1/2 cup 7 Up or Sprite
1/2 cup sour cream
1/4 cup butter melted
Instructions
Preheat oven to 450 degrees.

In a medium sized bowl, stir together 2 cups of baking mix, soda, and sour cream until just combined.

Sprinkle the counter top with 1/4 cup of baking mix and dump the dough out onto it. Sprinkle the remaining 1/4 cup baking mix on top of the dough as needed, using your hands to mix into the dough and pat the dough out to about 1/2 an inch thick.

Add additional Bisquick as needed to form a very soft dough that is just holding together.

Pour the melted butter into an 8x8 baking dish. Cut the biscuits out and place them in the pan of butter.

Bake for 12-15 minutes or until golden brown and cooked through.
Nutrition Information:
Calories: 217kcal (11%)| Carbohydrates: 22g (7%)| Protein: 2g (4%)| Fat: 12g (18%)| Saturated Fat: 6g (38%)| Cholesterol: 20mg (7%)| Sodium: 481mg (21%)| Potassium: 72mg (2%)| Sugar: 5g (6%)| Vitamin A: 235IU (5%)| Vitamin C: 0.2mg| Calcium: 75mg (8%)| Iron: 1mg (6%)
This post was originally published in 2012. Photos updated 10/31/16.