Our Homemade Alfredo Sauce is rich and creamy with just 3 main ingredients. Only takes about 5 minutes to make and is perfect for coating pasta, dipping breadsticks, or using as a pizza sauce. People are raving about our recipe for how to make homemade Alfredo sauce and we keep hearing it's even better than the restaurants!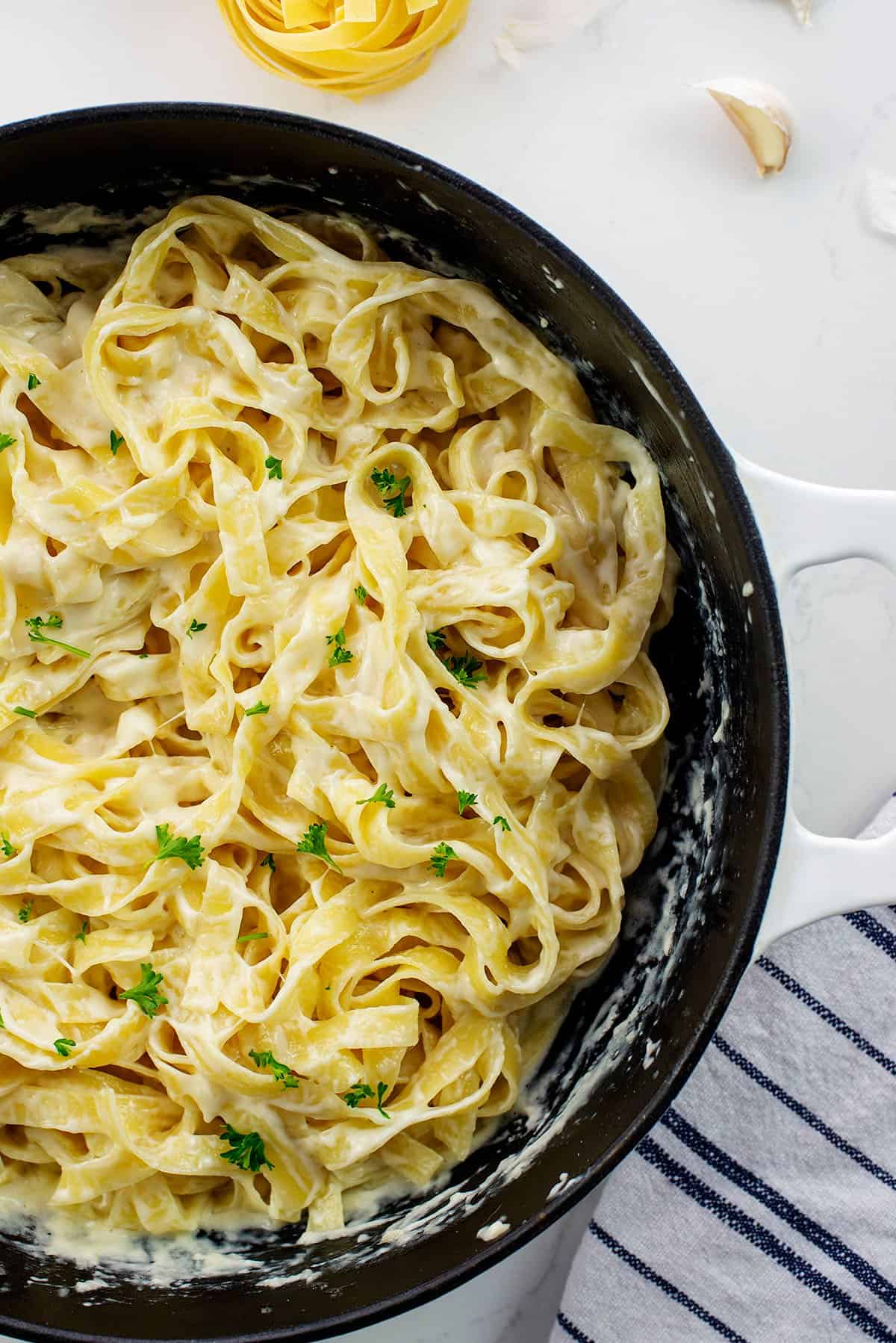 If you've been personally victimized by a jar of Alfredo sauce, please raise your hand.
Yeah. That stuff is no bueno.
And I'm pretty sure the only reason people use jarred Alfredo sauce is because they think Alfredo sauce from scratch is difficult.
No, friends! Our easy Alfredo sauce recipe is a breeze to make with just a handful of ingredients and about 5 minutes of time. You're going to FLIP for this creamy, decadent homemade Alfredo sauce.
Not only is this Alfredo sauce recipe super simple to whip up, it seriously rivals any restaurant Alfredo you've had, whether it's the ever popular Olive Garden Alfredo sauce or a more authentic Alfredo sauce from your local Italian joint.
I just know you're going to love this one!
Love making your own sauce? Try our homemade spaghetti sauce. It's so much better than a jar!
Expert Tips & Tricks for Perfect Alfredo Sauce: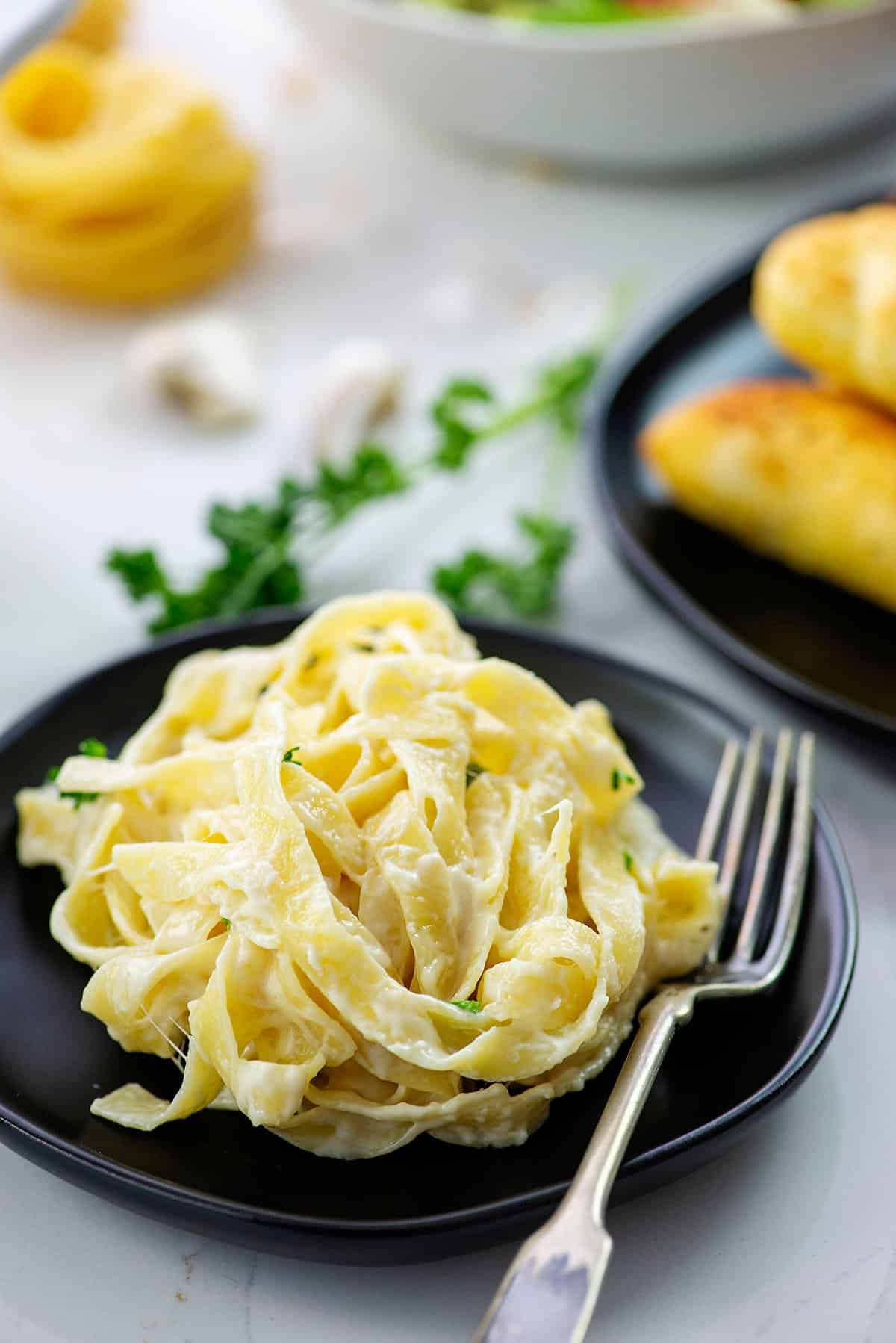 If you want the best tasting homemade alfredo sauce you can make then you'll want to keep a few things in mind and follow these tips and tricks!
Parmesan: It's the most important ingredient! For the best quality alfredo sauce, use the best quality Parmesan cheese. You don't have to go to Italy to get it but it wouldn't hurt to use quality aged and imported Parmesan.
Shred/Grate It Yourself: Again with the cheese. You know that bottle of dry crumbly grated Parmesan dust at the supermarket? Please don't use that. Either shred or grate your own for best taste, texture, and melting quality.
Don't Overheat: If you try preparing the alfredo sauce at too high of a temperature or cook it for too long or you may end up with a clumpy texture. You want smooth and creamy alfredo sauce, so cook it low and slow.
Ingredient Notes: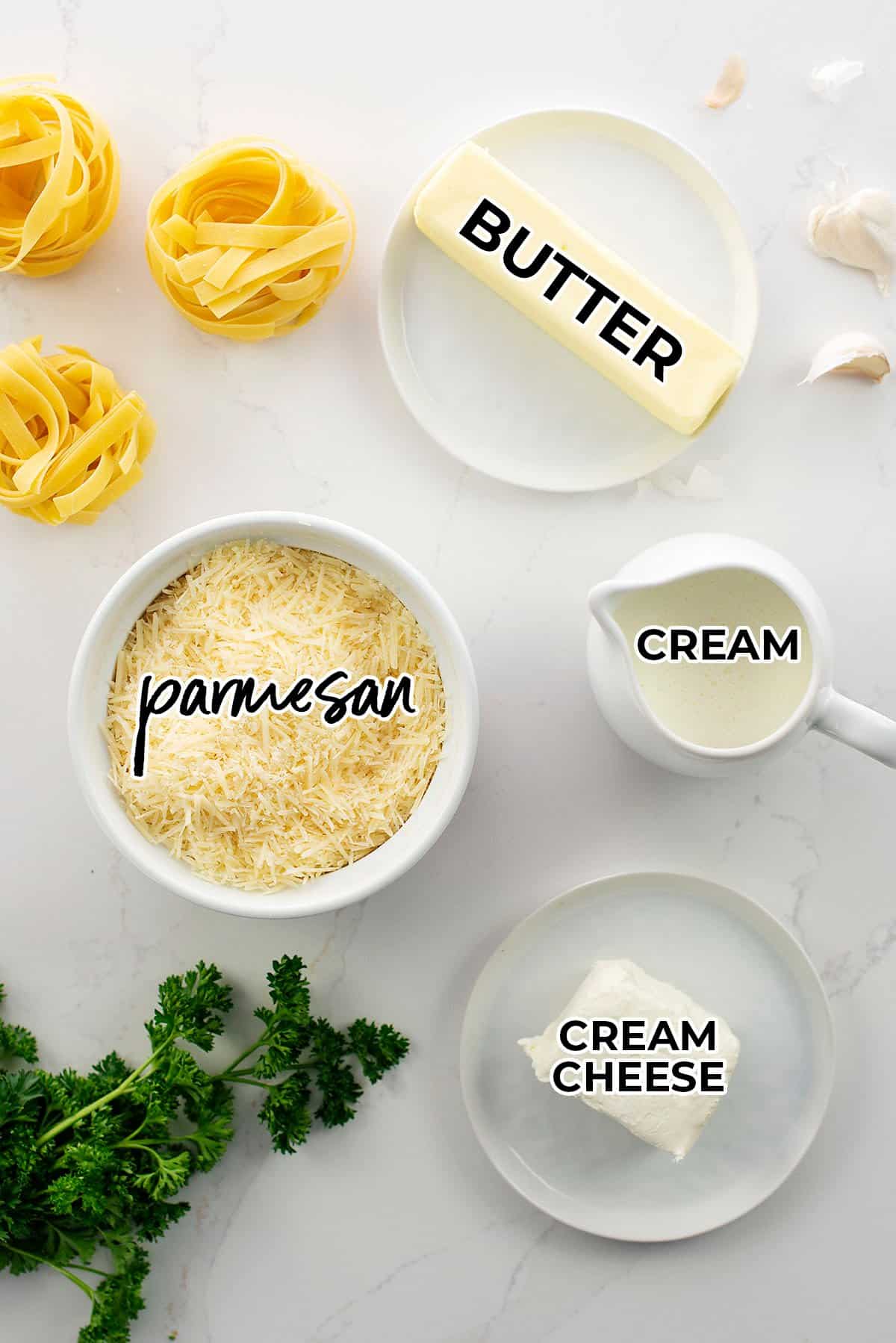 Cream & Butter – You'll heat heavy whipping cream (no substitutes, please) with butter and garlic to warm it through.
Cheese – When you're making homemade Alfredo sauce you need lots of good quality Parmesan! You'll want shredded Parmesan cheese, not the dry powdery stuff. We make our Alfredo sauce with cream cheese (just a little!) to add extra richness and creaminess to the sauce.
Seasoning – Salt and pepper, to taste, is all you'll need.
What Readers are Saying!
"I started using this recipe over a year ago and I haven't purchased a jar of Alfredo since. This is by far the best Alfredo sauce I've ever tasted!! Thank you so much for sharing this." – Teesha
How To Make Alfredo Sauce From Scratch:
Heat: Start by melting the butter and cream together with a little blob of cream cheese (optional – see notes below). I do a garlic Alfredo sauce by adding in a teaspoon of minced garlic to the butter and cream while it's heating. The garlic flavor is perfect with this creamy pasta sauce!
Cheese: When you've finished heating the butter and cream remove the pan from the heat and stir in the shredded Parmesan cheese! Keep stirring until it forms a smooth sauce.
Season: We sprinkle in a bit of salt and pepper to taste.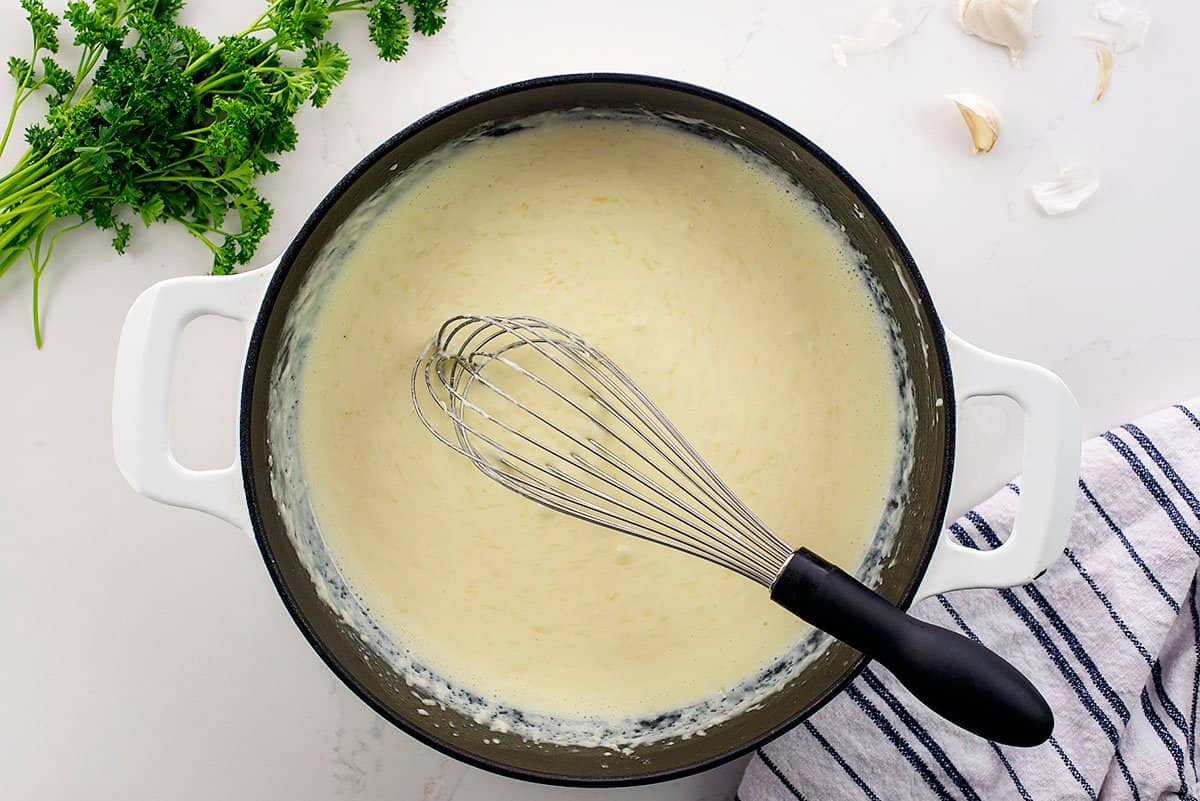 Serving Suggestions:
This Alfredo sauce recipe makes enough to generously coat one pound of pasta, but we usually reserve a half cup of the sauce for dipping our breadsticks in. Serve this sauce/pasta with one (or more!) of these sides:
You can also add a variety of ingredients and proteins to your pasta. Grilled chicken is the perfect addition to fettuccine alfredo, but our shrimp alfredo and tortellini alfredo are also very popular around here.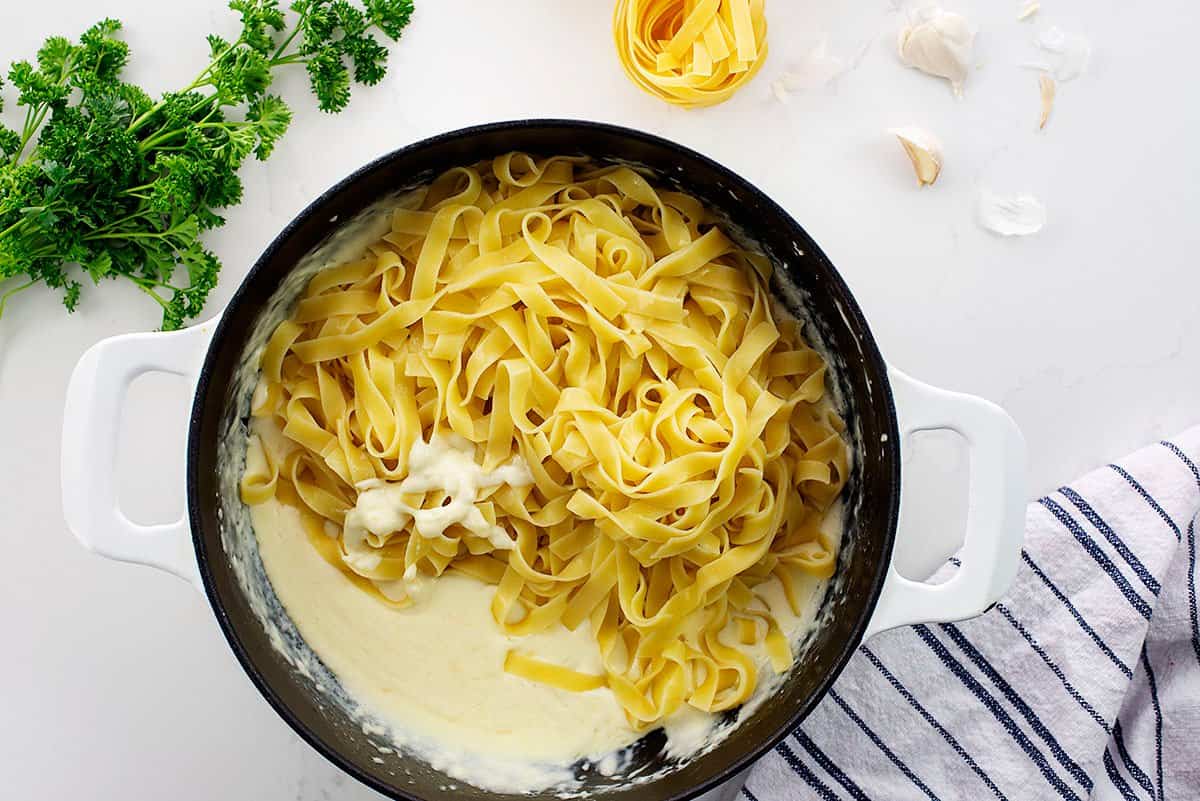 Alfredo Sauce with Cream Cheese:
This recipe originally did NOT call for cream cheese – it was just butter, cream, and Parmesan (and a little garlic, for flavor). I'll always stand by the fact that this was a delicious authentic Alfredo sauce that just works!
If you don't love cream cheese, just leave it out.
But, we did start adding in a couple of ounces of cream cheese to our Alfredo, because it does add an extra layer of creamy richness and flavor. We're hooked, but we wouldn't hesitate to make this sauce without the cream cheese if we were out, either. 😉
Garlic Alfredo Sauce:
We're obsessed with garlic, so we add just a little bit to this recipe…it really makes the best Alfredo sauce!
We just add the garlic straight in with the cream and butter as it's warming to let the garlic flavors infuse the sauce. So simple and delicious!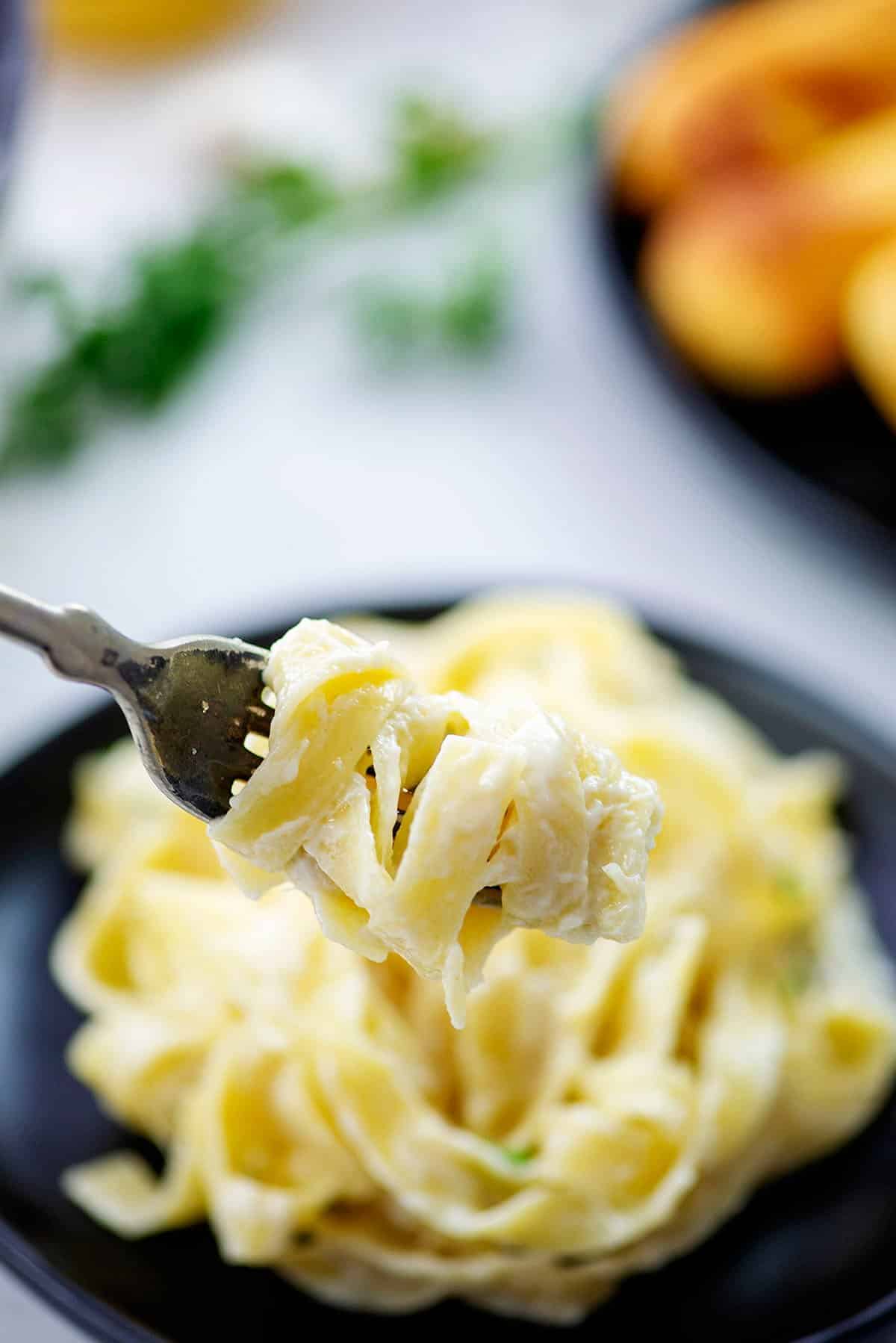 FAQs:
What is Alfredo sauce?
Alfredo sauce is a simple cream sauce made of heavy cream, butter, and Parmesan cheese.
Can I store this Alfredo sauce?
While you can store this recipe in the fridge, it is best served fresh. It'll last for 3-4 days tightly covered, but does separate a bit and get oily upon reheating.
Is Alfredo sauce gluten free?
This is a gluten-free Alfredo sauce, but many recipes do call for flour.
Is Alfredo sauce low carb?
Yes! This is a keto Alfredo sauce recipe, because there is no flour. Of course, if you'll want to avoid serving with pasta to keep the carb count low. It's delicious over broccoli, though!
More Italian Inspired Favorites: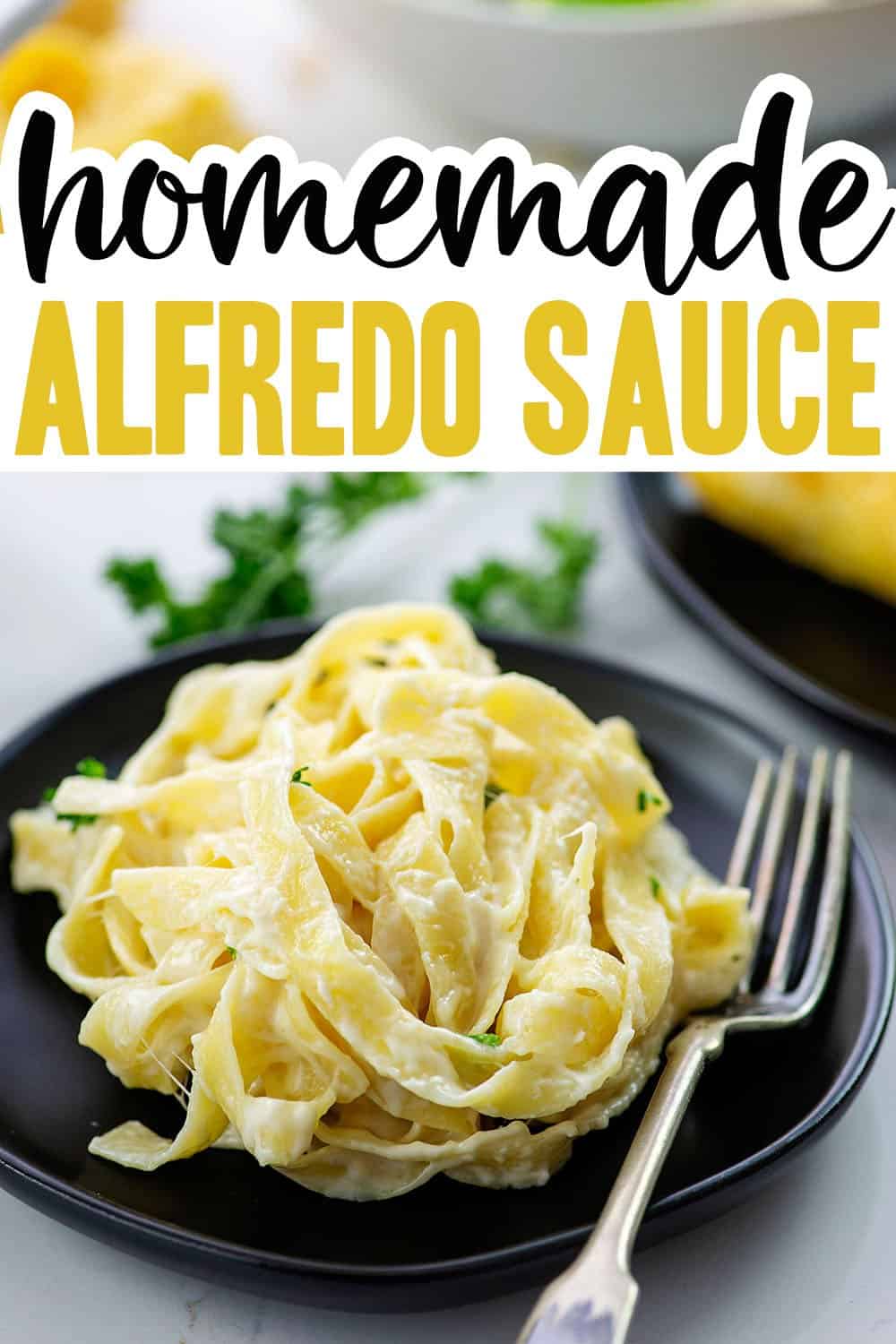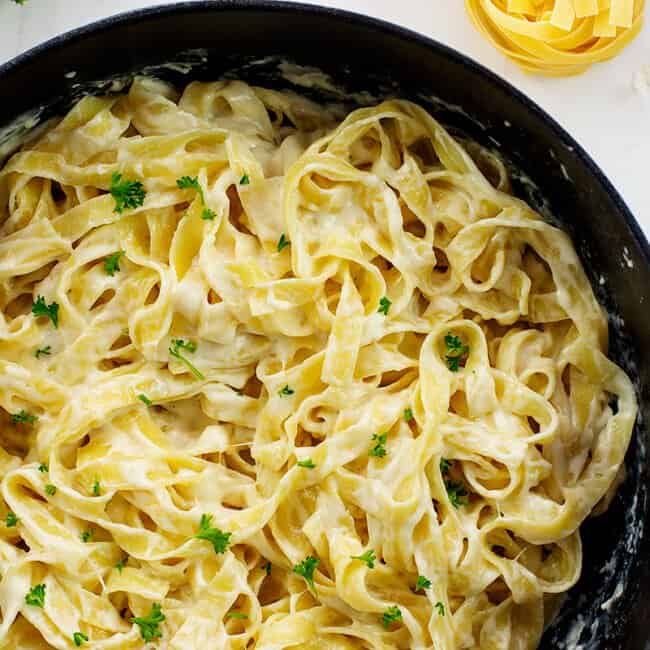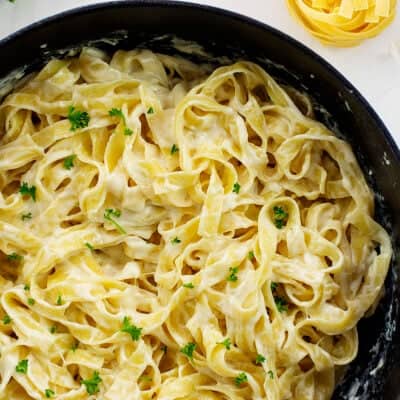 Homemade Alfredo Sauce
This easy Alfredo sauce calls for just a handful of ingredients and comes together in about 5 minutes. Toss fettucine in this sauce or drizzle over chicken. The recipe will generously coat 1 pound of pasta, but can be stretched to 1 1/2 pounds, depending on how saucy you like your pasta.
Prep1 minute
Cook5 minutes
Total6 minutes
Ingredients
1 cup heavy whipping cream
1/2 cup butter
2 ounces cream cheese
1 teaspoon minced garlic
2 cups shredded Parmesan cheese
1/2 teaspoon salt
1/2 teaspoon ground black pepper
Instructions
Add the cream, butter, creaeam cheese, a and garlic to a sauce pan over medium heat and heat, stirring often, until the cream cheese has fully melted and the sauce is hot.

Turn off the heat and whisk in the Parmesan cheese, salt, and pepper.

Continue whisking until cheese has fully melted and sauce is smooth and creamy.

Serve immediately.
Tips & Notes:
This sauce makes enough to generously coat 1 pound of pasta, but could easily be stretched to coat 1 1/2 pounds of pasta, depending on how saucy you like your pasta. We usually reserve 1/2 cup of the sauce for dipping breadsticks or drizzling over chicken and toss a pound of cooked pasta in the remaining sauce. Do not use the powdery Parmesan cheese in this recipe – freshly shredded or a bag of shredded Parmesan will work best.
Nutrition Information:
Calories: 437kcal (22%)| Carbohydrates: 3g (1%)| Protein: 13g (26%)| Fat: 42g (65%)| Saturated Fat: 26g (163%)| Polyunsaturated Fat: 1g| Monounsaturated Fat: 12g| Trans Fat: 1g| Cholesterol: 128mg (43%)| Sodium: 908mg (39%)| Potassium: 82mg (2%)| Fiber: 1g (4%)| Sugar: 1g (1%)| Vitamin A: 1444IU (29%)| Vitamin C: 1mg (1%)| Calcium: 436mg (44%)| Iron: 1mg (6%)
This recipe was originally published in March 2018. It was updated with new photos in March 2022. Original photos below.