November 19, 2018
Creamy Baked Spaghetti

This baked spaghetti recipe is going to quickly become a new family favorite. I don't even make regular spaghetti anymore – we all love this comfort food version too much!
I've been holding out on you.
My family's favorite recipe.

The one we eat over and over and over again.
The one that every single person in my family, even the girl who hates everything, will eat.
The one that is basically comfort on a plate.
This recipe, you guys. It's a winner in my family and I'm pretty sure it's going to be a winner in your family, too.
This baked spaghetti recipe is creamy dreamy perfection!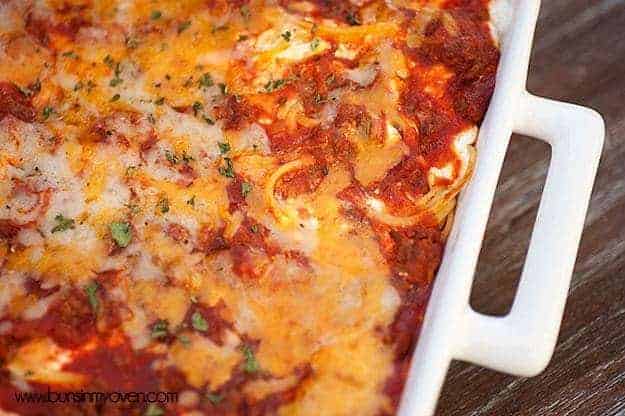 Just one word of warning…the creamy white sauce that goes in the pasta? Don't sneak a taste of it before you add it to the pasta. Just don't.
You'll end up eating plain spaghetti, because once you start, you can't stop. It's amazing.
It feels wrong to eat cream cheese, sour cream, and cottage cheese by the spoonful, but I'm telling you right now that if you taste that mixture, you'll want to eat the whole bowl.
Move over, lasagna. We don't need you. <— Yes. I just said that and I don't regret it one bit.
(Unless we're talking about my taco lasagna. I still need that guy.)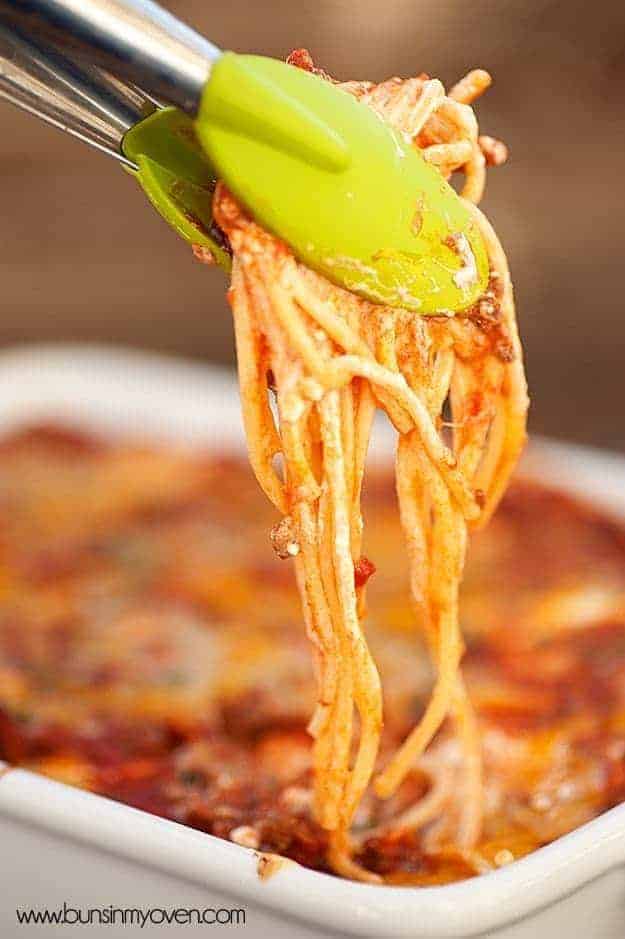 I've seen this called Million Dollar Spaghetti all over the internet.
I think it's also pretty similar to Cheddar's spasagna recipe, but it's been so many years since I've had that, so I could be wrong!
Whatever you want to call this dish, I'm sure it's going to be a new family favorite!
A lot of the recipes similar to this include a whole stick of butter in the dish. I'm telling you, I love butter just as much (more?) than the next guy, but it makes literally no difference in flavor in this dish.
I've tried it. It's not worth the extra calories. This baked spaghetti has plenty already. 😉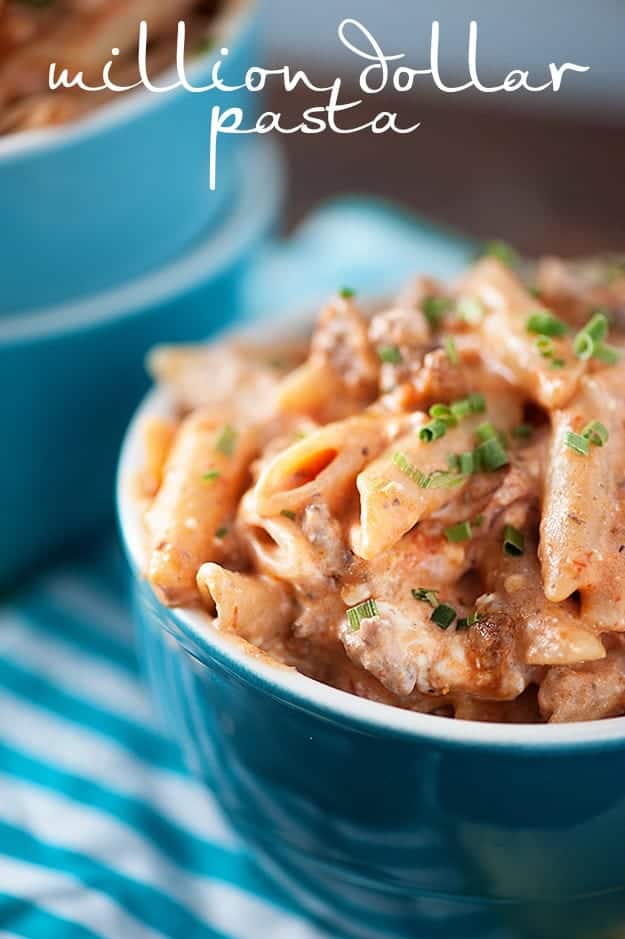 I have a stove top version of this recipe, if you're short on time! I usually still go for this baked spaghetti recipe, but the stove top one is great in a pinch! Here's the recipe for this cream cheese pasta sauce!
Out of all of the baked spaghetti recipes, I hope you try this one! I truly think you'll love it!
And yes!! Ricotta cheese works just fine as a replacement for cottage cheese. I get asked that question a lot.
I've never actually tried it with ricotta, because my family looooooves cottage cheese. We even use it in lasagna!
But, I have no doubts that it will work just fine. So enjoy!
Baked Spaghetti is definitely a favorite in our house!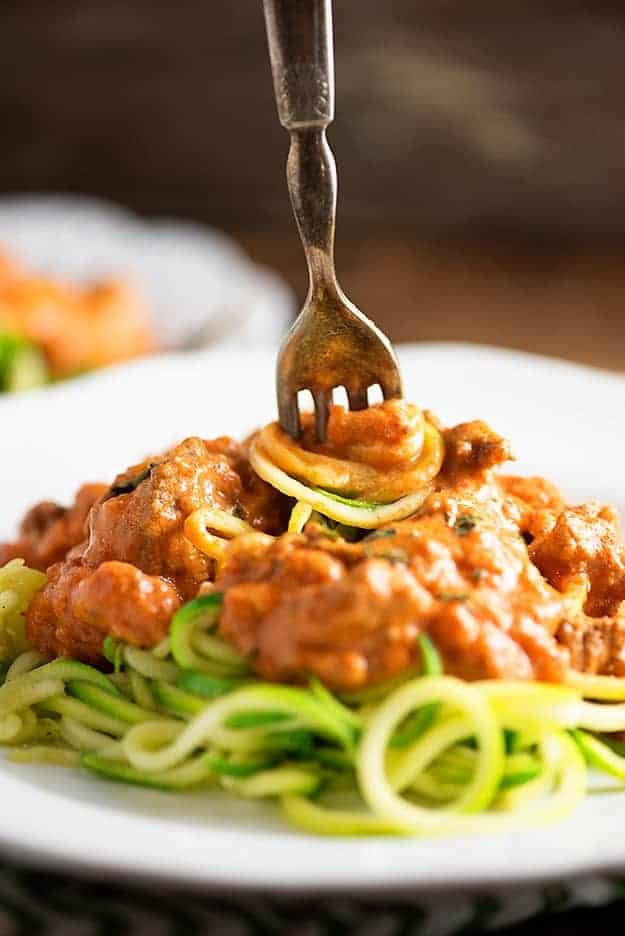 We have a tendency to eat this a little too often considering that we'd all like our pants to still fit. That's why I created a low carb version!
It's not quite as decadent, but it's so good and perfectly satisfying. You'll love my cream cheese zoodles!
Even my kids eat zucchini noodles when they're covered in this sauce!
I hope you give this one a try and your family enjoys it as much as mine does.
I'm not sure how anyone could dislike all this creamy cheesy goodness, to be honest! 😉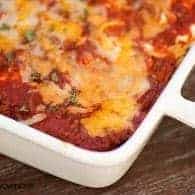 Creamy Baked Spaghetti
Servings: 6 servings
Course: Main Course
Cuisine: Italian
Keyword: comfort food, family recipes, weeknight dinner recipes
Calories: 813 kcal
This baked spaghetti recipe is going to quickly become a new family favorite. I don't even make regular spaghetti anymore - we all love this comfort food version too much!

Ingredients
1 pound spaghetti noodles cooked al dente and drained
1 pound ground beef browned and drained
24 ounces spaghetti sauce 1 jar
8 ounces cream cheese room temperature
1 cup sour cream
1 cup cottage cheese
1 cup grated cheddar cheese
Salt and pepper to taste
Instructions
Preheat the oven to 350 degrees.

Butter the bottom and sides of a 9x13 baking dish.

In a medium bowl, mix together the cooked beef and spaghetti sauce.

In a medium bowl, beat together the cream cheese, sour cream, and cottage cheese until smooth, creamy, and well combined. Salt and pepper to taste.

Place half of the cooked spaghetti in the bottom of the baking dish. Dollop half of the cream cheese mixture over the spaghetti as evenly as possible. Spread with half of the meat mixture. Repeat the layers once and top with cheddar cheese.

Bake for 20-30 minutes or until hot and bubbly.
Nutrition Facts
Creamy Baked Spaghetti
Amount Per Serving
Calories 813 Calories from Fat 396
% Daily Value*
Fat 44g68%
Saturated Fat 22g138%
Cholesterol 140mg47%
Sodium 1045mg45%
Potassium 909mg26%
Carbohydrates 66g22%
Fiber 4g17%
Sugar 10g11%
Protein 35g70%
Vitamin A 1475IU30%
Vitamin C 8.3mg10%
Calcium 288mg29%
Iron 3.9mg22%
* Percent Daily Values are based on a 2000 calorie diet.
Nutrition Disclaimer: All information presented on this site is intended for informational purposes only. I am not a certified nutritionist and any nutritional information shared on bunsinmyoven.com should only be used as a general guideline.
MORE OF OUR FAMILY FAVORITE RECIPES? YOU GOT IT.
Fried Tacos – you'll never settle for another taco.
Double Double Animal Style Burgers – skip the take out.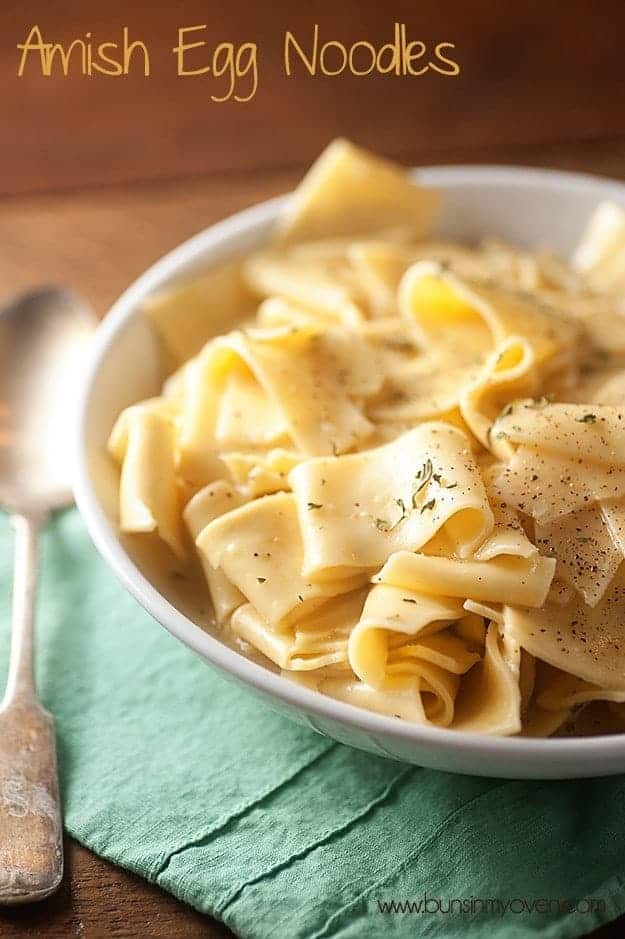 Amish Egg Noodles  – the easiest side dish!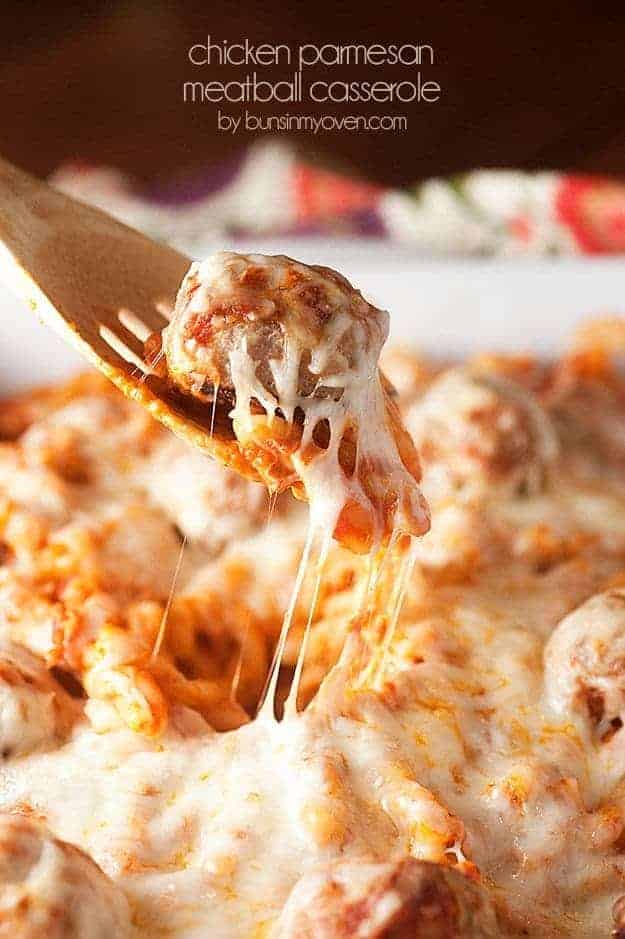 Chicken Parmesan Meatball Casserole – we love casseroles!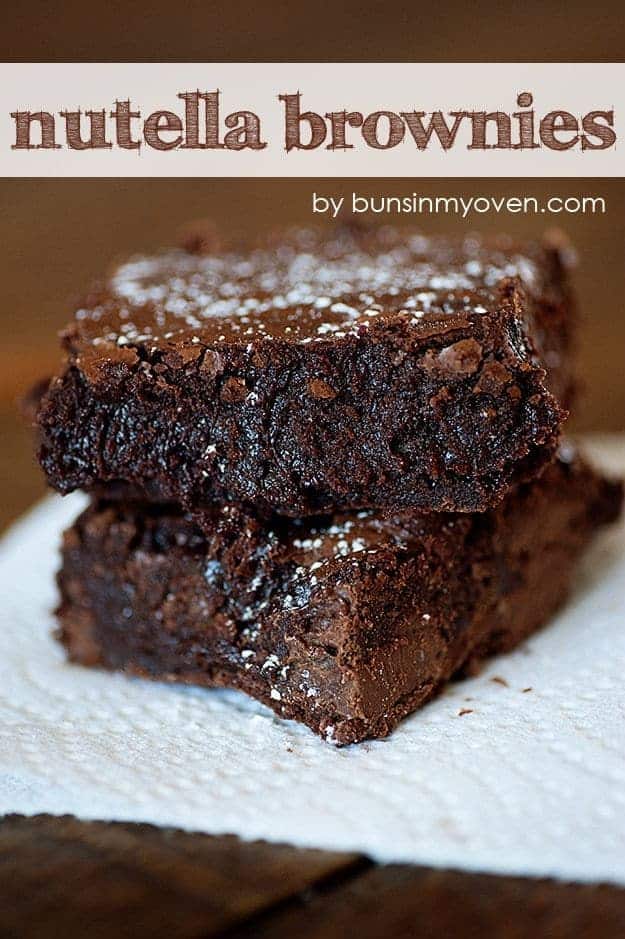 Nutella Brownies – eat dessert first!