This is the best Belgian waffle recipe I've ever tried! They're better than the ones we get at our favorite breakfast spot!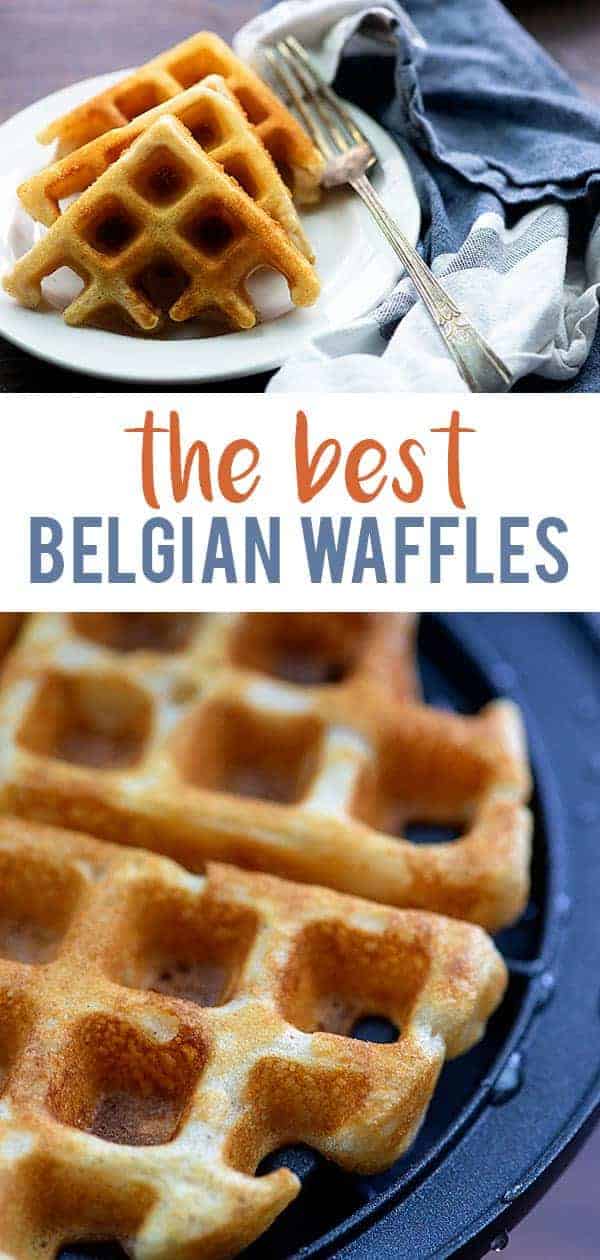 I recently bought a waffle iron (affiliate link). It works so well and my kids and I are looooooving all the fresh waffles coming out of it every morning!
You would not believe the waffle ideas that are constantly bouncing around in my brain. It's sort of ridiculous.
And, obviously, by "ridiculous," I mean fabulous.
You guys should totally come live in my brain with the delicious waffles. It's a happy place up in there.
Before I get all crazy on you with the strange-but-delicious waffle recipes, I thought it'd be best to start with the basics.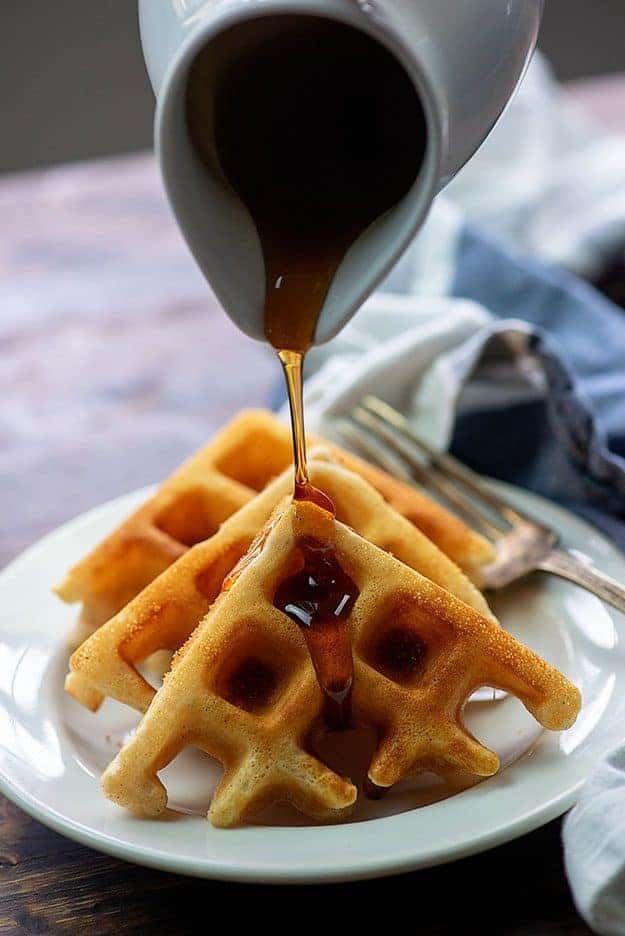 This waffle recipe is the one. It's the yin to my yang. The salt to my pepper. It' really the best.
Light and crispy and tender, but not mushy or soggy. Nobody wants a soggy waffle, you guys. Nobody. Crispy waffles for all!
Top these off with a little maple syrup and some fruit for a perfect Saturday morning breakfast!
How to make the best Belgian waffles:
To start, we're going to whip an egg white. I KNOW. I hate whipping egg whites. I promise you, this is worth it. 100%
If you have a hand mixer or immersion blender, drag it out. It's pretty much impossible to whip a single egg white in a stand mixer, though. Trust me. I've tried. (This is the immersion blender I use (affiliate link) and it comes in all kinds of pretty colors! Mine is orange!) (Update: This hand whisk (affiliate link) works really well, too!)
Once your egg whites are whipped to stiff peaks, you'll whip up the rest of the batter.
One of the secret ingredients here is cornstarch. It helps to make the waffle crispy on the outside and the whipped egg white makes it light and airy inside.
Fold the egg whites into the batter and then grease up that waffle iron.
These cook in about 3 minutes, but your mileage may vary, depending on your waffle iron.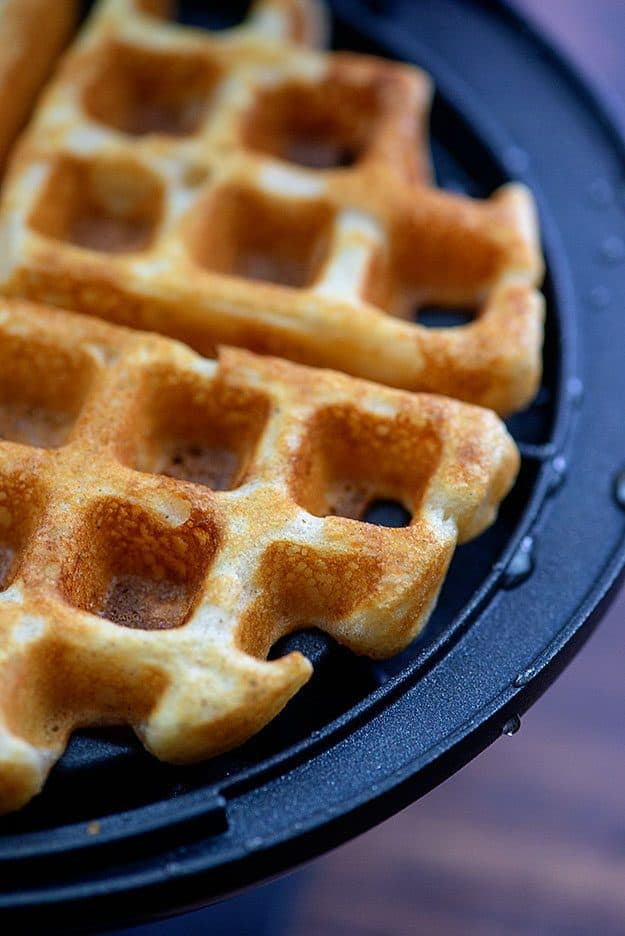 As you cook these waffles, pop them right onto the rack of a warm oven. They'll stay nice and crisp and everyone can enjoy breakfast at the same time this way. Genius, right?
This post was originally published in May 2012. It was updated in March 2019 with new photos and a video. Old photos below:
Best waffle recipe: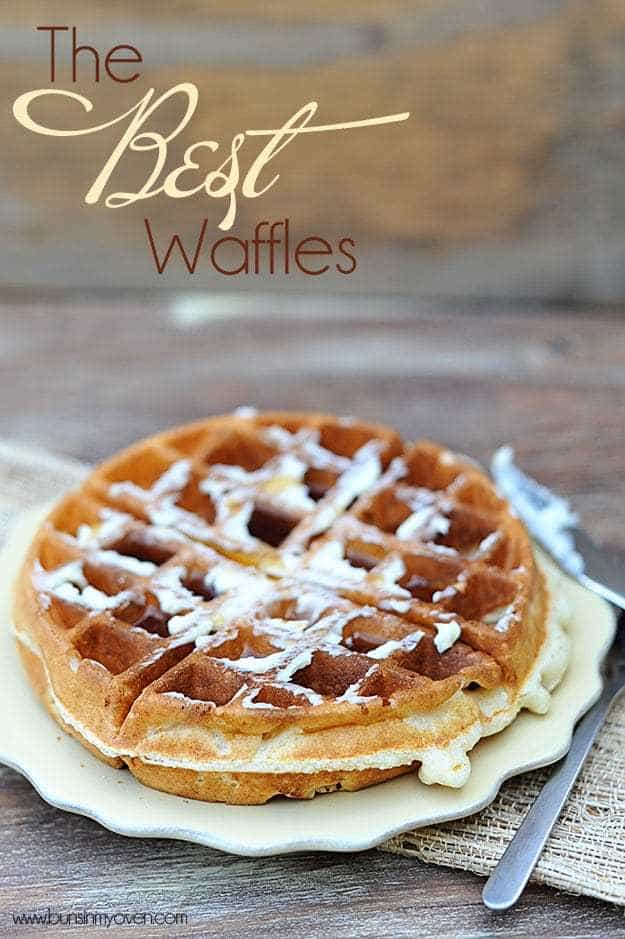 The Very Best Waffles
This is the best Belgian waffle recipe I've ever tried! It beats restaurant waffles any day of the week!
Prep5 minutes
Cook15 minutes
Total20 minutes
Ingredients
3/4 cup all-purpose flour
1/4 cup cornstarch
1/2 teaspoon salt
1/2 teaspoon ground cinnamon
1/8 teaspoon ground nutmeg
1/2 teaspoon baking powder
1/4 teaspoon baking soda
3/4 cup buttermilk
1/4 cup milk
6 tablespoons vegetable oil
1 large egg separated
1 tablespoon sugar
1/2 teaspoon vanilla extract
Instructions
Heat the oven to 200°F and heat up the waffle iron.

Mix the flour, cornstarch, salt, cinnamon, nutmeg, baking powder, and baking soda in a medium bowl. Measure the buttermilk, milk, and vegetable oil in a measuring cup and stir in the egg yolk. Set aside.

In another bowl, beat the egg white almost to soft peaks. Sprinkle in the sugar and continue to beat until the peaks are firm and glossy. Beat in the vanilla.

Pour the buttermilk mixture into the dry ingredients and whisk until just mixed. Drop the whipped egg white onto the batter in dollops and fold in with a spatula until just incorporated.

Pour the batter onto the hot waffle iron (My Belgian waffle maker takes 2 1/2 ice cream scoops of batter, but your mileage may vary) and cook until the waffle is crisp and brown.

Set the waffle directly on the oven rack to keep it warm and crisp. Repeat with the remaining batter, holding the waffles in the oven (don't stack them). When all the waffles are cooked, serve immediately.
Tips & Notes:
This recipe makes 4-5 waffles in my Belgian waffle maker. The number of waffles may vary depending on your waffle maker.
Nutrition Information:
Serving: 1waffle| Calories: 293kcal (15%)| Carbohydrates: 25g (8%)| Protein: 4g (8%)| Fat: 19g (29%)| Saturated Fat: 14g (88%)| Cholesterol: 42mg (14%)| Sodium: 345mg (15%)| Potassium: 138mg (4%)| Sugar: 4g (4%)| Vitamin A: 135IU (3%)| Calcium: 81mg (8%)| Iron: 1mg (6%)
This recipe was lightly adapted from Fine Cooking.
Looking for more breakfast favorites? I can help!