Our Crockpot Apple Butter is perfect for stocking the freezer and giving as gifts! Your entire house will smell like fall, the apple butter is rich and sweet, and you only need apples, brown sugar, and spices to make this one!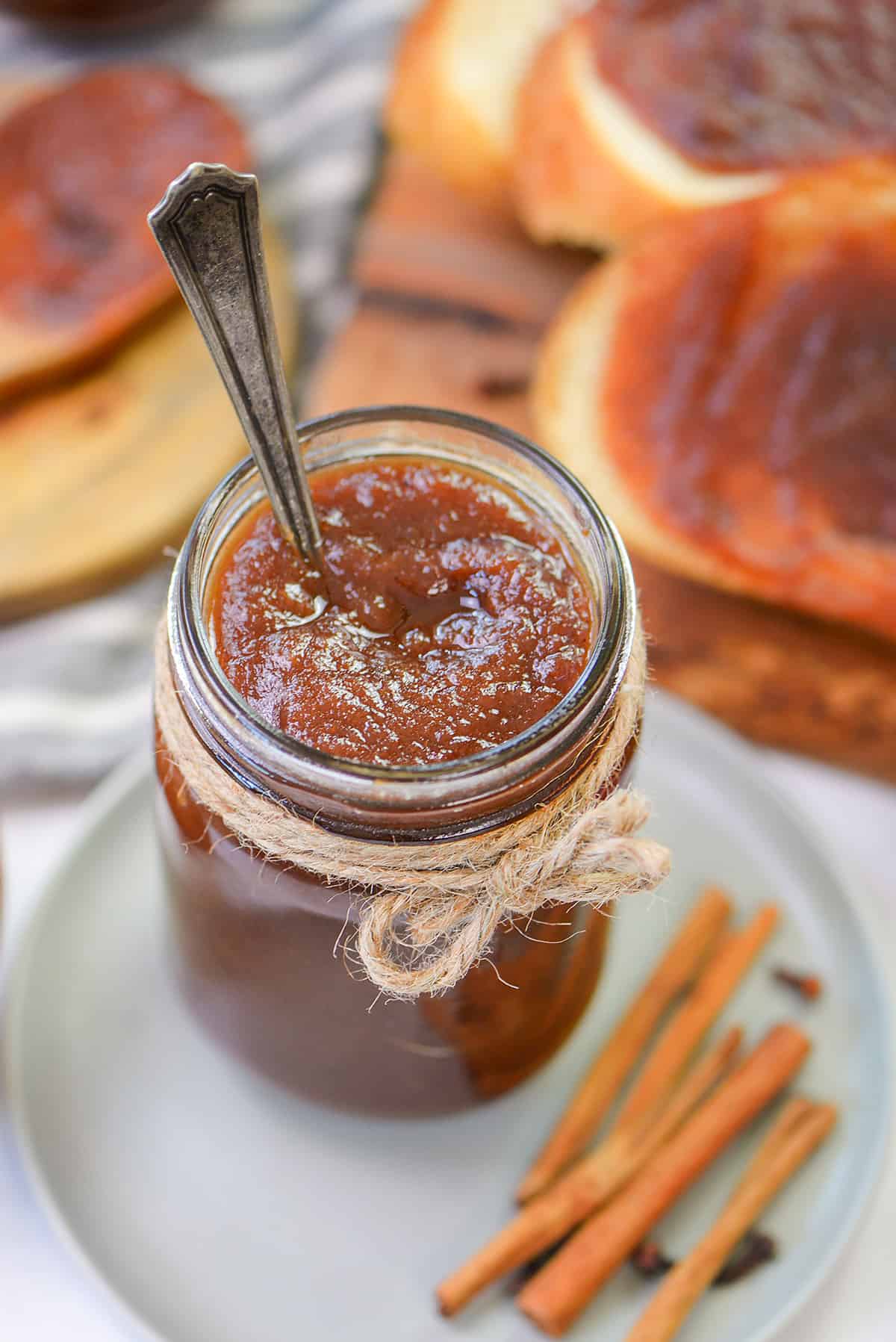 Visiting the local apple orchard is a favorite fall tradition in my family. We use the freshly picked apples to make all sorts of goodies, such as our Snicker's Apple Salad or an apple galette. The fresh cider is perfect in our apple cider mimosa!
But every year we're sure to buy plenty of apples to make this Crockpot Apple Butter.
Our kids love to spread this on toast or our homemade biscuits. It's also perfect for placing in a jar, freezing, and then passing out at Thanksgiving or Christmas to friends and family.
🍎 What is Apple Butter?
Apple Butter is basically applesauce that has been cooked down until it's extra thick, rich, and buttery. It's been seasoned well with spices, similar to apple pie filling, and comes out smooth and creamy, much like butter.
👩‍🍳 Ingredient Notes:
This post contains affiliate links. As an Amazon associate and member of other qualifying programs, I earn from qualifying purchases.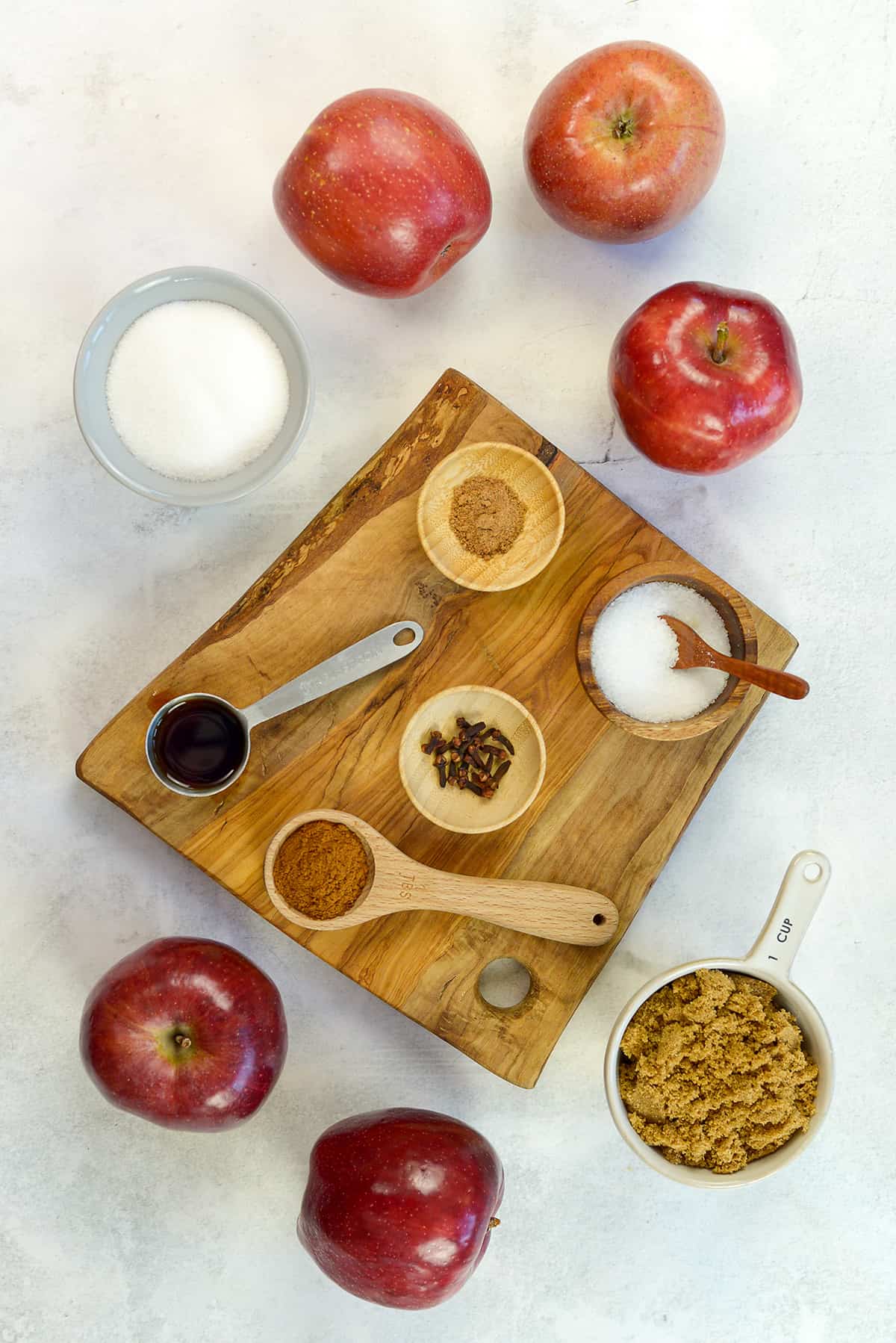 Apples – You'll use a variety of apples for the best flavor. We prefer a mix of Fuji, Golden Delicious, Braeburn, and Cortland.
Sugar – You'll need both granulated white sugar and dark brown sugar, which has a stronger molasses flavor than light brown sugar.
Spices – We're using traditional apple pie spices here, including cinnamon, nutmeg, and cloves.
Vanilla Extract – A bit of vanilla is going to add some extra flavor and it'll help to balance out the spices.
What We Love About This Recipe:
You can experiment with lots of different apple varieties to find a mix that perfectly suits your taste!
It'll level up any regular breakfast item with lots of flavor, like pancakes or waffles!
Store bought apple butter is fine, but it doesn't even compare to homemade!
🔪Helpful Tools:
Immersion Blender – This is an easy, mess free way to blend/process that works in so many great recipes and it's perfect for pureeing the apples in this apple butter recipe!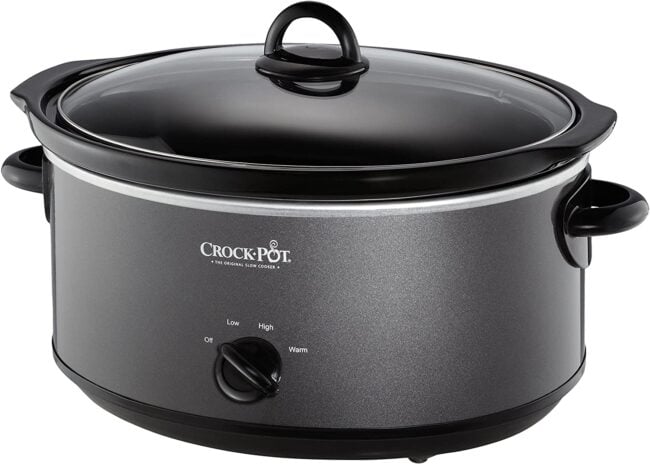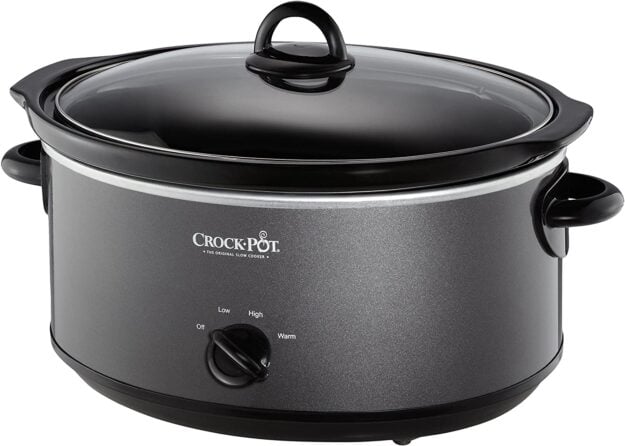 In the market for a new slow cooker? We love this 7 quart Crockpot. It's simple to use, cooks evenly, and is very budget friendly. Plus, it has a 4 1/2 star rating with over 5,000 reviews on Amazon!
🥘 How to Make Slow Cooker Apple Butter: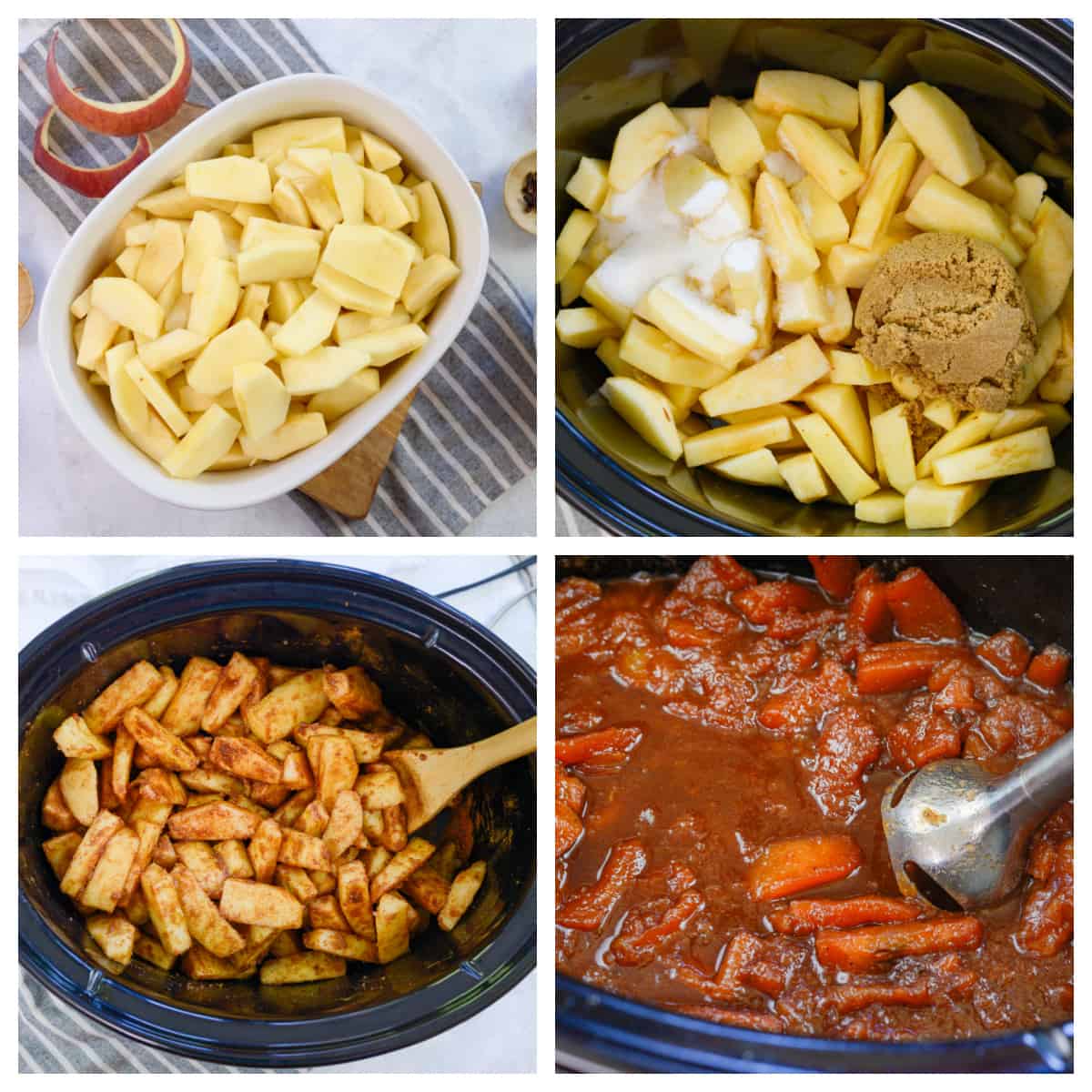 Prep: Rinse, peel, and chop your apples into chunks.
Season: Sprinkle the sugars and spices over the apples in the crockpot.
Stir & Cook: Stir it all up to combine until the apple slices are well coated. Cover and cook on high for 5 hours.
Puree: Use an immersion blender to puree the slow cooked apples until smooth. Stir in the vanilla.
Thicken: We're almost done but this last step is pretty important. Let the apple butter continue to cook on high uncovered this time, for about 30 to 45 minutes.
The apple butter will thicken up nicely, which makes it easier for spreading and it concentrates all that sweet apple and cinnamon spice flavor!
Helpful Tip!
If the apple butter seems like it is still too thin you can just continue to cook it for longer in the crockpot until it has reduced further. It will also thicken as it cools.
Store: This makes quite a bit so there's a good chance you won't be eating it all in one sitting. Which is just fine, because it stores well! Transfer the apple butter to a mason jar and keep in the fridge for up to 2 weeks or freeze for up to 3 months.
🍞 What To Serve With Apple Butter:
There are so many ways you can enjoy this apple butter! I mean, pretty much anything that you'd put jam or preserves on is going pair wonderfully with this apple butter recipe. Here are some suggestions:
Toast
Grilled Cheese (just a thin layer of apple butter paired with melty cheese is delicious!)
❔ FAQs:
Why use a mix of apples?
Apples come in many varieties with varying levels of sweetness and tartness. I like a mix of Fuji, Golden Delicious, and Braeburn or Cortland. You can experiment to find out which combo offers the best flavors!
Is this the same as applesauce?
Apple butter is essentially applesauce that has been cooked longer, often with more spices and with a lot more of a concentrated flavor. It also has a richer, buttery texture.
How to store apple butter?
Keep the apple butter stored in an airtight glass jar, like a mason jar, for up to 2 weeks in the refrigerator or in the freezer for up to 3 months.
MORE EASY APPLE DESSERT RECIPES!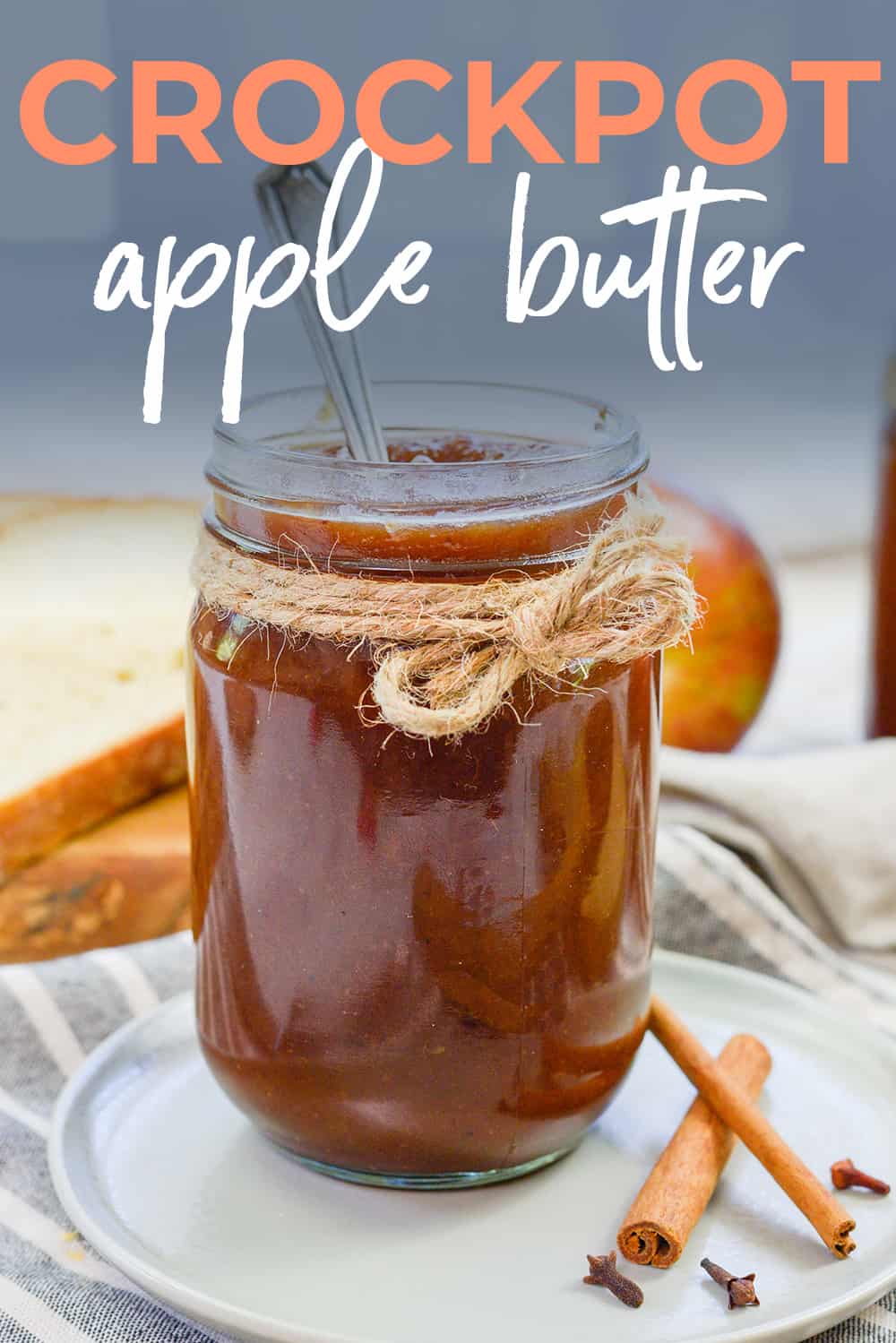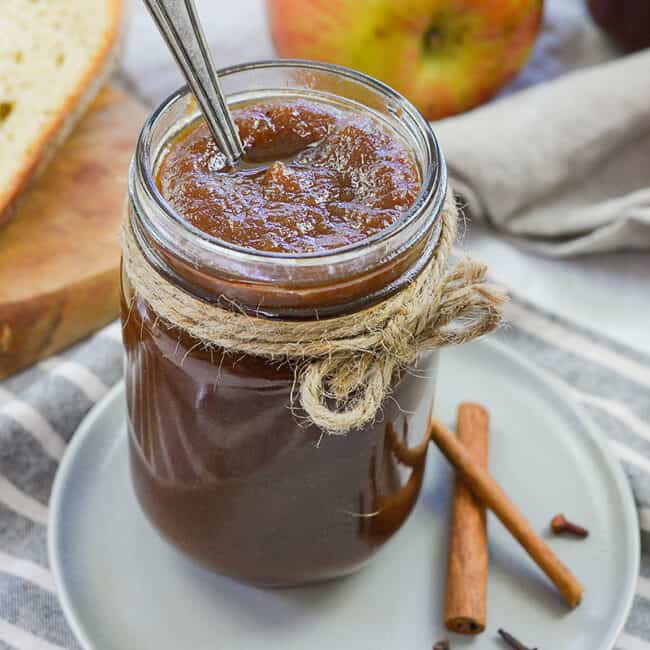 Crockpot Apple Butter
Rich, thick, and sweet apple butter is a breeze to make in the crockpot. We love to spread this on toast, biscuits, and pancakes. It can also be frozen and gifted to friends and family during the holidays.
Prep10 minutes
Cook5 hours 45 minutes
Ingredients
6 pounds apples any variety, see notes
1 cup dark brown sugar
½ cup granulated sugar
1 tablespoon ground cinnamon
½ teaspoon ground nutmeg
½ teaspoon salt
1/4 teaspoon ground cloves
1 tablespoon vanilla
Instructions
Peel and core your apples and slice into ¼ – ½ inch thick slices.

Place the apple slices, brown sugar, granulated sugar, cinnamon, salt, nutmeg, and cloves into a crockpot. Stir to combine.

Cover and cook on high for 5 hours or until apples are brown and soft.

Use an immersion blender to puree the apples and then stir in the vanilla. Alternately, transfer the mixture to a blender and carefully blend until smooth.

Continue cooking with the lid off for 30-45 minutes to thicken the apple butter. The apple butter will continue to thicken as it cools.

Transfer to clean jars and store in the fridge for up to 2 weeks. To freeze, cool completely in the fridge and transfer to the freezer for up to 3 months.
Tips & Notes:
Any variety of apples should do, but we prefer a mix of Fuji, Golden Delicious, Braeburn, and Cortland. This recipe makes about 8 cups or 4 pints, which is around 64 servings at 2 tablespoons each.
Nutrition Information:
Serving: 2tablespoons| Calories: 42kcal (2%)| Carbohydrates: 11g (4%)| Protein: 0.1g| Fat: 0.1g| Saturated Fat: 0.02g| Polyunsaturated Fat: 0.02g| Monounsaturated Fat: 0.004g| Sodium: 20mg (1%)| Potassium: 51mg (1%)| Fiber: 1g (4%)| Sugar: 9g (10%)| Vitamin A: 23IU| Vitamin C: 2mg (2%)| Calcium: 7mg (1%)| Iron: 0.1mg (1%)