Light, fluffy homemade biscuits, as made by my dad! His biscuits are seriously the best. We're sharing all of his tips and tricks below. Scroll down to get straight to the recipe or keep reading to find out how to make homemade biscuits!
I recently shared a photo of my dad's famous homemade biscuits on Instagram and you guys ate them up. Figuratively, of course. Literally, I did the eating.
I wanted to be sure that I had his biscuit recipe down pat before I shared with you, so I spent the next few weeks making batch after batch. We ended up making 10 batches of 10 biscuits each. It took me awhile to be sure I had them juuuuuust right.
I also wanted to make sure that I could answer any questions you guys might have and I knew that meant mastering the homemade biscuit.
I spent some time with my dad and he showed me all of his tips and tricks for making the perfect homemade biscuits. And then I came home and I made an unholy amount of biscuits over the course of the next few weeks.
Can confirm I am now a biscuit master.
Will I still make our 7 Up Biscuits? Absolutely – those are easy and delicious. But the truth is that this biscuit recipe from my dad will always have my heart!
Ingredients for Homemade Biscuits: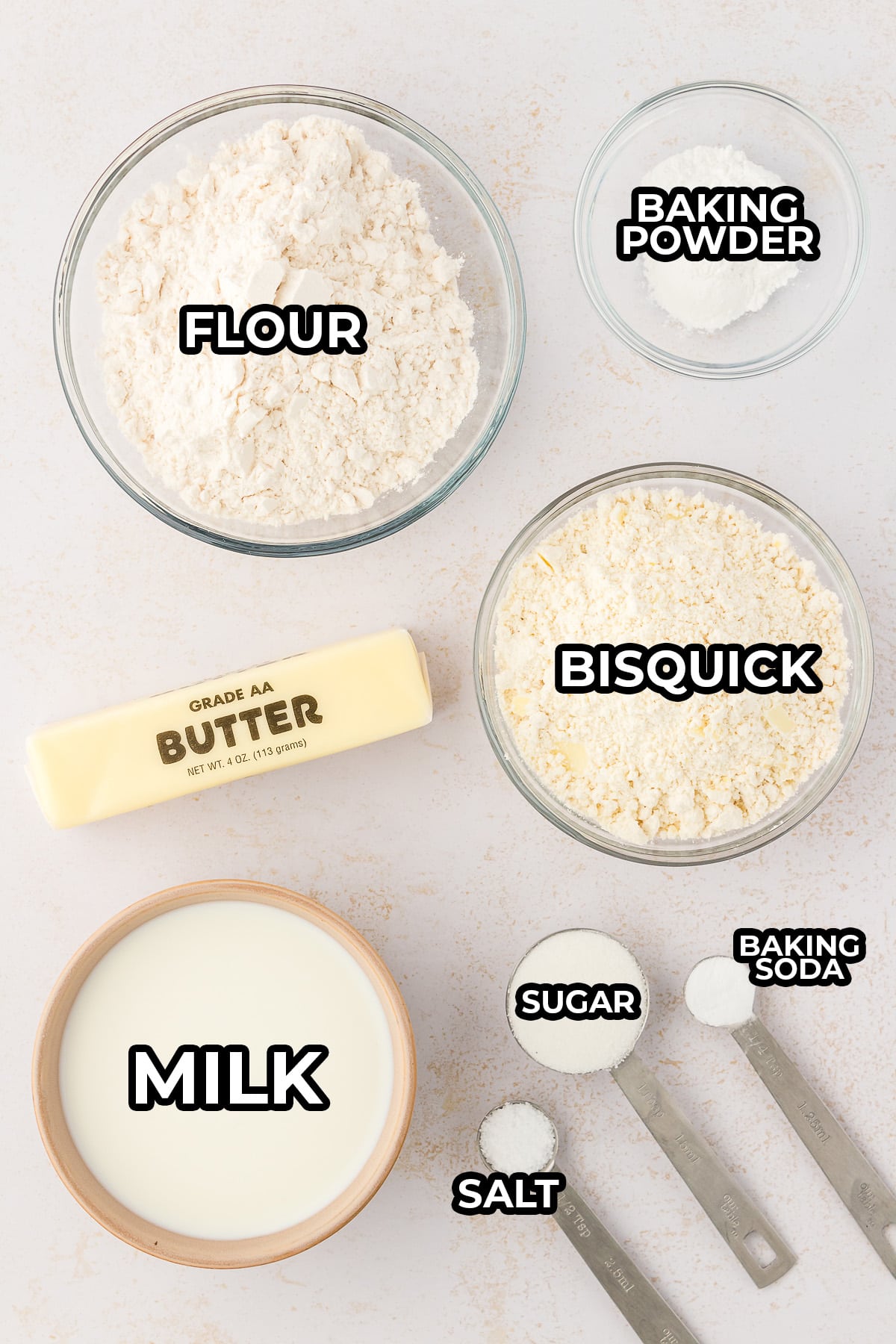 The Flour: You're going to use a mixture of all-purpose flour and Bisquick biscuit mix. I haven't tried this with any substitutions and I haven't tried it with a homemade Bisquick biscuit mix myself, so I can't tell you how well that will work. If you do try it, please report back so I can update this!
The Butter: We're using softened butter instead of cold butter. I know, your whole life you've heard that you need to use cold butter! Some of you are probably grating frozen butter into your biscuits. This recipe works perfectly with room temperature butter!
The Leavening Agents: There's a lot of baking powder in this recipe. I was actually pretty surprised by the amount my dad uses. But it doesn't have a metallic or soapy taste! Baking soda is normally used when there is an acid present – like buttermilk, lemon, or vinegar, There isn't any in this recipe, but my dad still adds a little baking soda and it just isn't the same without it!
The Milk: You can use buttermilk if you really feel the need to, but my dad uses regular 2% milk and so do I. I actually prefer the biscuits that way. They get too tangy for me when you use buttermilk.
What Readers are Saying!
"I have never made homemade biscuits before so this was my first attempt. Oh my goodness! They turned out amazingly delicious. Thank you so much for sharing your recipe and tips!!" – Christen
How to Make Homemade Biscuits:
Dry Ingredients: These aren't your average Bisquick biscuits! That means you'll be adding some extra ingredients to the mix.

Add the Bisquick biscuit mix, flour, baking powder, sugar, salt, and baking soda to a mixing bowl and stir until well combined.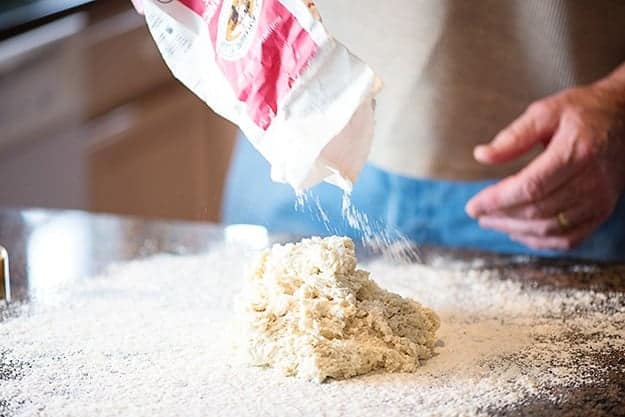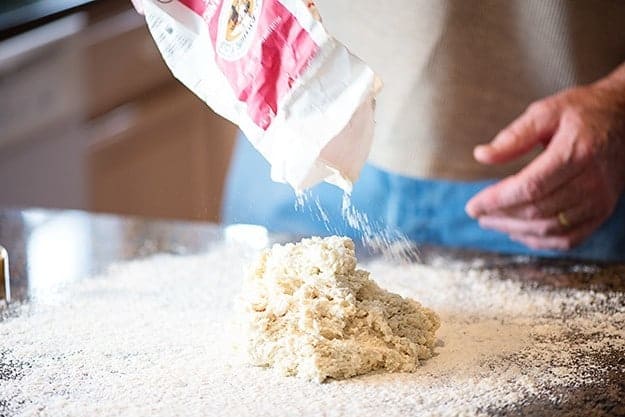 Wet Ingredients: Now you can start adding in the butter. Start with two tablespoons and work it into the flour, then repeat with the remaining butter. Next you can pour in the milk and stir it with a spoon until just combined. To finish fold the dough over on itself three times.
Shape: Pat the dough out into a circle about 3/4 of an inch thick onto a floured surface.
Helpful Tip!
Is the dough too soft to work with?
You may need to add more flour if the mixture is too wet. Just add in a tablespoon at a time until the dough is dry enough to handle.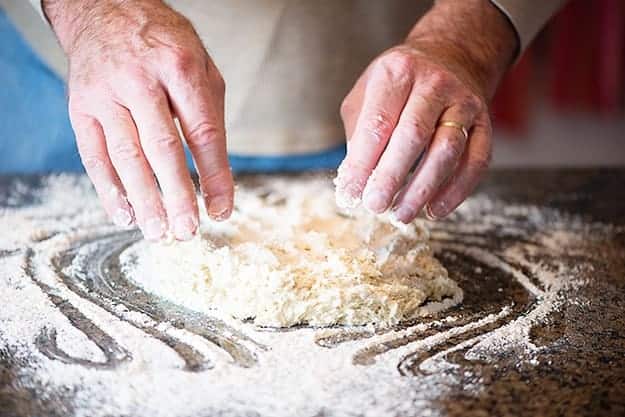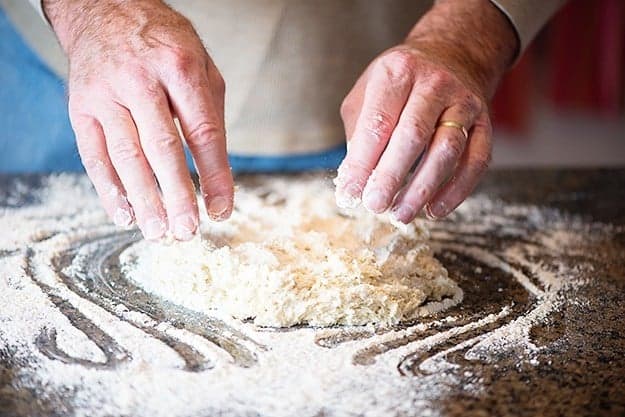 Helpful Tip!
Don't be shy about re-rolling the dough!
Get in there and re-roll that dough to get extra biscuits. You'll probably get about 5 biscuits from your initial pat down of the dough. Definitely pat it back out and cut out the remaining biscuits. My dad isn't at all shy about re-working the dough and you shouldn't be either.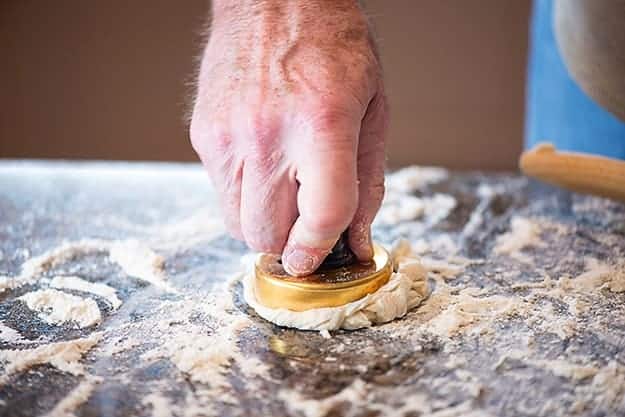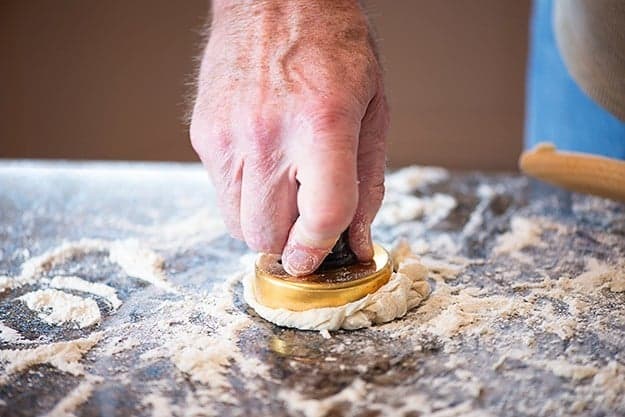 Bake: Place the biscuits on a baking sheet and let them sit for 5 minutes before baking. They'll take about 10 to 15 minutes in the oven or until the tops begin to turn golden brown!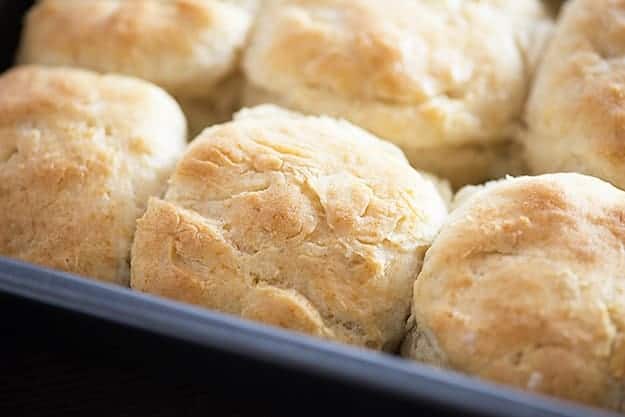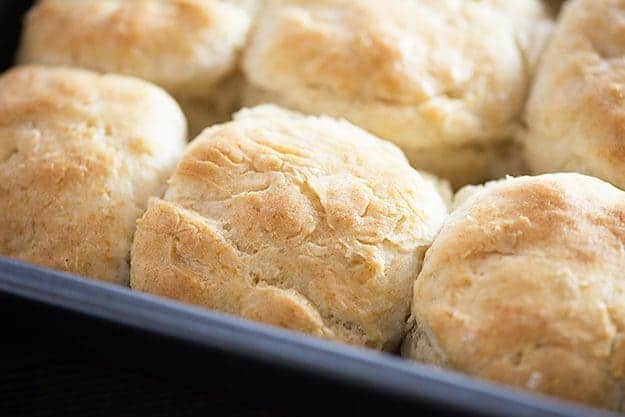 FAQ:
Why do my biscuits have brown spots on top?

These brown spots are happening because you're not mixing the dry ingredients together well enough. I won't make you sift things (heaven forbid), but do really stir everything together, more than you think you probably need to. At least 30 seconds of non-stop stirring things around with a fork. Trust me. Even if you do end up with brown spots, the biscuits will taste great, they're just not quite as pretty.
Why aren't my biscuits rising?
Is your baking powder old? It does eventually stop working well and you may need to replace it. If it's definitely not that, are you mixing in your butter really super-duper good? Because you need to. I take a spoon and smear the softened butter into the flour against the sides of the bowl. I keep at it long after I'm bored of it, until the entire bowl looks like lightly damp sand. Almost like if you grabbed a handful of it and squeezed it, it *might* stick together.
My biscuit dough seems too wet.
Add in more flour, a tablespoon at a time, until it's just workable. The very least amount of flour you can get away with is the best in these biscuits, but don't be killing yourself trying to roll out dough that is just too sticky. When you touch it, your hand should come away clean. When you pinch it, you should have a bit of dough left on your fingers.
Why are my biscuits tough?
Sounds like you overworked the dough or added too much flour. I had this problem the first few times I made these too. Just use a light hand when mixing and add just enough flour to hold the dough together.
Why are my biscuits done before the timer goes off?
Some days these guys only take ten minutes and other days they take 15. I can't explain it (Humidity? Magic?), but I'm aware of it. I'm also aware that every oven is different. Some heat evenly, some do not. Some can't hold a temperature and are fluctuating like crazy. So, get to know your oven and react accordingly. Or just set the timer for 10 minutes and start babysitting them. Pull them when the tops are just lightly golden. Nobody likes a crunchy biscuit, so don't over bake these guys.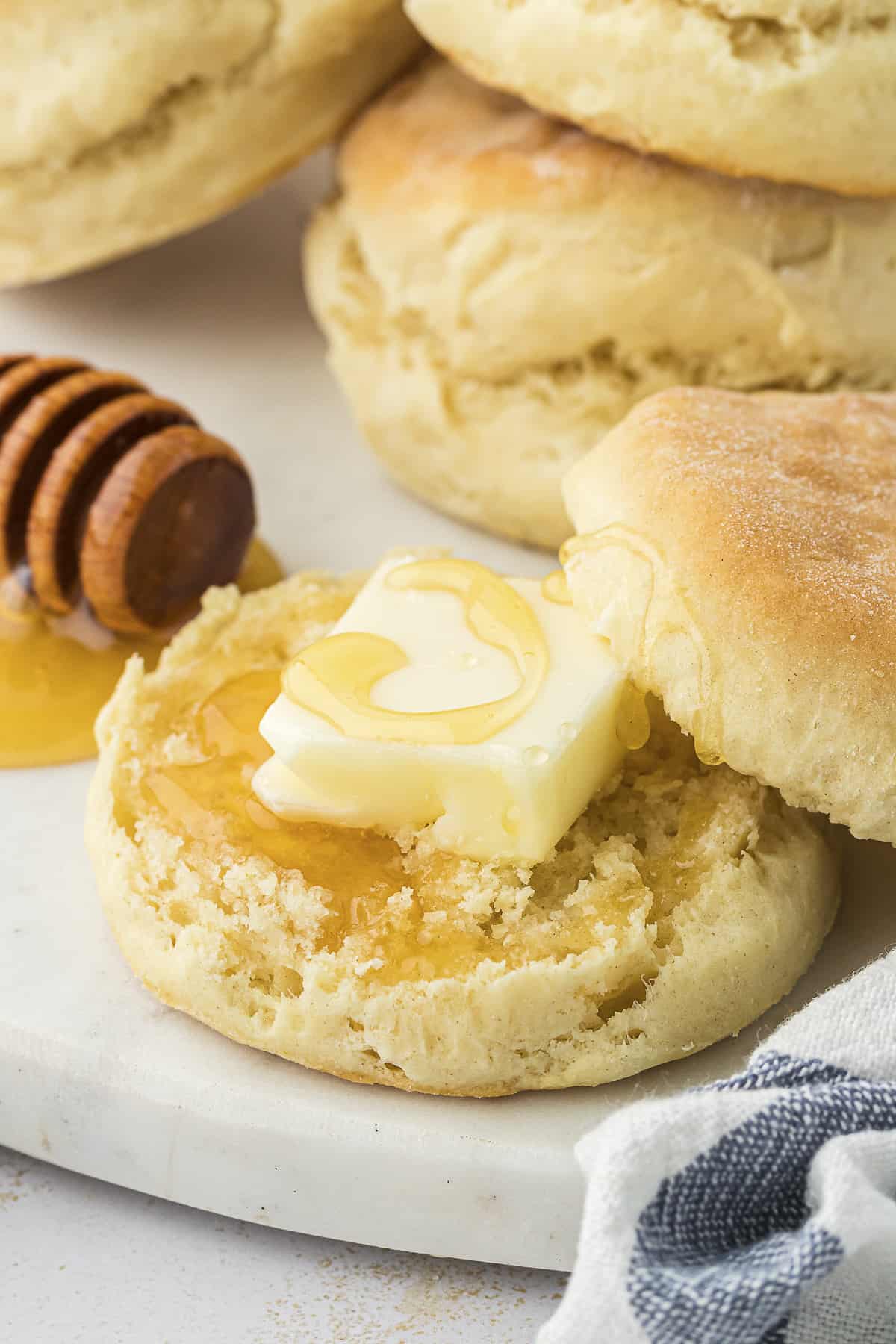 How to serve these biscuits:
MORE BREAKFAST RECIPES!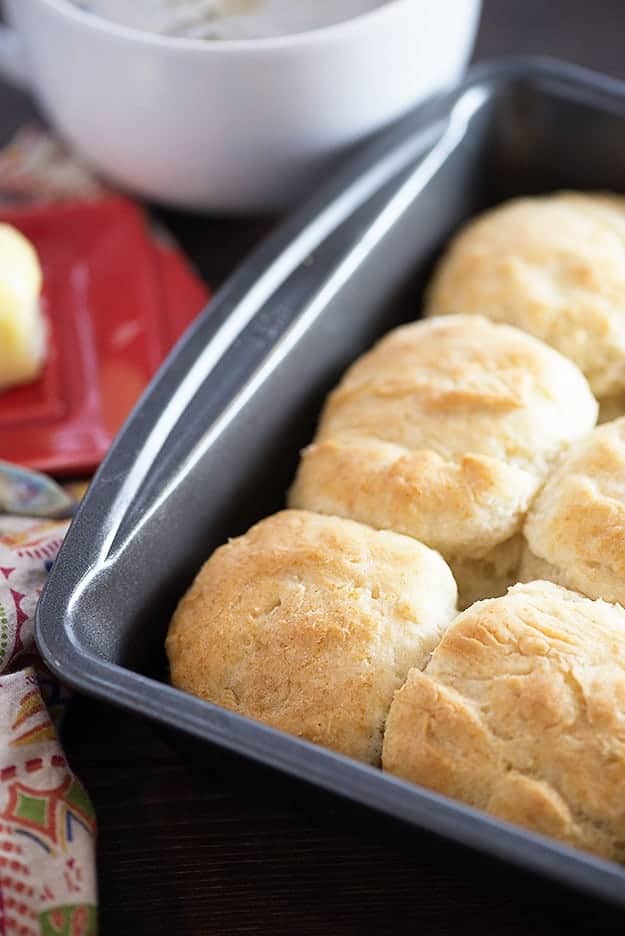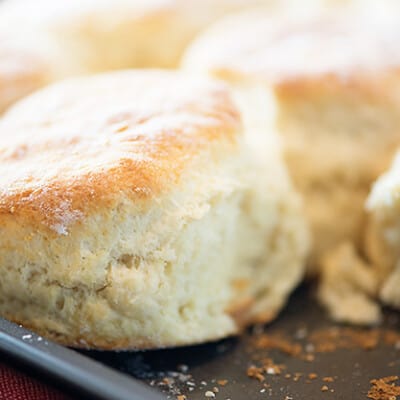 Easy Homemade Biscuits
Soft, fluffy, and so tender! These are my dad's famous biscuits and he shared all of his tips and tricks with me to get them just right. We've gotten so many comments from readers who have never been able to make proper biscuits that this recipe is foolproof and delicious!
Prep10 minutes
Cook15 minutes
Total25 minutes
Ingredients
1 cup flour, plus more as needed
1 cup Bisquick
4 teaspoons baking powder
1 tablespoon sugar
1/2 teaspoon salt
1/4 teaspoon baking soda
4 tablespoons butter, room temperature
1 cup milk
Instructions
Preheat oven to 450 degrees.

Add the flour, Bisquick, baking powder, sugar, salt, and baking soda to a large mixing bowl. Stir well to combine the dry ingredients thoroughly.

Add two tablespoons of the butter to the dough and use a spoon to press it into the flour mixture. I find it easiest to smear the butter against the sides of the bowl while working it into the flour. Once the first two tablespoons are completely incorporated, add in the last two tablespoons and repeat the process.

Pour in the milk and stir with a spoon until just combined. The dough will likely be too wet. Add in more flour, one tablespoon at a time, until the dough is just dry enough to handle. Dough should come away clean from your fingers when you touch it, but stick to your fingers if you pinch it.

Dump dough onto a well floured work surface. Sprinkle lightly with flour.

Fold dough over on itself three times.

Use your hands to pat the dough to 3/4 of an inch high.

Cut dough out with biscuit cutter and place on baking sheet. Let sit 5 minutes before baking.

Bake for 10-15 minutes or until tops are just beginning to turn golden. Do not overbake these!
Tips & Notes:
You may use buttermilk in place of regular milk, if desired. Add more flour as needed, one tablespoon at a time, to bring the dough together. Set a timer for 10 minutes and keep a close eye on the biscuits as every oven is different.
Nutrition Information:
Serving: 1biscuit| Calories: 158kcal (8%)| Carbohydrates: 20g (7%)| Protein: 3g (6%)| Fat: 7g (11%)| Saturated Fat: 3g (19%)| Cholesterol: 14mg (5%)| Sodium: 348mg (15%)| Potassium: 226mg (6%)| Sugar: 3g (3%)| Vitamin A: 180IU (4%)| Calcium: 122mg (12%)| Iron: 1mg (6%)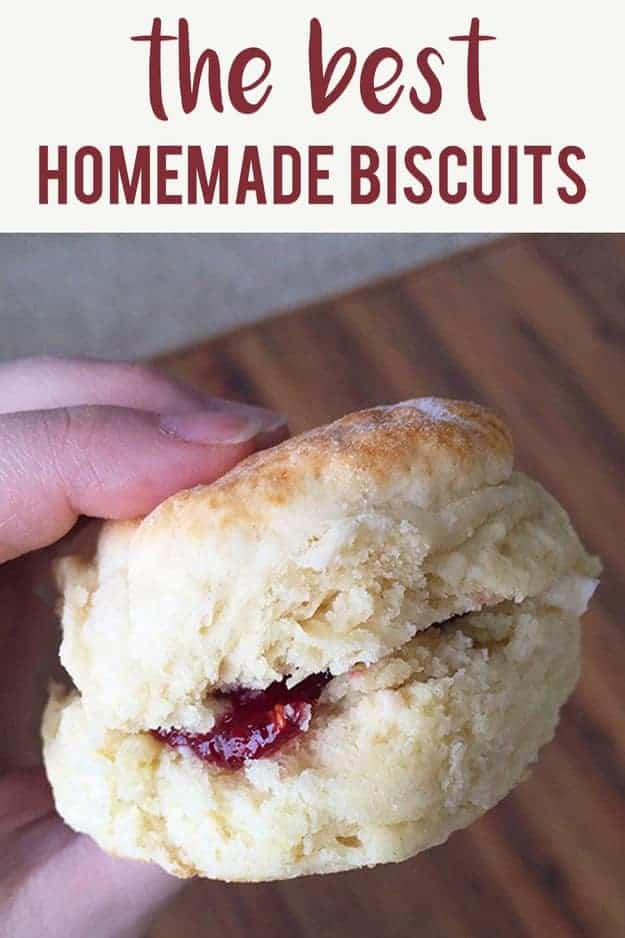 This recipe was originally published in March 2016. It's been updated with a new video and FAQ section in March 2018.