Our baked FRUIT LOOP DONUTS will quickly become a favorite breakfast or dessert! Sweet, colorful, and loaded with fruity flavor. These are impossible to resist!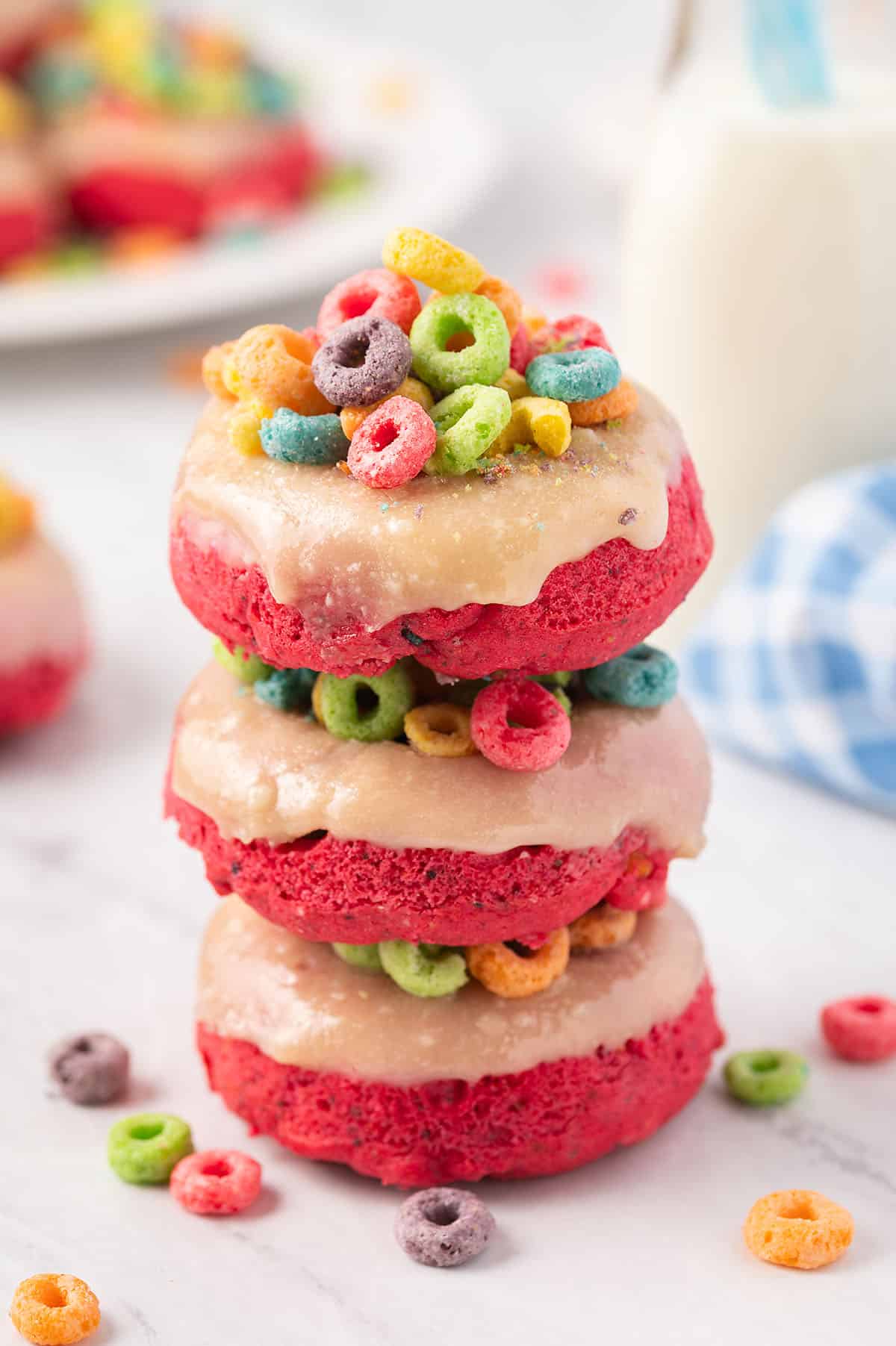 It's been awhile since I shared a new donut recipe, so I figured I'd come in hot with a Fruit Loop donut!
I mean, it's two breakfast favorites in every single delicious bite and I just know how anyone can be expected to resist these sweet little donuts?
Not only are these gorgeous to look at, they're fun to make and so easy!
We're baking these Fruit Loop Donuts, because no one wants to spend their morning standing over a pot full of hot oil, am I right?
Just in case Fruit Loops aren't your thing, I've also got loads of other donut recipes like our favorite baked chocolate glazed donut.
Not intimidated by frying? Try my grandma's famous cake donut recipe or keep it simple with some biscuit donuts. You can even try these air fryer biscuit donuts!
Ingredient Notes:
This post contains affiliate links. As an Amazon associate and member of other qualifying programs, I earn from qualifying purchases.
Fruit Loops – The star ingredient of this recipe! You'll use crushed up Fruit Loops cereal and whole fruit loops to make the donut dough!
Dough Ingredients – In addition to the fruit loops, you'll form the dough out of some flour, baking powder, sugar, salt, butter, egg, buttermilk, and vanilla extract!
Food Coloring – These donuts are colorful and will really stand out by adding in some pink food coloring to the dough!
Donut Glaze – The homemade donut glaze is a simple mix of powdered sugar, milk, cream cheese, and vanilla extract.
What We Love About This Recipe!
Everyone loves donuts and everyone loves cereal, so this mash up is a sure hit with your friends and family! These donuts are also bright and colorful, making them just as fun to look at as they are to eat!
How to Make:
Prepare the Dough: To start you'll form the dough for these fruit loop donuts. Begin by adding the dry ingredients to a large mixing bowl; the crushed up fruit loops cereal along with the flour, baking powder, and salt.
Mix those up well and then you'll pour in the rest of the donut batter ingredients. That includes the sugar, buttermilk, melted butter, egg, vanilla extract, and finally the pink food coloring. You only need a small amount of the coloring, about the size of a quarter.
Whisk all the ingredients together until you have a thick pink batter, and then use a rubber spatula to fold in the whole fruit loops.
Bake: Once you've prepared the froot loop donut dough you can start piping it into a prepared donut pan. For this task I would recommend using a pastry bag. There should be enough to make six to eight donuts, depending on how much you fill the donut pan.
Now you can pop the donut pan in the oven and bake for about nine to ten minutes. When the donut bounces back after a light touch they should be finished baking! But we're not quite done, one last step…
Helpful Tip!
Cut the tip of the pastry bag so that there's a one inch opening at the tip and don't attach a piping tip. You can substitute the piping bag with a zip-top bag, but an actual piping bag will offer a bit more structure.
If you're in need of some new baking tools and accessories be sure to check out my recommended baking essentials! I use and love these products whenever I'm baking.
Glaze: After baking remove the donuts to a wire rack to cool. Now you can get started on this simple homemade donut glaze! In a saucepan add the powdered sugar, cream cheese, milk, and vanilla extract.
Heat all that up while stirring constantly until it forms a smooth and uniform glaze. When the baked donuts are cool enough to handle you can start dipping them into the glaze. After glazing the donuts finish them off by topping with some more fruit loops!
FAQs:
How should I store these donuts?
These fruit loop donuts are best served the day of. You will extend their freshness by a day or so if stored in an airtight container at room temperature once they've cooled.
How should I crush the Fruit Loop cereal for this recipe?
The easiest and fastest way to crush the cereal (to make ½ cup finely crushed) is to add 1 cup of whole cereal to a food processor and quickly pulse until fine. If you don't have a food processor, put the cereal in a zip-top bag, seal it, and roll over the cereal with a rolling pin until it's finely crushed.
MORE DONUT RECIPES!
We love donuts! You can see all of our great donut recipes here. Below are a few of our favorites!
Fruit Loop Donuts
The ultimate breakfast mash up starts with a box of Froot Loops and a donut pan! These sweet and fruity baked donuts are so pretty to look at and fun to eat. They're loaded with crushed cereal in the donut batter to give it a fruity flavor and then topped off with extra cereal for a little crunch!
Prep15 minutes
Cook9 minutes
Total24 minutes
Ingredients
For the donuts:
1 cup all purpose flour
½ cup finely crushed Froot Loops about 1 cup whole cereal
2 teaspoons baking powder
½ teaspoon salt
1/3 cup granulated sugar
½ cup buttermilk
¼ cup butter melted
1 large egg
2 teaspoons vanilla extract
pink food coloring
1 cup Froot Loops whole
For the glaze:
1 cup powdered sugar
1 teaspoon vanilla extract
1 tablespoon milk
2 ounces cream cheese room temperature
additional cereal for topping
Instructions
Preheat the oven to 350 degrees. Spray a donut pan with nonstick spray. Set aside.

Add the flour, crushed cereal, baking powder, and salt to a large mixing bowl and whisk to combine.

Create a well in the center of the dry ingredients and add the sugar, buttermilk, melted butter, egg, vanilla extract, and about a quarter sized amount of pink food coloring.

Start by whisking the wet ingredients together and gradually combine all the ingredients. The mixture will be thick. Using a spatula, fold in the froot loops.

Use a pastry bag to pipe the batter equally into the six donut cavities.*

Bake for 9-10 minutes until the donut bounces back when lightly touched. Turn out to a wire rack to let them cool.
To make the glaze:
Add all ingredients to a saucepan on medium-low heat. Use a rubber spatula to stir constantly until the glaze becomes uniform and smooth.**

Once the donuts are cool enough to handle, dip them into the glaze, place back on the wire rack and top with extra cereal. ***
Tips & Notes:
*This recipe makes between 6-8 donuts, depending on how high the donut cavities are filled. The fuller they are, they're more likely to close the donut hole gap. This is actually great for holding more cereal toppings, because it creates a bowl base; but if you want to create the classic donut hole, fill the cavities less full. ** If the glaze begins to harden, the burner on the stove should still provide enough residual warmth to keep the glaze liquid after it's been turned off. You may need to occasionally stir the glaze if it's been sitting for a while. Reheat briefly on a low temperature if needed to re-liquify the glaze. If you do need to reheat, you may need to add a small amount of additional milk. *** Place the wire rack on a baking sheet or over a piece of parchment paper for easy clean up.
Nutrition Information:
Serving: 1donut| Calories: 403kcal (20%)| Carbohydrates: 56g (19%)| Protein: 9g (18%)| Fat: 16g (25%)| Saturated Fat: 9g (56%)| Polyunsaturated Fat: 1g| Monounsaturated Fat: 5g| Trans Fat: 1g| Cholesterol: 184mg (61%)| Sodium: 407mg (18%)| Potassium: 271mg (8%)| Fiber: 1g (4%)| Sugar: 36g (40%)| Vitamin A: 744IU (15%)| Vitamin C: 4mg (5%)| Calcium: 122mg (12%)| Iron: 3mg (17%)