Easy biscuit donuts are our favorite morning treat! You won't believe how good fried biscuits are – especially when tossed in cinnamon and sugar or dipped in a simple glaze.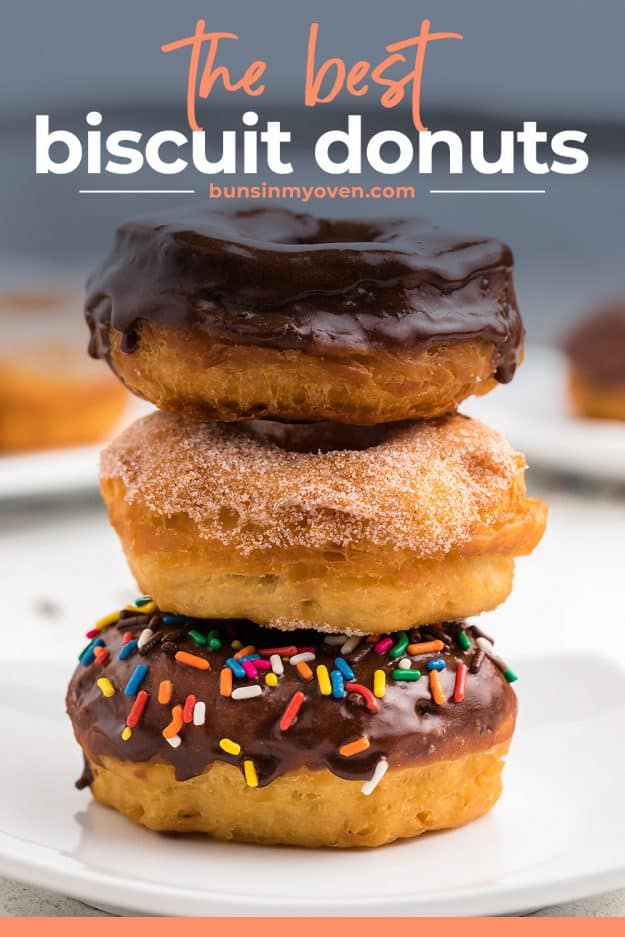 Raise your hand if you grew up eating homemade donuts that came from a can of refrigerated biscuit dough!
And if you didn't live that childhood, I am so sorry, my friend. Let me show you the ways…
This sounds crazy, but when you fry a biscuit, it somehow magically turns into a donut.
And not just any donut. Like a GOOD donut.
Honestly, I rank these up there in my top 3 donuts, and that's saying something because have you seen all of the donut recipes I've shared over the years?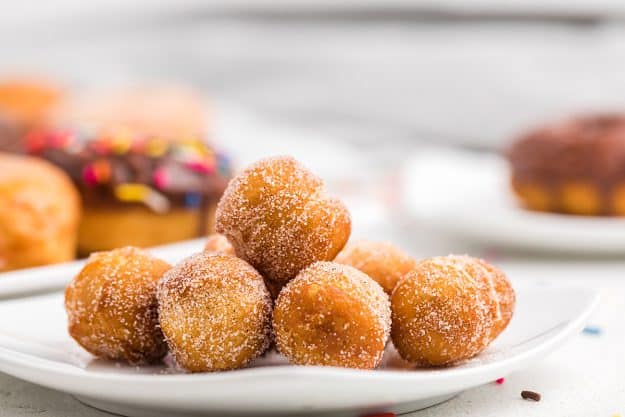 How to make donuts with biscuits:
Use a donut cutter or the cap from a 20 ounce soda/water bottle to cut a hole out of each biscuit.
Heat a pot of oil to 350 degrees and add the donuts to the oil. Fry until golden on each side.
Toss in cinnamon and sugar, dunk in a classic vanilla glaze, top with a simple chocolate glaze, or go all out and dunk them in my mama's famous chocolate frosting.
How to Air Fry:
Not interested in heating up a pot of grease and dealing with hot oil?
I get it.
Turn them into air fryer donuts! You won't believe how simple and quick it – and honestly they're just as good as the deep fried version.
Donut Toppings:
Vanilla Glaze: This classic glaze is, well, classic! For a reason! Just whisk together 1 1/2 cups powdered sugar, 2 tablespoons milk, and 1 teaspoon of vanilla until smooth.
Chocolate Glaze: Mix together 1 1/2 cups of powdered sugar, 1/4 cup cocoa powder, and 2-3 tablespoons of milk until smooth.
Cinnamon & Sugar: Whisk together 1/2 cup of granulated sugar and 1 tablespoon of ground cinnamon. The cinnamon sugar mixture sticks best when the donuts are still warm, so toss them in this mixture as soon as you're able.
Powdered Sugar: Place 1 cup of powdered sugar in a brown paper bag. Once donuts are cool enough to handle, add them to the bag one or two at a time and shake until fully coated in the powdered sugar. If the powdered sugar is melting, your donuts are too hot. Cool longer and try tossing them again.
What Readers are Saying!
"Just made and ate two. They are excellent. Hubs says " I didn't know you could do that with canned biscuits". Me either but now we know!! Off to fight over the fifth and final one." – Diana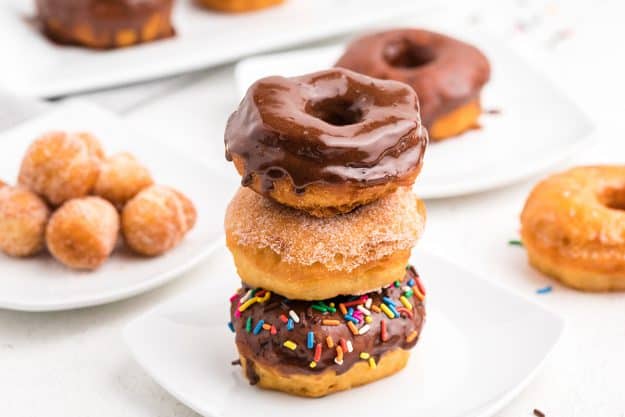 More Donut Recipes To Try: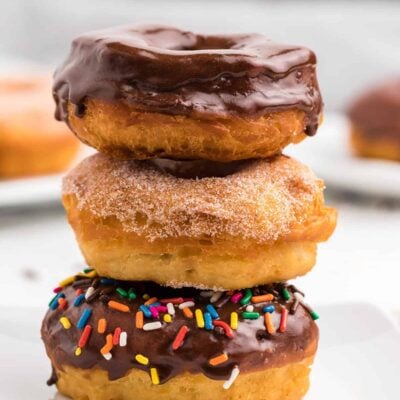 Canned Biscuit Donuts
Easy biscuit donuts are our favorite morning treat! You won't believe how good fried biscuits are – especially when tossed in cinnamon and sugar.

Prep5 minutes
Cook10 minutes
Total15 minutes
Ingredients
1 package 8-count refrigerated biscuits
1/2 cup sugar
1 teaspoon cinnamon or more, to taste
vegetable oil for frying
Instructions
Heat 3 inches of oil in a large, deep skillet or deep fryer to 350 degrees.

Using a donut cutter (or the cap from a 2 liter soda bottle), cut the center from each biscuit.

In a small bowl, combine the sugar and cinnamon and set aside.

Place a few donuts in the pan of hot oil, being careful not to crowd the pan. Fry until golden brown on one side, about 1-2 minutes, and then flip and fry until gold brown on the other side.

Remove and drain on a paper towel lined plate. Repeat with the remaining donuts.

Shake each hot donut in the sugar and cinnamon mixture to coat.

Serve warm for the best taste and texture.
Tips & Notes:
Any variety of canned biscuits will work, but we prefer the flaky layers. For more topping variations, scroll up to the blog post. Donuts will keep at room temperature for up to 2 days, but are best served fresh.
Nutrition Information:
Serving: 1donut| Calories: 259kcal (13%)| Carbohydrates: 40g (13%)| Protein: 3g (6%)| Fat: 9g (14%)| Saturated Fat: 1g (6%)| Sodium: 544mg (24%)| Potassium: 129mg (4%)| Sugar: 14g (16%)| Calcium: 31mg (3%)| Iron: 1.9mg (11%)
This post was originall published in November 2011. It's been updated with new text and photos.