These Potato Donuts are so light and airy, tossed in a sweet glaze, and basically just irresistible. And if potato donuts sound strange to you, just know that there's a rumor that the famous 'krispy' donut contains potato too!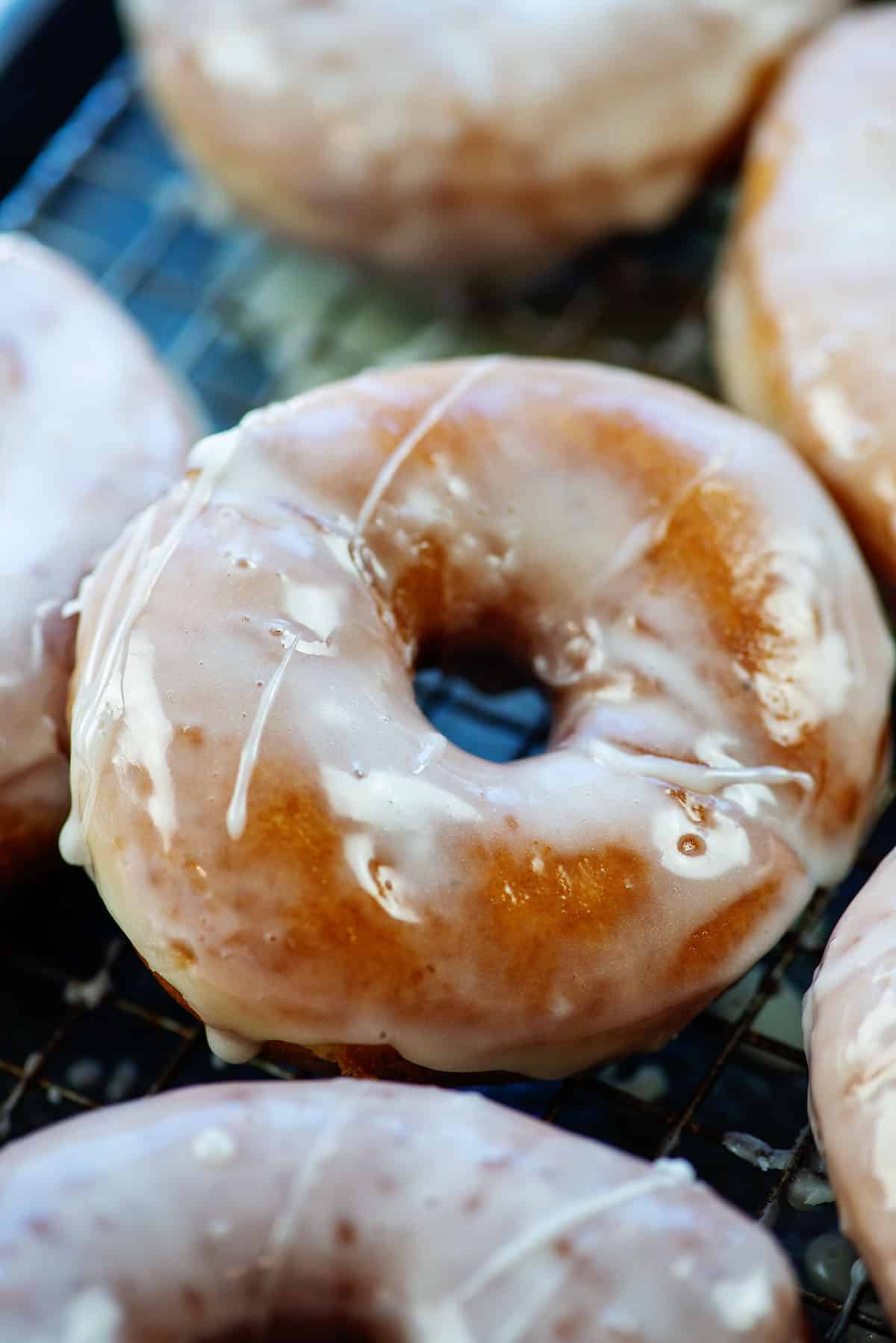 When we first moved to the city I now live in, my husband tried selling me on it with the local donut shop. He knows that donuts rank high with me.
My chocolate glazed donuts are a major hit around here!
The thing is, these donuts are made from potatoes and I'm sorry, but no. Take me home, I want to move back in with my mama, where the donuts are made from normal things like flour and sugar.
I finally gave one of the potato donuts a shot, though. And, well, here I am making and sharing my own version with you.
Mashed potatoes add moisture to the dough and helps make them so light and fluffy. And no – these don't taste like potatoes – they just taste like delicious donuts that you won't be able to stop eating!
Ingredient Notes: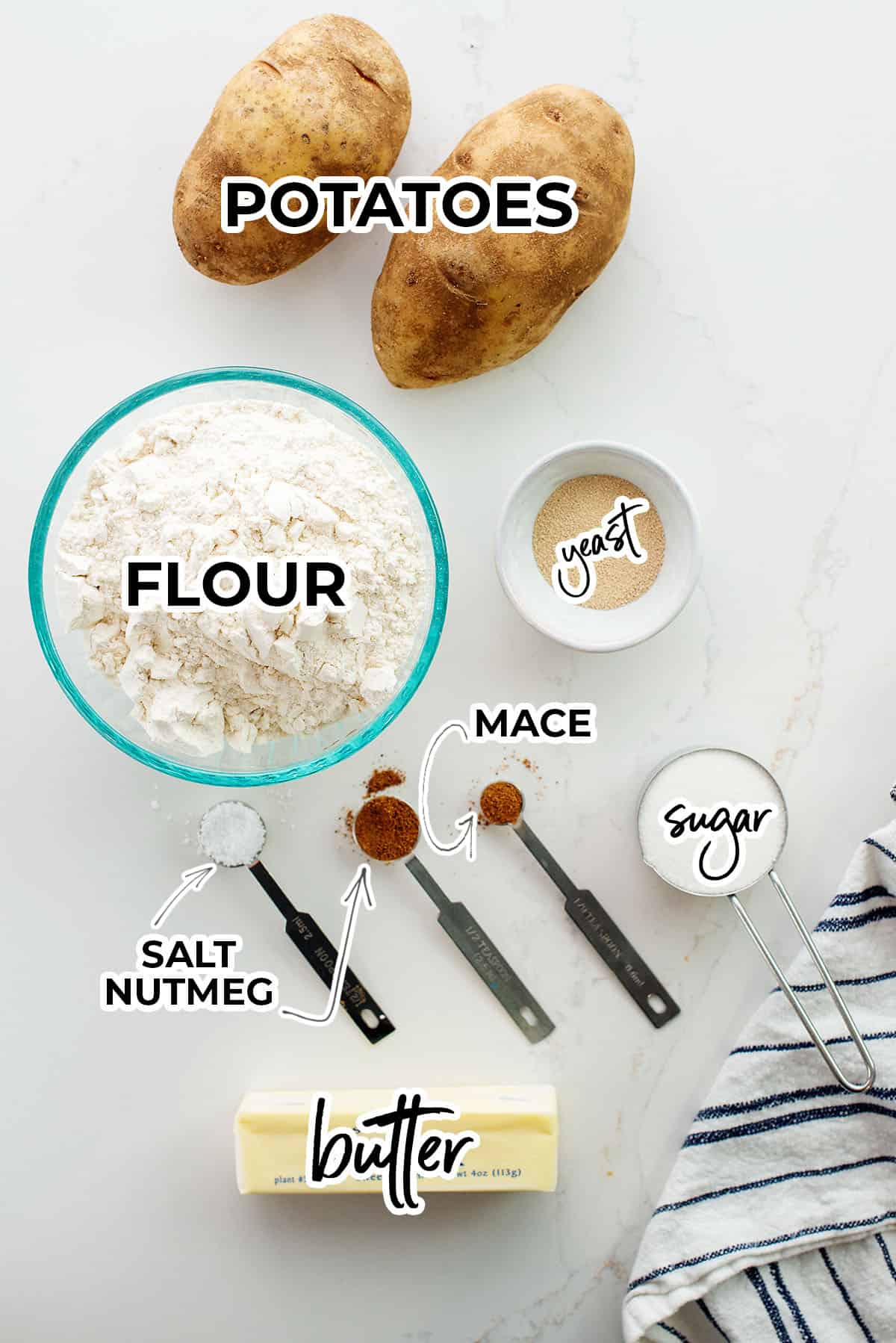 Potatoes – We use russet potatoes, but any variety that mashes well should work.
Dry Ingredients – We're using the usual mix of flour, sugar, yeast, and spices in these donuts.
Wet Ingredients – We're using an egg, along with the water we boil the potatoes in.
Active Dry Yeast – Don't be scared, I'll walk you through it if you're new to working with yeast! It's easy!
Oil – We are deep frying these donuts. I like to use a vegetable oil, such as canola or corn oil for frying. Peanut oil would also work well, but I find it's a bit pricey.
How to:
This post contains affiliate links. As an Amazon associate and member of other qualifying programs, I earn from qualifying purchases.
Potatoes: Wash, peel, and boil your potatoes. Save the water you boiled the potatoes in for later and then mash or rice the potatoes. You'll need 3/4 of a cup.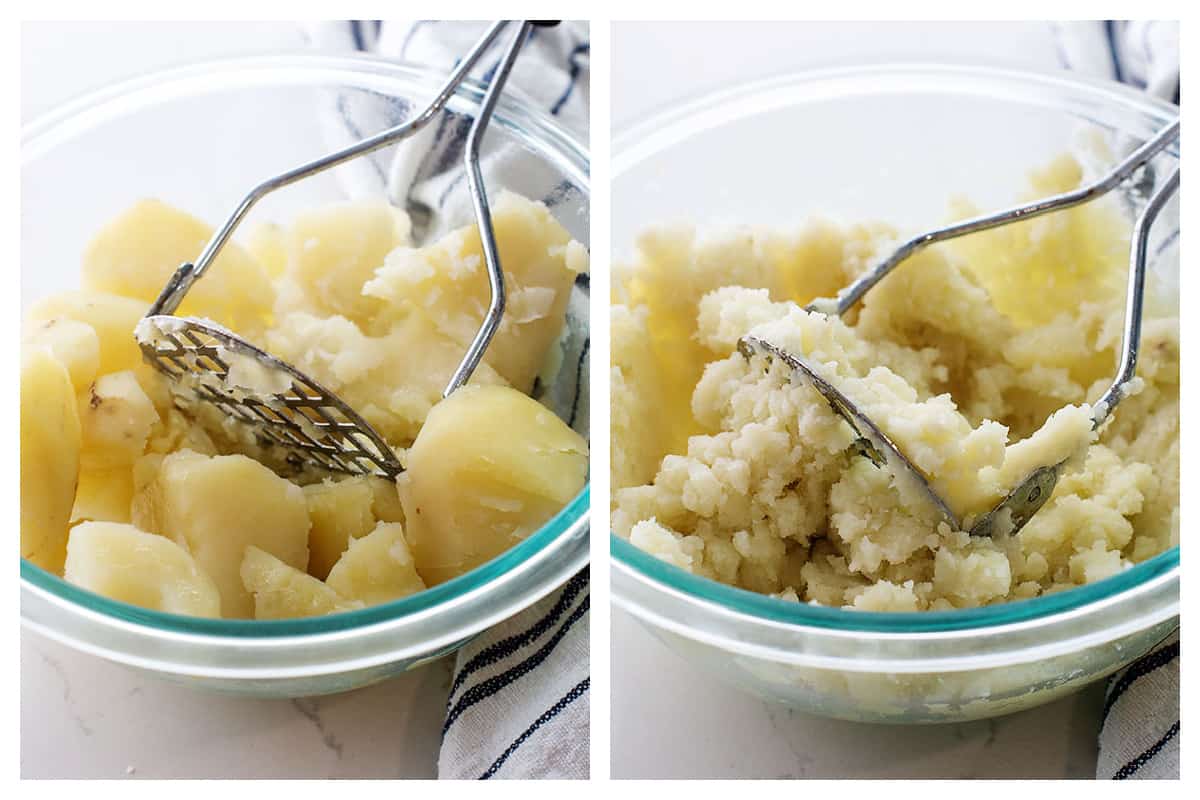 Yeast: Take a couple of tablespoons of leftover potato water and add the yeast. Let that bloom for about 5 minutes. This just means you'll sprinkle the yeast over the top and wait for it to get bubbly.
Combine: Add the mashed potatoes, a bit of flour, and egg to a stand mixer. Add the potato water back to the pot with some sugar, butter, and salt and heat that until the butter has melted. Add to your potato mixture along with the spices and yeast mixture and start mixing.
Dough: While your mixer is running, add the remaining flour 1/2 cup at a time just until the dough comes together and is clearing the sides of the bowl. Let knead for 5-10 minutes. The dough should be somewhat stiff and not sticky to the touch. It should be easy to handle. You may not need all of the flour.
Rise: Let the dough rise in a greased bowl for an hour. It should double in size.
Helpful Tip!
Proofing Dough
You can proof dough on your countertop by covering the dough with a tea towel. Alternately, and for a bit quicker rise, place the dough in your oven with the oven light turned on. The warm environment will encourage the dough to rise.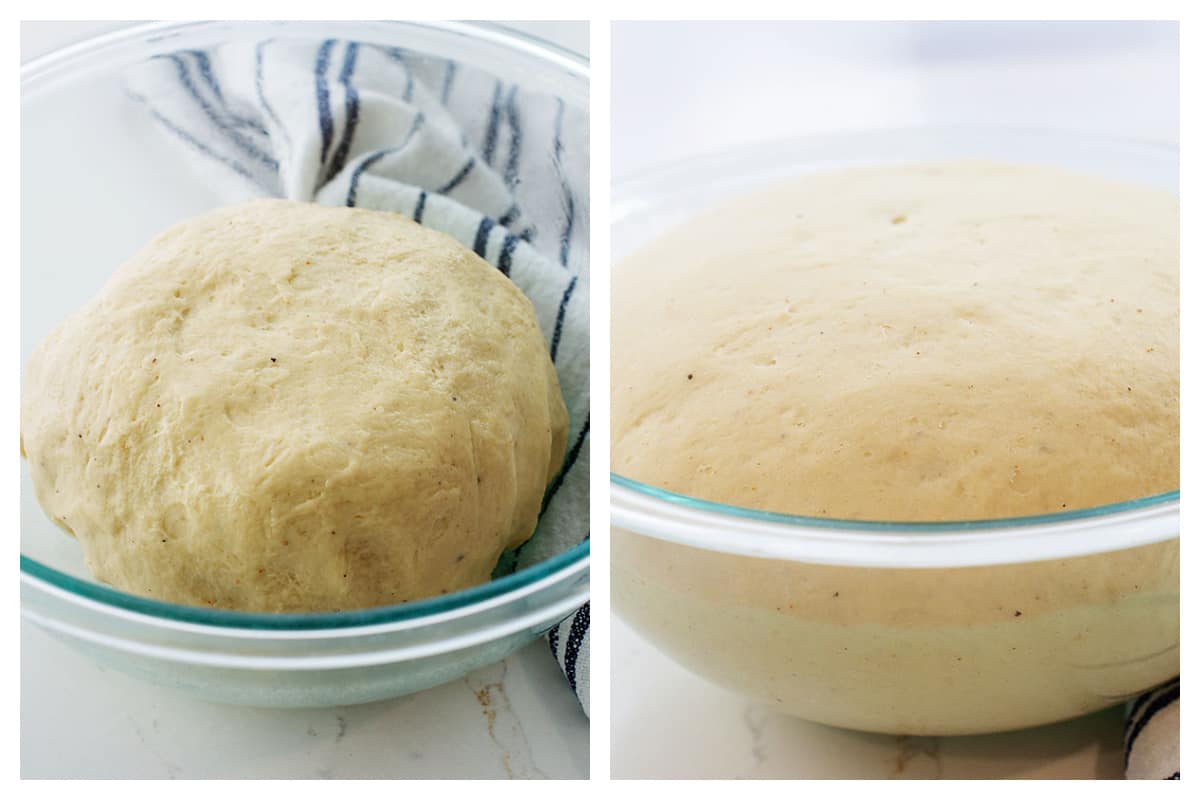 Shape & Rise: Punch the dough down and roll it out. Use a donut cutter to cut out the donuts and place them on 3 inch squares of parchment paper on a baking sheet. Let rise for 1 more hour or until doubled in size.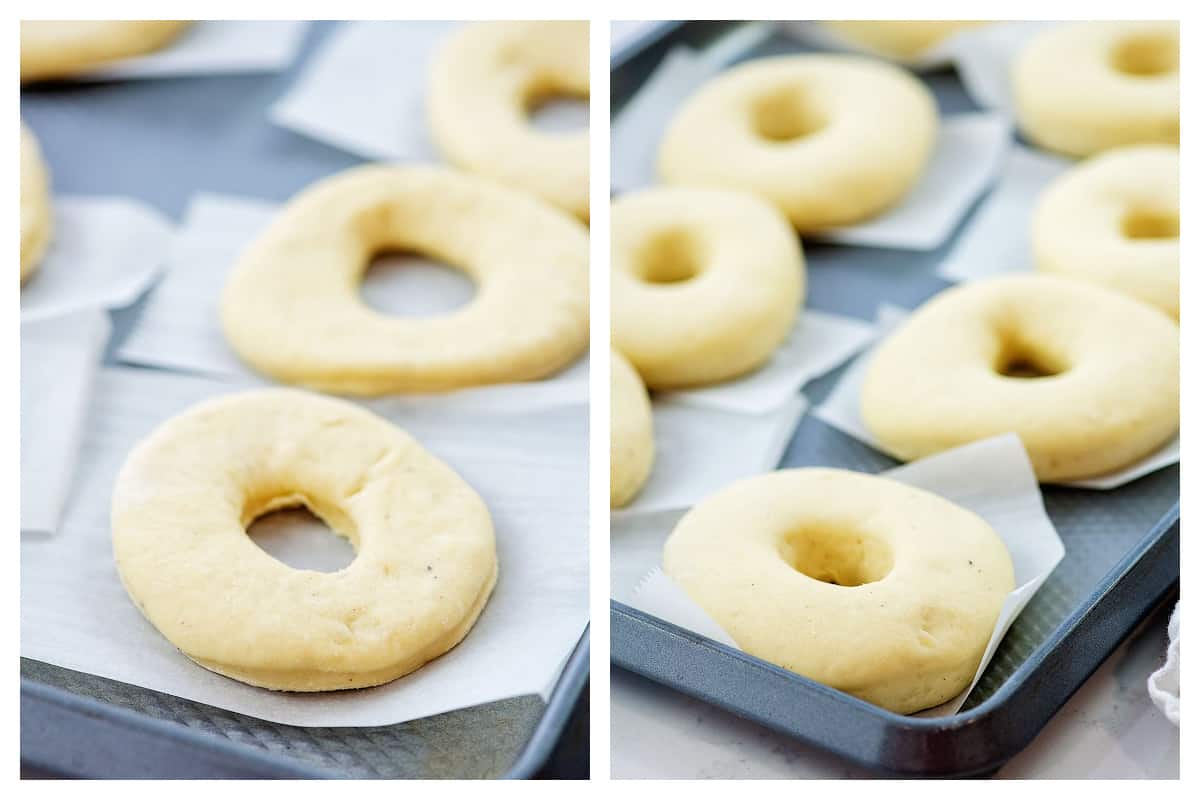 Fry: Heat a pot with 3 inches of oil to 375 degrees. Try to keep the pot right around 365-385 while frying to ensure you donuts cook evenly and don't end up greasy (too cold) or burnt outside and raw inside (too hot). Let the donuts drain on a paper towel lined plate.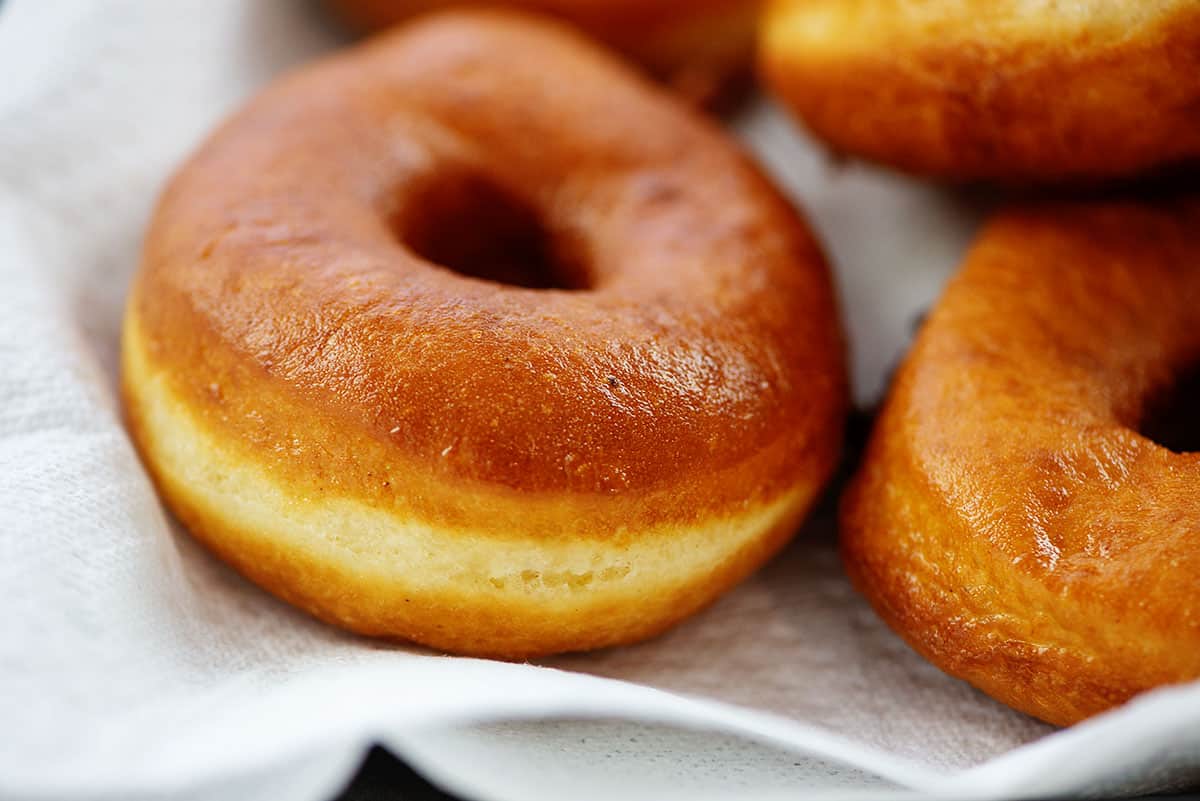 It's essential to maintain the right temperature while frying foods or making candy. This simple thermometer clips to your pan to make things a breeze.
Helpful Tip!
Frying Donuts
We let the shaped donuts rise on little pieces of parchment paper so that we can easily and gently slide them into the hot oil without deflating them.
Use a chopstick to carefully flip the donut as it fries by poking the chopstick through the hole and flipping over.
To keep your donuts from being greasy, make sure your oil is hot enough. Cold oil will soak into the food and result in a greasy donut.
We prefer to fry with canola or vegetable oil. Avocado is also a good choice, but a bit more spendy.
Donut Glaze:
Making a donut glaze is simple! You'll need:
Powdered Sugar
Milk
Vanilla
Warm the milk and then stir everything together until smooth. Dunk the mostly cooled donuts into the warm glaze and let sit.
You can dunk both sides of the donut to coat or just dunk the tops and let it drip down.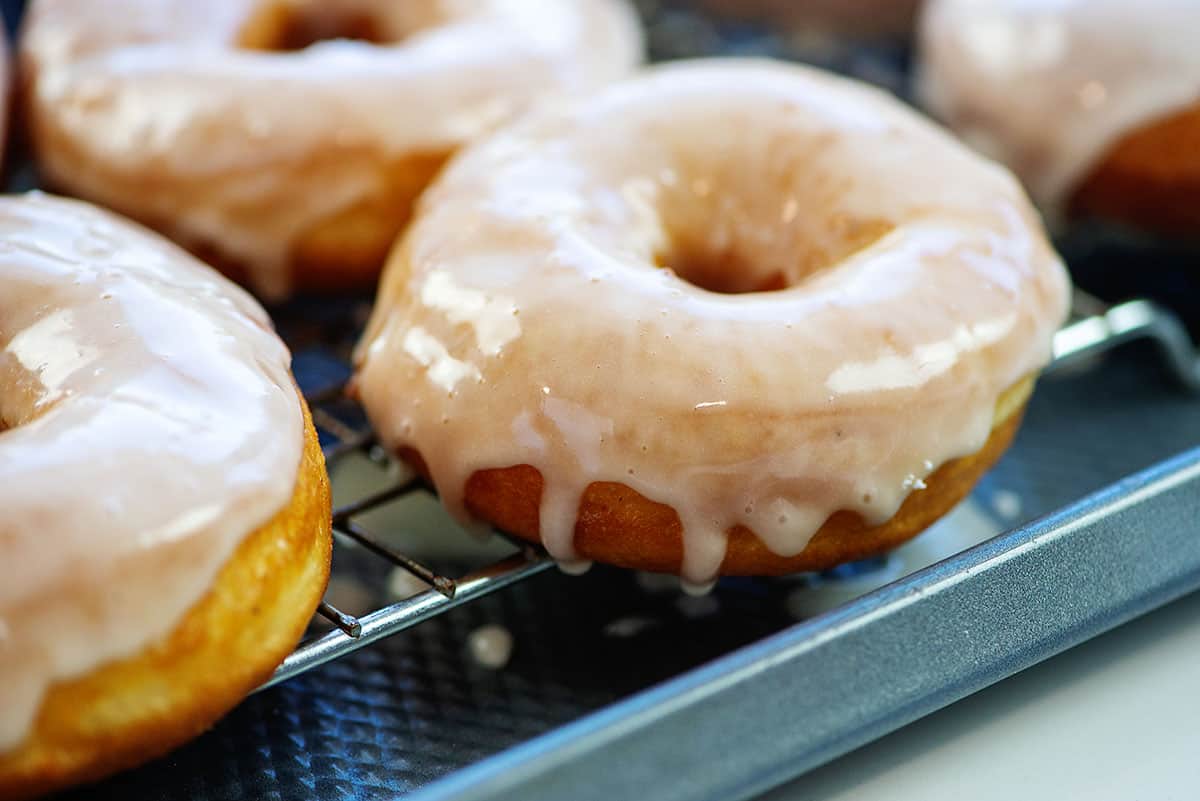 Other Donut Toppings:
Half the fun of making donuts is getting creative with the toppings!
While we think these potato donuts are absolutely perfectly with a simple glaze, you can feel free to experiment!
Chocolate Glaze: Mix together 1 1/2 cups of powdered sugar, 1/4 cup cocoa powder, and 2-3 tablespoons of milk until smooth.
Cinnamon & Sugar: Whisk together 1/2 cup of granulated sugar and 1 tablespoon of ground cinnamon. The cinnamon sugar mixture sticks best when the donuts are still warm, so toss them in this mixture as soon as you're able.
Powdered Sugar: Place 1 cup of powdered sugar in a brown paper bag. Once donuts are cool enough to handle, add them to the bag one or two at a time and shake until fully coated in the powdered sugar. If the powdered sugar is melting, your donuts are too hot. Cool longer and try tossing them again.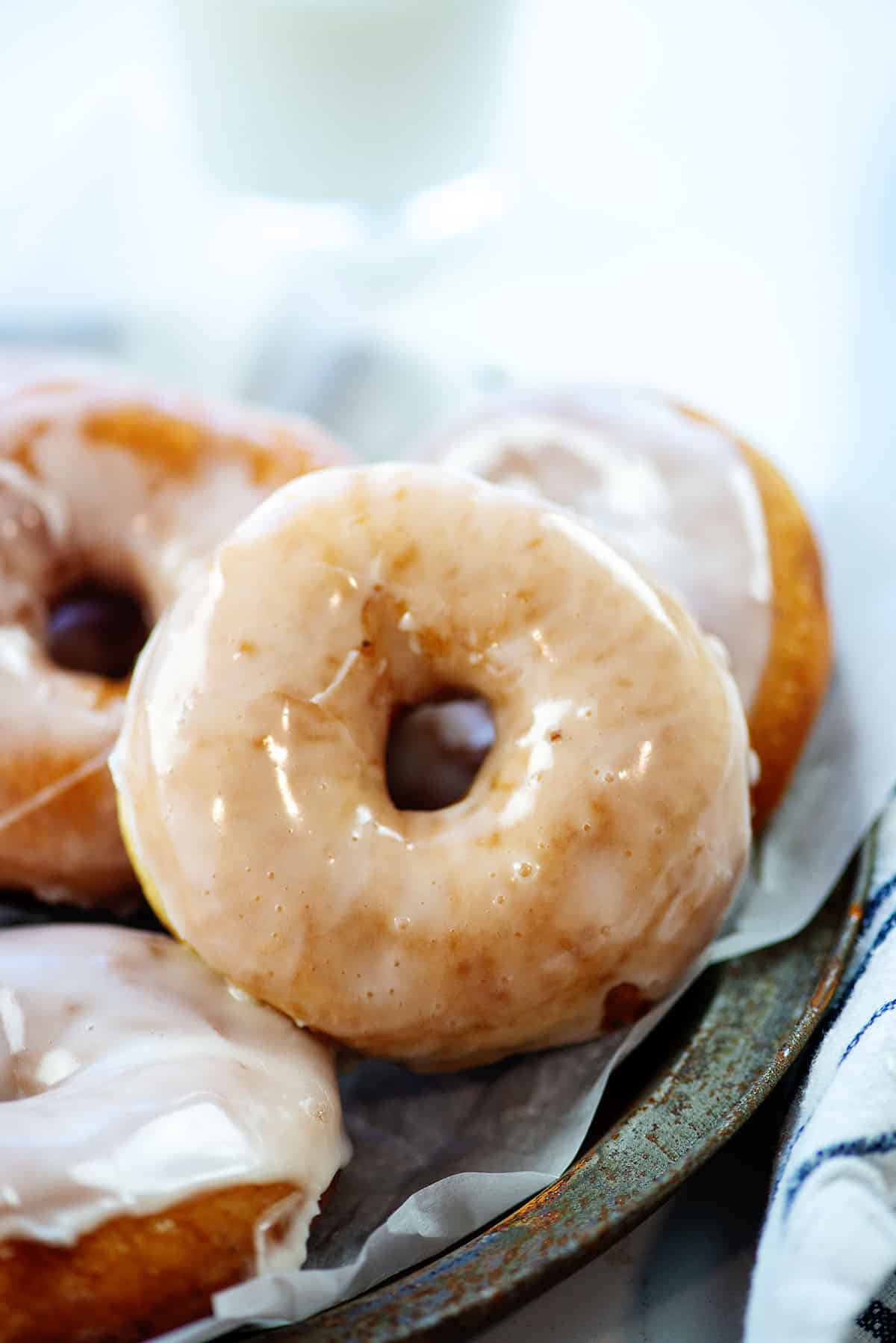 Air Fryer
We've only tested these donuts by frying them, and honestly think that's how they'll work best. I wouldn't try these in the air fryer myself.
That said, if you hate frying, try these air fryer donuts instead!
Working with Yeast:
If you've never worked with yeast before, it can be a bit intimidating the first time. Just trust the process and you'll find it a very satisfying and simple process, that mostly just involves waiting for dough to rise.
A few tips:
When adding yeast to liquid, make sure the liquid is between 100- 120 degrees. Too hot and the yeast will die, too cool and it won't activate.
Yeast hates salt. Mix salt in with the flour, not with the liquid you mix with the yeast.
Yeast loves sugar. Go ahead and add a bit of sugar to your warm water to give the yeast something to eat. It's not necessary in this recipe since we're using potato water.
Store yeast in the fridge or freezer to maximize it's life. It only lasts for around 6 months in the pantry.
If yeast is just a no go for you, try our donut recipe without yeast.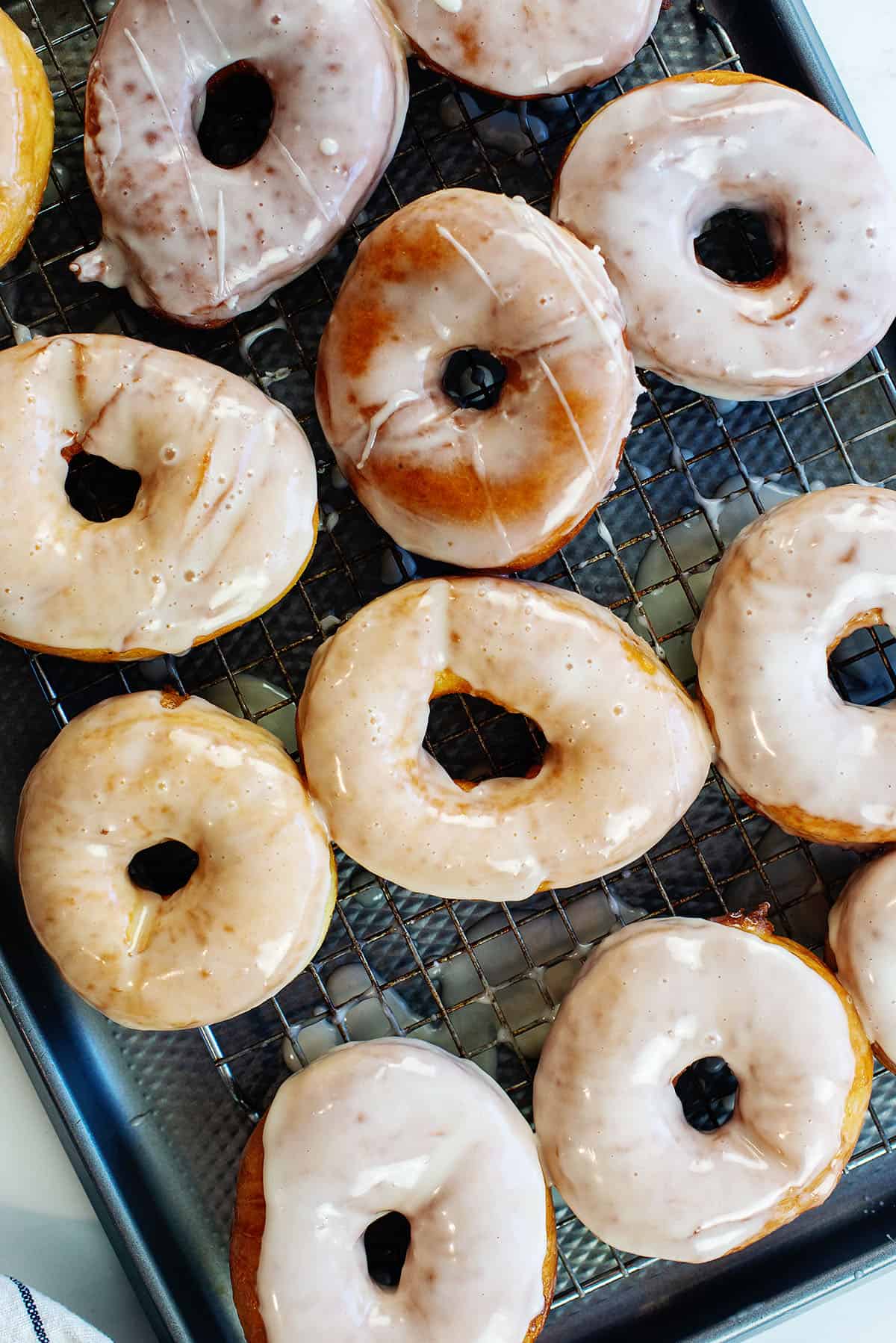 FAQ's:
How to store donuts?
It's no surprise that donuts taste best when they're freshly fried, but you can keep them for a few days. We recommend you only glaze the donuts you plan to eat and store the unglazed donuts in a zip top bag for up to 3 days. Glaze just before eating for best results.
Can you freeze donuts?
For best results, freeze donuts that are not yet glazed or frosted. You can still freeze glazed/frosted donuts, but you'll have better results with plain donuts. Freeze fresh donuts on a sheet pan in the freezer for one hour, wrap in plastic wrap, and then transfer to a ziptop freezer safe bag for up to 3 months.
How to reheat donuts?
Reheating donuts helps soften them back up and make them more moist, which is always a good option for a day or two old donut. Reheat in the microwave in 10 second bursts until warmed to your liking.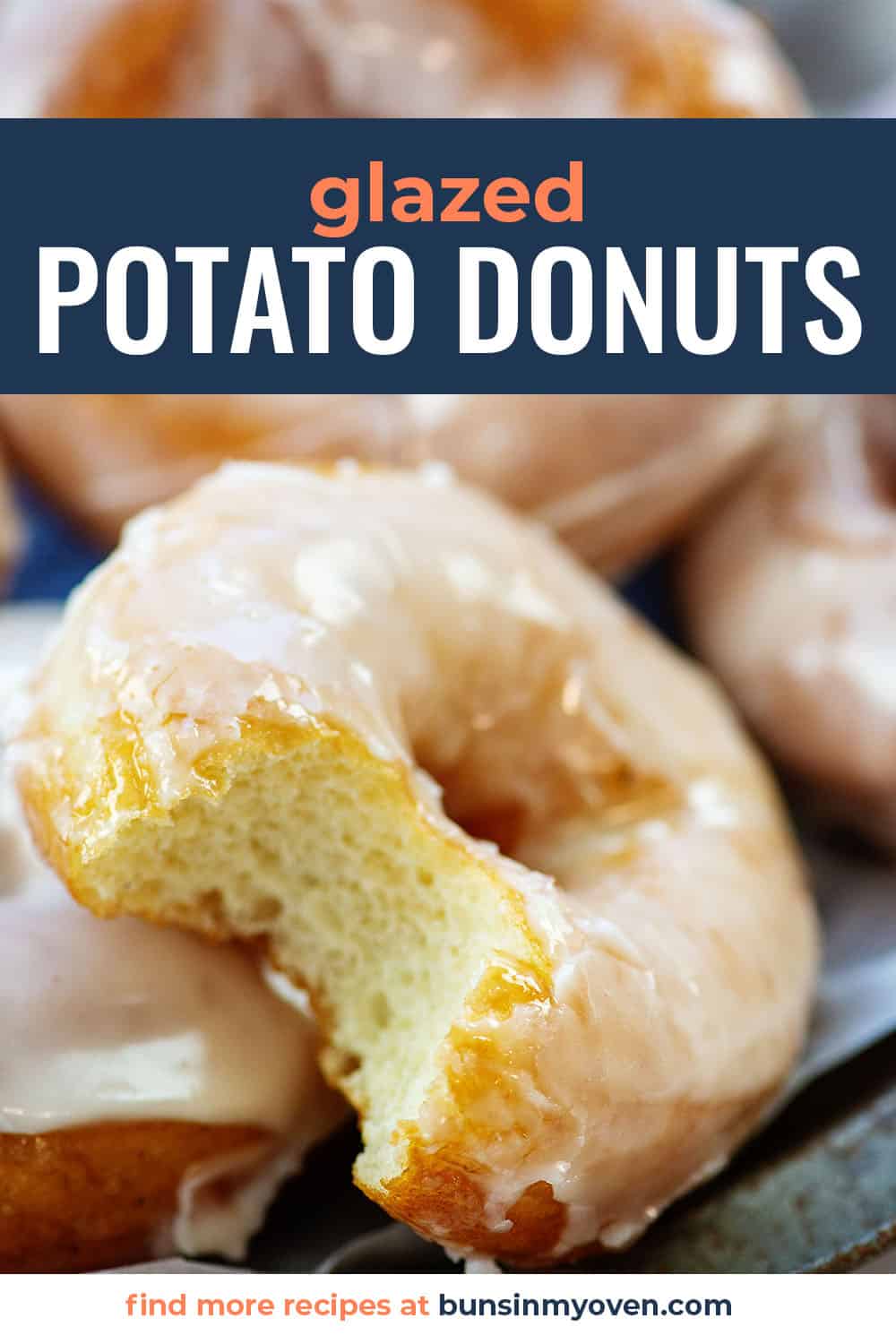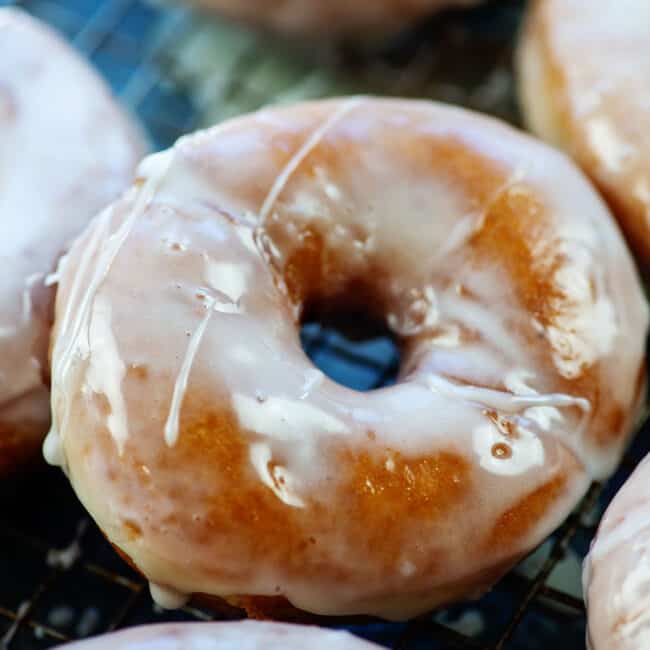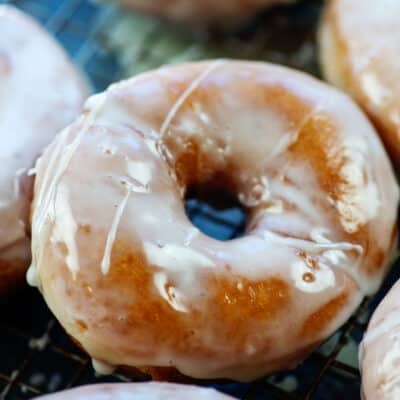 Potato Donuts
Adding mashed potatoes to dough makes for a light, fluffy donut that is hard to resist. We keep things simple with a classic glaze, but you can top these with just about anything.
Prep30 minutes
Cook15 minutes
Rise Time2 hours
Total2 hours 45 minutes
Ingredients
For the donuts:
2 medium russet potatoes peeled
3 cups all-purpose flour see note
1 large egg
3/4 cup plus 2 tablespoons potato cooking water divided use
1/4 cup sugar
2 tablespoons butter
1/2 teaspoon salt
2 1/4 teaspoons active dry yeast
1/2 teaspoon ground mace
1/8 teaspoon nutmeg
Vegetable Oil for deep frying
For the glaze:
1/4 cup whole milk
2 cups powdered sugar
1 teaspoon vanilla
Instructions
To make the donuts:
Quarter the potatoes and place in a sauce pan. Cover with cold water and bring to a boil over medium heat.

Boil the potatoes for 10-15 minutes or until tender. Drain the potatoes, reserving the potato water.

Push the potatoes through a food mill or mash by hand, leaving no lumps. Measure out 3/4 cup of mashed potatoes and place in the bowl of a stand mixer. Discard remaining potatoes or reserve for another use.

Add 1/2 cup of flour and the egg and mix, using the dough hook, until just combined.

In a small pot, heat 3/4 cup of potato water, sugar, butter, and salt over low heat until the butter has melted.

While the butter is melting, add 2 tablespoons of the warm potato water (between 100-120 degrees) to a small bowl with the yeast and let sit for 5 minutes to bloom.

Add the potato water and butter mixture to the mixer along with the yeast mixture, mace, and nutmeg.

Turn the mixer to low and start adding the flour, 1/2 cup at a time, until a firm dough forms. The dough should clear the sides of the bowl. Continue kneading until smooth and elastic, 5-10 minutes.

Remove dough to a greased bowl and place in a warm spot to rise until doubled in bulk, about one hour. We like to proof our dough in the oven with the light turned on to keep it a bit warmer than room temperature.

Once dough has doubled in size, punch the dough down and turn onto a floured surface. Roll to 1/2 inch thickness.

Cut the dough with a floured biscuit or donut cutter.

Cut small pieces, 3-4 inches each, of parchment paper and arrange on baking sheets. Dust lightly with flour. Place cut donuts on the parchment sheets to help make transferring the dough to the oil easier. This will help you from deflating the dough during transfer.

Transfer the cookie sheets to the oven or cover with a tea towel to rise. Let rise until doubled, about 45 minutes to 1 hour.

Heat a deep skillet or pot with 2 inches of oil to 375 degrees.

Gently slide the donuts off the parchment sheets and into the hot oil. Fry the donuts in batches (don't overcrowd the pan), flipping as needed until golden brown on both sides, about 2-3 minutes.

Let donuts cool on a paper towel lined plate until easy to handle.
To make the glaze:
To make the glaze, heat the milk in a small saucepan until warm. Remove from the heat and stir in the powdered sugar and vanilla. Whisk together to form a glaze.

Place a wire rack over a sheet pan to catch the glaze as it drips off the donuts.

Dunk the warm donuts in the glaze and place on the wire rack. Let set for 5-10 minutes for glaze to firm up.

Serve immediately.
Tips & Notes:
Add the flour a 1/2 cup at a time until a dough forms. You want it to be somewhat stiff, but not overly so. You may not need the full 3 cups or you may need a bit more, depending on the humidity. Some days will need more flour than others. This recipe could be made without a stand mixer, but will require a lot of kneading by hand. We've never tried it this way, though it can certainly be done. We have not tested this recipe in the air fryer and I'm not sure how it would turn out. This recipe was made to be deep fried. Glaze the donuts while they're still slightly warm, but not too hot. They should be easy to handle. We only dunk the tops of the donuts in glaze and let it drip down the sides. You can fully coat the donut in glaze, if preferred.
Nutrition Information:
Serving: 1donut| Calories: 270kcal (14%)| Carbohydrates: 56g (19%)| Protein: 6g (12%)| Fat: 3g (5%)| Saturated Fat: 2g (13%)| Polyunsaturated Fat: 1g| Monounsaturated Fat: 1g| Trans Fat: 1g| Cholesterol: 21mg (7%)| Sodium: 126mg (5%)| Potassium: 217mg (6%)| Fiber: 2g (8%)| Sugar: 24g (27%)| Vitamin A: 90IU (2%)| Vitamin C: 2mg (2%)| Calcium: 20mg (2%)| Iron: 2mg (11%)