These homemade maple glazed donuts are made with real maple syrup, baked instead of fried, and perfect for a chilly Fall morning!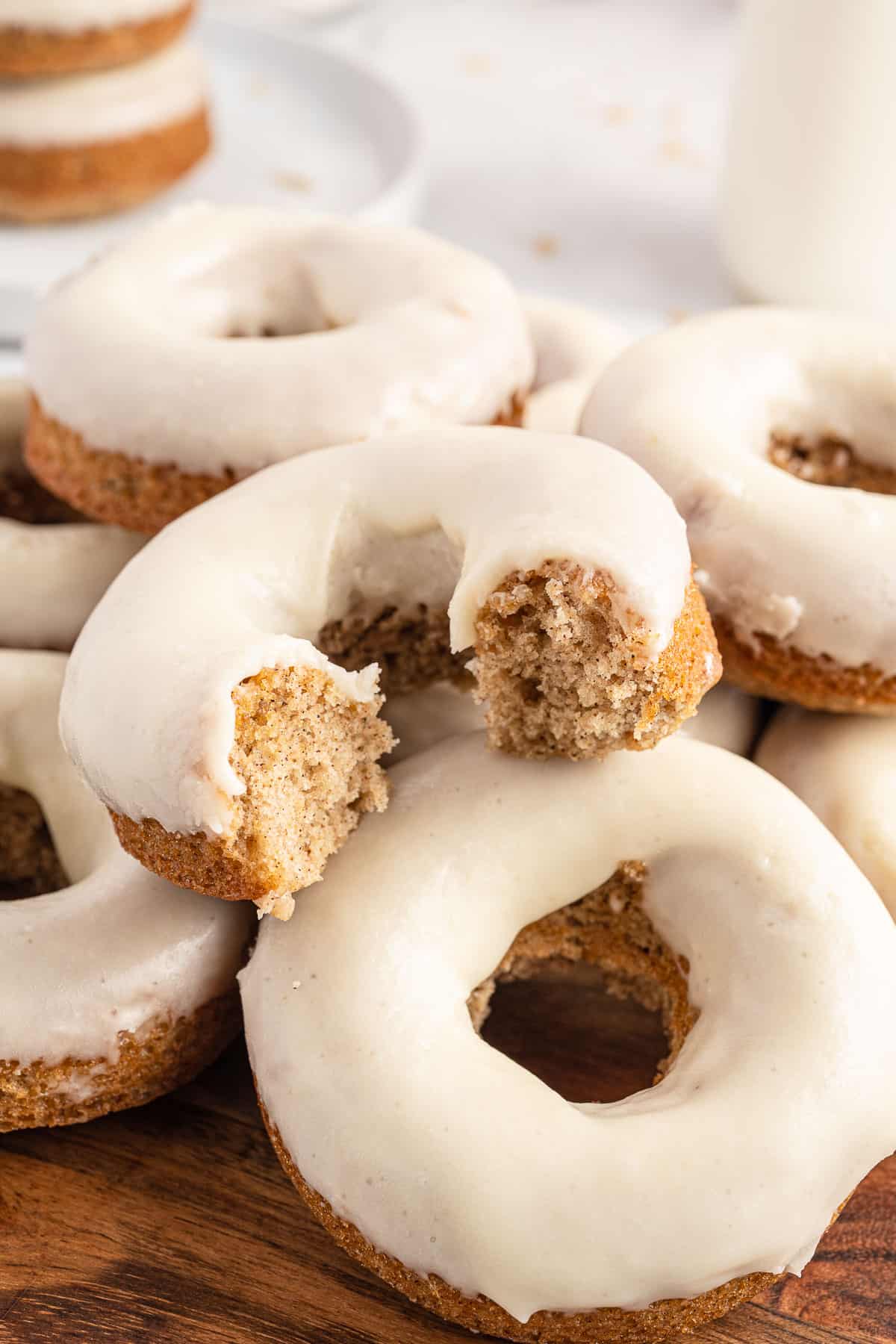 At this point it should come as no surprise to anyone that I'm a major fan of donuts.
We love to fry them and we love to bake them. Last week we even shared a recipe for Apple Cider Donut Bread, so you could say we even like to make them into non-donut things. Haha!
Whether we use our air fryer to make air fryer donuts, our donut pan to make chocolate glazed donuts, or a pot of oil to fry up potato donuts, you can be sure that we're making some form of donuts more than is probably socially acceptable. 😉
These maple glazed donuts are the latest creation and they are soft and tender, spiced with cinnamon, and perfect with that sweet maple glaze!
👩‍🍳 Ingredient Notes:
This post contains affiliate links. As an Amazon associate and member of other qualifying programs, I earn from qualifying purchases.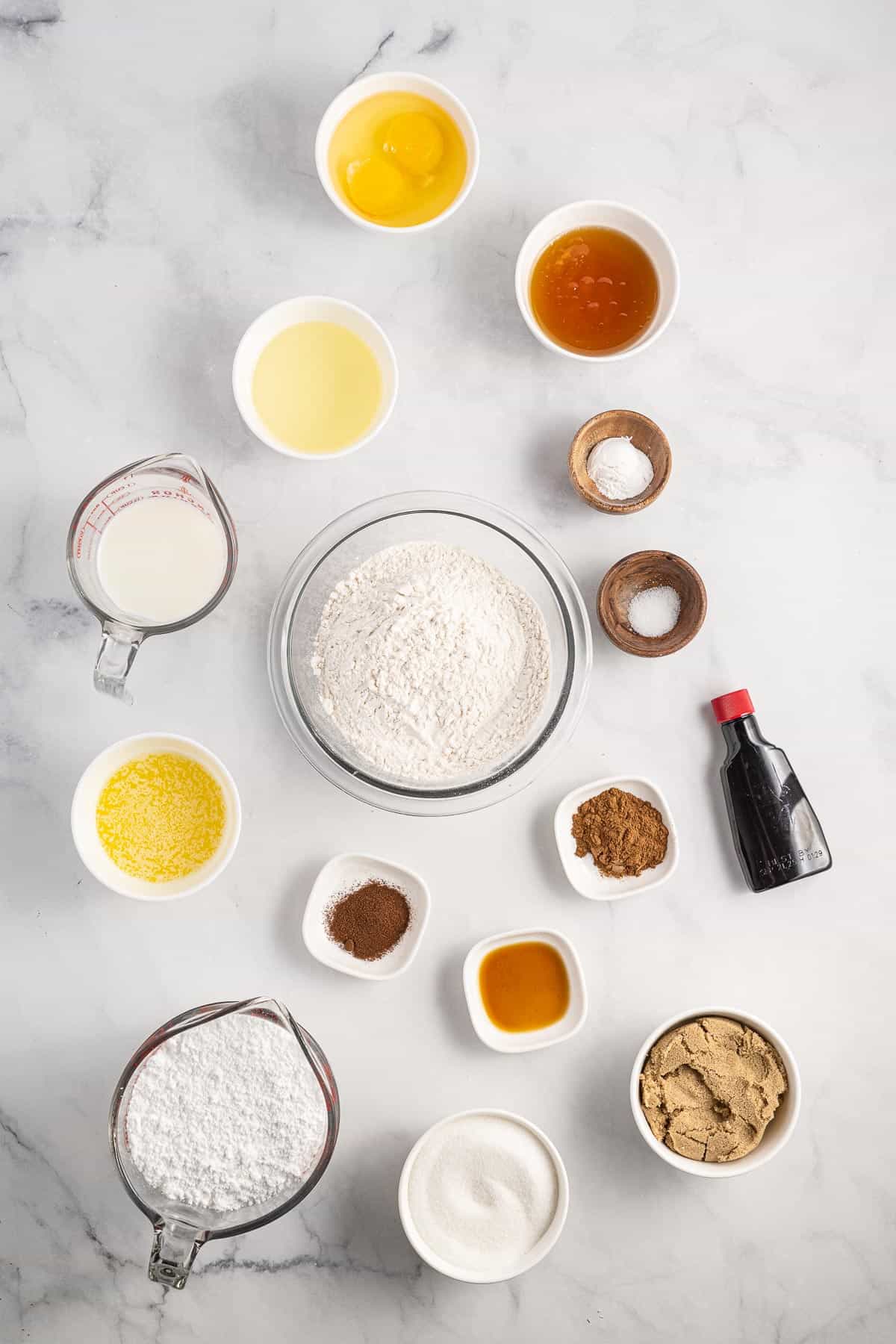 🍩 For the donuts:
Dry Ingredients – You'll need some pretty standard baking ingredients to prepare the donut mix: all-purpose flour, baking powder, cinnamon, cloves, salt, white sugar, and light brown sugar.
Wet Ingredients – You'll also need a couple of large eggs, some vanilla extract, a half cup of milk, and either vegetable or canola oil.
Substitutions: If you don't like the stronger taste of cloves you can replace it with some allspice. You could also swap out the milk for buttermilk. If you only have dark brown sugar it's okay to use that in place of the light.
🍁 For the maple glaze:
Butter – You'll want to use unsalted butter for this since we're going to mix a little salt in with the glaze to help balance out the sweetness. If you only have salted butter you can use it, just don't add the extra salt.
Maple Syrup – I would recommend buying pure maple syrup! You can use any brand you like, just go for the real stuff and not the imitation kind. It's a little pricier, but worth it! See the FAQs below for more on the different types of maple syrup.
Maple Extract – This can usually be found in the baking aisle. It'll add some extra maple flavor to the glaze, so it's optional if you can't find any or if you don't want too much of the maple flavor. If you use a very dark maple syrup, you may want to skip this.
Milk & Powdered Sugar – This is going to make up the base of our simple donut glaze recipe. Milk, sugar, and butter mixed with maple! You can use 2% or whole milk for this.
We use our Donut Pan to make donuts at least a few times a month! The kids love them, they're easy to make, and then pan is super economical!
What We Love About This Recipe:
We'll take any excuse to break out the real maple syrup!
The oven baked donuts are easy to prepare and you can use them as a base for all kinds of donut recipes with different glazes or toppings!
How To Make Donuts: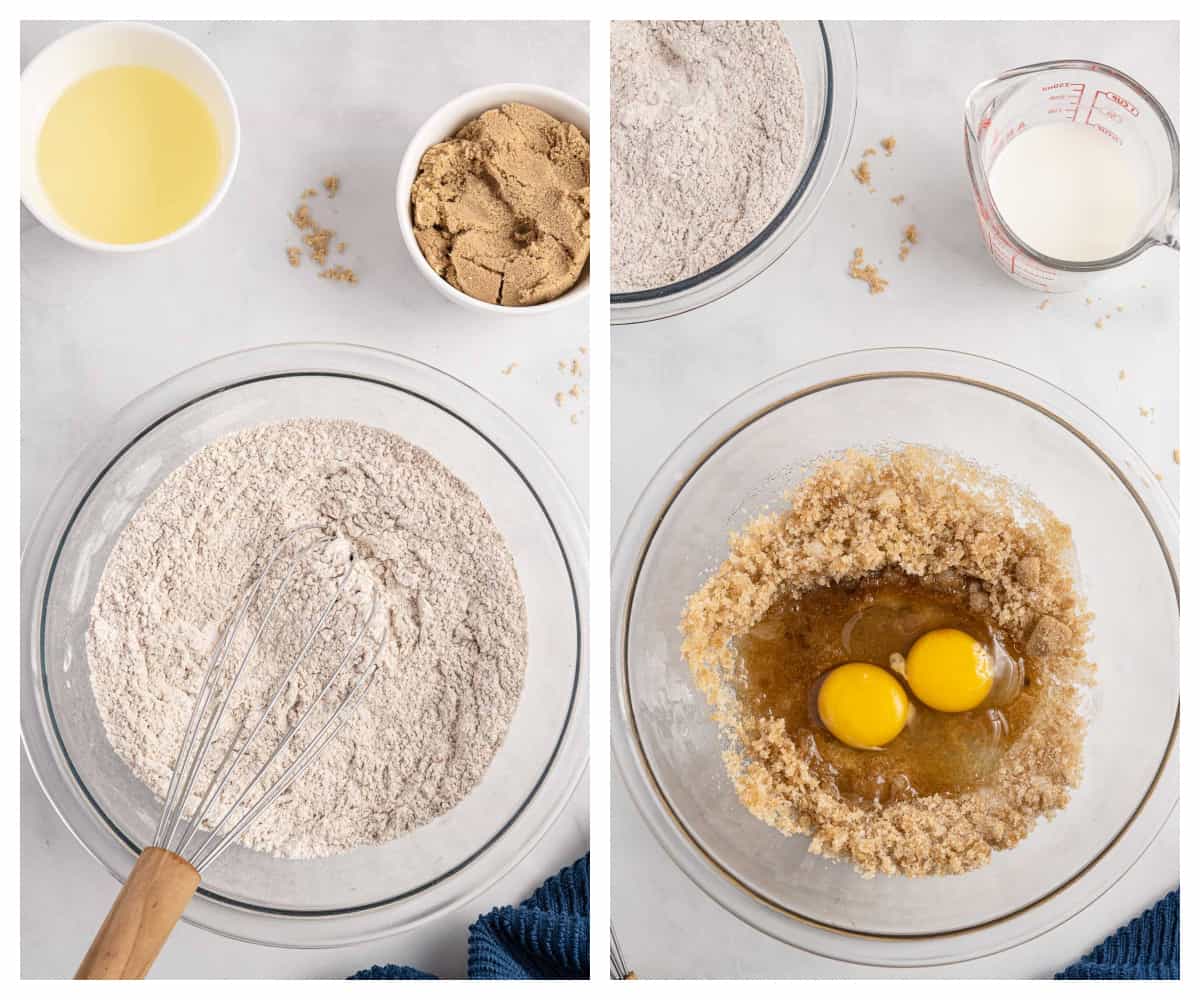 Dry Ingredients: While your oven preheats you can get started with preparing the donut mix! Add all of the dry donut ingredients, except for the sugars, to a mixing bowl and whisk them together until well combined.
Wet Ingredients: In a separate, larger mixing bowl add the sugars and the oil and whisk together until it's light and fluffy. Whisk in the eggs and the vanilla extract until it's all combined. Finally, pour in the milk.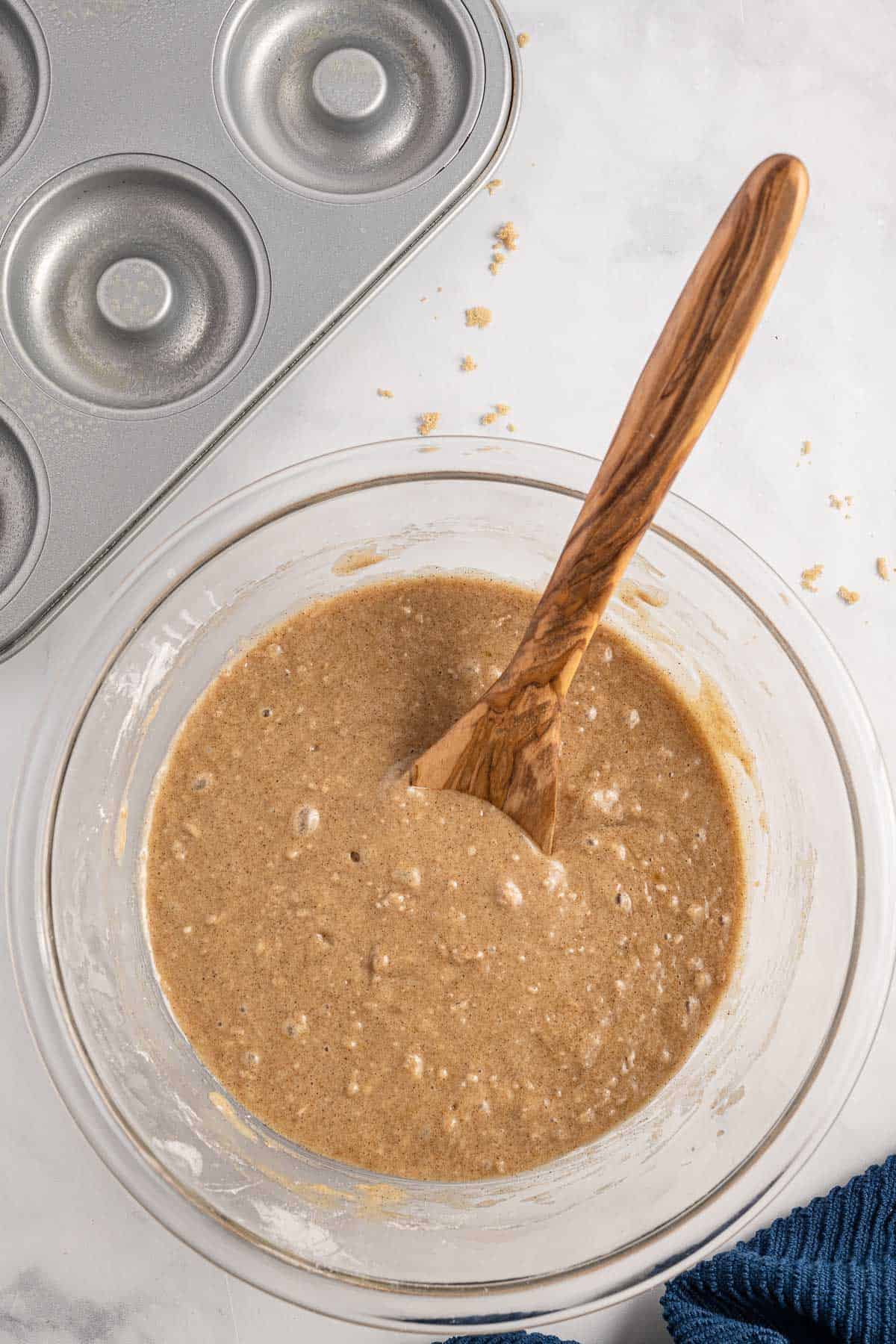 Combine: You can now add the dry ingredients into the larger mixing bowl with the wet ingredients. Fold the dry donut mix in until it is just combined. It's okay if there are small lumps in the donut batter.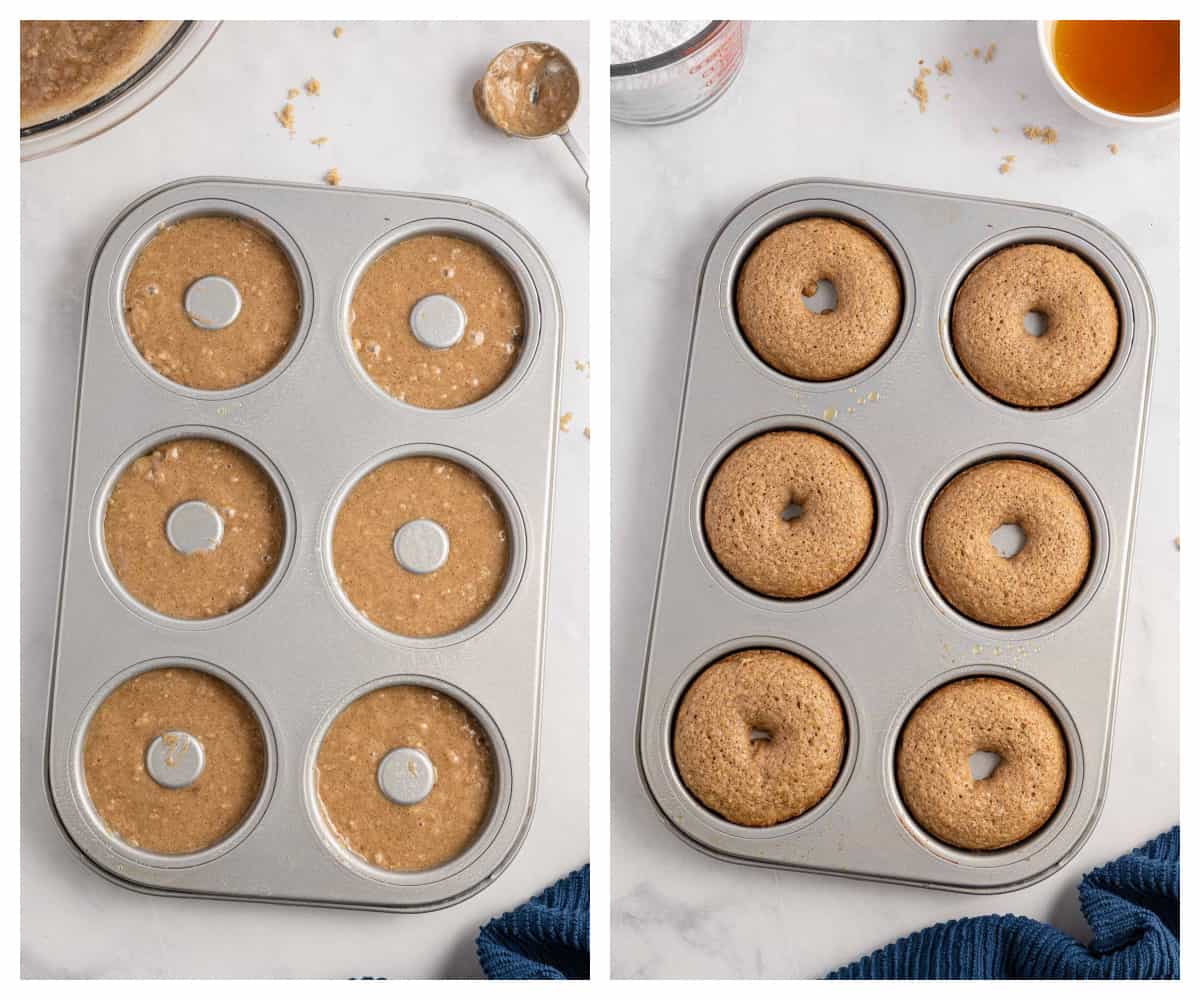 Bake: To get baking you'll need to spoon the batter into each cup of the donut pan(s). Use either two 6-cup pans or one 12-cup pan.
Use three level tablespoons of batter for each donut. The batter should almost reach the top of the cup. Bake the donuts for 15 minutes or until a toothpick inserted in the center comes out clean.
Let the baked donuts cool on a rack while you move on to making the maple glaze!
How To Make Maple Glaze:
Whisk: This is a very simple glaze that you can prepare quickly. You'll need to melt some butter but otherwise no heating is necessary.
Whisk the melted unsalted butter together in a bowl with the maple syrup, maple extract, and salt. Gradually add in the powdered sugar, whisking until the glaze is thick and smooth.
Milk: Finally, pour in a couple tablespoons of the milk to thin the maple glaze out a bit. If you find that the glaze is too thick you can add a bit more of the milk, or add more powdered sugar or syrup if it is too thin.
How To Glaze Donuts: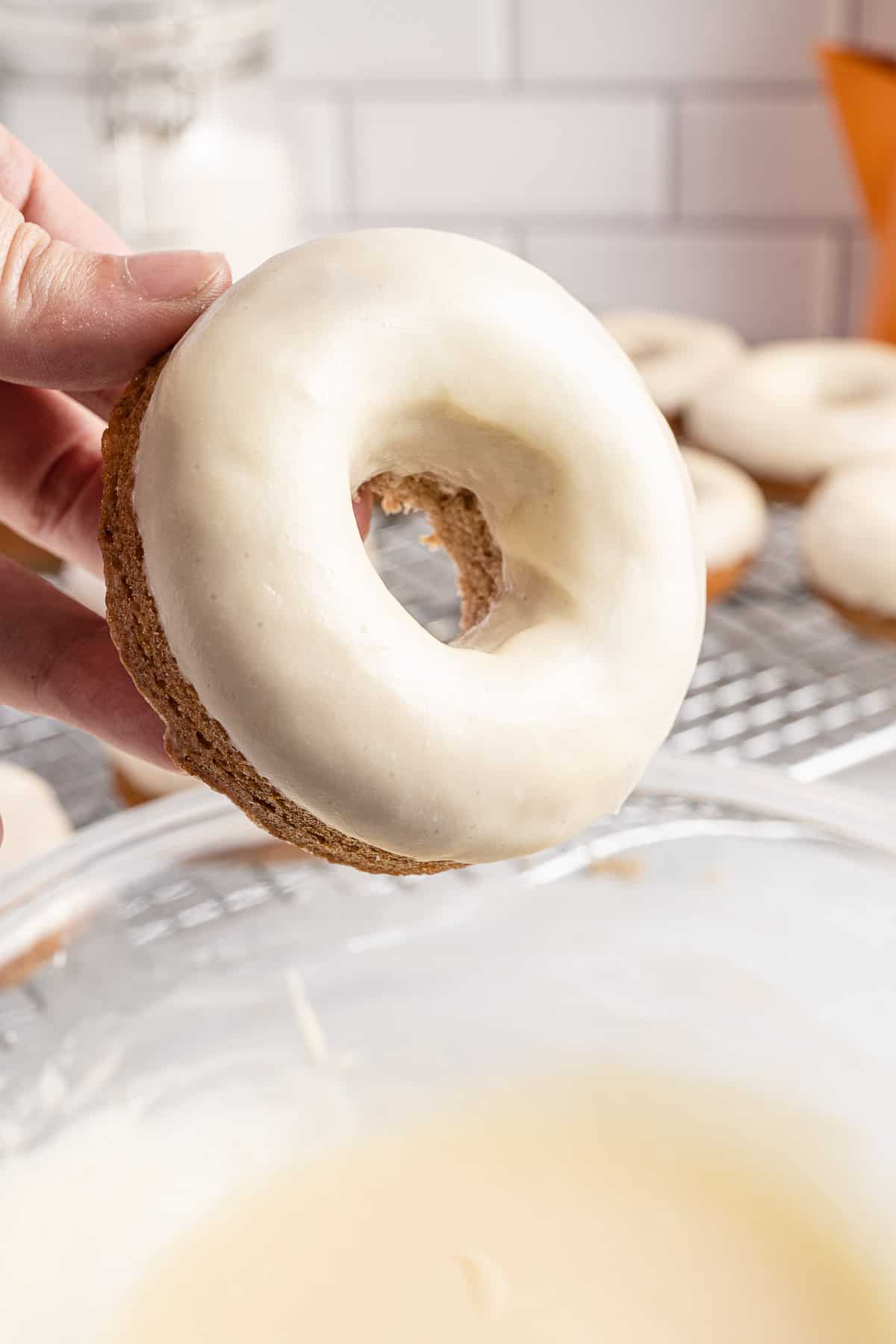 Dip: Okay, there really isn't much to this last part! When the donuts have finished baking and cooling and you've prepared the maple glaze you can start dipping the tops (or both sides!) of each donut into the glaze.
Let them rest on a cooling rack or some parchment paper until the glaze has set. You may need to dip the donuts into the glaze a couple of times to get them well covered.
Helpful Tip!
You can top these donuts with more than just the maple glaze! Some popular donut toppings would be sprinkles, chopped nuts, or even some savory bacon! Just make sure to top them before the glaze sets.
❔ FAQs:
How to store maple donuts?
You can keep the maple glazed donuts stored in an airtight container on the counter at room temp for up to 3 days. They'll last 1 week in the refrigerator, and up to 3 months if frozen!
What type of maple syrup to use?
The funny thing about real maple syrup is that it's all classified as "Grade A", so what really matters is the color. (This is farily new – their used to be Grade B, etc.) Basically the darker the color, the stronger the maple flavor. The different types are:

• Golden: It has the lightest flavor and is perfect for those who like maple syrup but maybe want only a hint of the maple flavor.
• Amber: This has a richer taste than the lighter golden maple syrup and along with dark is probably the most common variety that people use.
• Dark: The dark maple syrup has a much more robust flavor. This one is great for those who love strong maple flavor!
• Very Dark: This has the strongest maple flavor. It's most commonly used for baking, but it works for things like pancakes or this maple glaze too if you want the richest, most robust maple flavor you can find.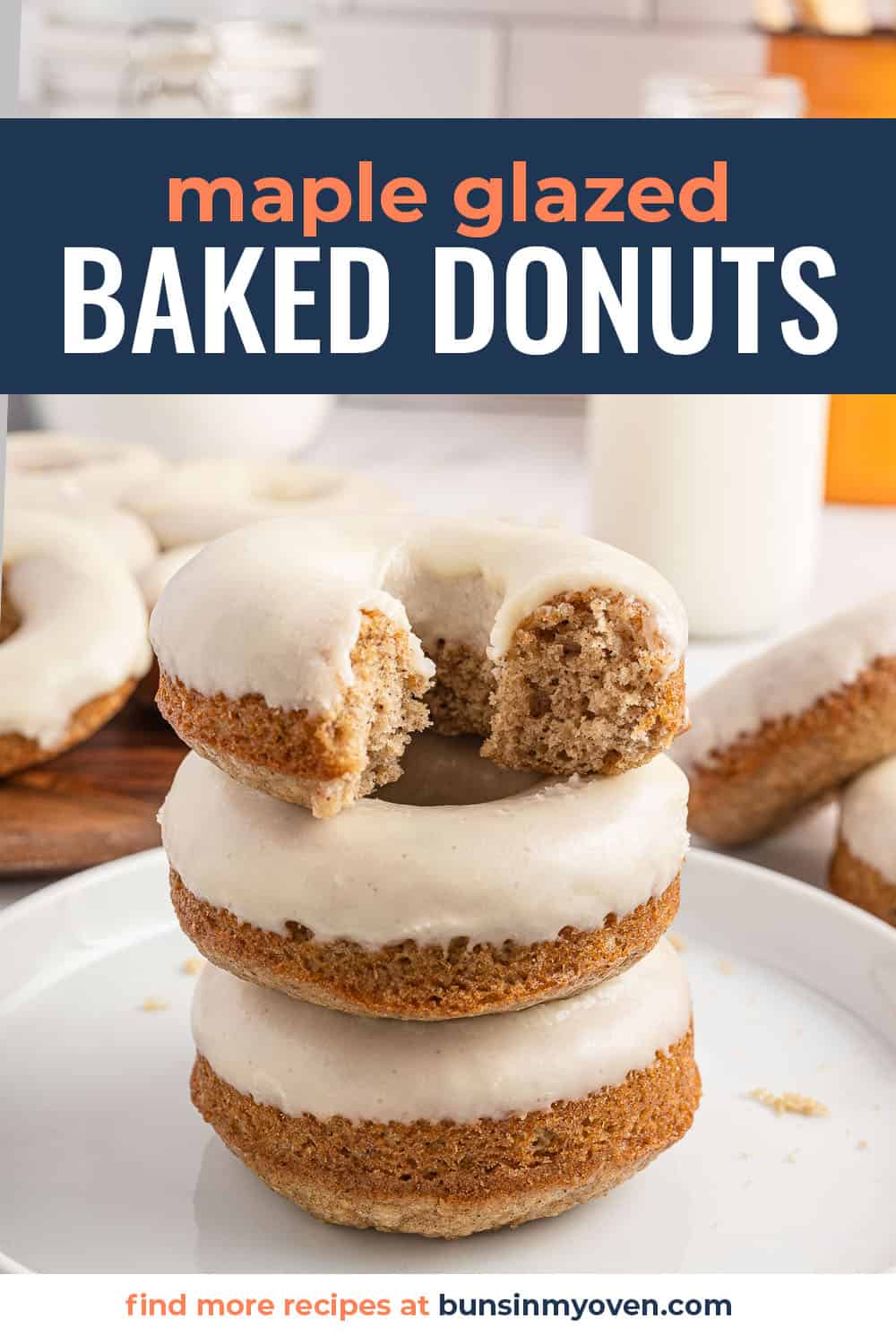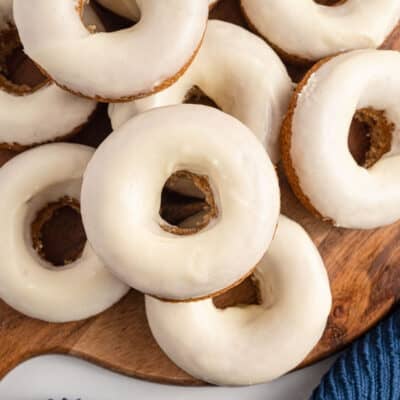 Maple Glazed Donuts
These baked donuts are spiced with cinnamon and cloves and then topped with a sweet maple glaze. These have all the cozy fall flavors we love and, because they're baked instead of fried, they're super easy to make!
Prep20 minutes
Cook15 minutes
35 minutes
Ingredients
For the Donuts
2 cups flour
2 teaspoons baking powder
2 teaspoons cinnamon
1/2 teaspoon cloves
1/4 teaspoon salt
1/2 cup sugar
1/2 cup light brown sugar packed
1/4 cup vegetable or canola oil
2 large eggs
1 teaspoon vanilla extract
1/2 cup milk
For the Glaze
1/2 cup unsalted butter melted
1/4 cup maple syrup
2 teaspoons maple extract
1/4 teaspoon salt
2 cups powdered sugar
2 tablespoons milk
Instructions
To make the donuts:
Preheat the oven to 350°. Grease two 6-cup donut pans (or one 12-cup donut pan) with cooking spray and set aside.

In a small or medium bowl, use a whisk to stir the flour, baking

powder, cinnamon, cloves, and salt together until well-mixed.

In a separate large bowl, whisk the oil, sugar, and brown sugar until combined.

Add the eggs and vanilla extract, and beat with the whisk until combined.

Pour in the milk, fold in the dry ingredients, and mix until just combined. It's okay if there are some small lumps of flour in the batter.

Spoon 3 level tablespoons of batter into each donut cup. (The batter should almost reach the top of the cup.)

Bake for 15 minutes, or until a toothpick inserted into the middle donuts comes out clean. Place the donuts on a cooling rack.
To make the glaze:
While the donuts are cooling, make the maple glaze. In a medium bowl, whisk together the melted butter, maple syrup, maple extract, and salt.

Gradually add the powdered sugar, and continue whisking until thick and smooth.

Pour in the 2 tablespoons of milk to help thin out the glaze.

Dip the top of the donuts into the glaze, and rest them on a cooling rack or a piece of parchment paper. You may need to dip the donuts a couple of times or twist them in the glaze to get the tops fully coated.

Let the glaze set at room temperature, about 20 minutes.
Tips & Notes:
The glaze is pretty thick. If you'd like it thinner, add more milk 1 tablespoon at a time until it's as thin as you'd like. If you add too much milk, add powdered sugar 1 tablespoon at a time until it's as thick as you'd like. These can be stored on the counter for 2-3 days or in the fridge for up to 7 days. Be sure to store in an airtight container either way.
Nutrition Information:
Serving: 1donut| Calories: 369kcal (18%)| Carbohydrates: 59g (20%)| Protein: 4g (8%)| Fat: 14g (22%)| Saturated Fat: 6g (38%)| Polyunsaturated Fat: 3g| Monounsaturated Fat: 3g| Trans Fat: 0.3g| Cholesterol: 53mg (18%)| Sodium: 119mg (5%)| Potassium: 153mg (4%)| Fiber: 1g (4%)| Sugar: 42g (47%)| Vitamin A: 303IU (6%)| Vitamin C: 0.01mg| Calcium: 73mg (7%)| Iron: 1mg (6%)