These grape jelly meatballs are tossed in the slow cooker for a few hours and then make a perfect snack or appetizer for game day! Meatballs with grape jelly and chili sauce might sound a little crazy, but the sauce transforms into something amazing while it cooks!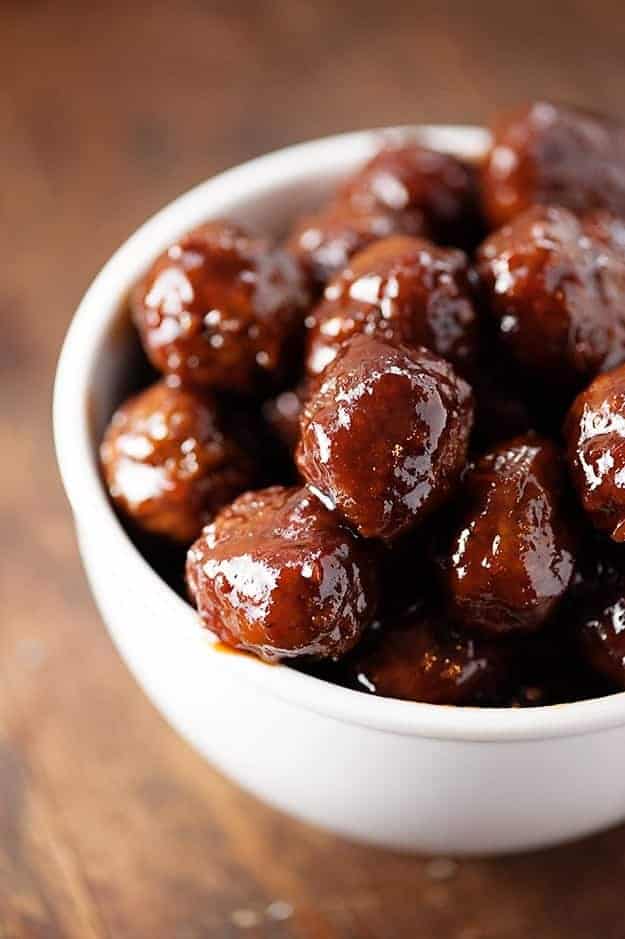 Raise your hand if you grew up eating Grape Jelly Meatballs at every family function, church potluck, or holiday dinner!!
Yep. These are a total vintage recipe that both mom and grandma used to make and I'm for sure continuing the tradition.
The name sounds weird – Grape Jelly Meatballs. I mean…no, thank you. Sounds ick. But ooh, you just have to trust the process!
Chili sauce and grape jelly combine to make the perfect sauce…it's a lot like barbecue sauce in that it's sweet with a little kick to it. So good and seriously irresistible with meatballs!
You might think meatballs with grape jelly sounds weird, and your'e not wrong, but if you've never tried these I implore you to give them a shot.
Grape Jelly Meatballs are the perfect appetizer or snack for your next party!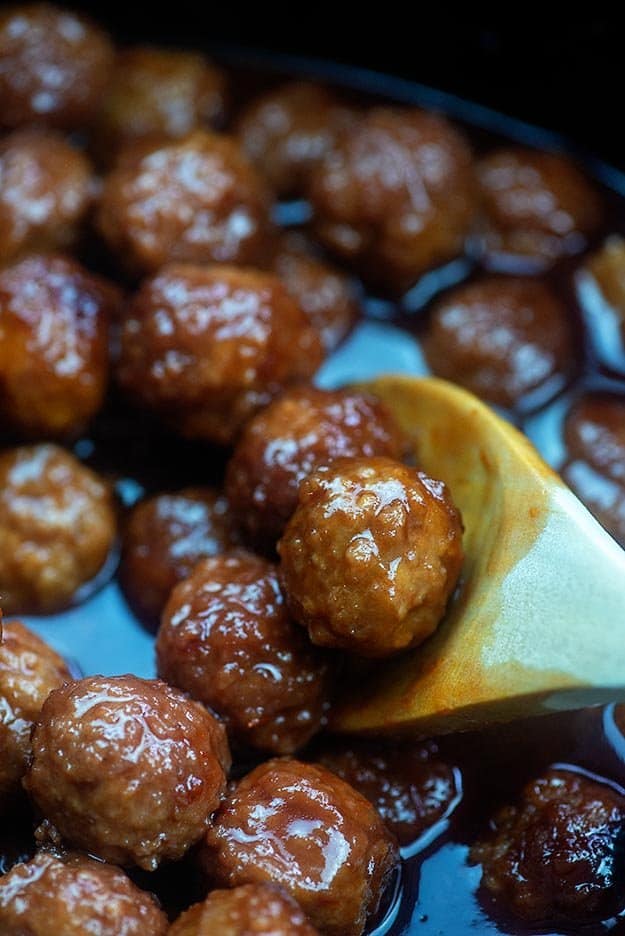 We love to serve these right from the crockpot with a pile of toothpicks at parties, football games, etc. People grab a plateful of meatballs, pop in some toothpicks, and munch away!
A few other party favorites include our homemade pizza rolls, veggie pizza, and Rotel dip!
Ingredients:
Frozen Meatballs: Grab a bag of homestyle frozen meatballs for this. Couldn't be simpler.
Grape Jelly: Any brand will do, but we love Smucker's.
Chili Sauce: This is in a glass bottle near the ketchup. We prefer Heinz brand. It's similar to ketchup but has a little kick to it. We use it in our chili mac, too.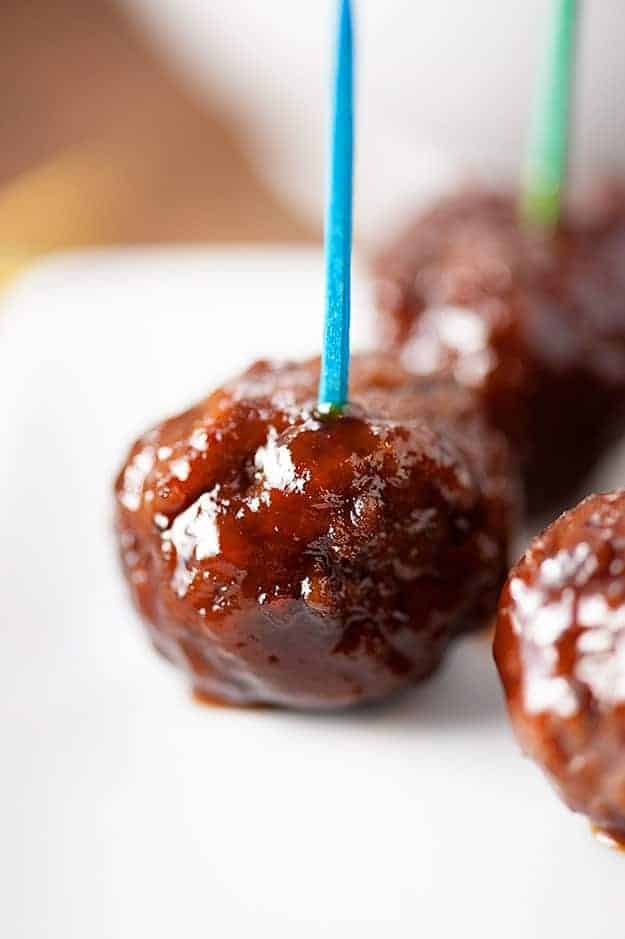 How To Make Meatballs with Grape Jelly:
Add the grape jelly and chili sauce to a slow cooker and stir to combine. Add the meatballs and stir to coat.
Cover and cook on low for 4 hours.
Serve with toothpicks as a snack/appetizer or over rice or mashed potatoes for a simple dinner!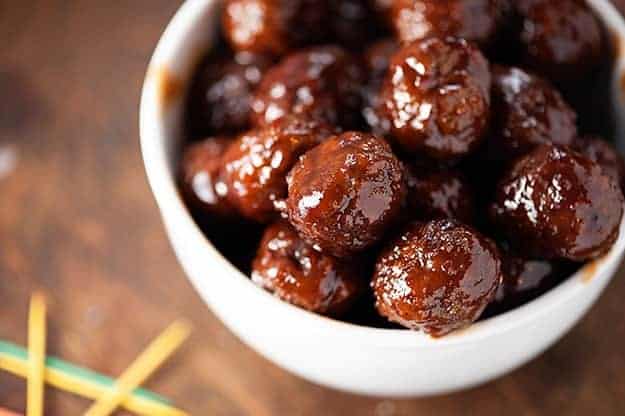 FAQs:
What do you eat with grape jelly meatballs?
These are perfect as an appetizer , with toothpicks stuck in them for easy serving. They also make a great main course, served over rice or mashed potatoes.
Can you use Italian meatballs with grape jelly?
Any variety of frozen meatballs will work in this recipe, though we do prefer homestyle meatballs. Italian meatballs work great in a pinch, though!
What's the difference between chili sauce and ketchup?
The two sauces are quite similar, but chili sauce has a bit of spice to it with a more bold flavor. They're both tomato based sweet sauces and both make a great dip for fries or topping for burgers.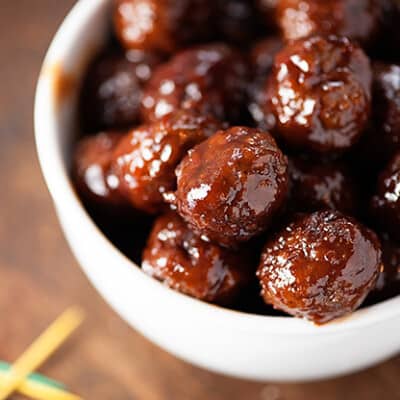 Grape Jelly Meatballs
These grape jelly meatballs are a staple at parties in my house! They're so easy to toss together and everyone loves them.

Prep2 minutes
Cook4 hours
Total4 hours 2 minutes
Ingredients
2 pounds frozen meatballs
12 ounces chili sauce
1 1/2 cups grape jelly
Instructions
Add the chili sauce and grape jelly to a slow cooker. Stir to combine.

Add the meatballs and stir to coat.

Cover and cook on low for 4 hours. Serve as an appetizer or over rice as a main dish.
Nutrition Information:
Calories: 346kcal (17%)| Carbohydrates: 34g (11%)| Protein: 13g (26%)| Fat: 16g (25%)| Saturated Fat: 5g (31%)| Cholesterol: 54mg (18%)| Sodium: 435mg (19%)| Potassium: 354mg (10%)| Fiber: 2g (8%)| Sugar: 23g (26%)| Vitamin A: 200IU (4%)| Vitamin C: 8.8mg (11%)| Calcium: 25mg (3%)| Iron: 1.1mg (6%)