August 28, 2018
Amish Egg Noodles
These Amish egg noodles are so easy to make! Bring some stock to a boil, add the noodles, turn off the heat, and 30 minutes later you have the most amazing noodles!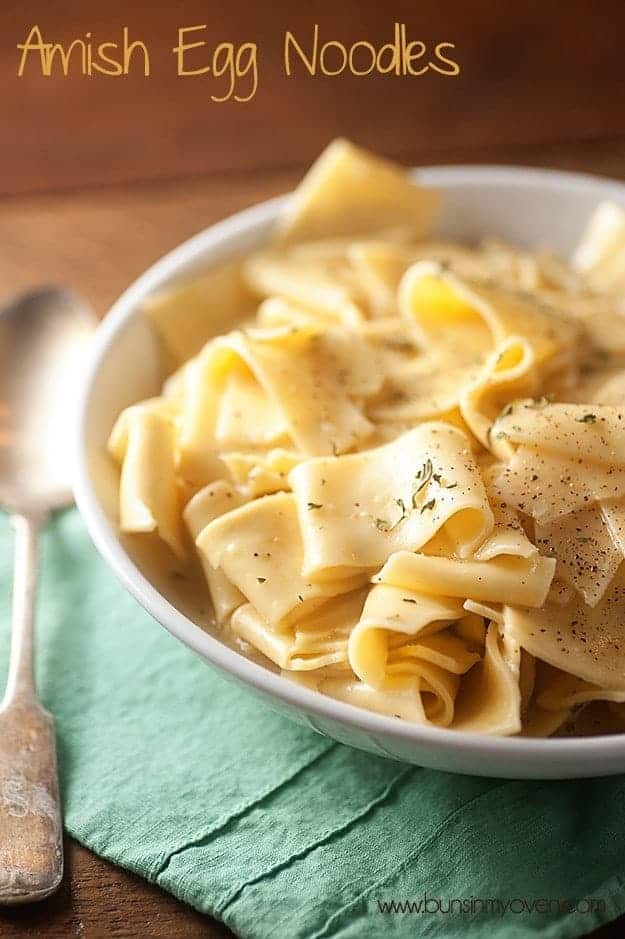 Oh, people. Do I ever have a recipe for you today.
I don't want to be presumptuous or anything, but these Amish Egg Noodles are your new favorite side dish. Just wait. You'll see.
My daughter and I are both total pasta lovers, so when I'm asking what to make for dinner she always pipes up with "blanket noodles." I know, blanket noodles sound weird, but she just calls them that because the shape of the egg noodles I buy are long and wide, like blankets. Ha! That girl cracks me up.
Anyway, you can use any egg noodles for this, but I really love the larger shapes for this easy side dish. I buy mine from Hy-Vee in a clear plastic bag.

This recipe is one of those hands off, set it and forget it recipes that is super forgiving. You basically bring some chicken stock and a bouillon cube to a boil, dump in some noodles, return to a boil, and then turn off the heat, cover the noodles, and walk away. Thirty minutes later you have the most perfect comfort food you will every put in your mouth. True story.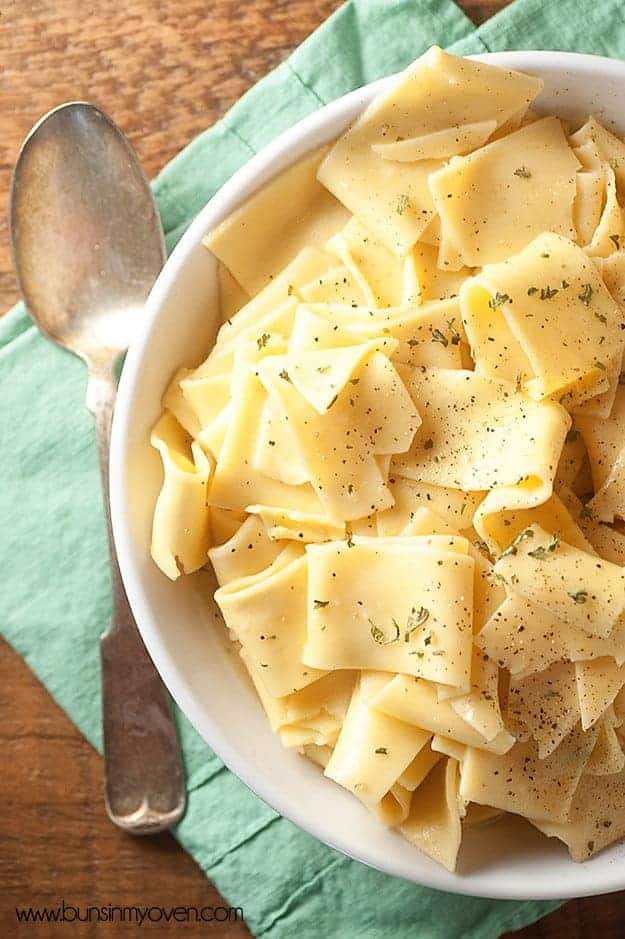 I like to sprinkle some parsley, salt, and pepper on these before serving. You could also toss in some freshly grated Parmesan cheese, but we really like the simplicity of this dish. These noodles just have a nice, mellow chicken flavor going on. Love them so much!
I hope you guys will try this and let me know what you think. I have a feeling your whole family will be requesting them as often as possible!
I'm a side dish junkie and tend to fill up on sides more than the main dish! Some of my other favorites include these oven roasted potatoes with bacon,  the creamiest macaroni and cheese you'll ever eat, and these green beans with bacon and onions.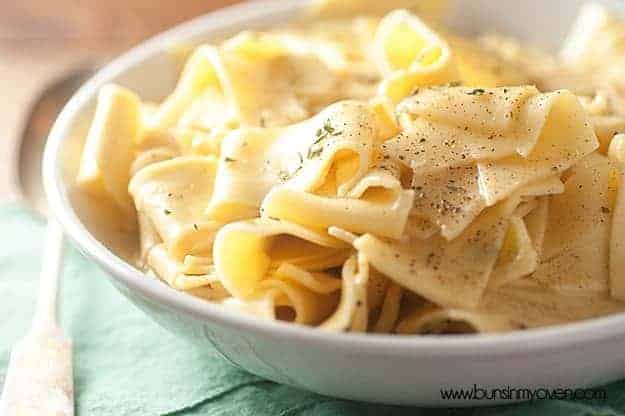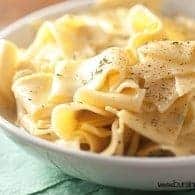 Amish Egg Noodles
Servings: 6 servings
Course: Main Course
Cuisine: American
Keyword: comfort food, easy pasta recipes, weeknight dinner recipes
Calories: 328 kcal
These noodles will serve 6 as a side dish, but you could easily add some cooked, shredded chicken in the pan at the same time you add the noodles and turn this into a main dish.
Ingredients
6 tablespoons butter divided
28 ounces chicken broth
1 chicken bouillon cube
12 ounces extra wide egg noodles
1 tsp. parsley flakes
Salt and pepper to taste
Instructions
In a large pan, brown two tablespoons of butter over medium heat.

Pour the chicken stock and bouillon cube into the pan and bring to a boil.

Add the egg noodles to the chicken stock and return to a boil. Cover the pot and remove from the heat. Let the noodles set for 30 minutes, stirring every 10 minutes or so. If you notice a lot of liquid left in the pot, test a noodle to be certain they are done to your liking. If they're not quite done, return to the heat until the liquid has evaporated and the noodles are done. If the noodles are done to your liking, just drain the liquid away.

Top with the remaining 4 tablespoons of butter, parsley, and salt and pepper to taste. (Be wary of adding too much salt as the stock and bouillon tends to be salty on it's own.)

Serve immediately or leave in the pan, covered, until ready to serve. These will stay warm for 20 more minutes or so with no problems.
Recipe Notes
lightly adapted from food.com
Nutrition Facts
Amish Egg Noodles
Amount Per Serving
Calories 328 Calories from Fat 126
% Daily Value*
Fat 14g22%
Saturated Fat 7g44%
Cholesterol 77mg26%
Sodium 758mg33%
Potassium 266mg8%
Carbohydrates 41g14%
Fiber 2g8%
Sugar 1g1%
Protein 9g18%
Vitamin A 400IU8%
Vitamin C 10.3mg12%
Calcium 41mg4%
Iron 1.5mg8%
* Percent Daily Values are based on a 2000 calorie diet.
Nutrition Disclaimer: All information presented on this site is intended for informational purposes only. I am not a certified nutritionist and any nutritional information shared on bunsinmyoven.com should only be used as a general guideline.
lightly adapted from food.com