This Amish egg noodles recipe is one of the most requested side dishes from my kids! They just love these easy buttered noodles.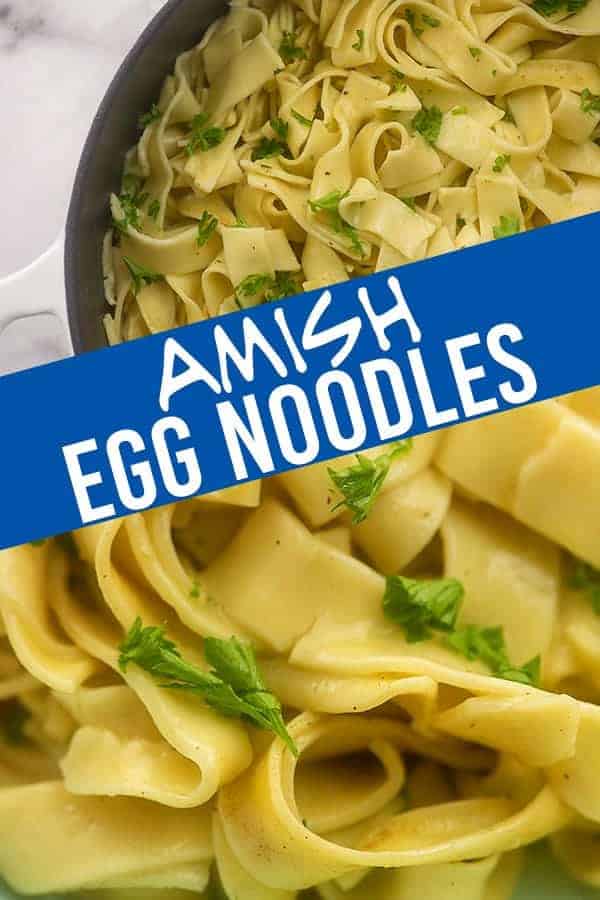 I don't want to be presumptuous or anything, but these Amish Egg Noodles are your new favorite side dish.
Just wait. You'll see.

My daughter and I are both total pasta lovers, so when I'm asking what to make for dinner she always pipes up with "blanket noodles." I know, blanket noodles sound weird, but she just calls them that because the shape of the egg noodles I buy are long and wide, like blankets. Ha! That girl cracks me up.
Anyway, you can use any dried egg noodles for this, but I really love the larger shapes for this easy side dish.
How to cook egg noodles: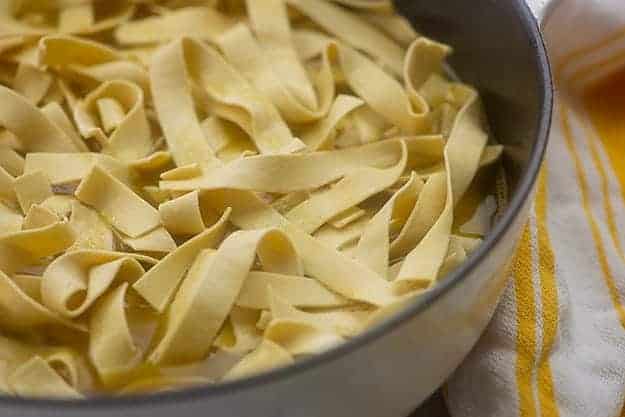 This recipe is one of those hands off, set it and forget it recipes that is super forgiving. You basically bring some chicken stock and a bouillon cube to a boil, dump in some noodles, return to a boil, and then turn off the heat, cover the noodles, and walk away.
Thirty minutes later you have the most perfectly satisfying comfort food… True story.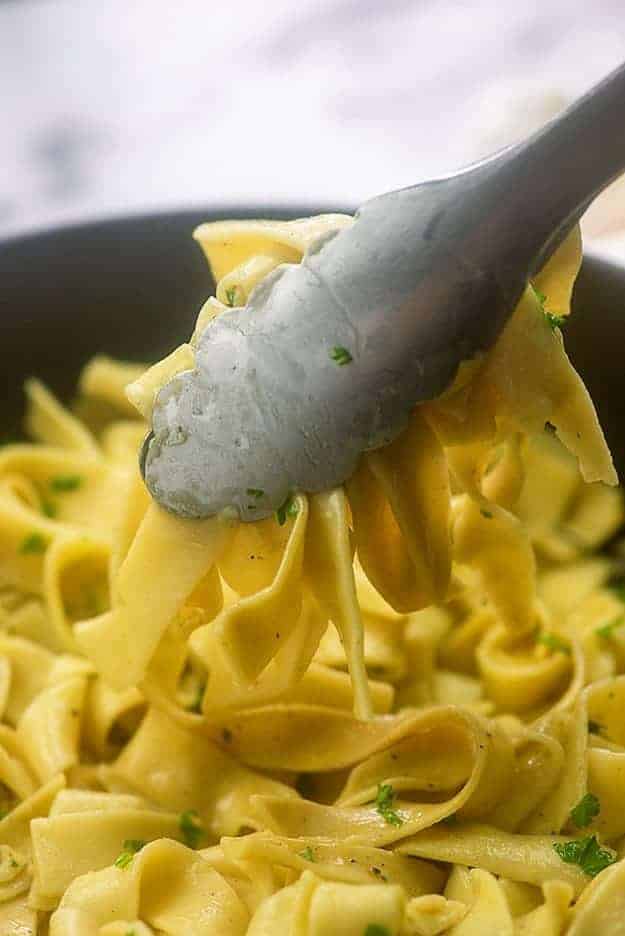 Well, I did skip one important step…butter!
After the noodles are cooked through, you drop in a half stick of butter (or more! I won't judge!) and then stir in a little parsley, salt, and pepper.
We really like the simplicity of this dish. These noodles just have a nice, mellow, buttery vibe going on. Love them so much!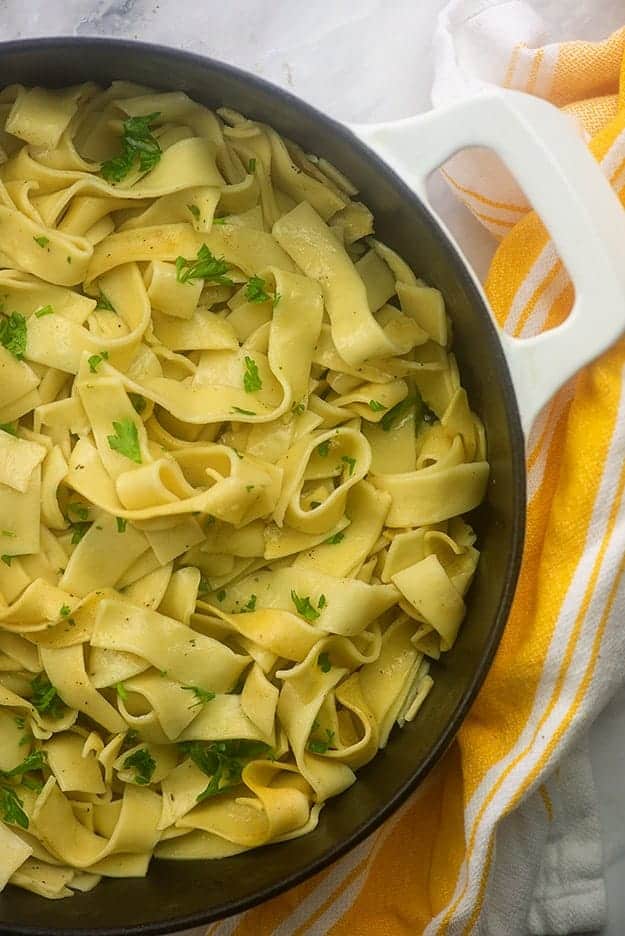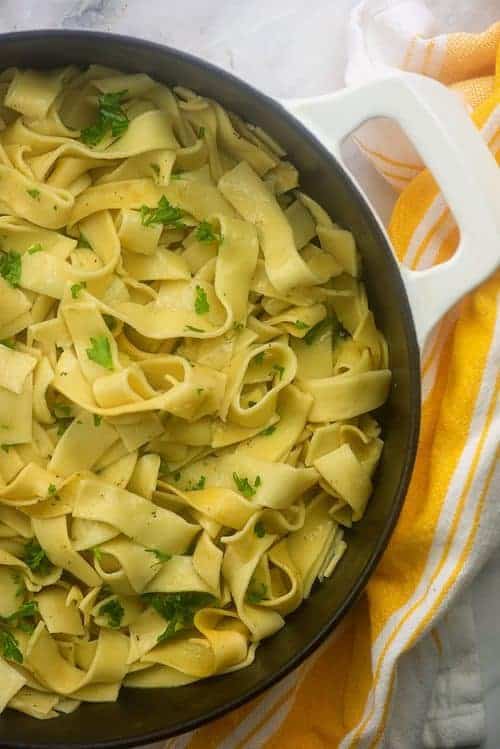 Can Amish egg noodles be reheated?
Yes, and they still taste great! You can microwave them until warm stirring every minute.
You might want to add a little extra butter if they appear to look a little dry. More butter never hurt! 😉
Looking for something to serve with this egg noodle recipe?
These go great alongside my crock pot pork chops , baked drumsticks, and with steak bites. Yes we eat egg noodles often and with everything. I bet you'll start too! 😉
Some of other sides that seem to be on repeat in my house are these oven roasted potatoes with bacon, the creamiest macaroni and cheese you'll ever eat, and these green beans with bacon and onions.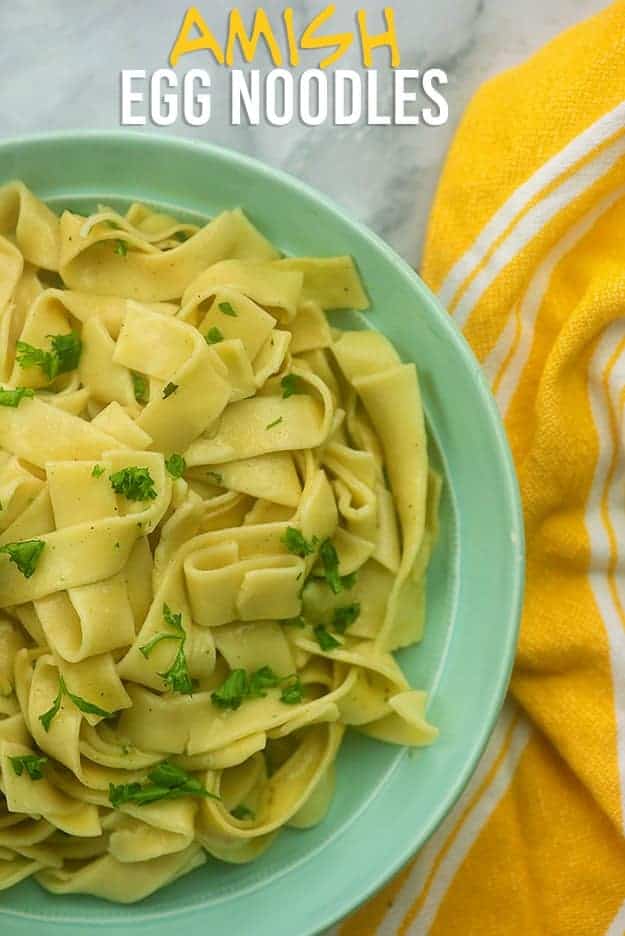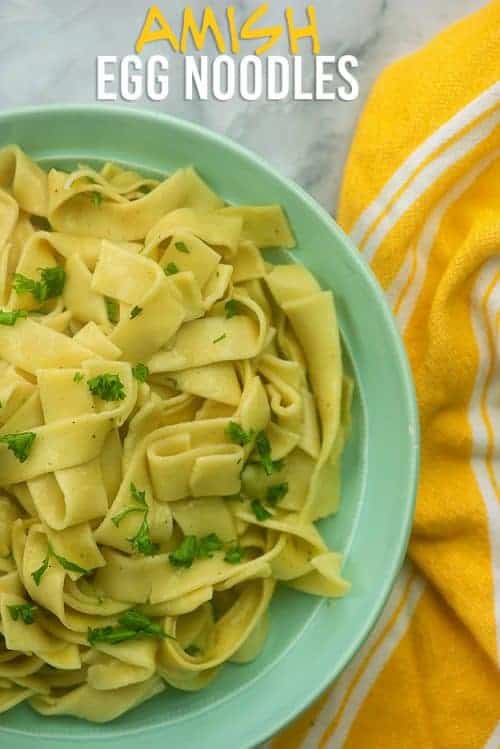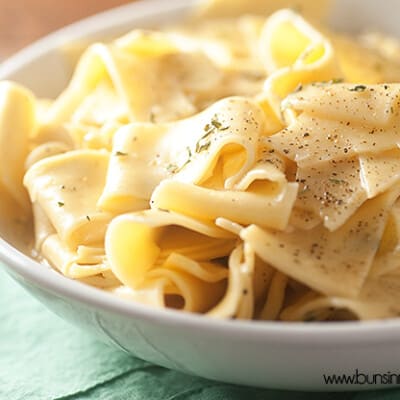 Amish Egg Noodles
These noodles will serve 6 as a side dish, but you could easily add some cooked, shredded chicken and a little Parmesan to turn this into a main dish.
Prep5 minutes
Cook40 minutes
Total45 minutes
Ingredients
6 tablespoons butter, divided
28 ounces chicken broth
1 chicken bouillon cube
12 ounces extra wide egg noodles
1 teaspoon parsley flakes
Salt and pepper, to taste
Instructions
In a large pan, brown two tablespoons of butter over medium heat.

Pour the chicken stock and bouillon cube into the pan and bring to a boil.

Add the egg noodles to the chicken stock and return to a boil. Cover the pot and remove from the heat.

Let the noodles set for 30 minutes, stirring every 10 minutes or so.

Test the noodles for doneness. If they are not cooked through, turn the heat back on and cook for 1-2 minutes until noodles are tender.

Top with the remaining 4 tablespoons of butter, parsley, and salt and pepper to taste.

Serve immediately or leave in the pan, covered, until ready to serve. These will stay warm for 20 more minutes or so with no problems.
Nutrition Information:
Calories: 328kcal (16%)| Carbohydrates: 41g (14%)| Protein: 9g (18%)| Fat: 14g (22%)| Saturated Fat: 7g (44%)| Cholesterol: 77mg (26%)| Sodium: 758mg (33%)| Potassium: 266mg (8%)| Fiber: 2g (8%)| Sugar: 1g (1%)| Vitamin A: 400IU (8%)| Vitamin C: 10.3mg (12%)| Calcium: 41mg (4%)| Iron: 1.5mg (8%)
This recipe was originally published in July 2014. It was updated with new photos in February 2020.