Crock Pot smothered pork chops are a family favorite and this recipe is especially easy because it uses the crock pot. Serve over egg noodles or mashed potatoes!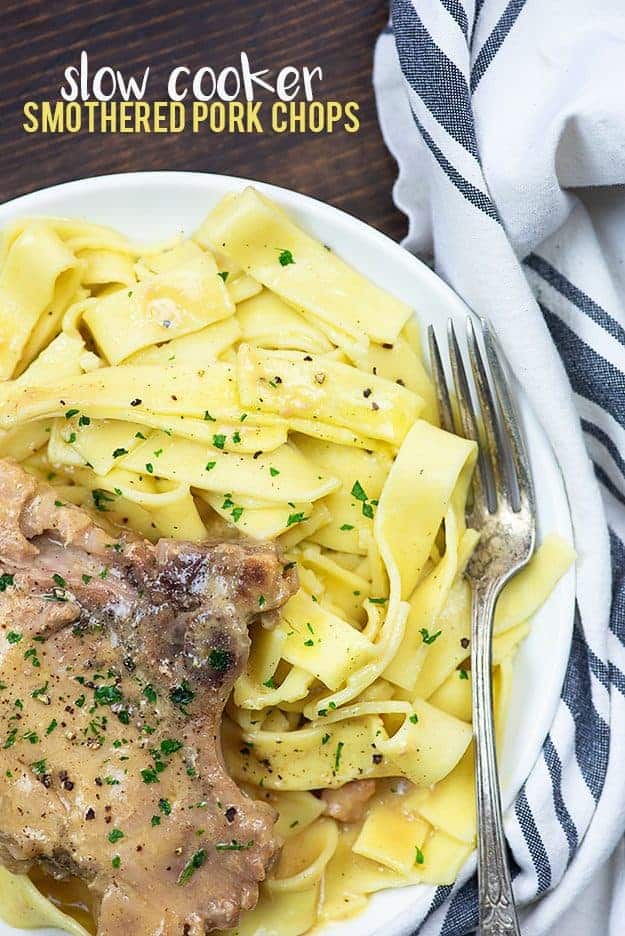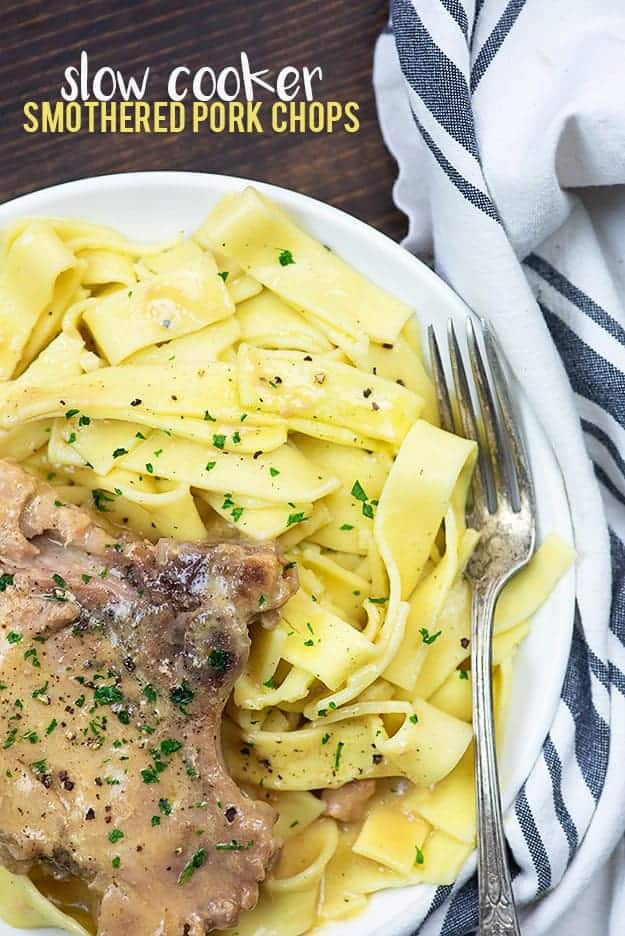 Up until about 3 months ago, I didn't know what smothered pork chops were. How lame is that?
I assumed they were full of mushrooms (and sometimes they totally are!), so I avoided them like the plague.
You guys didn't know I was a mushroom hater, did you?
I really want to like them. Honestly, I'm fairly certain that they even taste good – it's just…I wouldn't know. It's a mind thing for me. Not a flavor thing.
Like, they're fungus? And that's a big ol' no as far as I'm concerned.

Before you ask, yes, that also means blue cheese is out. Like, super out. No no no. Just no.
But, here's the good news: I'm the boss of my life and that means I can make easy crock pot pork chops smothered in goodness without mushrooms. Being an adult is awesome.
This smothered pork chops recipe is legit simple. The gravy makes itself right in the slow cooker with the pork chops so you basically just dump everything in there and then go live your life. I love recipes like that.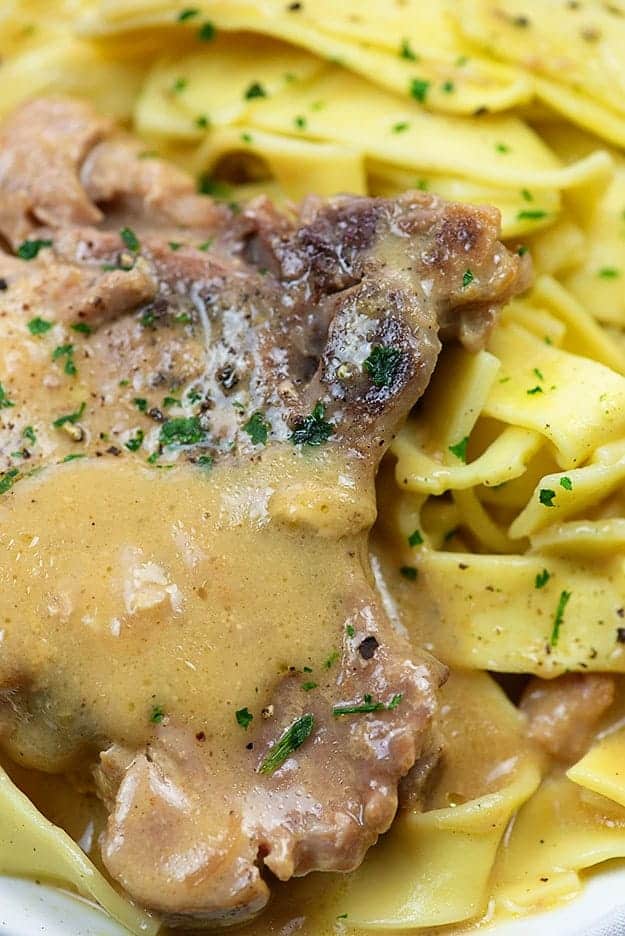 How to make crock pot pork chops:
Are you ready for this simple 5 ingredient recipe?
All you'll need is some bone-in pork chops, some onion soup mix, a couple cans of cream of chicken soup, chicken broth, and a little garlic. If you want mushrooms, feel free to add some in OR use cream of mushroom soup.
Mix together the cream of chicken soup with the onion soup mix, broth, and garlic.
Spread that mixture into the bottom of a slow cooker.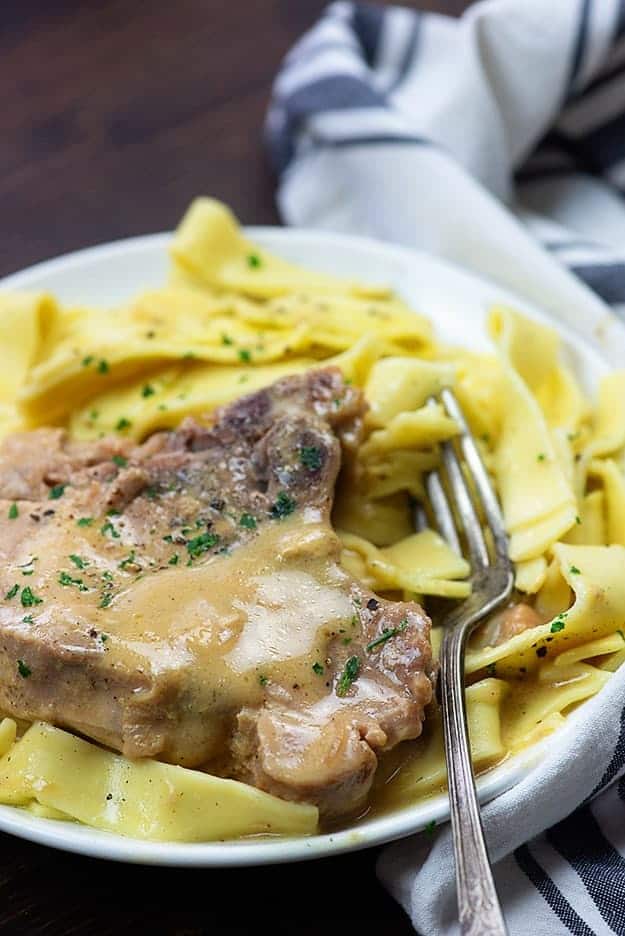 Pop your pork chops right on top and flip them around to coat them in the sauce.
Cover and cook on high for about 3 hours or low for about 6 hours.
When the pork chops are cooked through, remove them from the slow cooker and then whisk together the gravy to bring it all together.
Spoon the gravy over the pork chops and dig in!
What to serve with crockpot pork chops:
These are amazing with my buttered egg noodles (my kids beg for those noodles!) or some mashed potatoes (I normally cheat and use Bob Evan's refrigerated mashed potatoes, because they're sooooo good).
My green beans and bacon recipe is always a hit.
These roasted vegetables go with everything.
For dessert, I suggest my brownies or blackberry cobbler.
Looking for smothered pork chops that are baked instead of slow cooked? Try these french onion smothered pork chops!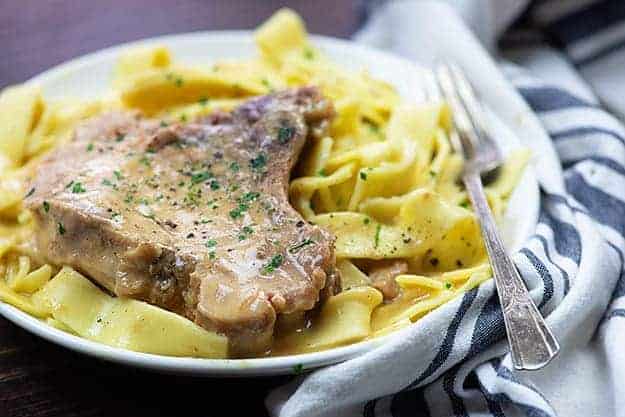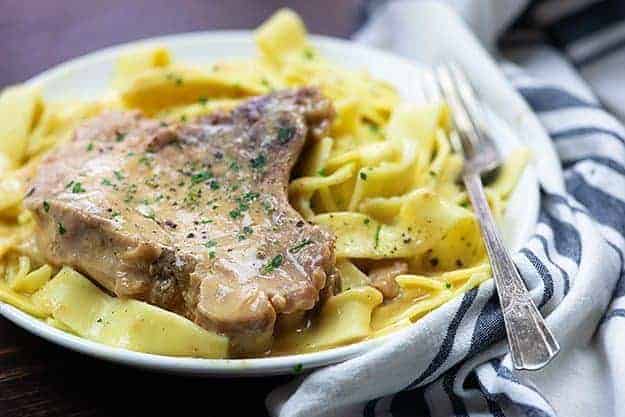 Special Tools Needed for Crock Pot Smothered Pork Chops:
The only thing you'll really need for these slow cooker pork chops is your slow cooker!
I have a bunch of them, but my favorite is the Ninja Slow Cooker. It has excellent reviews on Amazon, cooks evenly, and is really versatile as it has additional functions. Buy one here (affiliate link).
If you enjoy this recipe, be sure to follow me on Pinterest as well! I'm always pinning new family-friendly, quick, and easy meals like this!
I hope you enjoy these easy crockpot pork chops! If you give them a try, leave me a comment below and don't forget to use the star rating system in the comments as well! 🙂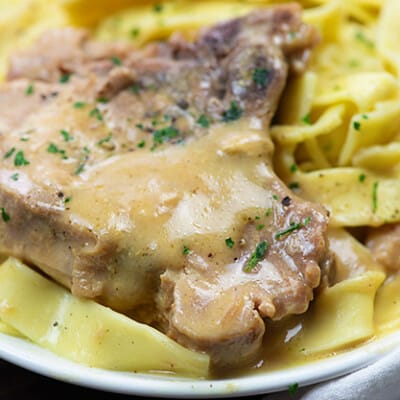 Slow Cooker Smothered Pork Chops
Smothered pork chops are a family favorite and this recipe is especially easy because everything cooks together in the crockpot. Serve over egg noodles or mashed potatoes!

Prep5 minutes
Cook3 hours
Total3 hours 5 minutes
Ingredients
21 ounces canned cream of chicken soup
1/2 cup chicken broth
1 packet onion soup mix
1 clove minced garlic
4 bone-in pork chops about 2 pounds
Instructions
Add the cream of chicken soup, chicken broth, onion soup mix, and garlic to a slow cooker and stir well to combine.

Place the pork chops in the slow cooker and toss to coat in the gravy.

Cover and cook on high for 3 hours or low for 6 hours.

Remove pork chops from the slow cooker and whisk the gravy well.

Spoon gravy over pork chops before serving.
Tips & Notes:
Feel free to use cream of mushroom soup in place of cream of chicken.
Nutrition Information:
Calories: 453kcal (23%)| Carbohydrates: 17g (6%)| Protein: 39g (78%)| Fat: 23g (35%)| Saturated Fat: 7g (44%)| Cholesterol: 128mg (43%)| Sodium: 2048mg (89%)| Potassium: 749mg (21%)| Sugar: 1g (1%)| Vitamin A: 270IU (5%)| Vitamin C: 2.6mg (3%)| Calcium: 67mg (7%)| Iron: 2.8mg (16%)