Our AMISH CHICKEN AND NOODLES are the ultimate comfort food! Amish egg noodles and tender chicken, in a thick, rich broth just begging to be served over a pile of mashed potatoes!
We often joke that my son is actually an old man.
His favorite restaurant was Bob Evan's for most of his childhood. He often requests the same meals that my grandpa would request. He just really loves good old fashioned comfort food. And, of course, he's always happy to eat dinner at 4pm. 😉
Anyway, this is one of those comfort food meals that he absolutely loves.
Amish Chicken & Noodles are NOT a soup – these noodles are bathing in a thick, rich sauce that you'll serve over a pile of mashed potatoes for the ultimate cozy dinner.
We simmer a whole chicken until the meat shreds apart, we cook the noodles in that chicken stock, and then we stir in some cream of chicken soup to thicken it all up. <— Yes, the Amish use cream soups from a can, but you can use my homemade version if you prefer.
This recipe is a riff on our Amish Egg Noodles. We just added chicken, made them a bit thicker and creamier, and served them over mashed potatoes – just the way we've had them in Amish country!
This meal is already a carb lover's dream come true, but go ahead and serve these with our homemade biscuits and you'll really be living it up.
Amish Chicken & Noodles Ingredients:
This post contains affiliate links. As an Amazon associate and member of other qualifying programs, I earn from qualifying purchases.
Whole Chicken – Around 4 pounds is a good size.
Chicken Broth Base – This adds loads of flavor to the stock. We always have a jar in the fridge. Find it on Amazon.
Water
Celery
Onion
Parsley
Egg Noodles – We buy the bags of thick, Amish or homestyle egg noodles. These are dried and found near the pasta in the grocery store. Here they are on Amazon.
Cream of Chicken Soup – You can use the cans of soup or make my substitute for cream of chicken soup.
Butter
How to Make:
Simmer: Start by adding the chicken to a large stock pot with the celery, onion, chicken base, water, and parsley. Turn the heat up until it is boiling and then reduce it to a simmer and cover the pot. Allow the chicken to simmer for at least 2 to 3 hours.
Tip: The longer the chicken simmers, the more flavor the broth will have. It's worth the time!
Shred: When the chicken has finished cooking you can remove it from the stock pot and begin to separate the meat from the bones and shred into smaller pieces. Set the chicken aside for now.
Strain: After removing the chicken from the broth, use a strainer to separate the broth from the celery, onions, and parsley. These won't be added back into the soup, they were just there for flavor and can be discarded.
Once strained, pour four cups of the broth back into the pot and return it to a boil.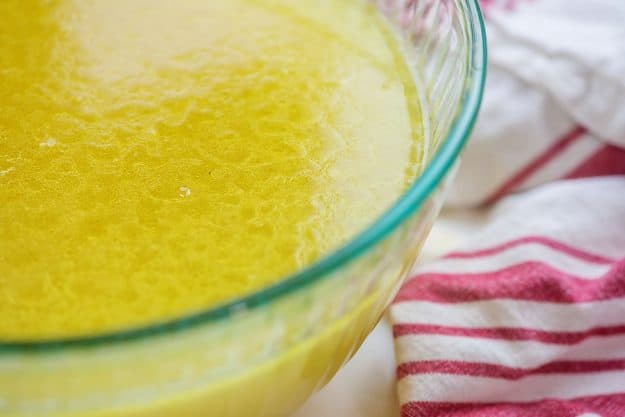 Noodles: Once the broth is boiling you can add in the egg noodles and finally return the shredded chicken back to the broth. Stir well, cover the pot, and turn off the heat. The noodles will continue to cook, and should take about thirty minutes, while stirring every ten minutes.
Tip: Test the noodles before moving on to the next step to make sure they are cooked through. If not, turn the heat back on for a couple of minutes or until they are tender.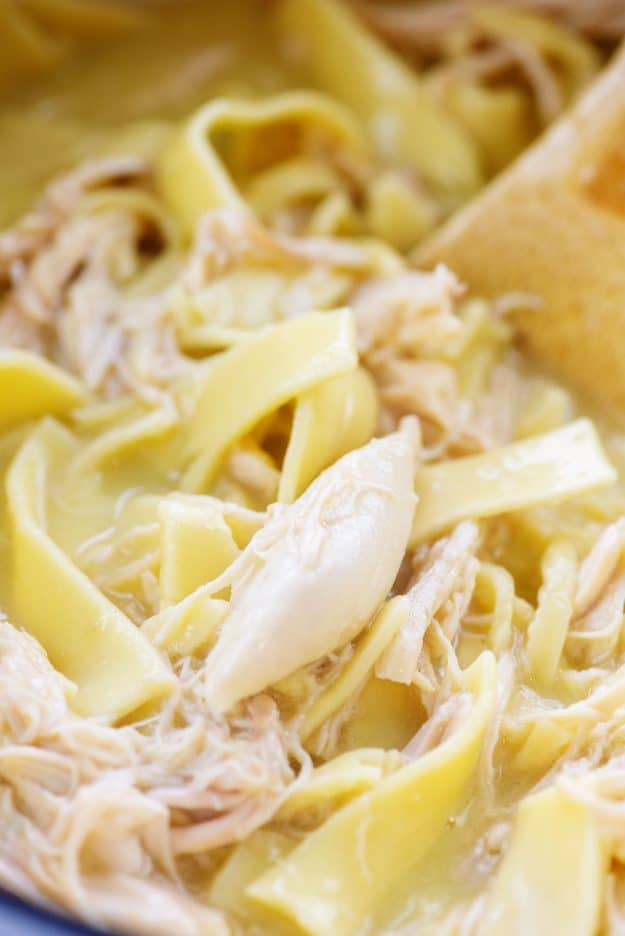 Finish: Almost done! There are just a few ingredients left that will really ramp up this soups flavor. Add the cream of chicken soup and butter and stir well until it has all melted and is well combined. Season with salt and pepper to your taste and finally, serve!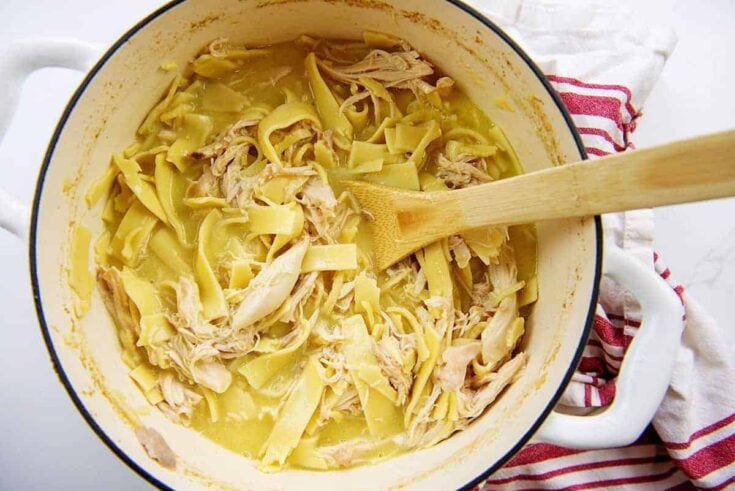 Helpful Tip!
Swaps & Substitutes
In a hurry? Use leftover shredded chicken and store bought broth.
Stir in some frozen peas and carrots when you add the noodles to amp up the nutrition.
Leftover Hack!
We serve our Amish chicken and noodles as a main dish over a pile of mashed potatoes, but the leftovers often get served as a side dish with whatever meal we're having the next night. Skip the mashed potatoes and just scoop up a portion of chicken and noodles. They're delicious with our turkey meatloaf!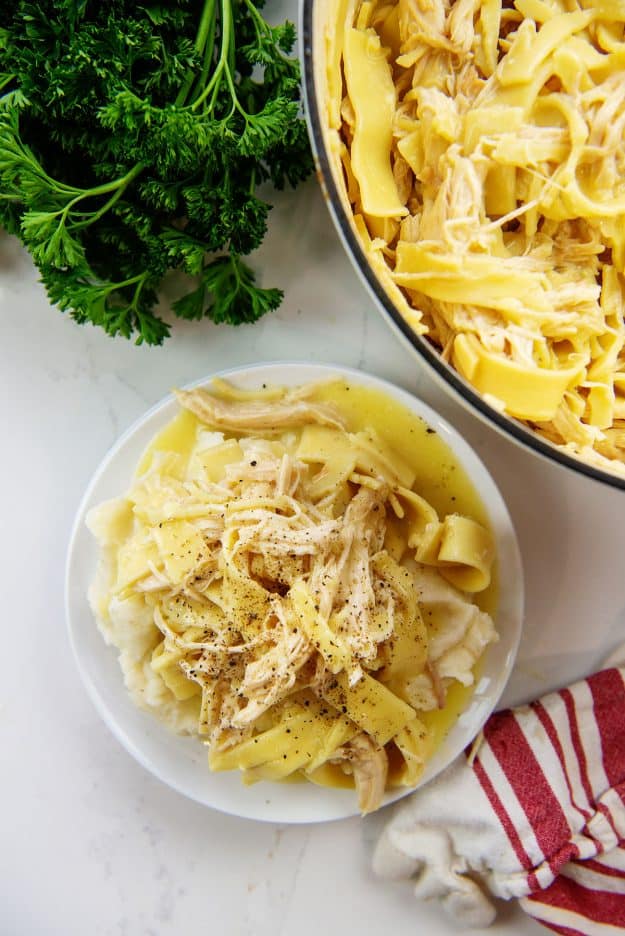 More comfort food recipes!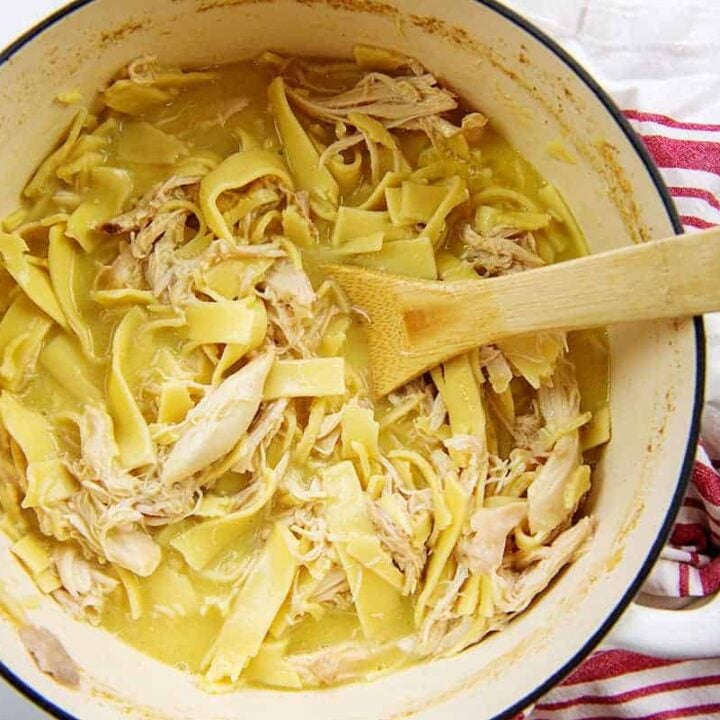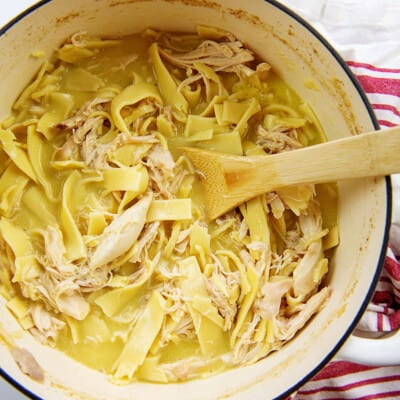 Amish Chicken & Noodles
Egg noodles and chicken cook together in a rich broth until nice and thick. This Amish classic is best served over a pile of mashed potatoes.
Prep15 minutes
Cook1 hour 30 minutes
Ingredients
4 pounds whole chicken
4 quarts water
¼ cup chicken broth base
2 stalks celery roughly chopped
1 small onion diced
¼ cup parsley
12 ounces dried egg noodles see notes
10 ounces cream of chicken soup
4 tablespoons butter
Instructions
Add the chicken to a large stock pot along with the water, chicken base, celery, onion, and parsley. Bring to a boil, reduce to a simmer, and cover.

Simmer for 2-3 hours. The longer the chicken simmers, the more flavorful the broth will be.

Carefully remove the chicken from the broth and remove the meat from the bones. Shred or chop into bite-sized pieces.

Strain the broth through a fine mesh strainer.

Return 4 cups of the strained broth to the pot and return to a boil.

Add the egg noodles and shredded chicken to the pot, cover, and turn off the heat.

Let the noodles set for 30 minutes, stirring every 10 minutes or so.

Test the noodles for doneness. If they are not cooked through, turn the heat back on and cook for 1-2 minutes or until noodles are tender.

Add the cream of chicken and butter to the noodles and stir until the butter has melted. Season with salt and pepper to taste.

Serve immediately or leave in the pan, covered, until ready to serve. These will stay warm in the pan for 30 minutes or so with no problems.
Tips & Notes:
We use the Amish style egg noodles found in small bags. These are generally made by smaller brands in plastic bags with zip ties at the top. You can also find them on Amazon.
Nutrition Information:
Calories: 505kcal (25%)| Carbohydrates: 35g (12%)| Protein: 29g (58%)| Fat: 27g (42%)| Saturated Fat: 10g (63%)| Trans Fat: 1g| Cholesterol: 136mg (45%)| Sodium: 2182mg (95%)| Potassium: 401mg (11%)| Fiber: 2g (8%)| Sugar: 3g (3%)| Vitamin A: 621IU (12%)| Vitamin C: 5mg (6%)| Calcium: 70mg (7%)| Iron: 2mg (11%)