Our family's favorite Funeral Potatoes Recipe starts with frozen diced potatoes, gets mixed with a simple creamy, cheesy mixture, and then it's all topped off with buttery Cornflakes. These have an odd name, but they're a definite favorite!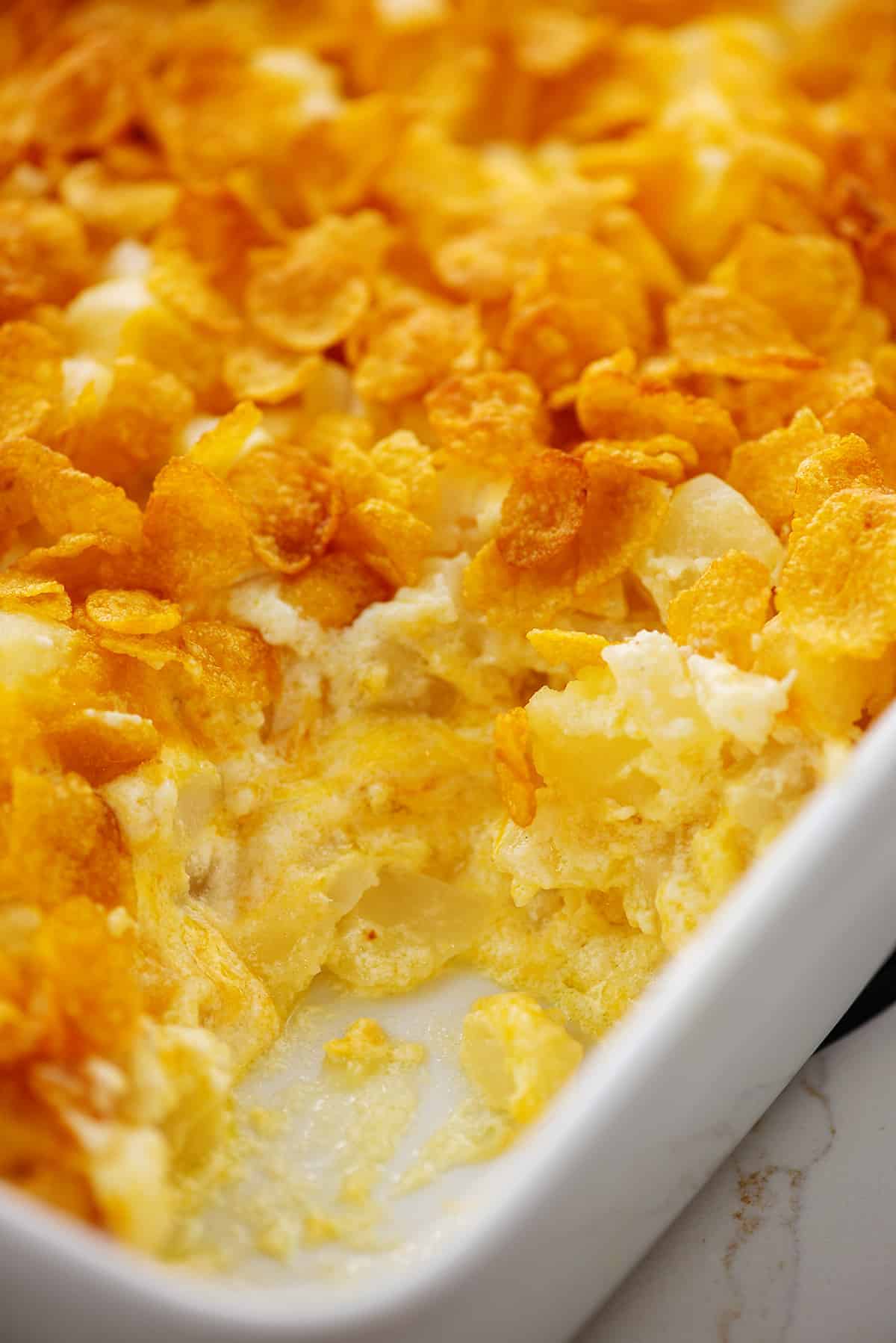 Okay, it's true – these potatoes have a rather unfortunate name.
Funeral Potatoes? Sounds…morbid.
But, they're the ultimate comfort food side dish and we absolutely love all the cheesy, creamy goodness.
Plus, I'm a sucker for any casserole topped with Cornflakes. It just adds the perfect buttery crunch.
This recipe is very similar to my hashbrown casserole, with just a few key changes.
What are funeral potatoes?
Funeral potatoes are just a cheesy potato casserole that is popular in the Midwest and within the LDS church.
I'm not Mormon, but my understanding is that funeral potatoes are often brought to dinners and family gatherings held after a funeral.
These have definitely been served at family gatherings after a funeral in my family, but they're also served at many holiday dinners and just regular family dinners.
They're simple, cheesy, and always a hit with family and friends, no matter when you serve them.
Ingredient Notes:
Frozen Diced Hash Browns – We use plain hash browns here, but you could also use the Potatoes O'Brien package, which has onions and peppers added.
Cream of Chicken Soup – A staple in many casseroles. Use my cream of chicken soup if you don't like the canned stuff. It's the perfect swap.
Sour Cream – Adds creamy flavor and adds moisture that helps keep the potato casserole from drying out.
Melted Butter – Added to the both the potatoes and the topping.
Seasonings – We use garlic powder, onion powder, and salt.
Cheddar Cheese – Freshly shredded is best for the ultimate creamy cheesy melt, but pre-shredded works too.
Corn Flakes – This cereal gets mixed with some butter to make a perfectly crunchy and buttery topping for the funeral potatoes!
What We Love About This Recipe:
It's pure comfort food!
The buttery and crunchy corn flake topping is hard to resist!
It's an easy casserole recipe that you can prepare ahead of time.
How to Make Funeral Potatoes:
Combine: We love how quick and simple this cheesy casserole recipe is. Add all of the creamy, cheesy bits to a mixing bowl and give it a stir. Next, stir in the potatoes. Add this to a 9×13 pan.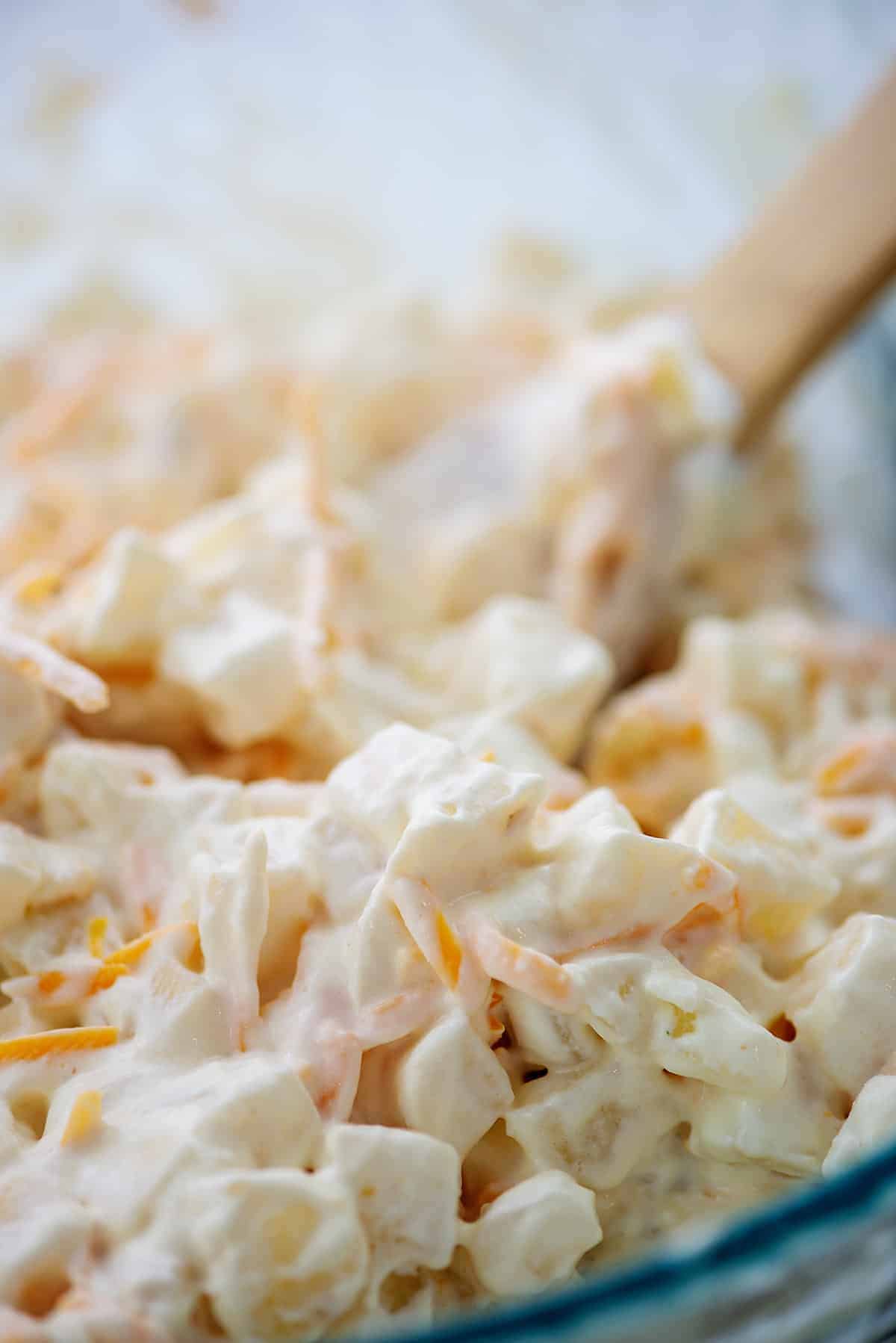 Top: Add cornflakes to a small bowl and drizzle with melted butter. Stir it around to coat and then spoon the cornflakes over the cheesy potatoes.
Bake: This goes in a 350 degree oven, uncovered, for 55 minutes or until the cheesy hashbrown casserole is hot and bubbly.
Helpful Tip!
Recipe Swaps
Cheddar cheese may be swapped for any cheese you like, but cheddar is definitely the classic.
The diced hash browns can be swapped for shredded. We prefer the texture of diced, but both work well!
Use Ritz crackers, potato chips, or Panko crumbs in place of the cornflakes, if preferred.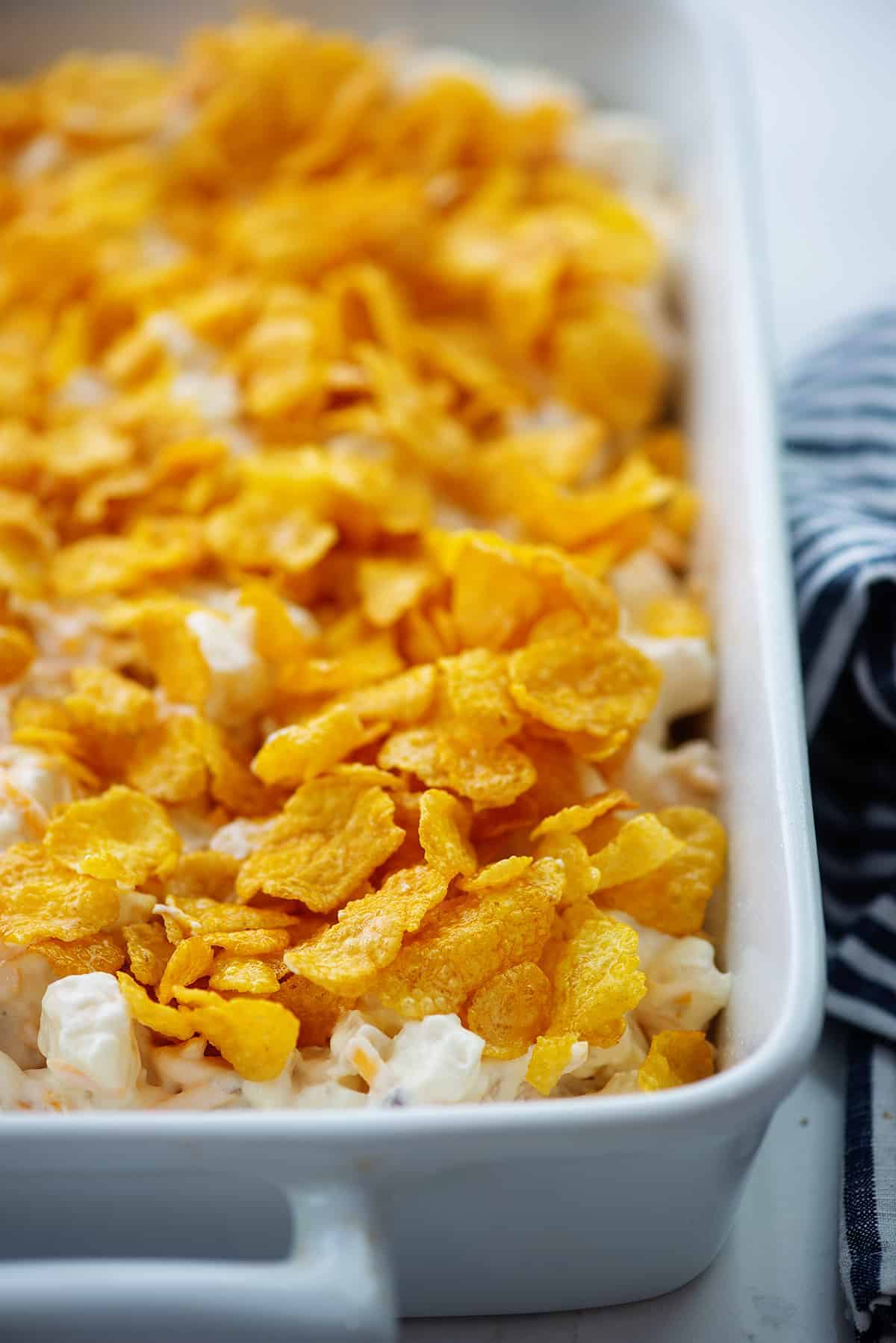 Thawed Vs. Frozen Potatoes
Many people prefer to thaw their frozen diced hash browns before adding them to this casserole.
Personally, I don't notice much difference in the taste or texture of thawed vs. frozen, so we normally skip that step.
If I think about it, I'll place the frozen potatoes in the fridge the night before cooking them, but if I don't remember, no one knows the difference.
Make Ahead:
This funeral potatoes recipe can easily be made in advance.
Assemble the casserole, but skip the cornflake topping. Cover with foil and refrigerate for 1-2 days until you're ready to bake.
Remove the foil, add the cornflake topping, and bake as directed.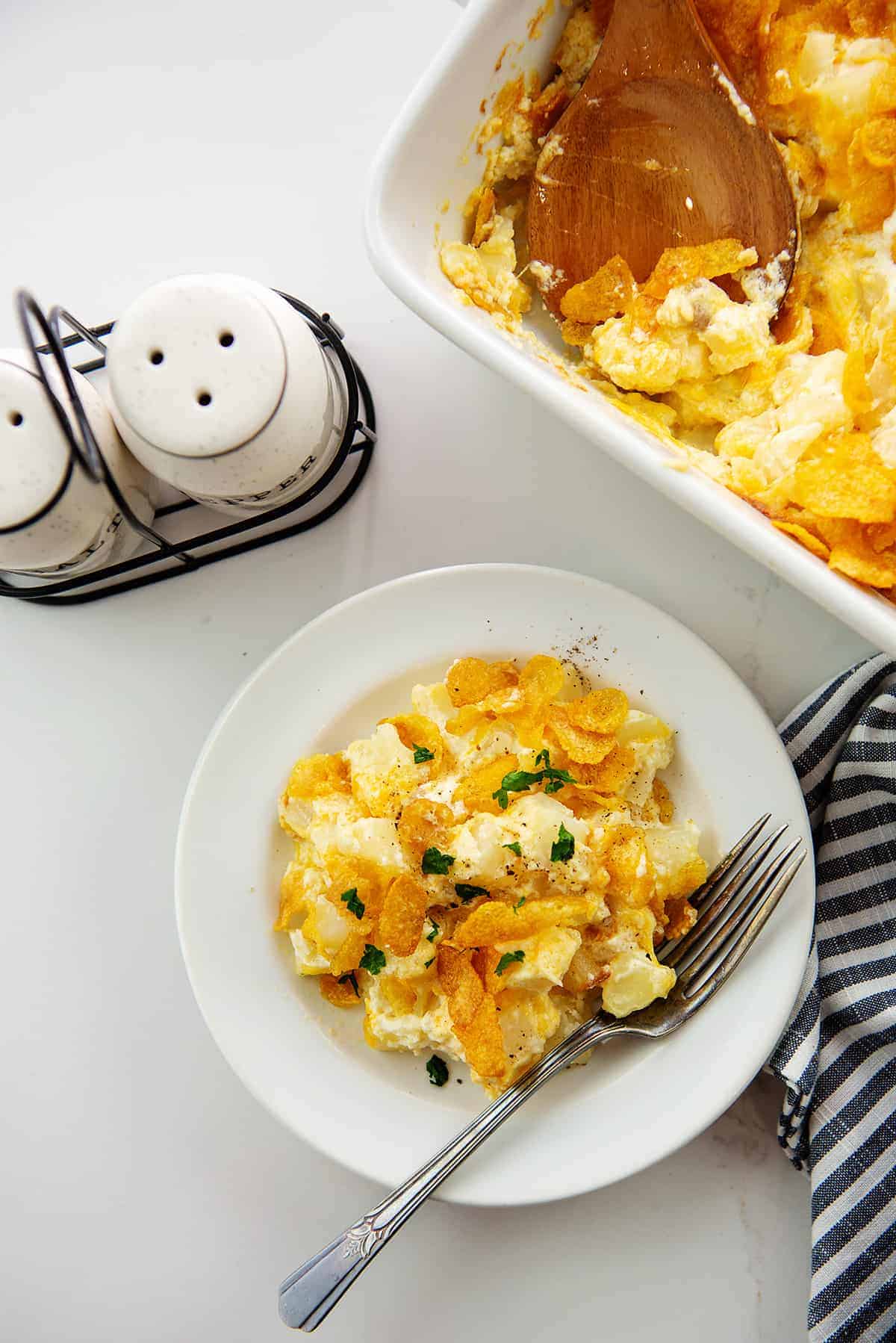 FAQs:
How to store funeral potatoes?
Leftover funeral potatoes will last for 3 to 4 days in the fridge if they are well covered!
Do I have to include the crunchy topping?
Nope! We love the buttery cornflake flavor it adds, but you can skip it if you don't like the crunch or the flavor. You can also swap it for something else like Panko.
Can I make my own hashbrowns?
If you want to use homemade hashbrowns you can. But the frozen kind from the store work perfectly, and they are easy!
Leftover Hack!
Slice smoked sausage into rounds and sear in a hot skillet. Add to your leftover funeral potatoes, cover with foil, and bake until it's all heated through for a quick lunch using the leftovers.
Make It a Meal!
Pair this with…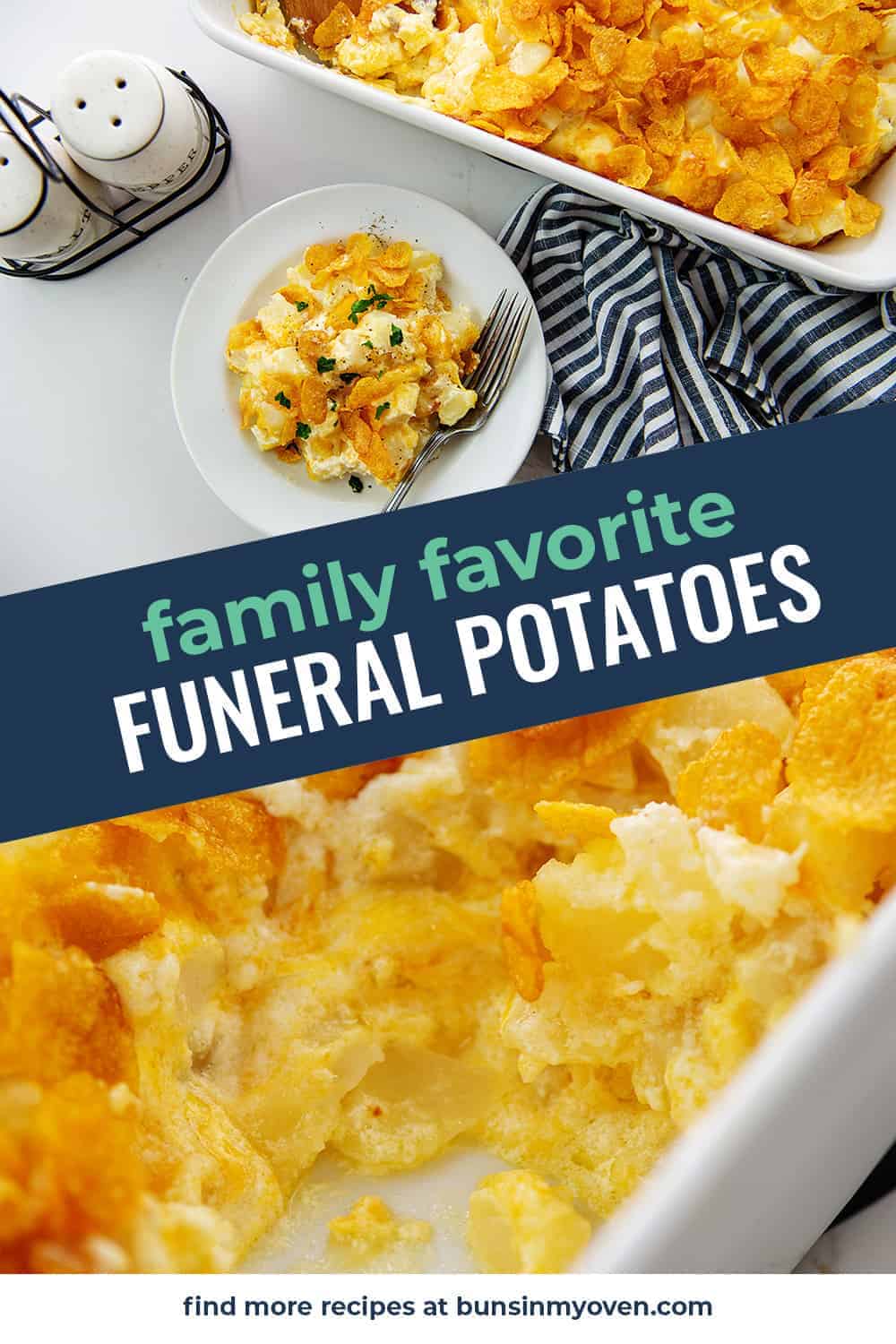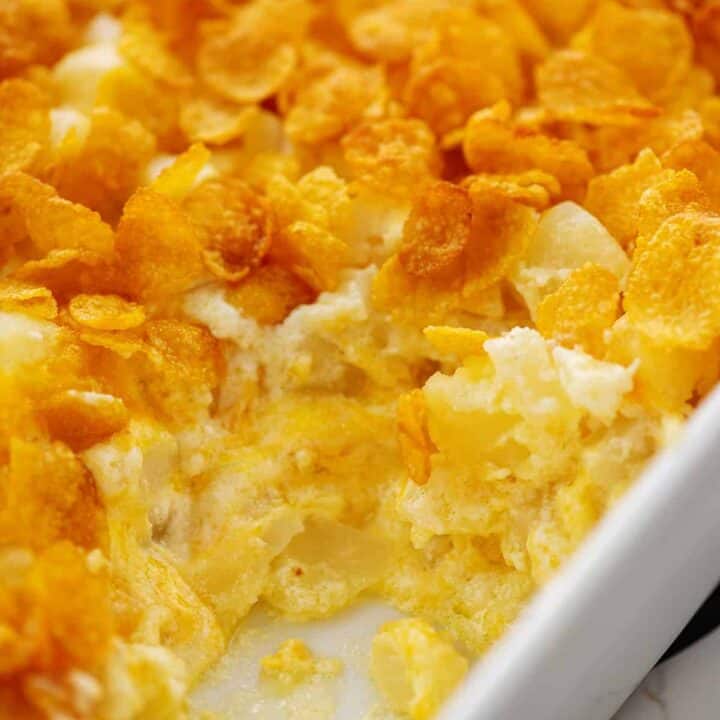 Funeral Potatoes
Funeral Potatoes are often shared with family and friends at the gathering after a funeral, but they're perfect for any holiday dinner or family gathering. Easy, cheesy, and everyone loves them.
Prep10 minutes
Cook55 minutes
Total1 hour 5 minutes
Ingredients
For the potatoes:
16 ounces sour cream
10 ounces cream of chicken soup
2 ½ cups shredded cheddar cheese
¼ cup melted butter
1 teaspoon garlic powder
1 teaspoon onion powder
1 teaspoon salt
32 ounces frozen diced hash browns
For the topping:
2 cups corn flakes cereal
¼ cup melted butter
Instructions
To make the potatoes:
Preheat oven to 350 degrees. Grease a 9×13 baking dish.

Add the sour cream, cream of chicken soup, shredded cheddar, butter, garlic powder, onion powder, and salt to a large mixing bowl and stir well to combine.

Stir in the potatoes to coat.

Spread into the prepared baking dish.
To make the topping:
Add the cornflakes and melted butter to a small bowl and stir to combine.

Sprinkle the cornflakes over the potatoes and place dish in the oven.
To bake:
Bake, uncovered, for 50-55 minutes or until potatoes are tender and dish is hot and bubbly.
Tips & Notes:
Make Ahead: Assemble everything but the topping and place in a tightly covered baking dish in the fridge for 1-2 days. Before baking, remove the foil and top with the cornflakes. It may take an extra 5-10 minutes to cook through if baking straight from the fridge. Potatoes: You may thaw the frozen hash browns in the fridge overnight before adding to the casserole for a softer textured potato. We usually skip this step, but some people do prefer the texture of the potatoes after they've thawed.
Nutrition Information:
Calories: 404kcal (20%)| Carbohydrates: 25g (8%)| Protein: 11g (22%)| Fat: 30g (46%)| Saturated Fat: 18g (113%)| Trans Fat: 1g| Cholesterol: 80mg (27%)| Sodium: 785mg (34%)| Potassium: 382mg (11%)| Fiber: 2g (8%)| Sugar: 2g (2%)| Vitamin A: 1001IU (20%)| Vitamin C: 9mg (11%)| Calcium: 271mg (27%)| Iron: 3mg (17%)