Our moist Turkey Meatloaf is made with a surprise ingredient that keeps it so flavorful and not at all dry! Plus, that sauce on top is sweet and tangy – a definite family favorite!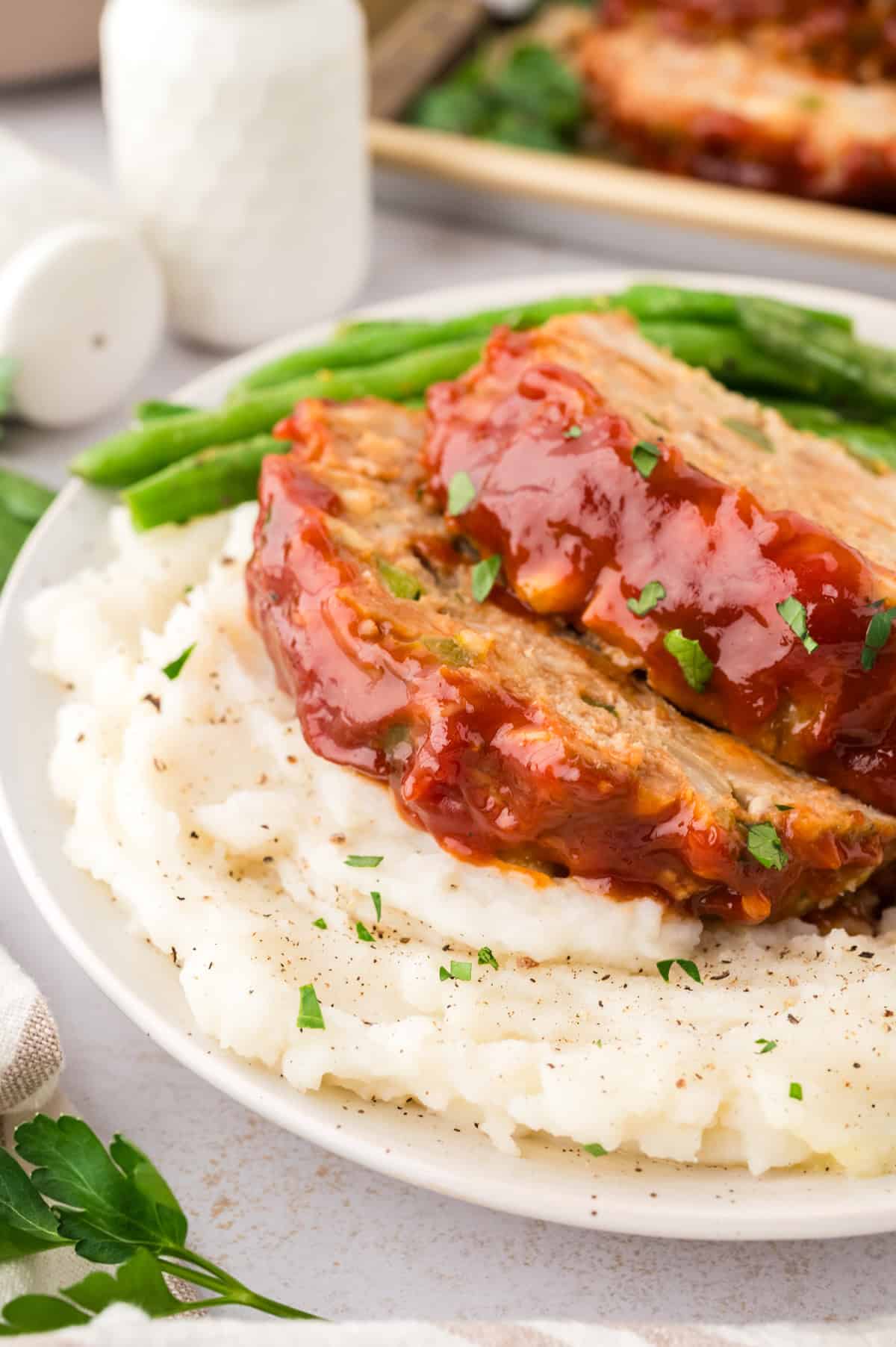 We love a good comfort food meal and nothing screams comfort food like meatloaf!
Serve this with a pile of our Instant Pot mashed potatoes and some broccoli cheese casserole and you have one of my family's favorite dinners!
Our moist turkey meatloaf is a lightened up version of traditional beef meatloaf, but I promise you won't miss the beef. This is seasoned so well, stays so moist, and bakes up so perfect that it's sure to become a family favorite – just like our turkey meatballs!
Another bonus – ground turkey tends to be quite a bit cheaper than ground beef, which is always nice, but especially right now when the price of everything seems to be skyrocketing. Love a good budget-friendly meal!
Our recipe for turkey meatloaf has a surprise ingredient – Stove Top Stuffing! It's responsible for a lot of the flavor and moisture in this recipe, so please don't be tempted to skip it. It really adds so much!
This ground turkey meatloaf recipe is nowhere near as decadent as my bacon cheeseburger meatloaf, but my family eats it just the same. It's a little healthier and I feel good about serving it to them.
Turkey Meatloaf Ingredient Notes:
This post contains affiliate links. As an Amazon associate and member of other qualifying programs, I earn from qualifying purchases.
Ground Turkey – A bit more lean and more economical than beef! We'll season it well so that it's packed with flavor.
*Secret Ingredient* – We use dry Stove Top Stuffing as the binder in this meatloaf. Makes it super moist and adds flavor. While you could sub with bread crumbs or oats, the turkey meatloaf won't be as moist or as well-seasoned.
Veggies – I'm adding some diced onion and green pepper to this turkey meatloaf. Chop them pretty small to avoid big chunks.
Seasoning – Keep it simple with some salt, pepper, and garlic powder! The stuffing is already seasoned and we'll add a sweet and tangy sauce on top for even more flavor.
Meatloaf Sauce – You'll need ketchup, brown sugar, mustard, and Worcestershire sauce. Bakes up thick, sweet, tangy, and irresistible.
Bread – After shaping, we'll place the meatloaf of bread slices to soak up any liquid that releases. Optional, but keeps the pan looking nice and the bread can be eaten or discarded.
What Readers are Saying!
"I make this once a month. This is the best turkey meatloaf recipe I've found. It's seasoned so well, you don't miss the beef. My entire family loves it, even those who don't usually like ground turkey. The only thing I change is the sauce topping – I omit the brown sugar, as we don't like the sweet taste. Love the bread tip too!" – Sarah
How To Make Turkey Meatloaf:
Combine: Add ground turkey, stuffing mix, milk, Parmesan, onion, pepper, egg, salt, and garlic to the bowl and combine with your hands until well mixed!
Shape: Place two slices of sandwich bread on a sheet pan and form the meatloaf right over the bread. The bread helps to soak up any liquid/grease from the meatloaf. Pop in a hot oven for 30 minutes.
Meatloaf Sauce: In a small bowl mix together the ketchup, brown sugar, mustard, Worcestershire sauce. Remove the meatloaf from the oven after baking 30 minutes and then generously brush the meatloaf sauce over the top!
Finish: After adding the sauce return the turkey meatloaf to the oven and continue baking for another 30 minutes. The sauce will caramelize while it bakes for loads of flavor! Slice and serve!
How To Soak Up Grease From Meatloaf:
We're using a simple trick to absorb the grease and liquid that releases as the meatloaf bakes!
Two pieces of sandwich bread placed under your meatloaf while baking will soak up all that extra liquid and fat. They easily peel right off after slicing.
Arrange two slices of bread on a sheet pan in a row.
Form the meatloaf over the bread.
Bake as usual.
Slice meatloaf and discard the bread before serving.
What To Do With Leftover Meatloaf:
There are loads of options for using up that leftover meatloaf. My personal favorite is just a simple meatloaf sandwich (white bread, loads of mayo, cold meatloaf sliced thick!), but it's easy to get creative.
Meatloaf Quesadillas – Gets dipped in extra dipping sauce and it's to die for!
Stuffed Peppers – Crumble or dice leftover meatloaf and use it in place of beef in your favorite stuffed peppers.
Meatloaf Spaghetti – Crumble your meatloaf and add it to a jar of marinara on the stove. Heat through and toss with spaghetti.
Mac and Cheese & Meatloaf – Our crockpot mac and cheese is beyond cheesy and creamy. Serve it up with crumbled meatloaf stirred in for the ultimate meal.
Meatloaf Sub – You've had meatball subs, but how about meatloaf subs?
Serve this alongside my cauliflower gratin, mashed potatoes, or roasted sweet potatoes (made with honey and cinnamon!) for a delicious meal.
My nutella brownie recipe makes a great dessert!
I've even made meatloaf quesadillas with leftover meatloaf! You should totally try one – that dipping sauce is phenom.
And if you're eating low carb, well…
Be sure to check out my low carb meatloaf. It's wrapped in bacon, because OF COURSE IT IS.
FAQs:
Why add sliced bread to the bottom of the meatloaf?
I do this so that the bread soaks up any liquid/fat that the meat releases. It works well for any meatloaf, whether it's turkey meatloaf or beef meatloaf!
After cooking and slicing, I just pop the pieces of bread off of individual slices. Easy peasy and you're not left with a meatloaf that's been sitting in a pile of grease!
How to store turkey meatloaf?
You can refrigerate this turkey meatloaf in an airtight container. It should last for 3-4 days!
Can I freeze turkey meatloaf?
Yep! This meatloaf should freeze as well as most other meatloaf recipes. Let it cool before wrapping it tightly or storing in a freezer safe bag. It'll keep for at least a couple of months.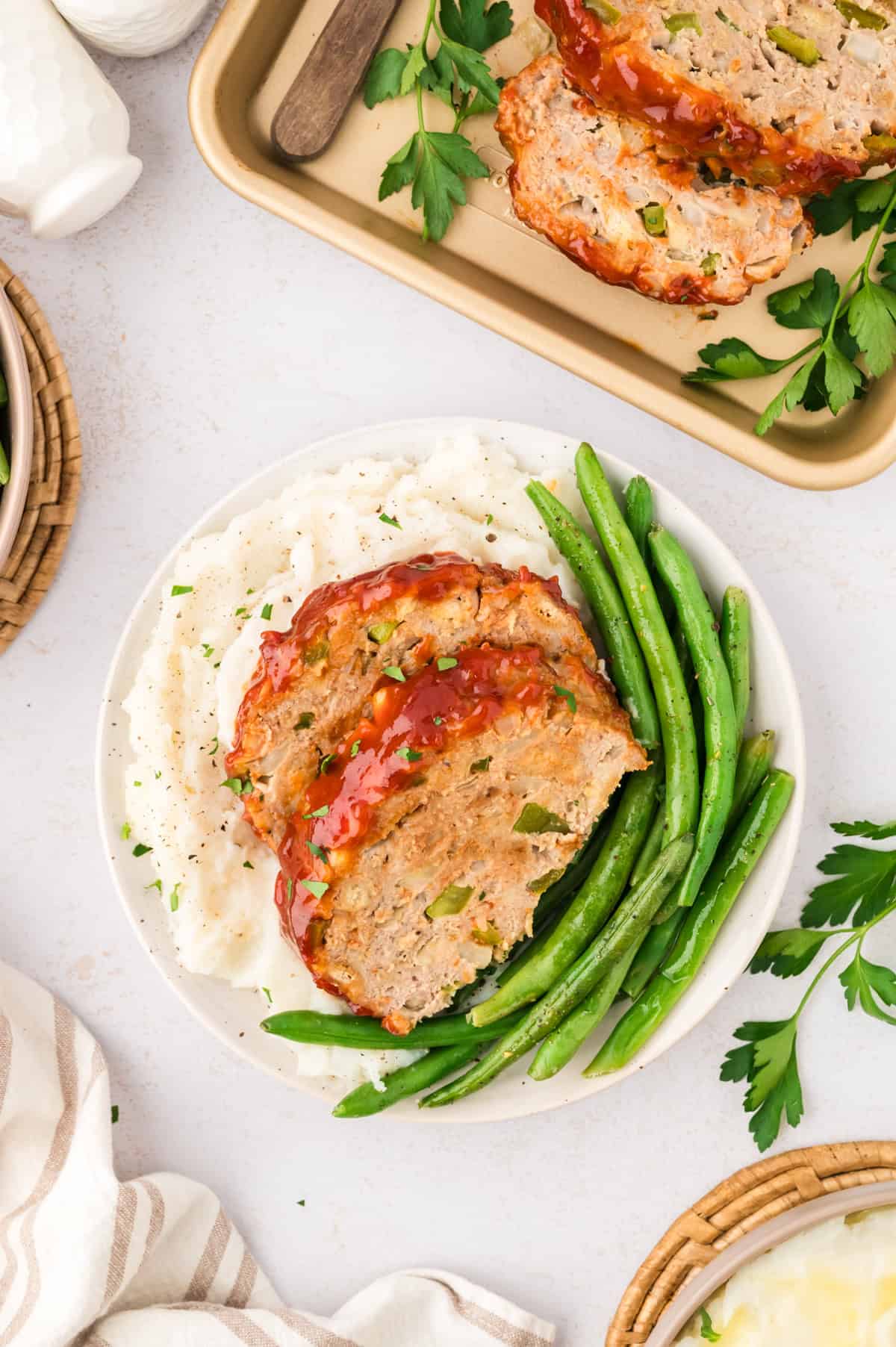 Turkey Meatloaf
The bread on the bottom of this meatloaf is optional, but I find it's perfect for soaking up any extra liquid/fat from the turkey as it cooks. I discard the bread before serving, but you do you.
Prep10 minutes
Cook1 hour
Total1 hour 10 minutes
Ingredients
1 1/2 pounds lean ground turkey
3/4 cup dry stuffing mix such as Stove Top
1/2 cup milk
1/4 cup powdered Parmesan cheese
1 small onion diced
1 small green pepper diced
1 large egg
2 teaspoons salt
2 teaspoons garlic powder
1 teaspoon ground pepper
1/2 cup ketchup
1/4 cup brown sugar
1 tablespoon mustard
1 tablespoon Worcestershire sauce
2 slices bread
Instructions
Preheat oven to 350 degrees.

Combine turkey, stuffing mix, milk, Parmesan, onion, pepper, egg, salt, garlic powder, and pepper in a large bowl and mix well with your hands.

Place two slices of bread on the bottom of a baking sheet. Spoon mixture onto the bread and shape it into a loaf.

Bake for 30 minutes and remove from the oven for the sauce.

In a small bowl, stir together the ketchup, sugar, mustard, and Worcestershire sauce. Spoon over the meatloaf and return to the oven for 30 minutes or until loaf is cooked through.

Let sit 5 minutes before slicing and serving. Remove the bread from the bottom of each slice of meatloaf before serving.
Tips & Notes:
Stove Top Stuffing adds a lot of flavor to the meatloaf as well as keeps it moist. If you substitute it with something else, you'll want to adjust the seasoning accordingly and realize that the meatloaf may not be as moist. The bread is not necessary, but's an easy way to soak up the liquid that will release from the meatloaf. It's simple to remove or just leave it on and serve it – not a lot of fat comes out of turkey meatloaf and the bread is flavorful. This turkey meatloaf should reach an internal temperature of 165 degrees before serving.
Nutrition Information:
Calories: 261kcal (13%)| Carbohydrates: 29g (10%)| Protein: 25g (50%)| Fat: 4g (6%)| Saturated Fat: 1g (6%)| Cholesterol: 74mg (25%)| Sodium: 1129mg (49%)| Potassium: 448mg (13%)| Fiber: 1g (4%)| Sugar: 13g (14%)| Vitamin A: 240IU (5%)| Vitamin C: 13.5mg (16%)| Calcium: 97mg (10%)| Iron: 1.9mg (11%)
This recipe was originally published in 2016. It was updated with new photos in July 2022. Original photos below.