November 19, 2019
Crockpot Macaroni and Cheese
The creamiest crockpot macaroni and cheese! This recipe is my all time favorite way to make the BEST mac and cheese and it's super easy too!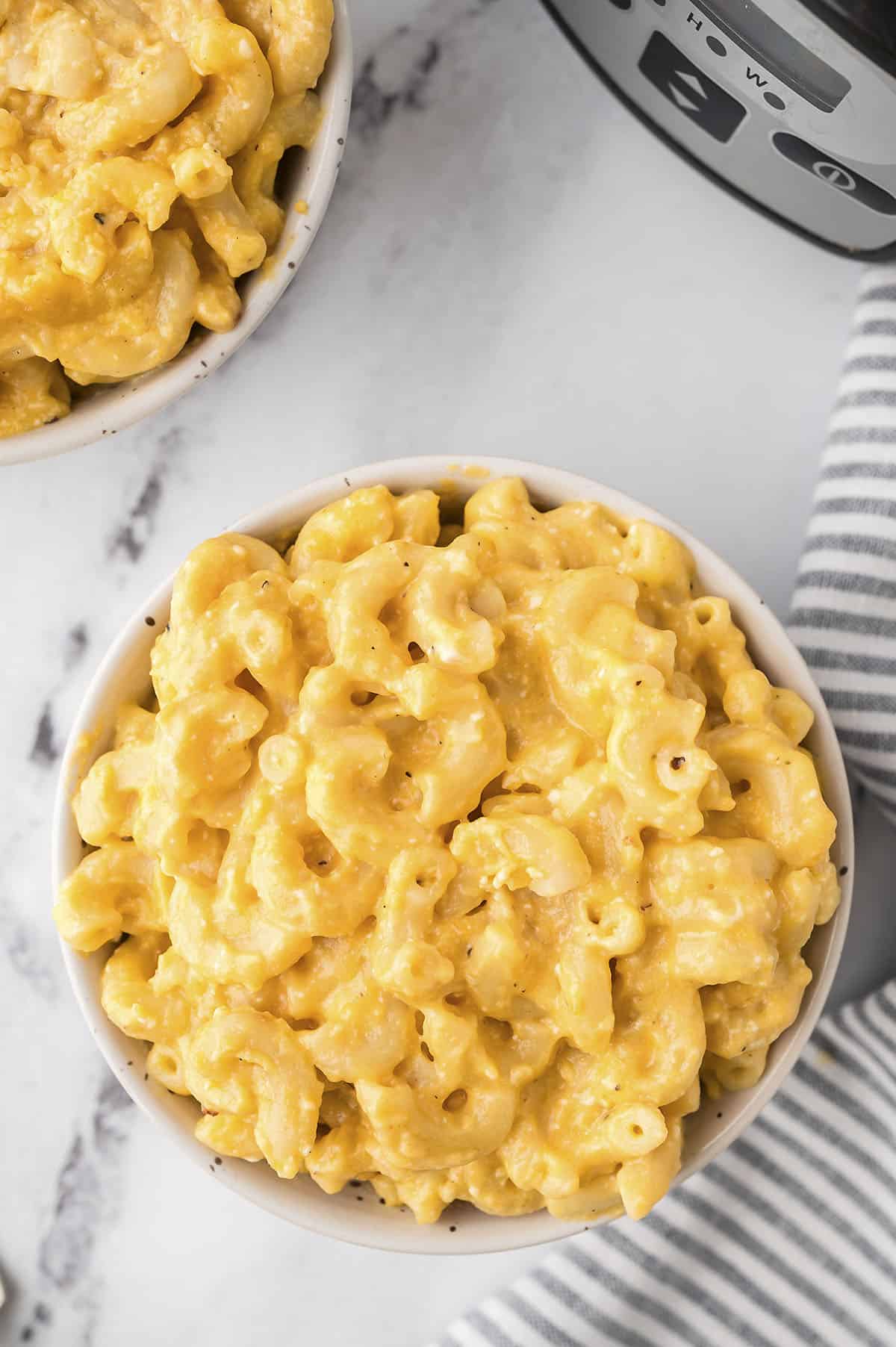 I have to tell you guys – I'm a little concerned for my son.
You see, he doesn't like macaroni and cheese.
In fact, he never has. Not even as a picky toddler.
He thinks it's *boring* and I'm not sure what's wrong with him. Is he actually even my child? No one knows.
The rest of my family? We love extra creamy and cheesy crockpot mac and cheese. This recipe is THE ONE and you guys are going to flip for it!
It's pretty similar to the Paula Deen crockpot mac and cheese, but I skip the eggs in favor of cream cheese. Sorry – eggs don't belong in mac and cheese in my house.
How to make slow cooker macaroni and cheese:
I've experimented with slow cooker mac and cheese quite a bit and I always want to start with uncooked noodles because it's easier, but I'm here to tell you that you just get a better result by boiling your noodles first. That extra step is worth it, promise.
That said, you want to boil your noodles for only 6 minutes. We don't want mushy noodles!
Add the cooked macaroni to a slow cooker and then pop some cheddar and butter in a glass bowl and microwave it until melted.
It seems a bit strange to melt cheese and butter like this in the microwave, but it creates a really creamy mac and cheese and it's so easy!
Spoon that gooey mess over the macaroni, top it off with some chunks of cream cheese, a little sour cream, some condensed cheese soup, and your seasonings.
Stir everything up and pop the lid on.
This cooks on low in 3 hours. Just give it a stir before serving.
Why we love this crock pot mac and cheese recipe:
I love this recipe for any weeknight dinner since it gets started before the dinner rush, but it's especially perfect for holidays! Saves you oven and stovetop space and the prep work is all done before guests arrive.
It's super easy and it's always a hit with family and friends.
I'm not joking when I say this is the BEST macaroni and cheese recipe! It's my all time favorite. So creamy, cheesy, and just really good comfort food.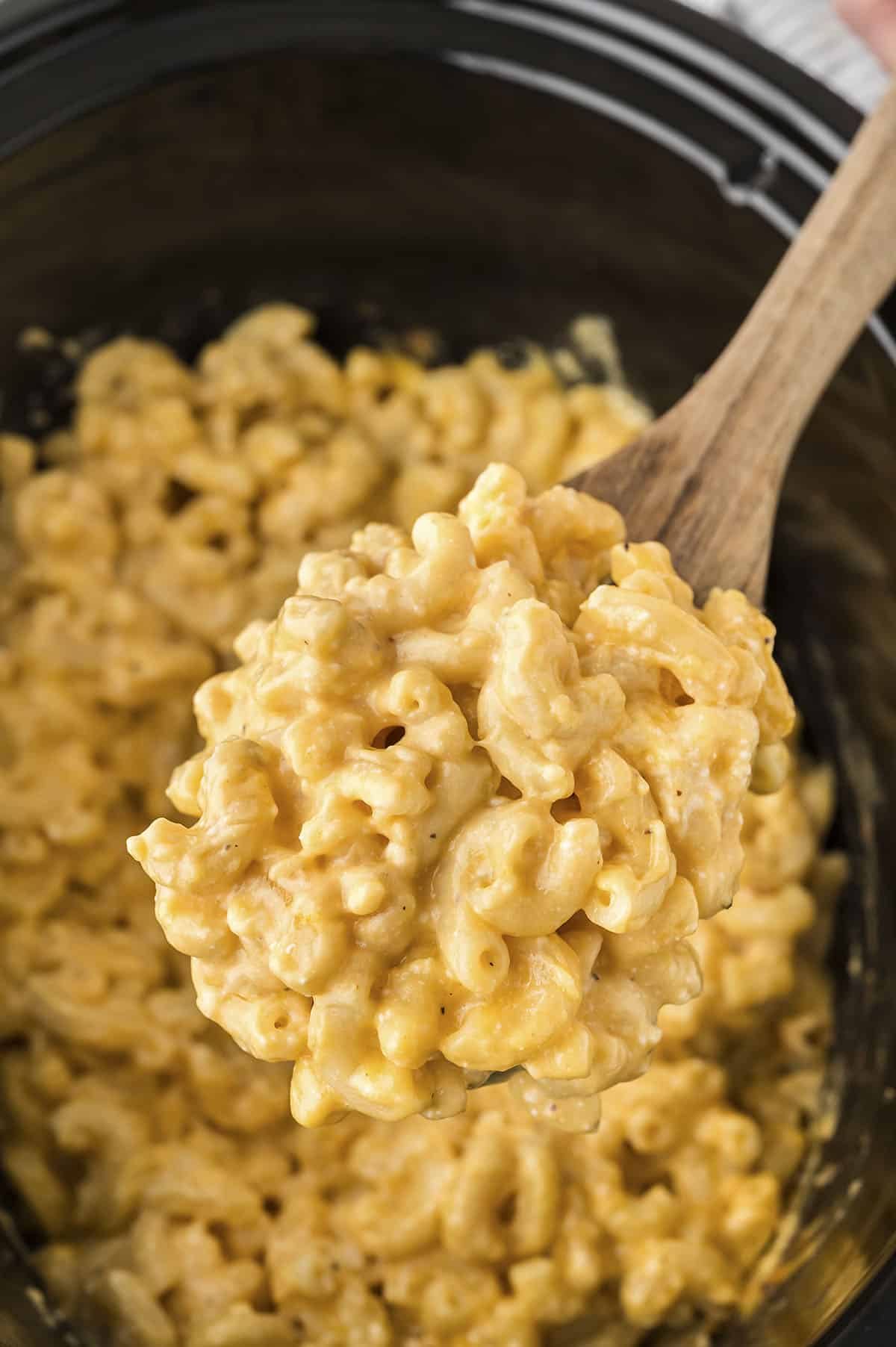 Special Tools Used:
The below links are affiliate links.
Slow Cooker: The Ninja 4-in-1 slow cooker is my favorite and I have A LOT of slow cookers. I like the shape, size, and even heating of this one.
Food Processor: I prefer to grate my own cheese for most recipes and the Breville Sous Chef is my FAVORITE way to do that. It's a total workhorse and I use it every day. It makes shredding, chopping, and slicing a total breeze.
Snap and Strain: This little gadget clips onto any pot to make draining your pasta super quick and easy.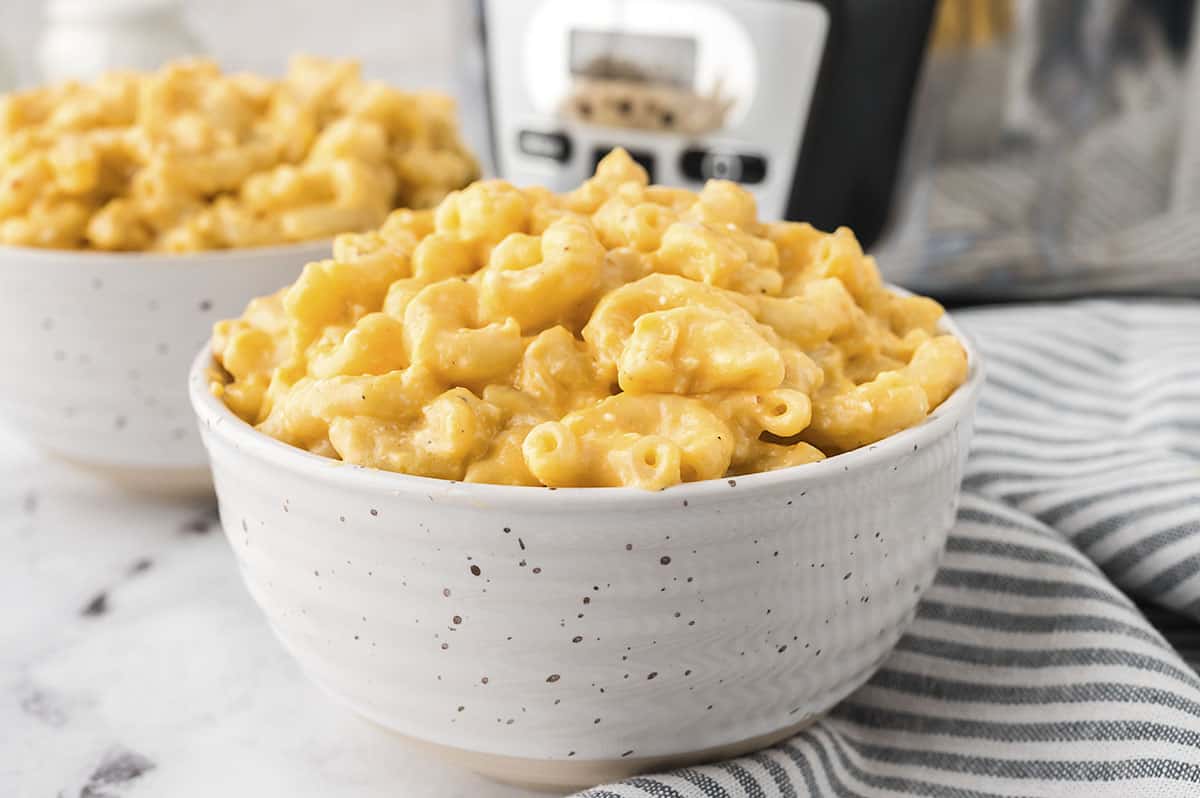 What to serve with this crockpot mac and cheese recipe:
Stuffed Chicken Breast: Simple, filling, and there's spinach involved.
Turkey Meatballs: Toss the meatballs right over your mac and cheese – totally kid friendly!
Slow Cooker Ribs: My favorite way to make ribs!
The Pioneer Woman Meatloaf: Doesn't this look amazing?!
Crockpot Whole Chicken: So juicy and easy!
Pork Tenderloin: There's garlic butter involved.
For dessert, give these recipes a try:
Brookies: When you can't decide between brownies and cookies, this is the way to go.
Homemade Brownies: The fudgiest!
Buttermilk Pie: A Southern classic!
Crockpot Macaroni and Cheese
Servings: 8 servings
Course: Side Dish
Cuisine: Italian
Keyword: crockpot, easy pasta recipes, slow cooker recipes
Calories: 391 kcal
The creamiest and cheesiest mac and cheese and it's so simple!
Ingredients
2 cups uncooked macaroni noodles
4 tablespoons butter
2 ½ cups grated cheddar
2 ounces cream cheese diced
10.5 ounces condensed cheddar soup
½ cup sour cream
1 cup whole milk
1 teaspoon salt
½ teaspoon cracked pepper
½ teaspoon dry mustard powder
Instructions
Bring a large pot of water to a boil and cook the macaroni for 6 minutes. Drain and add to a 6 quart slow cooker.

Add the grated cheddar and butter to a microwave safe bowl and heat in 30 second increments, stirring each time, until melted. Pour the cheese mixture over the macaroni.

Add the cream cheese, cheddar soup, sour cream, milk, salt, pepper, and mustard powder to the slow cooker and stir well to coat the noodles.

Cover and cook on low for 3 hours.

Stir well before serving.
Recipe Notes
You'll find the condensed cheese soup near the rest of the condensed soups in the grocery store.
Nutrition Facts
Crockpot Macaroni and Cheese
Amount Per Serving (1 g)
Calories 391 Calories from Fat 225
% Daily Value*
Fat 25g38%
Saturated Fat 15g94%
Cholesterol 71mg24%
Sodium 803mg35%
Potassium 331mg9%
Carbohydrates 25g8%
Fiber 1g4%
Sugar 3g3%
Protein 14g28%
Vitamin A 915IU18%
Vitamin C 0.2mg0%
Calcium 331mg33%
Iron 0.6mg3%
* Percent Daily Values are based on a 2000 calorie diet.
Nutrition Disclaimer: All information presented on this site is intended for informational purposes only. I am not a certified nutritionist and any nutritional information shared on bunsinmyoven.com should only be used as a general guideline.