This TACO MAC AND CHEESE is made in the crockpot so that it's an extra easy, extra flavorful dinner that the whole family loves! Loaded with pasta, cheese, and seasoned ground beef…we can't get enough!
Okay, I think I've made it pretty darn clear that I love anything that's got Mexican flavors going on.
I could eat fried tacos daily. Burritos are my life. Chips and salsa are basically flowing through my veins at this point. We often even make a Crunchwrap (like Taco Bell, but homemade) in the air fryer.
When I discovered the perfection of crockpot mac and cheese, one of the first things I said was, "I'm going to taco-fy this."

And I did. And it was glorious.
This Mexican Mac and Cheese starts with macaroni, gets cheesed up with a mix of cheddar + cheese soup, and then gets mixed up with some seasoned ground beef and Ro*Tel…so good and so easy! Let's do this…
Ingredient Notes:
This post contains affiliate links. As a member of Amazon and other affiliate programs I earn from qualifying purchases.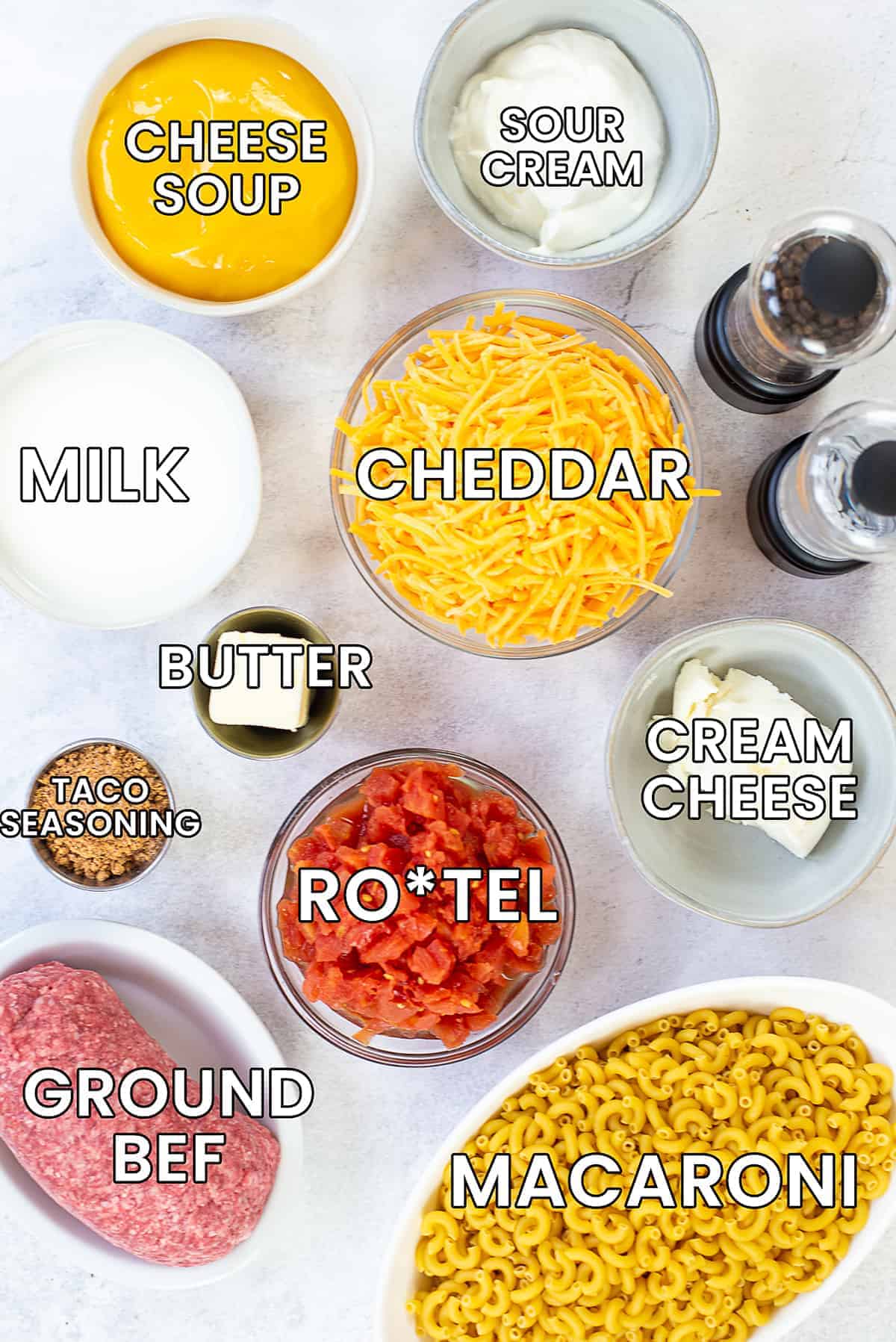 Ro*Tel – This is just canned diced tomatoes and green chilis and it adds the perfect amount of spice. We use the "Original" version. If that's too spicy, use the "Mild" version. If it's not spicy enough use the "Hot" with the habanero!
Taco Seasoning – Just grab a packet of your favorite brand of taco seasoning, or use our homemade taco seasoning.
Ground Beef – The lean stuff works best for this, or just drain the fat if there is too much.
Cheese – This dish is super cheesy! We'll be using grated cheddar, cream cheese, and condensed cheese soup.
What We Love About This Recipe!
Two of our favorite dishes in one delicious mash up is always a reason to celebrate! This has all the cheesiness of an ultra creamy mac and cheese, plus the delicious flavors of a taco. It sure doesn't hurt that this cooks in the crockpot either!
How to Make Mexican Mac and Cheese:
Macaroni: First, you'll want to boil your macaroni for 6 minutes. We want it just a bit undercooked so it doesn't turn to mush in the crockpot.
While the pasta is cooking you can move on to making the seasoned ground beef in the next step.
Taco Meat: Begin making the seasoned taco meat by browning some ground beef in a skillet. Break it up as it cooks and add in your favorite packaged brand of taco seasoning.
Stir it well to get the beef well coated in the taco seasoning. Once the meat has cooked through and the macaroni has finished boiling go ahead and add both to your crockpot!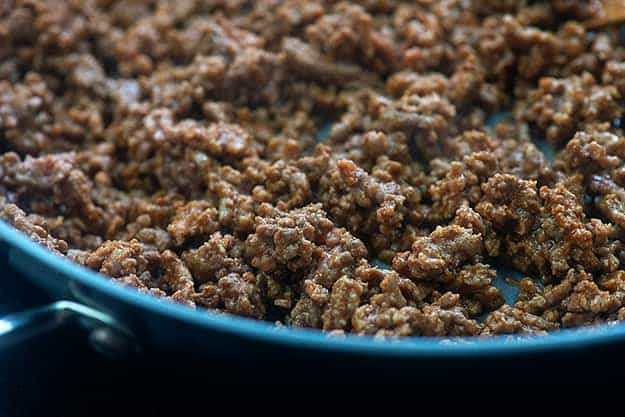 Cheese: Now we're getting to the real good stuff! In your microwave, melt together some butter and grated cheddar and pour that into the crockpot with the pasta and beef.
But wait, there's more! We're going for an extra cheesy recipe so go ahead and add in the cheese soup and the cream cheese.
Slow Cook: There's a few more ingredients left to add before you can cover and forget about it for a few hours! Add in the Ro*Tel, sour cream, milk, salt, and pepper.
Give it a good stir and then cover and cook on low for about 3 hours.
I love this on nights when I know we'll be busy. I can prep in the afternoon and then dinner is ready in the midst of our craziness.
Plus, did I mention how cheesy and amazing this is?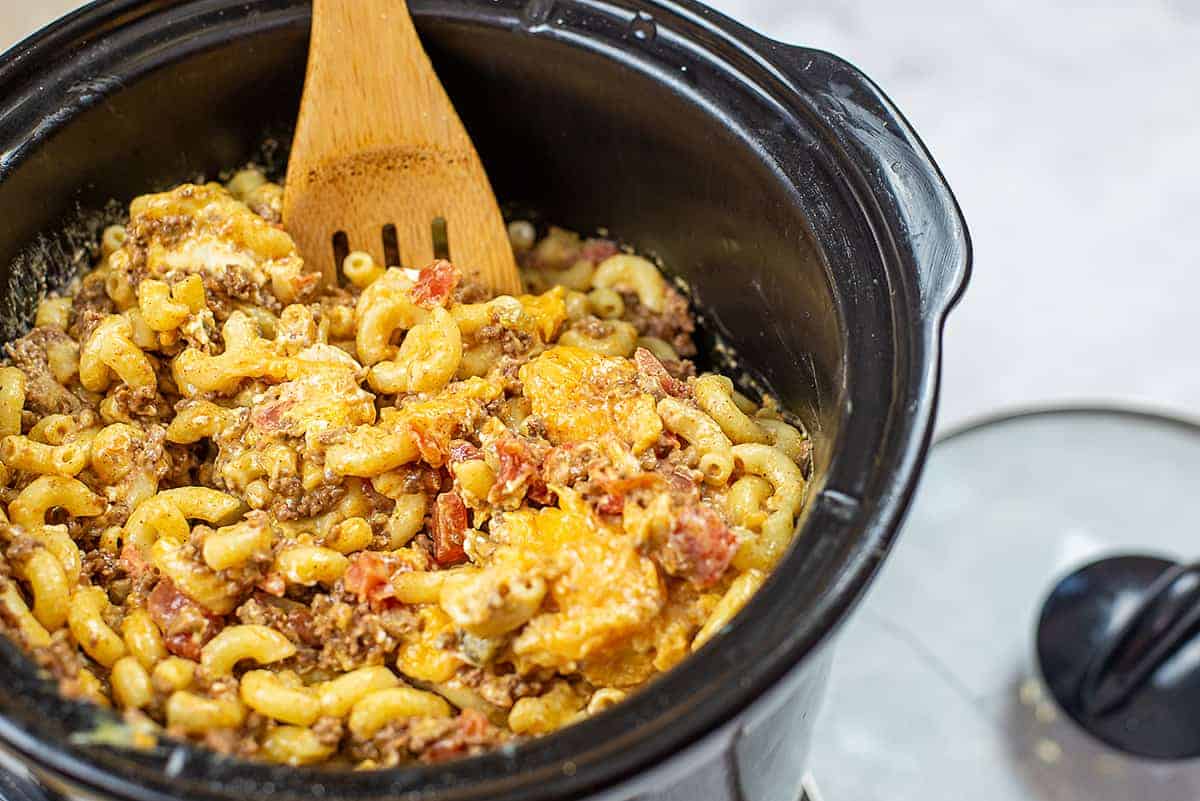 Helpful Tip!
Customize Your Bowl with Toppings!
This bowl of taco mac and cheese is just perfect as it is, but it never hurts to add your favorite toppings! We add diced tomatoes, minced onion, sliced olives, and this homemade taco sauce for even more tasty goodness.
FAQs:
What kind of Ro*Tel to use?
We use the u0022Originalu0022 Ro*Tel with diced tomatoes and green chilis. If you like the hotter or milder variety feel free to use them. They also make one with chipotle peppers and another with fire roasted tomatoes so you have lots of options!
Does this freeze well?
We haven't tried freezing this recipe, but I suspect it will freeze just like any other mac and cheese recipe. Cover tightly, store in the freezer for up to 3 months, and thaw in the fridge overnight before warming up.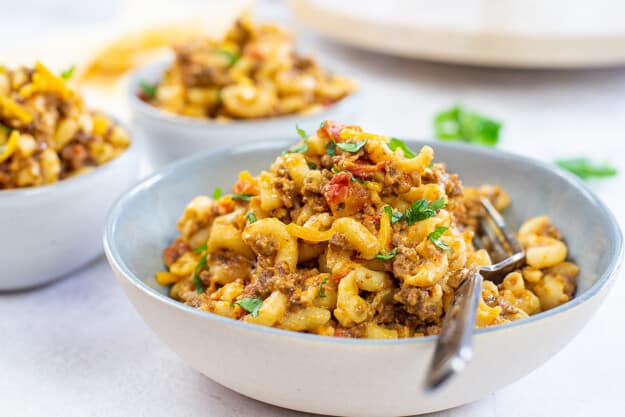 MORE MEXICAN INSPIRED RECIPES!
Bean Dip: No joke, this is the BEST bean dip recipe!
Mexican Cornbread: Taco meat and cheese stuffed in cornbread!
Chimichanga: My version is baked instead of fried so it's extra easy!
Keto Taco Soup: Made in the Instant Pot or slow cooker!
Instant Pot Chicken Tacos: So much flavor!!
Mexican Chicken Casserole: Love all of the goodness going on in this casserole.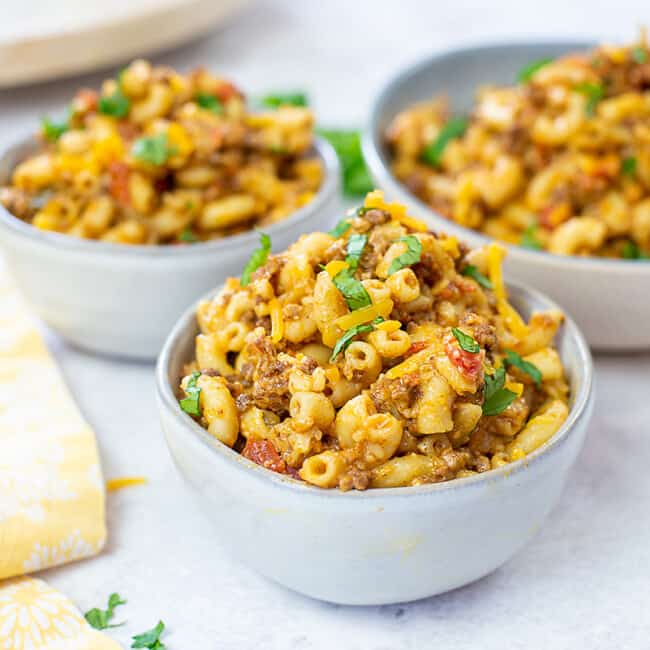 Taco Mac and Cheese
The creamiest and cheesiest mac and cheese spiced up with Mexican flavors and made in the crockpot for an easy dinner!
Prep15 minutes
Cook3 hours
Total3 hours 10 minutes
Ingredients
2 cups dry macaroni noodles
1 pound lean ground beef
1 packet taco seasoning
4 tablespoons butter
2 ½ cups grated cheddar
10 ounces RoTel drained
2 ounces cream cheese diced
10.5 ounces condensed cheddar soup
½ cup sour cream
1 cup whole milk
1 teaspoon salt
½ teaspoon cracked pepper
Instructions
Bring a large pot of water to a boil and cook the macaroni for 6 minutes. Drain and add to a 6 quart slow cooker.

While the macaroni is cooking, brown the ground beef, breaking it up as it cooks. Drain any excess grease. Add the taco seasoning and stir to coat the cooked meat.

Add the grated cheddar and butter to a microwave safe bowl and heat in 30 second increments, stirring each time, until melted. Pour the cheese mixture over the macaroni.

Add the taco meat, RoTel, cream cheese, cheddar soup, sour cream, milk, salt, and pepper to the slow cooker and stir well to coat the noodles.

Cover and cook on low for 3 hours.

Stir well before serving.
Tips & Notes:
You'll find the condensed cheese soup near the rest of the condensed soups in the grocery store.
Nutrition Information:
Serving: 1| Calories: 644kcal (32%)| Carbohydrates: 39g (13%)| Protein: 36g (72%)| Fat: 38g (58%)| Saturated Fat: 22g (138%)| Cholesterol: 143mg (48%)| Sodium: 1102mg (48%)| Potassium: 793mg (23%)| Fiber: 3g (13%)| Sugar: 7g (8%)| Vitamin A: 1820IU (36%)| Vitamin C: 7.2mg (9%)| Calcium: 463mg (46%)| Iron: 3.5mg (19%)