This cheese ball recipe uses buffalo chicken to add tons of spicy flavor! It's great with crackers, celery, and carrots!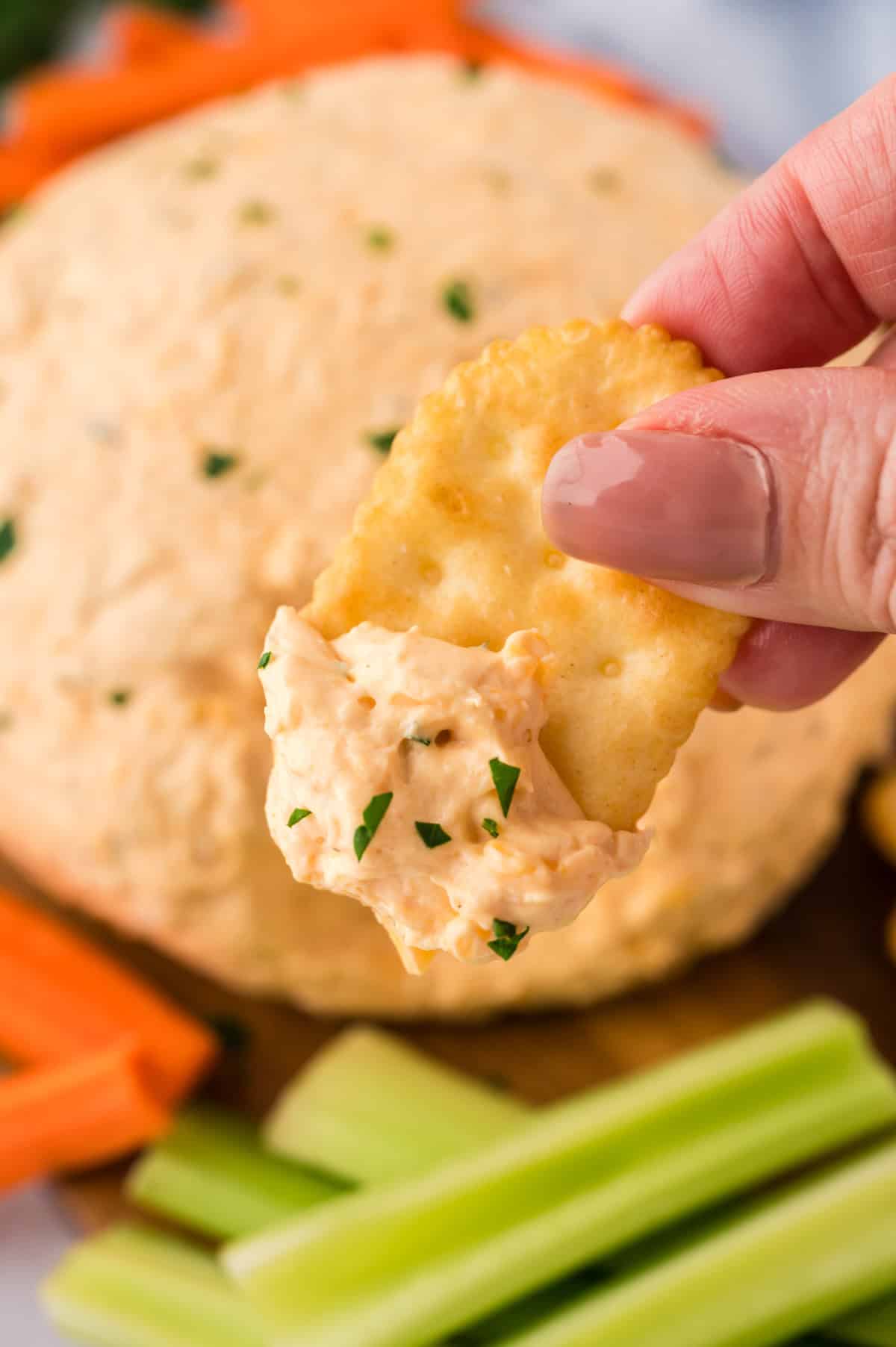 Can we chat for a moment about cheese balls and how they are sorta one of my favorite foods?
Whoever had the idea to roll cheese into a ball and serve it as a snack was sort of brilliant.
In fact, I think I'll be divorcing my husband and marrying that person instead. We'd be a match made in heaven. Sorry, husband. It was fun while it lasted. Please be sure to empty out your side of the dresser. I'll need extra cheese storage.
Wait, what? Did we get off topic?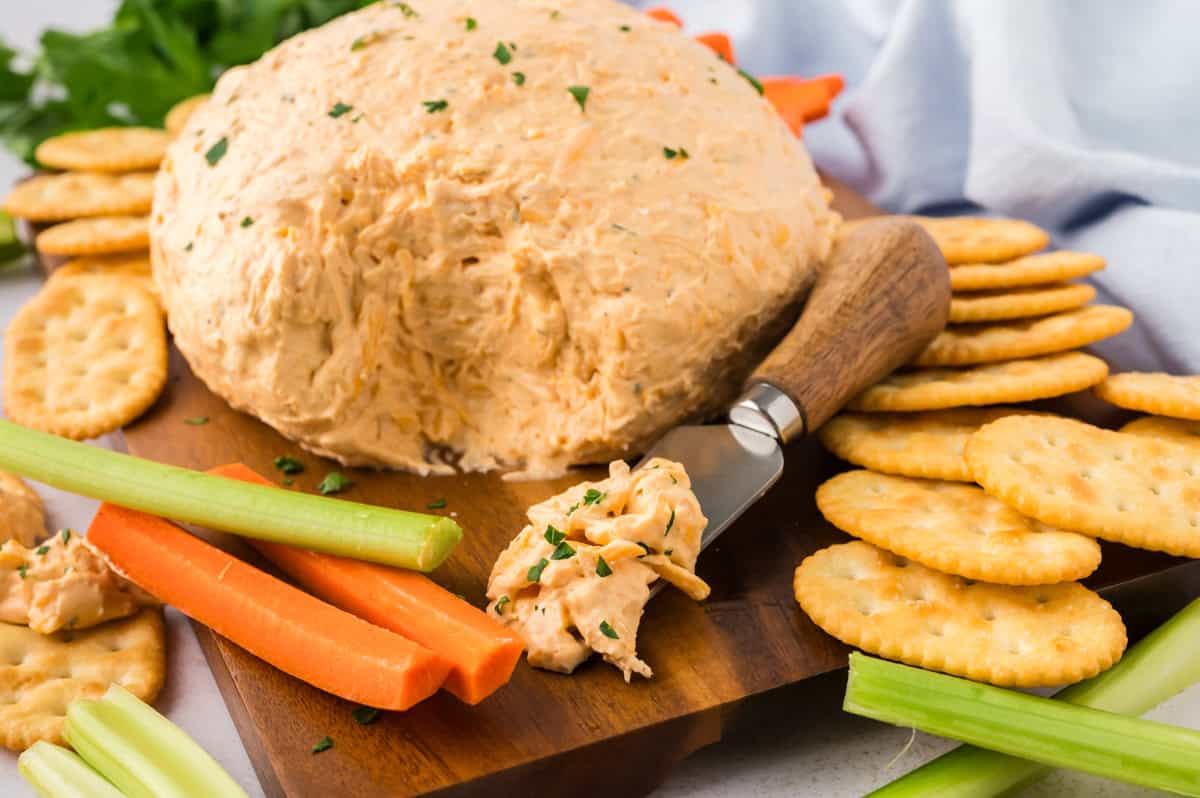 To be perfectly honest here, I don't think my husband would leave the house if there was a cheeseball affair going on. You see, the man loves a good cheese ball as much as I do.
Take my peanut butter and chocolate chip cheese ball recipe, for instance. He hogs the thing. Rude.
Of course, he's sorta a wimp when it comes to spicy food, so this buffalo chicken cheese ball recipe is one that I get to enjoy mostly by myself. He still picks at it, because it's good. He just can't handle too much buffalo flavor at once, so I have time to shovel it all in before his mouth cools down enough for the next few bites.
Winning.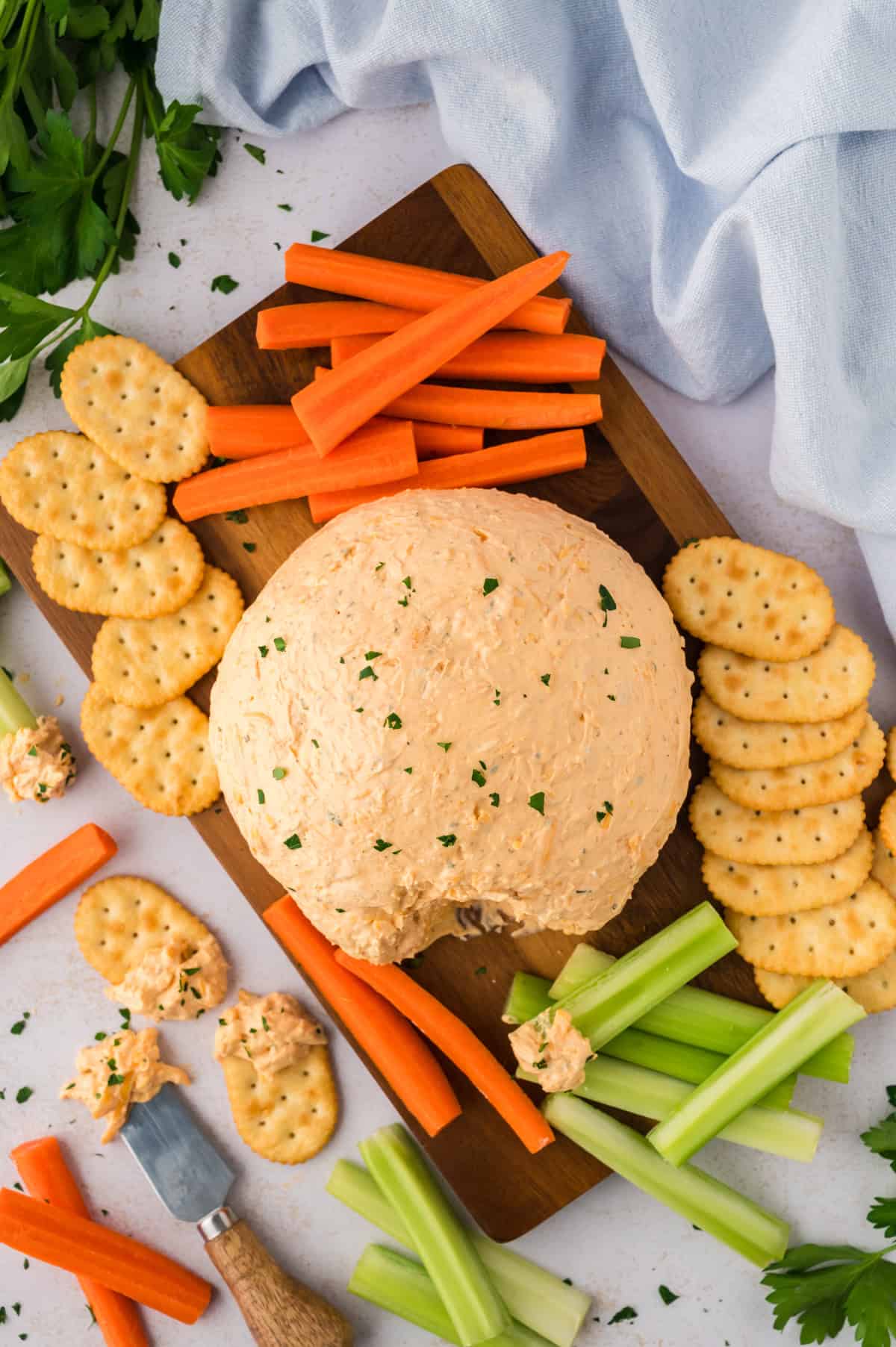 This recipe is super easy to throw together and it really is a crowd pleaser. I mean, everyone loves buffalo chicken! My buffalo chicken pizza recipe, buffalo chicken mac and cheese, and buffalo chicken salad are always a hit too!
Are you a buffalo lover? And if you are, do you prefer ranch or blue cheese? Personally, I'm not a fan of blue cheese – like, at all. So I ranch all of my buffalo chicken recipes up. You can swap in some blue cheese if that's your thing, though.
Buffalo Chicken Cheese Ball
This cheese ball recipe uses buffalo chicken to add tons of spicy flavor! It's great with crackers, celery, and carrots!

Prep2 minutes
Cook3 minutes
Total5 minutes
Ingredients
16 ounces cream cheese room temperature
1/4 cup Ranch seasoning powder
1/2 cup hot sauce
8 ounces cheddar cheese grated
3/4 cup shredded chicken
Instructions
In the bowl of a stand mixer, beat together the cream cheese, ranch seasoning, and hot sauce until well combined.

Mix in the cheddar cheese and chicken until combined.

Tear off a 12 inch piece of plastic wrap and pile the cheese mixture in the center. Bring up the edges of the plastic wrap and shape the cheese mixture into a ball.

Refrigerate for two hours. Remove from the refrigerator, unwrap the plastic wrap, and reshape as needed.

Serve with crackers, celery, and carrots.
Nutrition Information:
Calories: 221kcal (11%)| Carbohydrates: 2g (1%)| Protein: 8g (16%)| Fat: 19g (29%)| Saturated Fat: 11g (69%)| Cholesterol: 68mg (23%)| Sodium: 571mg (25%)| Potassium: 105mg (3%)| Sugar: 1g (1%)| Vitamin A: 715IU (14%)| Vitamin C: 7.5mg (9%)| Calcium: 174mg (17%)| Iron: 0.4mg (2%)