I took an easy buffalo chicken dip recipe and spread it on sliced French bread for a handheld appetizer that everyone absolutely loves!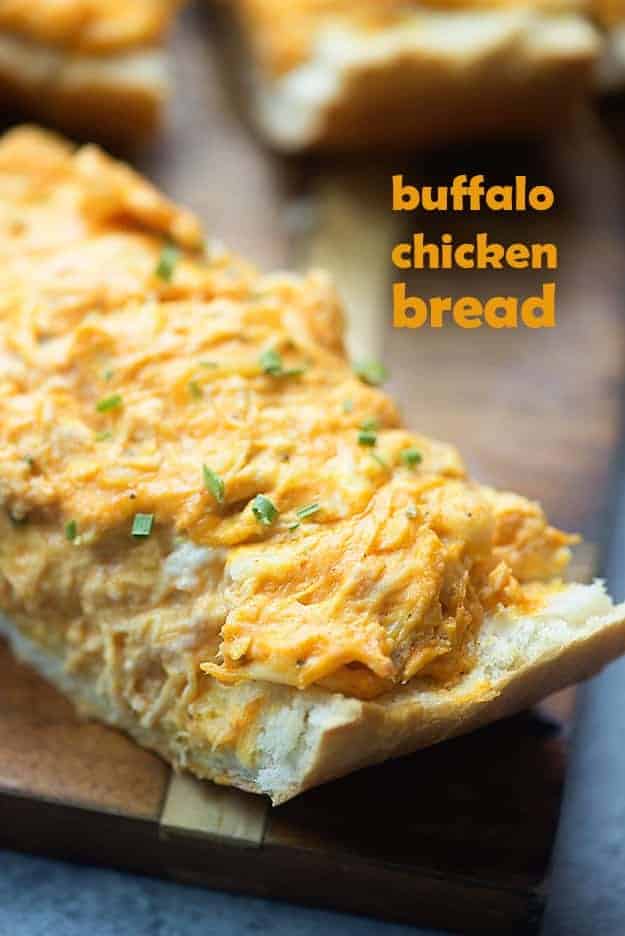 Yep. Here I am again. Back with another easy buffalo chicken dip concoction.
I swear. It's getting ridiculous.
It's just that I really love the spicy flavors of buffalo chicken and you seem to love the crazy ways I turn those flavors into things besides, you know, wings.
So, I'm going to keep on keepin' on, until I hear otherwise.
Please don't tell me to stop, because all of these buffalo chicken recipes are just so good!
Today I'm here with some good old fashioned football food. I hear there's a big game coming up.

Actually, my husband roots for the Bears and I haven't heard much about football in the last month or so, so I'm guessing things are going…not great…for that team. I don't pay much attention, so I generally have no idea what's happening.
Football is the one with the weird shaped ball, right? 😉
Anyway, I do enjoy football food and am always happy to make a million dips and snacks for the football fans.
Spread this easy buffalo chicken dip recipe on some French bread and bake until warm and melty.
Enter this buffalo chicken dip bread. It's crazy good and it's actually super quick and easy!
Like all good recipes, you'll start with a block of cream cheese. I know there are people out there that don't like cream cheese, but I will honestly never understand that. Cream cheese flows through my veins, if we're being honest here.
So, cream cheese + hot sauce + chicken + cheese. I always add ranch seasoning to my buffalo chicken recipes which is a leeeeeeelte bit controversial.
Personally, I'll always choose ranch to go with my buffalo chicken. Y'all do know that blue cheese is moldy cheese, right??
But, if you prefer some blue cheese, go ahead and skip the sour cream and stir in blue cheese dressing in it's place. That'd be just fine.
If this bread isn't your thing, you should check out my buffalo chicken salad, buffalo mac and cheese, buffalo chicken casserole, and buffalo chicken pizza. <—I told you I had a thing for buffalo chicken recipes!
Enjoy this recipe, my friends! And be sure to dunk that bread in some ranch (or blue cheese) to really complete the experience. 😉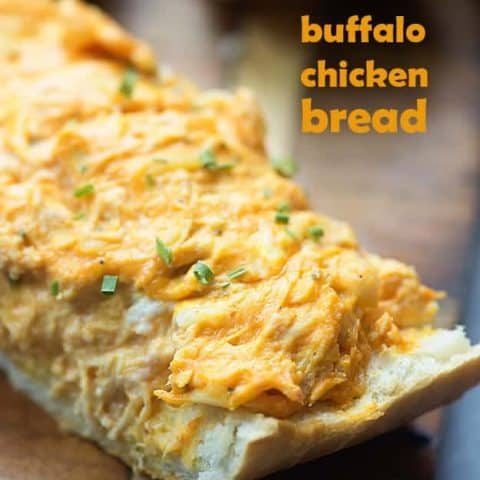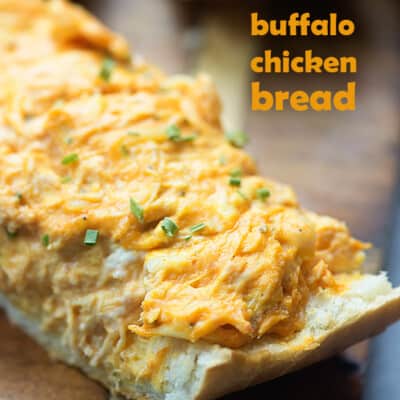 Buffalo Chicken Bread
This buffalo chicken bread takes our favorite dip and makes it a bit easier to eat. We love to dip this bread in either ranch or blue cheese dressing.
Prep10 minutes
Cook15 minutes
Total25 minutes
Ingredients
1 loaf French bread cut in half
8 ounces cream cheese softened
1/2 cup Frank's Red Hot Sauce
1/4 cup sour cream
2 tablespoons melted butter
1 packet ranch seasoning mix
2 cups cooked shredded chicken
1/4 cup grated cheddar
1/4 cup grated mozzarella
1 tablespoon chopped chives
Instructions
Preheat oven to 350 degrees.

Place the French bread on a large sheet pan and set aside.

Add the cream cheese, hot sauce, sour cream, butter, and ranch to a mixing bowl and stir well to combine.

Stir in the chicken and cheese and mix to coat in the sauce.

Spread the chicken mixture evenly over each half of the bread.

Bake for 15 minutes.

Sprinkle with chopped chives before slicing and serving.
Nutrition Information:
Calories: 182kcal (9%)| Carbohydrates: 15g (5%)| Protein: 8g (16%)| Fat: 9g (14%)| Saturated Fat: 5g (31%)| Cholesterol: 37mg (12%)| Sodium: 621mg (27%)| Potassium: 97mg (3%)| Sugar: 1g (1%)| Vitamin A: 295IU (6%)| Vitamin C: 0.1mg| Calcium: 58mg (6%)| Iron: 1mg (6%)