Creamy dreamy buffalo chicken pasta! It's got the perfect kick of spice.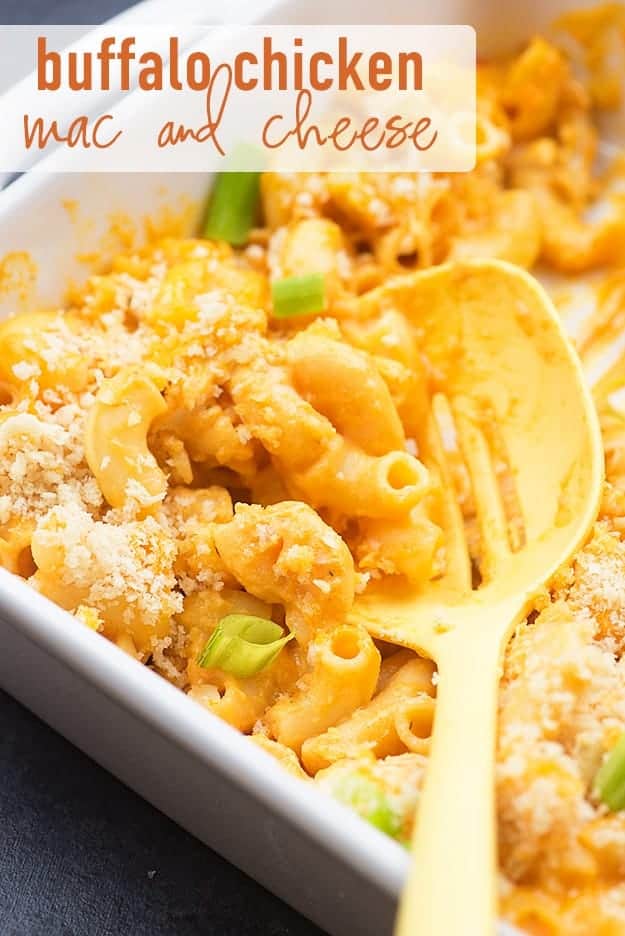 Alright, friends. I finallllllllly did it.
I get emails a few times a month asking me for this recipe. You see, I shared it waaaaaay back in 2014 on another website that has since gone under. When the website went down, it took my recipe for buffalo chicken pasta with it. Y'all were real sad about that and I regularly got emails from readers asking me to email my recipe to them because it was a family favorite and they just couldn't live without it.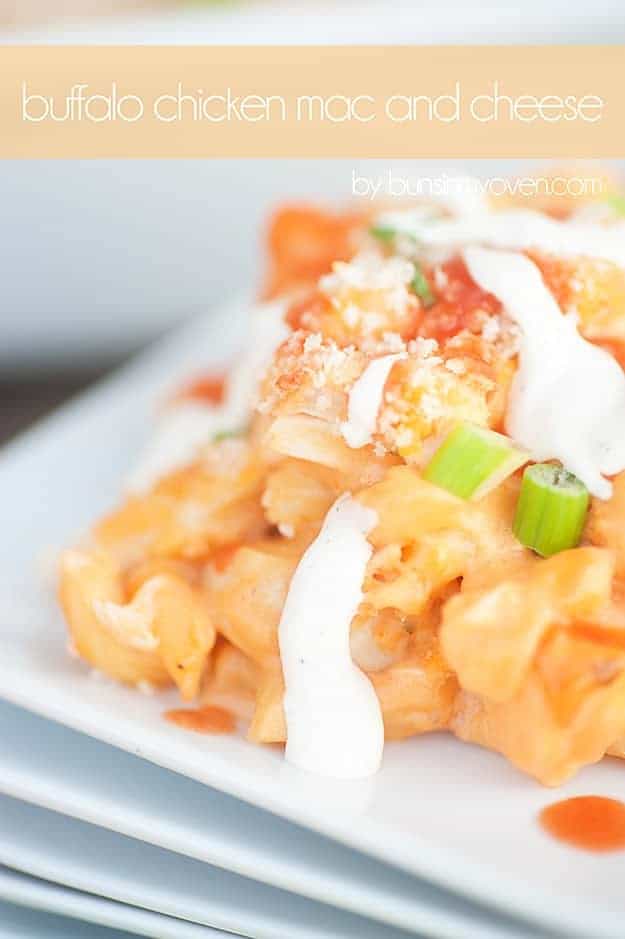 Lucky you, I finally got around to taking new photos of the recipe to share here (and even made you a video!), so that you won't have to be sad about the lack of buffalo chicken pasta in your life! This one is creamy, dreamy, spicy chicken perfection.
I'm really glad that you guys all seem to enjoy buffalo chicken as much as I do. I mean, have you seen my collection of buffalo chicken recipes?
I have a buffalo chicken salad recipe that totally brings all the boys to the yard. I have these buffalo chicken sliders that are perfect for hungry football fans. And, of course, my buffalo chicken pasta salad which is the best thing to serve at any potluck ever. Oh, wait. Almost forgot my buffalo chicken grilled cheese.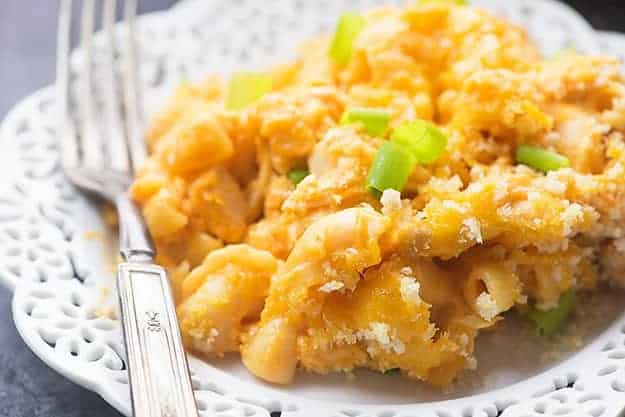 You'll probably notice pretty quickly that I like ranch with my buffalo chicken. I mean, look guys. I don't want to alarm you, but did you know that blue cheese is moldy cheese? This is a fact. You go ahead and add blue cheese to these recipes if you want, but I'll be over here with cheddar and mozzarella and lack of mold. 😉
For this recipe, to add blue cheese, I would just crumble it over the top maybe? Stir it in after you put in the cheese sauce? Either should be fine.
I also completely forgot to photograph this with a drizzle of ranch dressing over the top, which is ridiculous and I'm sorry, but you guys please add a drizzle of ranch dressing to this when serving. It is so good!! I added ranch powder in the recipe, but I still like that extra ranch at the end.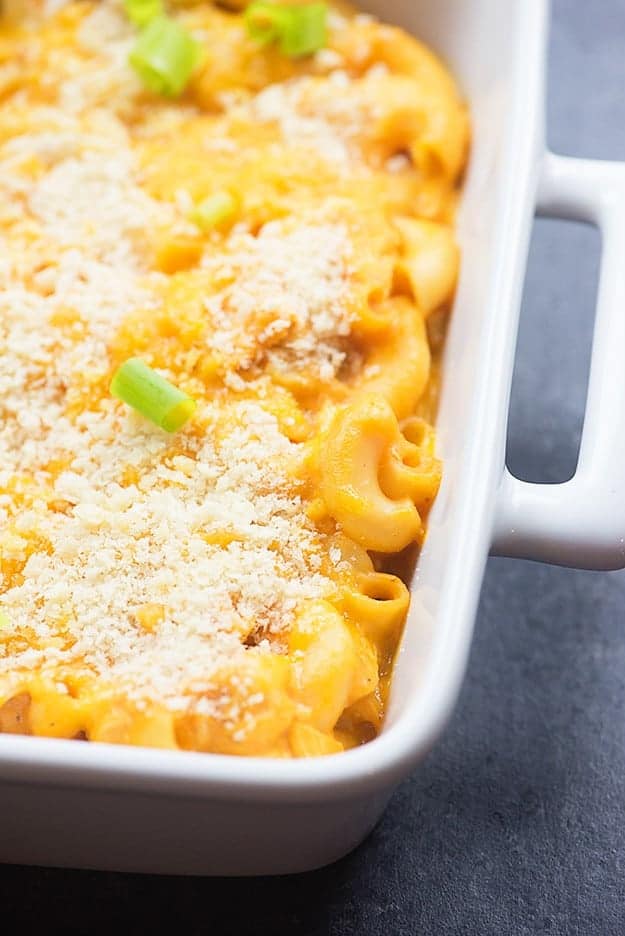 It is possible that I'm less obsessed with actual buffalo sauce and more obsessed with the buffalo sauce + ranch combo. They're just so perfect together!!
Anyway, I hope that those of you who never got a chance to try this one will give it a try now. And for those of you who have been so patiently waiting for me to share this again, here ya go! Thanks for waiting me out! 🙂
Buffalo Chicken Macaroni and Cheese
It's hard to go wrong in my house when it comes to buffalo chicken and this is no exception! We combined two favorites: spicy chicken and creamy mac and cheese.
Prep20 minutes
Cook30 minutes
Total50 minutes
Ingredients
8 ounces macaroni
1/4 cup butter
1/3 cup flour
1 3/4 cups milk
3/4 cup Frank's Red Hot Sauce
1 1/2 cups grated cheddar cheese divided
1 cup grated mozzarella cheese
1 tablespoon dry ranch seasoning powder
2 cups cooked diced chicken
1/2 cup Panko bread crumbs
2 tablespoons chopped green onions
Ranch dressing for drizzling over the top
Instructions
Bring a large pot of water to a boil and cook macaroni according to package directions. Drain and set aside in a large mixing bowl.

While the macaroni is cooking, melt the butter in a medium sauce pan over medium heat. Whisk in the flour and cook for 2 minutes.

Slowly add the milk and hot sauce, whisking constantly. Cook over medium heat, whisking constantly, for about 5 minutes or until the sauce has thickened. Remove from heat.

Stir in 1 cup of the cheddar cheese and all of the mozzarella cheese. Stir until the cheese melts.

Pour the cheese sauce over the macaroni.

Add the chicken and ranch powder to the cheese sauce and macaroni and stir well to combine.

Pour macaroni and cheese into a 9x13 baking dish. Sprinkle the remaining cheddar over the top. Sprinkle on the panko.

Bake in a preheated 350 degree oven for 30 minutes. Sprinkle with green onions.

Serve immediately with ranch dressing and extra hot sauce, if desired.
Tips & Notes:
If you'd like to add blue cheese to this dish, sprinkle it over the top of the casserole in place of the cheddar. Alternately, stir it in with the cheese sauce. Blue cheese dressing would be great drizzled over the top in place of ranch dressing as well.
Nutrition Information:
Calories: 739kcal (37%)| Carbohydrates: 64g (21%)| Protein: 35g (70%)| Fat: 37g (57%)| Saturated Fat: 22g (138%)| Cholesterol: 123mg (41%)| Sodium: 2334mg (101%)| Potassium: 448mg (13%)| Fiber: 2g (8%)| Sugar: 7g (8%)| Vitamin A: 1170IU (23%)| Vitamin C: 0.8mg (1%)| Calcium: 597mg (60%)| Iron: 2.1mg (12%)