These buffalo chicken sliders are perfect for game day or just for a quick lunch!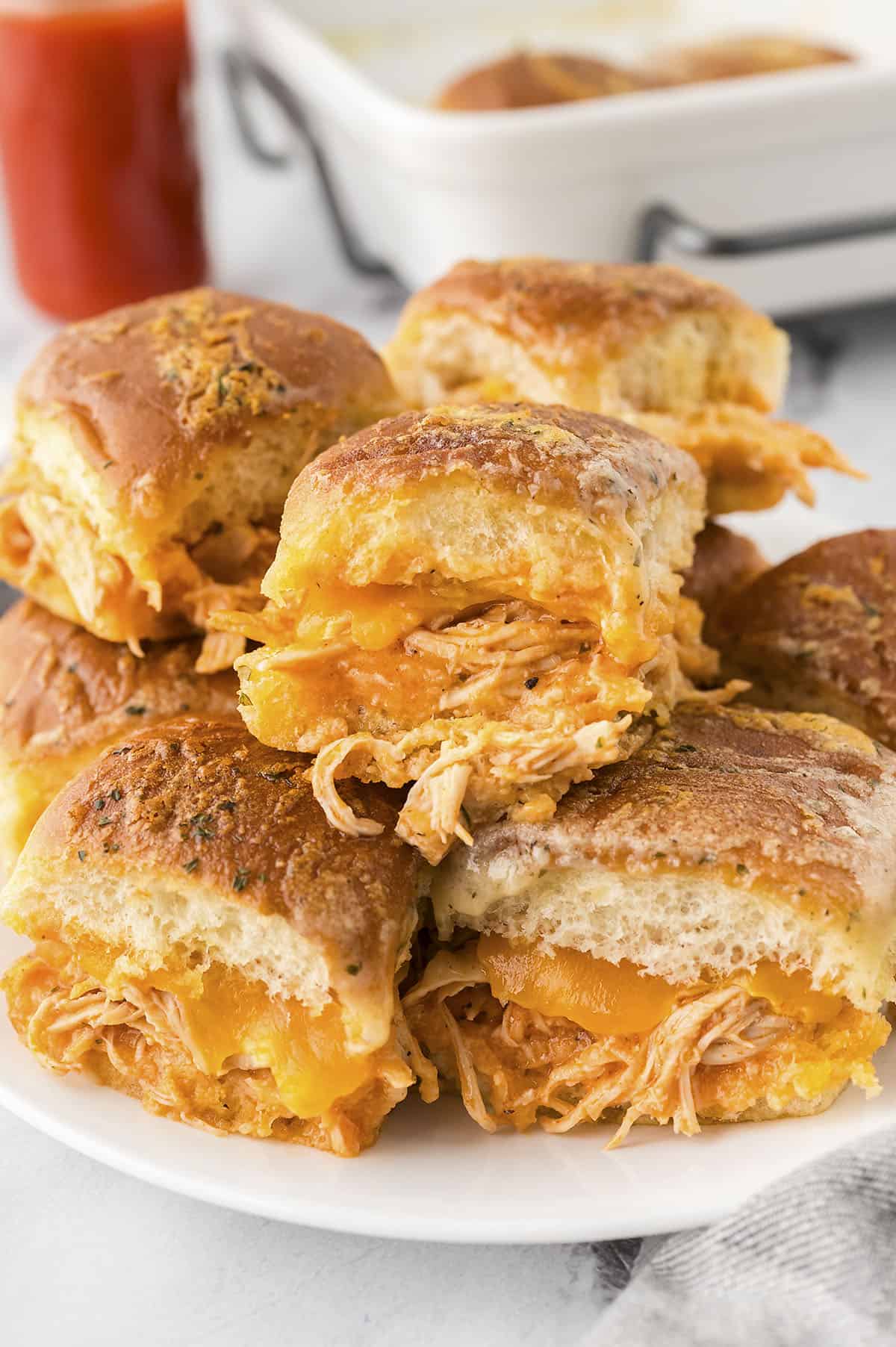 You guys know those little ham and cheese sliders baked to perfection on sweet King's Hawaiian rolls? Forget 'em .
I know. It's hard to do.
They're so perfectly cheesy with just the right mix of sweet and salty.
They make for an easy dinner and are excellent football food. We make them all the dang time.
But, seriously. Forget 'em. There's a new slider in town.
We're getting our buffalo chicken on with these spicy little sandwiches!
These are jam packed with flavor from the Frank's Red Hot, cheddar cheese, and triple dose of Ranch!
Yes. A triple dose of ranch. I'm from the Midwest, okay? Ranch is what we do.
Before you start yelling at me, I KNOW. Believe me – I know. Ranch does not belong in buffalo chicken, blue cheese is the traditional flavor, I know, I know I know.
You guys.
Look.
Blue cheese is moldy. That's just a fact.
I can't do it. I do ranch and I do cheddar and my life is just fine.
But, please, you do you.
Moving on…
I'm not the only one obsessed with buffalo chicken still, right? I feel like it was such a big THING for awhile and now maybe it's overdone? But I don't want to stop. I love me some buffalo chicken.
Check out my buffalo chicken pasta salad, buffalo chicken meatballs, and my buffalo chicken cheeseball!
I like to start these out with a rotisserie chicken or my crockpot shredded chicken, but you can certainly used canned white chicken, cook your own, or just use whatever leftover chicken you have in the house. Browned ground chicken would even work here!
You can add more or less wing sauce to suit your tastes. As is, these are (in my opinion) perfectly buffalo flavored, without making you cry for your mama.
Of course, I also dip mine in ranch dressing. But again, you can totally dip them in blue cheese dressing if that's your thing.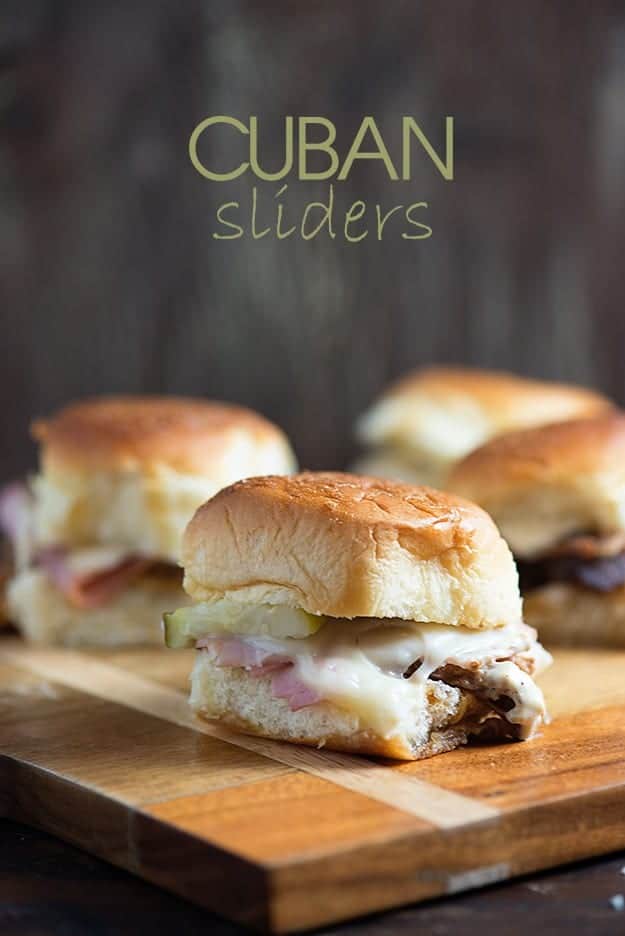 If you love sliders, don't forget to try my Cuban sliders. They're another favorite sandwich around here.
They start with Hawaiian rolls, because I'm obsessed. Then you layer on pulled pork, deli ham, and swiss cheese.
There are pickles, of course.
And a dijon mayo that is just so easy and so good.
You guys will love those sliders, promise!
I once made five different kinds of sliders for a football game and I feel like it was the biggest hit ever. You guys should totally try it! 🙂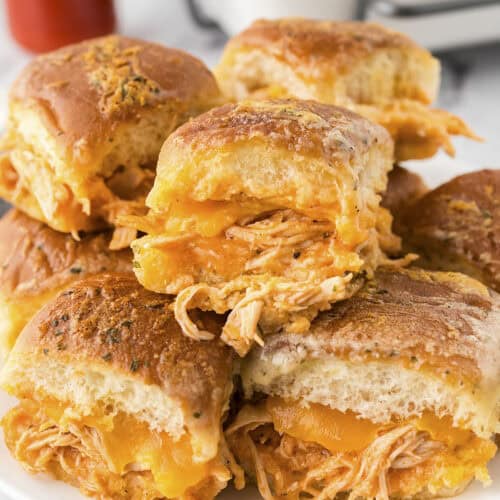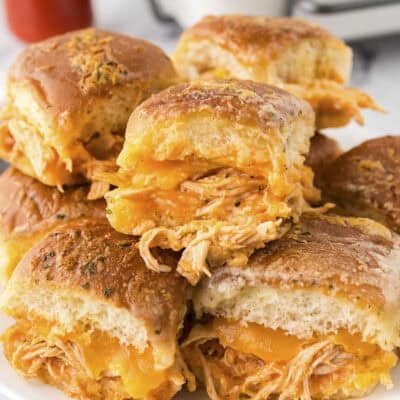 Buffalo Chicken Sliders
These buffalo chicken sliders are so easy to make and always a crowd pleaser! I topped the rolls with a little mixture of melted butter and ranch seasoning and the flavor is so good!
Prep10 minutes
Cook15 minutes
Total25 minutes
Ingredients
1/2 cup butter divided
1/2 cup Frank's Red Hot more to taste
2 cups cooked shredded or chopped chicken
3 tablespoons dry ranch seasoning divided
6 slices cheddar cheese
12 King's Hawaiian Rolls
prepared ranch dressing for serving
Instructions
Preheat oven to 350 degrees.

Add 1/4 cup of butter to a small sauce pan over medium heat and melt.

Stir in the Frank's Red Hot to combine.

Add the chicken to the pan along with 2 tablespoons of ranch seasoning. Stir to coat chicken.

Use a bread knife to slice the rolls in half to form sandwich buns. Place the bottom half of the rolls in a 9x13 baking dish.

Top each roll with the chicken mixture and a half of a slice of the cheddar cheese.

Place the top halves of the rolls over the chicken.

Melt the remaining 1/4 cup of butter over low heat. Stir in the remaining tablespoons of ranch seasoning until well combined. Spoon the mixture evenly over the tops of each roll.

Bake uncovered for 15 minutes or until heated through and rolls are golden brown.

Serve with prepared ranch dressing as desired.
Nutrition Information:
Calories: 345kcal (17%)| Carbohydrates: 31g (10%)| Protein: 14g (28%)| Fat: 18g (28%)| Saturated Fat: 9g (56%)| Cholesterol: 52mg (17%)| Sodium: 418mg (18%)| Fiber: 1g (4%)| Sugar: 1g (1%)