May 13, 2019
Taco Sliders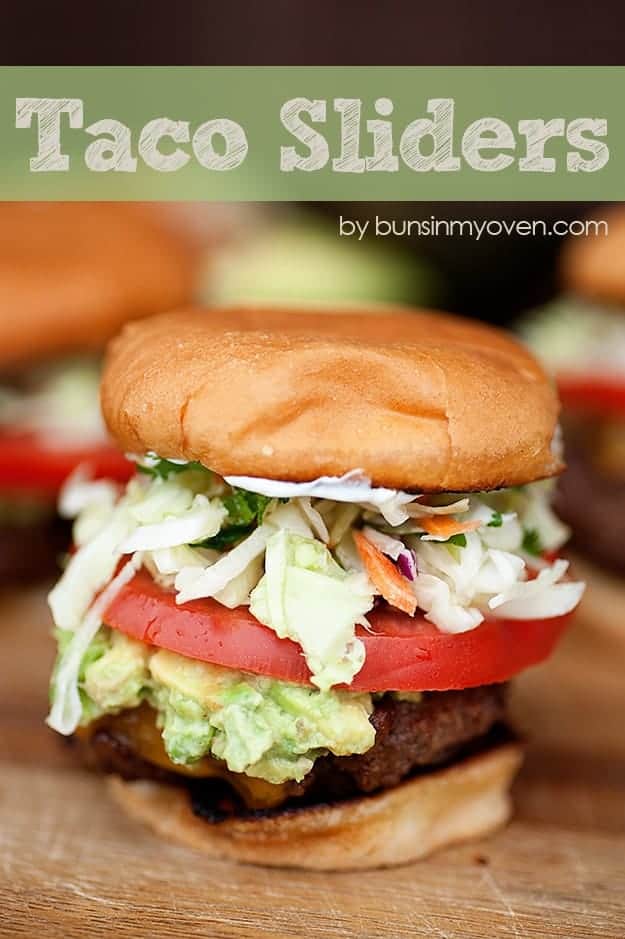 So, I know that everyone thinks their own children are the best at everything, the cutest, the funniest, and just all around little angels.
You guys. I'm here to tell you that, without a doubt, my daughter wins at all those things. Except for being an angel. She's a little ornery and a lot sassy and completely inappropriate at times.
I love her so much it hurts.
The other day we were out shopping with her big brother (he's 13 and she's 8) when they somehow got talking about white lies. Elijah, my son, said that he always prefers the truth, no matter what.
"Oh, yeah," Emma asked. "Well, then. What do you think about Mom? Is she pretty or is she disgusting?"
Seriously? She couldn't have tested his dedication to the truth with something else? She had to just go straight for the jugular like that? Or maybe she could have just said "not pretty?" I would have even taken ugly. But disgusting? That's just mean.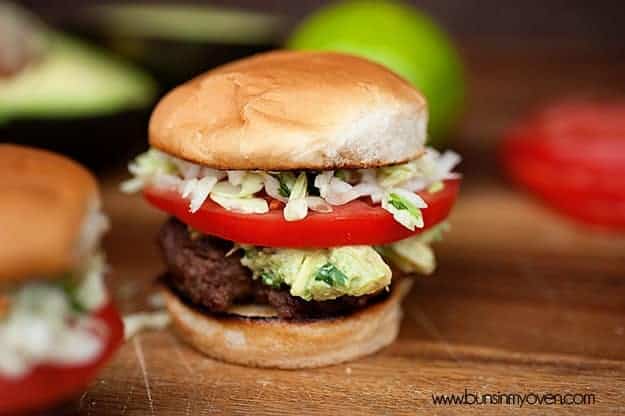 For the record, my son said I was pretty. And, since he had just said that he values the truth, I'm going to choose to believe him. Also, he is the sweetest, most thoughtful 13 year old you'll ever meet.
My daughter, on the other hand, said that I'm not disgusting, but she wouldn't call me pretty either. Sigh.
It's a good thing I enjoy her sassy and snarky little attitude or I would have just left her at the mall. I mean, really. Pretty or disgusting.
Anyway, she was probably paying me back for all the Mexican food I serve around here. I'm addicted to it. I think I lived inside a taco truck in Mexico in a previous life. It's the only explanation!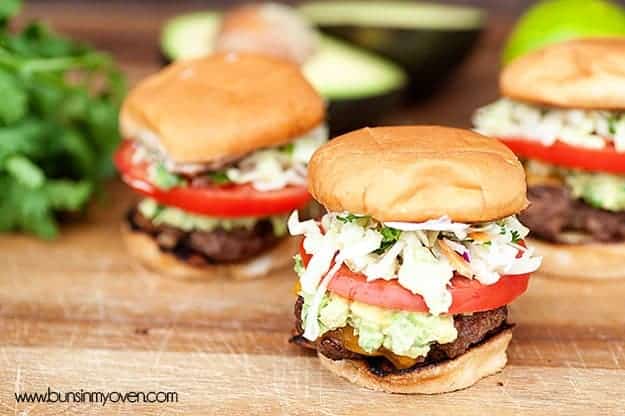 I decided to take it easy on my family and mix one of their favorites (a burger!) with one of my favorites (a taco!) and that's how these little Taco Sliders were born. They are absolute perfection.
The hamburger patty gets mixed up with taco seasoning and topped with all of your favorites. I topped my sliders with a slice of cheddar cheese, a fresh tomato, guacamole, my favorite Southwestern Slaw (it gets used in place of lettuce on EVERYTHING Mexican related in my house – the whole family prefers it to boring ol' iceberg! It's especially good on Carnitas), and a smear of sour cream. You could add in some olives, salsa, onions, whatever else it is you may top your tacos with.
Now that I think about it, I really wish I would have given these a good dash of Cholula hot sauce. It's my favorite sauce for Mexican food and, sometimes, I make tacos just so I have an excuse to drown it in my favorite sauce. (This is not sponsored…I just love Cholula!)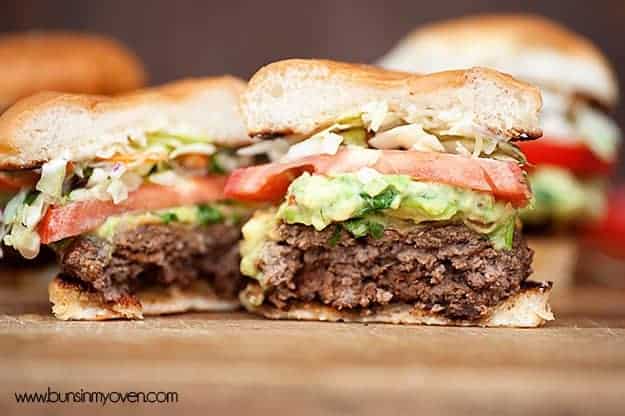 Taco Sliders
Servings: 6 sliders
Course: Main Course
Cuisine: Mexican
Keyword: easy dinner recipes, kid-friendly recipes, weeknight dinner recipes
Calories: 458 kcal
I decided to take it easy on my family and mix one of their favorites (a burger!) with one of my favorites (a taco!) and that's how these little Taco Sliders were born. They are absolute perfection.

Ingredients
6 slider buns
3 tablespoons butter
1 pound ground beef
1 packet taco seasoning or homemade
6 slices cheddar cheese
6 tomato slices
Sour cream
Other taco toppings as desired
Instructions
In a large bowl, combine the ground beef and taco seasoning. Mix together to spread the seasoning throughout the beef. Roll the beef into 6 small balls and flatten into patties.

Heat a griddle or large skillet over medium heat. Once hot, add the patties and cook to your desired doneness, flipping once halfway through cooking.

Top each patty with a slice of cheese about 2 minutes before removing from the heat. Set burgers aside.

Melt the butter in a large skillet over medium low heat. Place the slider buns cut side down in the melted butter and toast the buns, about 1-2 minutes each. Remove from the heat.

Build your burger using your prefered taco toppings.
Nutrition Facts
Taco Sliders
Amount Per Serving
Calories 458 Calories from Fat 279
% Daily Value*
Fat 31g48%
Saturated Fat 15g94%
Cholesterol 98mg33%
Sodium 746mg32%
Potassium 295mg8%
Carbohydrates 20g7%
Fiber 2g8%
Sugar 4g4%
Protein 22g44%
Vitamin A 1230IU25%
Vitamin C 6.4mg8%
Calcium 244mg24%
Iron 3mg17%
* Percent Daily Values are based on a 2000 calorie diet.
Nutrition Disclaimer: All information presented on this site is intended for informational purposes only. I am not a certified nutritionist and any nutritional information shared on bunsinmyoven.com should only be used as a general guideline.