Our Homemade Guacamole is so creamy with loads of flavor and is perfect for serving as a dip with chips or for dolloping on tacos, enchiladas, and burritos. I love how quick and simple this recipe is and it's easy to make it as spicy or mild as you like.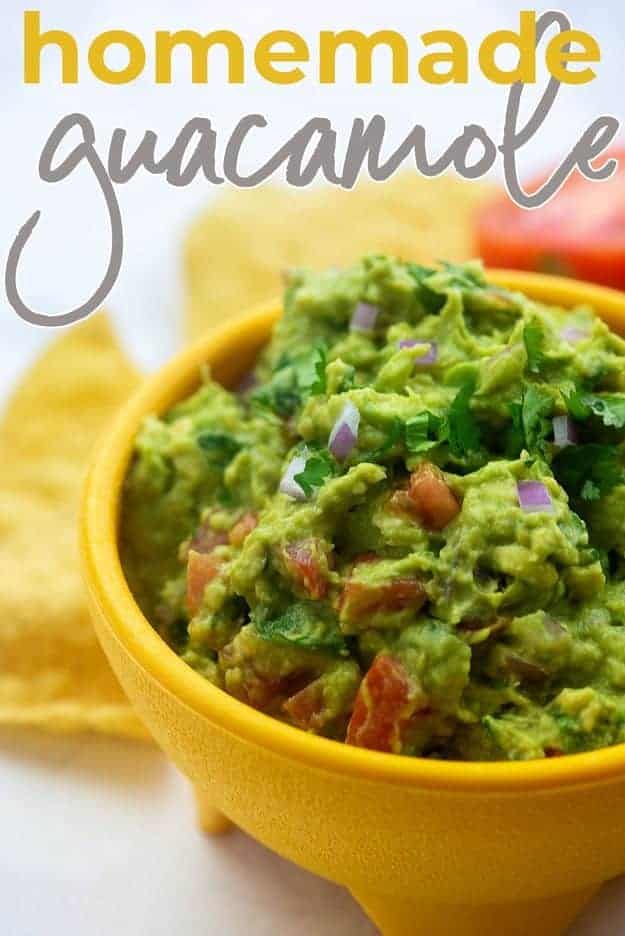 I don't know what prompted me to try guacamole for the first time. I mean it certainly doesn't look appetizing the first time you see it.
But I'm so glad I did eventually try it because now I LOVE avocado and sometimes eat a whole one for breakfast. They're so good! And I heard they were brain food, and we could all use that… 😉
Anyway, my homemade guacamole is a serious favorite with my friends and family. We like it just little chunky with tons of flavor.
This is the best guacamole recipe (in my humble opinion) and I think you're going to love it too!
What We Love About This Recipe FOR GUACAMOLE:
Freshness: You just can't beat homemade guacamole for freshness.
Texture: If you like chunky guacamole, you can make it chunky! If you like creamy smooth guacamole, you can make it smooth! It's up to you.
Quality: You know you're using the best quality ingredients without all the preservatives and additives when you prepare guacamole yourself.
Guacamole Ingredient Notes:
This post contains affiliate links. As an Amazon associate and member of other qualifying programs, I earn from qualifying purchases.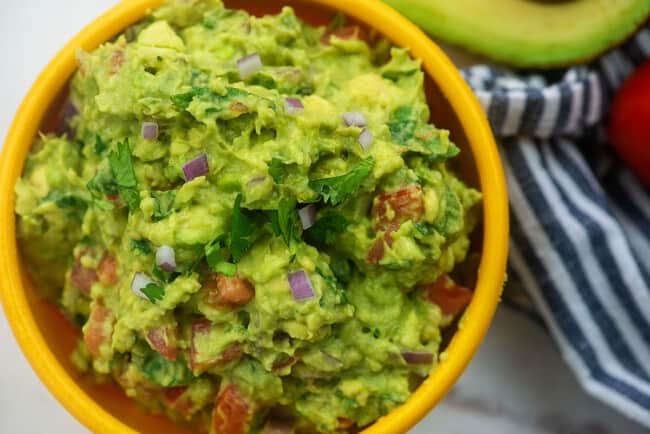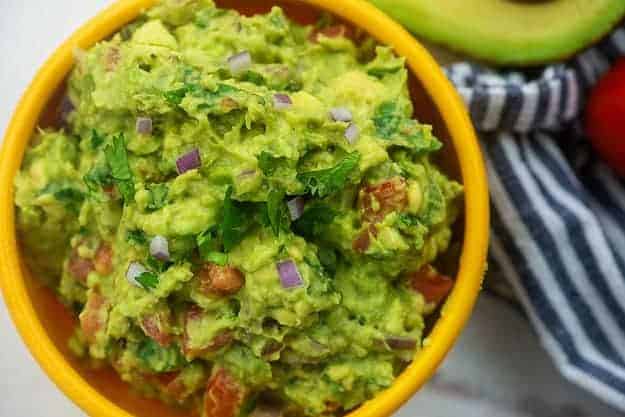 Avocado – You'll need four large, fresh avocados. Keep reading for tips on picking the perfect avocado.
Veggies – You'll dice up some tomato, onion, jalapeno, and garlic to add in with this homemade guacamole recipe!
Sour Cream – It'll add a bit of tangy, creamy flavor to the guacamole!
Lime – You'll need some lime juice! I'd definitely recommend just buying a lime and squeezing your own. It's so much better, but bottled lime juice works too.
Herbs/Spices – Some freshly chopped cilantro, a little bit of cumin, and a pinch of salt to taste!
What Readers are Saying!
"Loving your guacamole…the recipe looks great. I like the cumin in it and the red onions are sweeter than most onions and I prefer them!" – Barbara
How to Make Guacamole:
Avocado: I start by placing the avocados in a mixing bowl and mashing them with a fork. I like to leave them a bit chunky, but you can make this as smooth as you like. Just mash until you've got a nice consistency.
Mix: After mashing the avocado there isn't much left to do but add in the remaining ingredients. Stir in all the other guac ingredients and give it a taste.
Adjust: If your guacamole doesn't make your taste buds dance, it probably needs either a bit more lime juice or salt. Just keep adding until it makes your heart happy. As for the jalapeno, I always start with a small amount (I'm a wimp!) and then add more if I think I can handle it.
Picking the Perfect Avocado for Homemade Guacamole:
Generally speaking a perfectly ripe avocado will have a darker skin, but the color can vary so it's really best to give your avocado the squeeze test!
Gently squeeze the avocado. It should have a bit of give – not too firm and not too soft.
Another great way to test an avocado is to pick the tip of the avocado off. If it pops off easily and the inside is green, your avocado is likely going to be perfectly ripe!
Helpful Tip!
Avocados can be tricky in terms of their ripeness. You don't want them overly ripe and too soft so make sure they're stored in the fridge if they start softening before you have a chance to make this recipe. If they're too hard, a neat trick is to store them next to some bananas! They'll help ripen the avocado faster.
What To Serve With Guacamole:
This is the perfect guacamole dip for all kinds of good stuff like chips or veggies and it's great when you dollop a (giant) spoonful of it over some Mexican entrees! Try it with some of these recipes: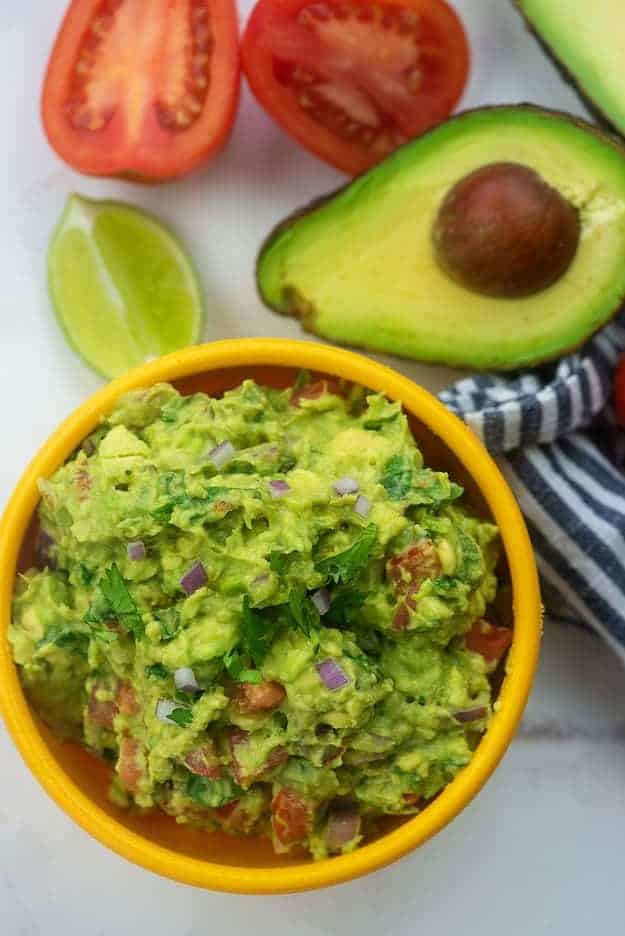 FAQs:
Does guac go bad in the fridge?
The avocado will begin to oxidize, which means it will turn brown in the fridge. It's still safe to eat for a few days, but doesn't look nearly as nice.
How to keep guacamole from turning brown?
To store, smooth out the top and squeeze a bit of lime juice over it. Lemon juice or water could work too. Smooth the plastic wrap over the top making sure it touches the surface of the guacamole. Store in the fridge for 1-2 days!
Can you freeze guacamole?
Yes! It should freeze pretty well in a sealed container for about 4 to 5 months.
MORE MEXICAN INSPIRED RECIPES!
MORE MEXICAN DIP RECIPES!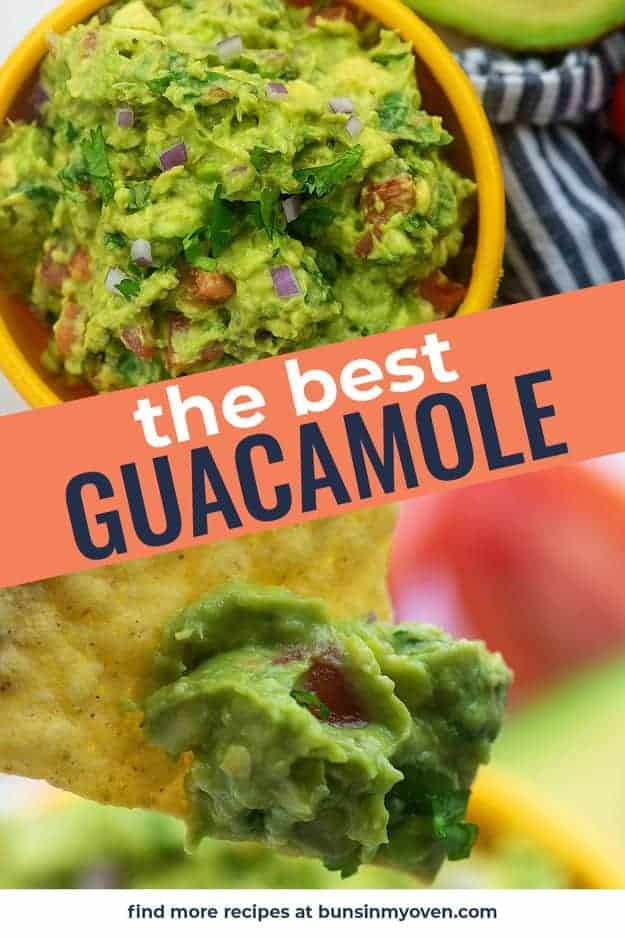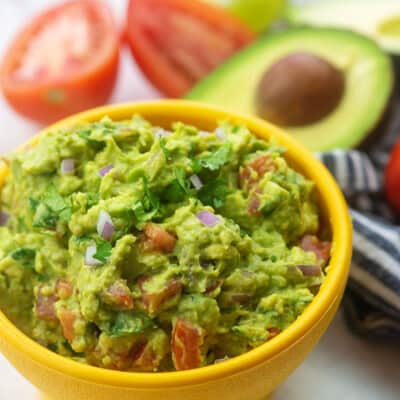 Homemade Guacamole Dip
We love how easy this homemade guacamole is. It only takes about 10 minutes to throw together and you can make it as spicy or as mild and as smooth or chunky as you like.
Prep10 minutes
Total10 minutes
Ingredients
4 large avocados
2 tablespoons sour cream
1 roma tomato
1/2 red onion
1 clove garlic
1/2 jalapeno pepper more or less, to taste
1/4 cup cilantro
1 lime
1 teaspoon cumin
salt to taste
Instructions
Slice the avocados in half and carefully remove the seed. Scoop the flesh out into a mixing bowl using a spoon. Mash the avocado with a fork to the consistency you prefer.

Stir in the sour cream.

Dice the tomato and onion. Mince the garlic, jalapeno, and cilantro. Add to the bowl of avocado.

Cut the lime in half and squeeze one half of the lime into the bowl.

Add the cumin and salt and stir to combine.

Taste the guacamole and add more jalapeno, lime juice, and/or salt, as needed to get the flavor you prefer.

Serve immediately.
Tips & Notes:
We prefer to make this fresh as the avocados do oxidize when exposed to air. To store this, smooth out the top and squeeze a bit of lime juice over it. Smooth plastic wrap over the top making sure it touches the surface of the guacamole. Store in the fridge for 1-2 days. If the guacamole is bland, it likely needs more lime juice or salt. Do keep in mind that if you're using this as a dip, the chips have a bit of salt on them so test it with a chip to be sure you're not over salting.
Nutrition Information:
Calories: 175kcal (9%)| Carbohydrates: 11g (4%)| Protein: 2g (4%)| Fat: 15g (23%)| Saturated Fat: 2g (13%)| Cholesterol: 2mg (1%)| Sodium: 11mg| Potassium: 529mg (15%)| Fiber: 7g (29%)| Sugar: 1g (1%)| Vitamin A: 273IU (5%)| Vitamin C: 15mg (18%)| Calcium: 22mg (2%)| Iron: 1mg (6%)
This recipe was originally published in 2010. It was updated in March of 2021.