My family loves this HOMEMADE GUACAMOLE! It's so creamy with loads of flavor and is perfect for serving as a dip with chips or for dolloping on tacos, enchiladas, and burritos. I love how quick and simple this recipe is and it's easy to make it as spicy or mild as you like.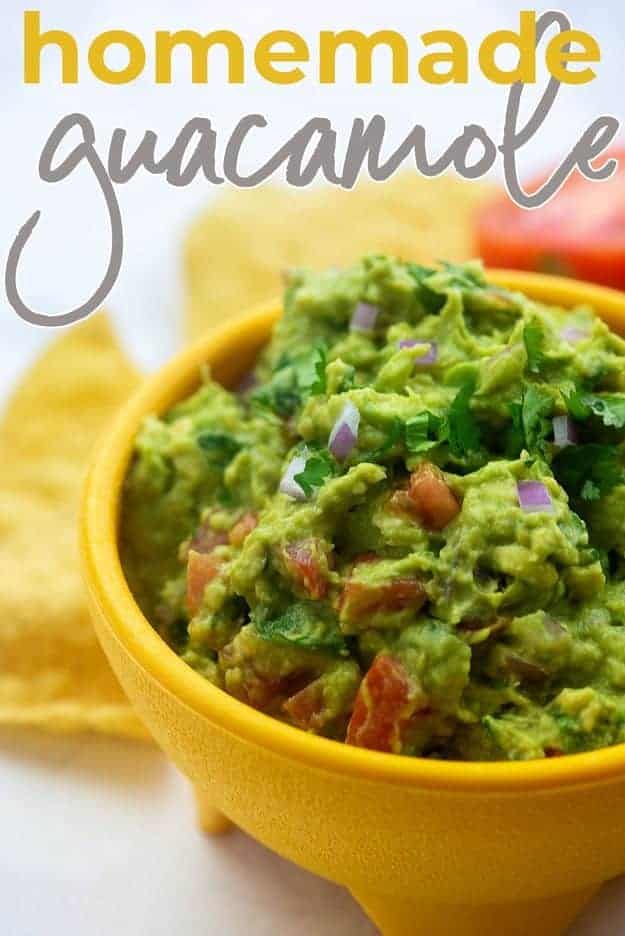 Want to hear an embarrassing story?
The first time I ever purchased an avocado was when my daughter was around 2 years old. I'd read in a magazine that avocados were good 'brain food' so I grabbed one at the grocery store.

I had never tasted avocado before and I had certainly never cut into one.
It took a bit of googling, but once I figured out how to cut into it, I did so and then promptly threw it in the trash. I mean…I'm sorry, but avocados do not look appealing in the least to someone who's never tasted that buttery, creamy goodness.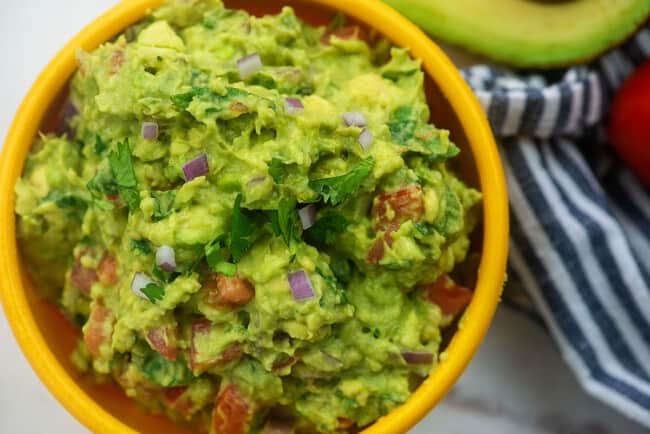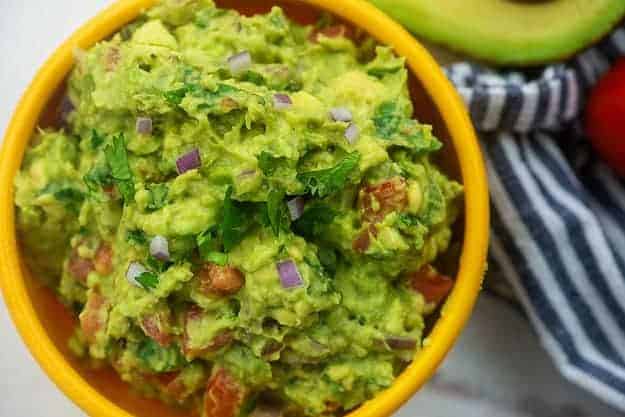 I don't know what prompted me to try guacamole for the first time, but I'm so glad I did because now I LOVE avocado and sometimes eat a whole one for breakfast. They're so good! And I heard they were brain food, and we could all use that… 😉
Anyway, my homemade guacamole is a serious favorite with my friends and family. We like it just little chunky with tons of flavor.
This is the best guacamole recipe (in my humble opinion) and I think you're going to love it too!
Having a little Mexican fiesta? Serve this alongside my homemade queso.
Guacamole Ingredients:
This recipe is really simple with your basic guacamole ingredients. The amounts can be changed to suit your own personal tastes, but the ingredients list is below.
Avocados
Sour Cream
Tomato
Onion
Jalapeno
Cilantro
Garlic
Lime
Cumin
Salt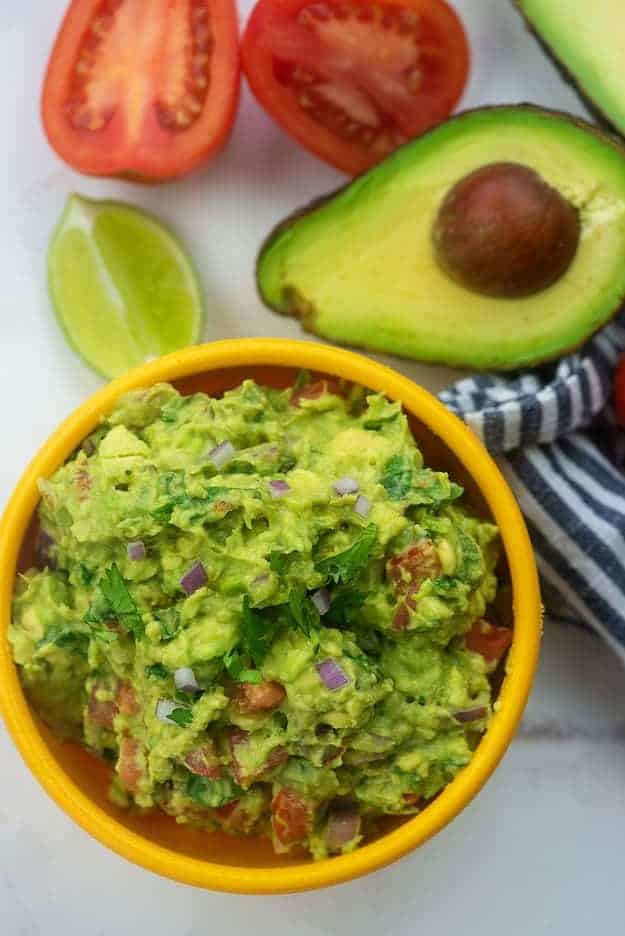 I start by placing the avocados in a mixing bowl and mashing them with a fork. I like to leave them a bit chunky, but you can make this as smooth as you like. Just mash until you've got a nice consistency.
Stir in the rest of the ingredients and give it a taste.
If your guacamole doesn't make your taste buds dance, it probably needs either a bit more lime juice or salt. Just keep adding until it makes your heart happy.
As for the jalapeno, I always start with a small amount (I'm a wimp!) and then add more if I think I can handle it.
Serving:
This is the perfect guacamole dip, so grab your tortilla chips and dig in!
Of course, it also works great when you dollop a (giant) spoonful of it over some Mexican entrees.
We like to serve this over my Dorito chicken casserole, low carb taco casserole, taco lasagna, and chicken enchilada casserole.
And definitely always be sure to have this guacamole on hand for stuffing inside my fried tacos or turkey tacos.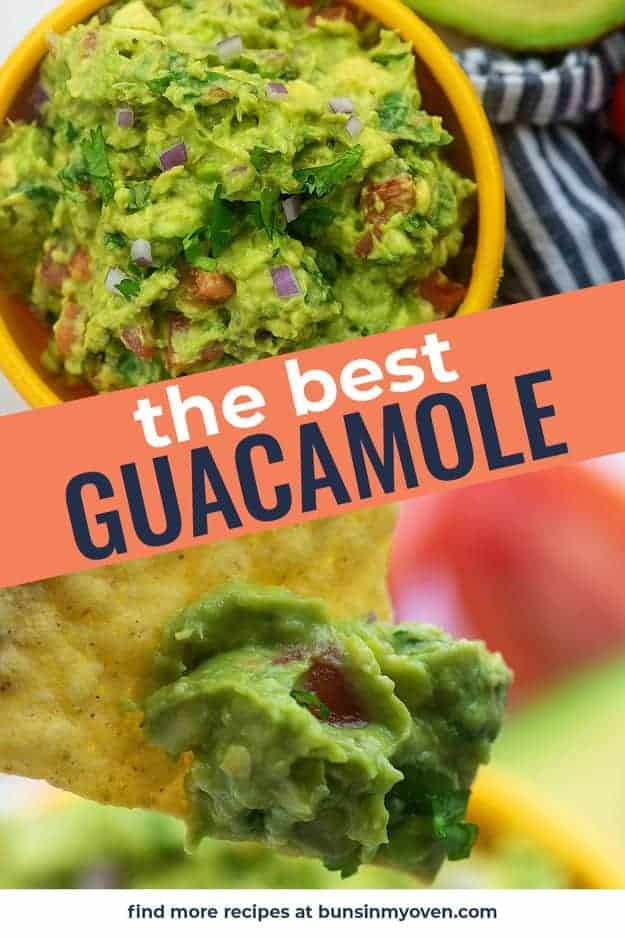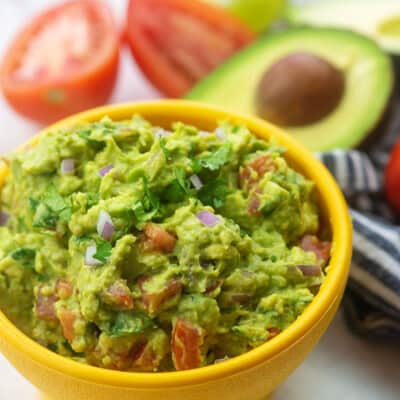 Homemade Guacamole Dip
We love how easy this homemade guacamole is. It only takes about 10 minutes to throw together and you can make it as spicy or as mild and as smooth or chunky as you like.
Prep10 minutes
Total10 minutes
Ingredients
4 large avocados
2 tablespoons sour cream
1 roma tomato
1/2 red onion
1 clove garlic
1/2 jalapeno pepper more or less, to taste
1/4 cup cilantro
1 lime
1 teaspoon cumin
salt to taste
Instructions
Slice the avocados in half and carefully remove the seed. Scoop the flesh out into a mixing bowl using a spoon. Mash the avocado with a fork to the consistency you prefer.

Stir in the sour cream.

Dice the tomato and onion. Mince the garlic, jalapeno, and cilantro. Add to the bowl of avocado.

Cut the lime in half and squeeze one half of the lime into the bowl.

Add the cumin and salt and stir to combine.

Taste the guacamole and add more jalapeno, lime juice, and/or salt, as needed to get the flavor you prefer.

Serve immediately.
Tips & Notes:
We prefer to make this fresh as the avocados do oxidize when exposed to air. To store this, smooth out the top and squeeze a bit of lime juice over it. Smooth plastic wrap over the top making sure it touches the surface of the guacamole. Store in the fridge for 1-2 days. If the guacamole is bland, it likely needs more lime juice or salt. Do keep in mind that if you're using this as a dip, the chips have a bit of salt on them so test it with a chip to be sure you're not over salting.
Nutrition Information:
Calories: 175kcal (9%)| Carbohydrates: 11g (4%)| Protein: 2g (4%)| Fat: 15g (23%)| Saturated Fat: 2g (13%)| Cholesterol: 2mg (1%)| Sodium: 11mg| Potassium: 529mg (15%)| Fiber: 7g (29%)| Sugar: 1g (1%)| Vitamin A: 273IU (5%)| Vitamin C: 15mg (18%)| Calcium: 22mg (2%)| Iron: 1mg (6%)