February 11, 2019
Taco Casserole
Who wants a heaping slice of this taco lasagna? I do, I do! This taco casserole recipe just uses a handful of ingredients and it's a huge hit with the family! This taco casserole makes taco night so fun and festive!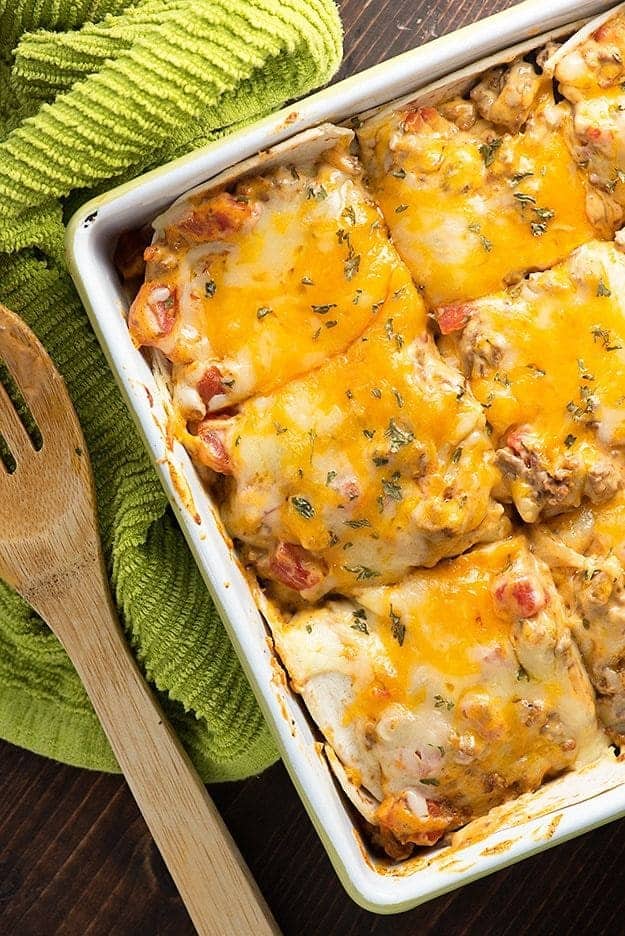 Oh, yes, that's right. I made you all a Mexican lasagna with tortillas instead of noodles.
This is one of those easy weeknight recipes that the entire family gets excited about when they see it come out of the oven, all steamy and cheesy and gooey.
I mean, my family love love loves taco night.
Thank goodness for that, because we seriously eat some form of tacos every couple of days. My fried tacos are always a hit.
In fact, I've been on a major scrambled egg taco kick lately. It's the easiest dinner in the world – scramble some eggs, stuff them in a steamy tortilla, top with cheddar, and drizzle on some hot sauce.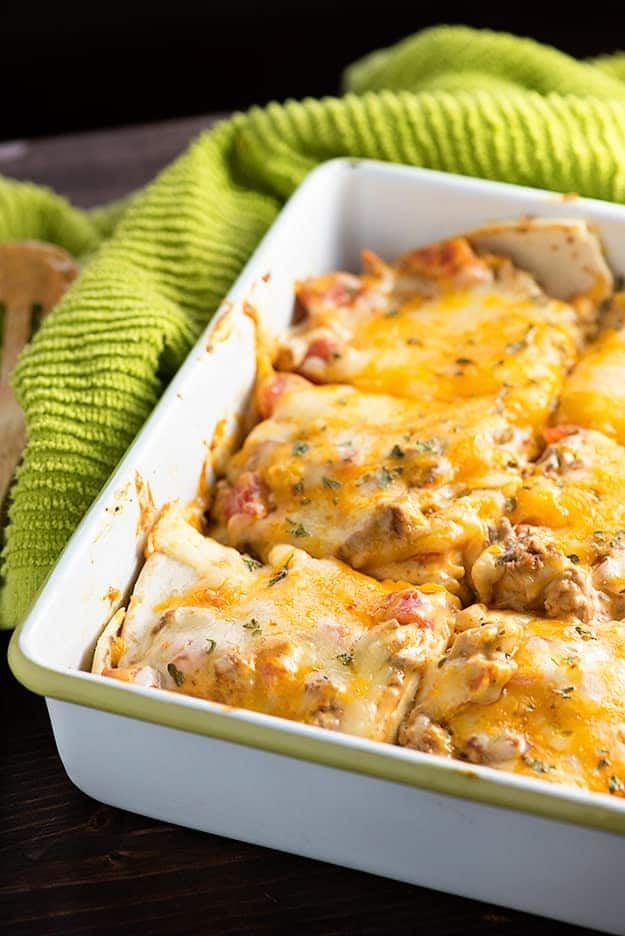 My husband thinks it's kind of weird, but my daughter and I are absolutely in love with scrambled egg tacos.
It's probably the most perfect comfort food on the planet and they takes about 5 minutes to make. Hard to go wrong with that.
This taco bake is perfect for busy weeknights!

But, anyway! Sometimes we eat beef tacos like normal humans. And by sometimes, I mean a lot.
The kids never complain about tacos, but the husband starts to get this look in his eyes when he sees me pull out the tortilla warmer. A look that says, "can we maybe eat dinner with a fork just once this week?"
Forks. Pfft. Overrated.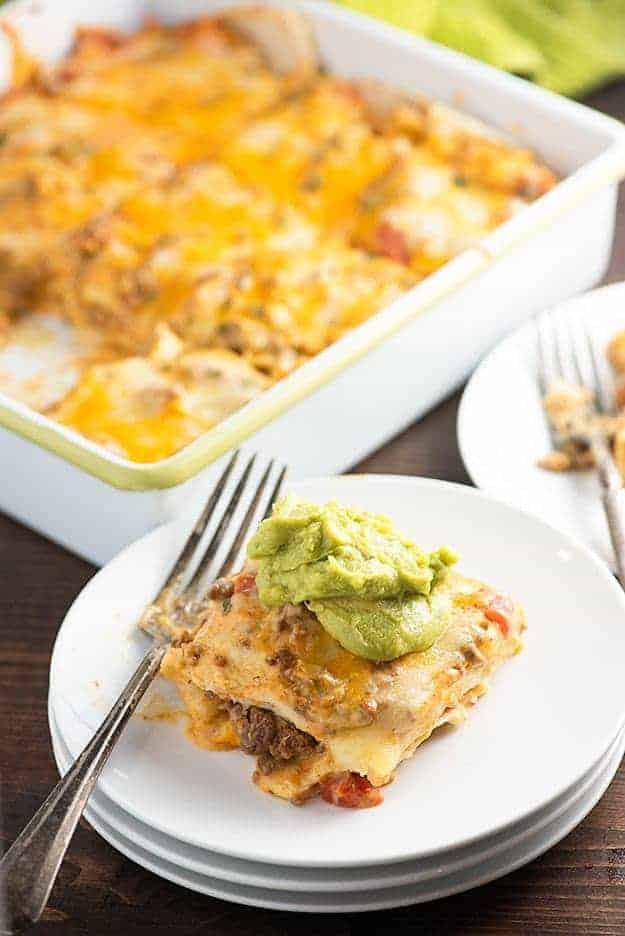 But, I love the man, so I turned my love of tacos into this Mexican lasagna with tortillas!
You're going to flip for this taco casserole!
This recipe is just seven ingredients and beyond simple to throw together! You guys are going to love it.
I use a can of Nacho Cheese Soup in here, because hello. Nacho cheese!
You can swap in cheddar soup or cream of chicken/mushroom soup, if you prefer! You could also probably get away with just melting up some Velveeta with milk in place of the canned soup. I mean, this is a pretty simple recipe and I can't imagine you'll be able to mess it up!
In fact, a can of actual nacho cheese would work just fine too!
Don't you love when you have options? 🙂

Pin this taco casserole to save for later!
I get a lot of questions about the tortillas in this recipe and whether or not they get soggy. I don't find them soggy myself, but if it's something that you're worried about, I'm happy to say that yes, corn tortillas would work instead. 🙂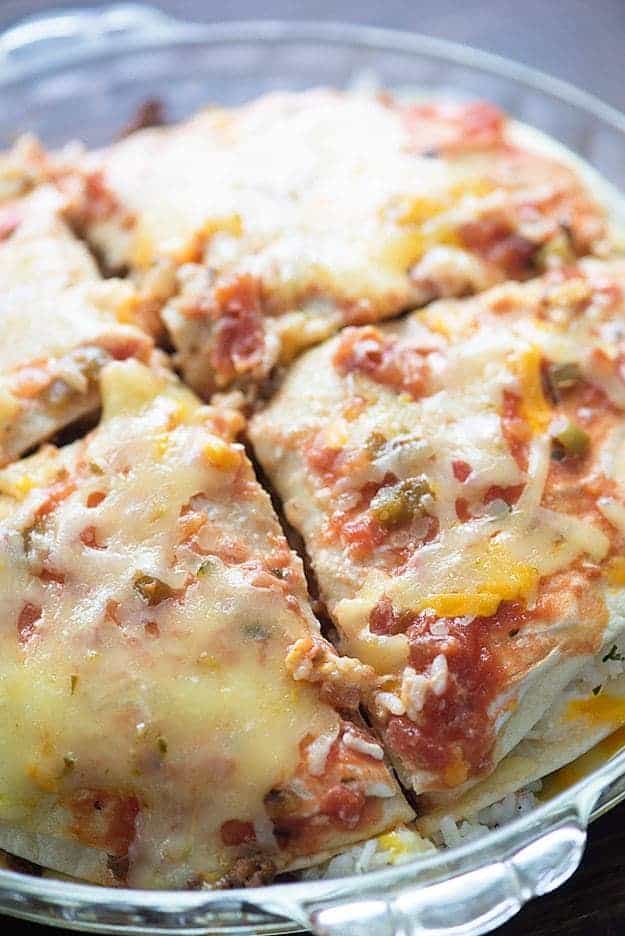 Update: Y'all loved this recipe so much that I decided we needed a burrito version as well! Check out my Burrito Casserole and give that a try too!
All of these Mexican casseroles are so good and I just know you're going to love them all. Mexican for dinner every night! 🙂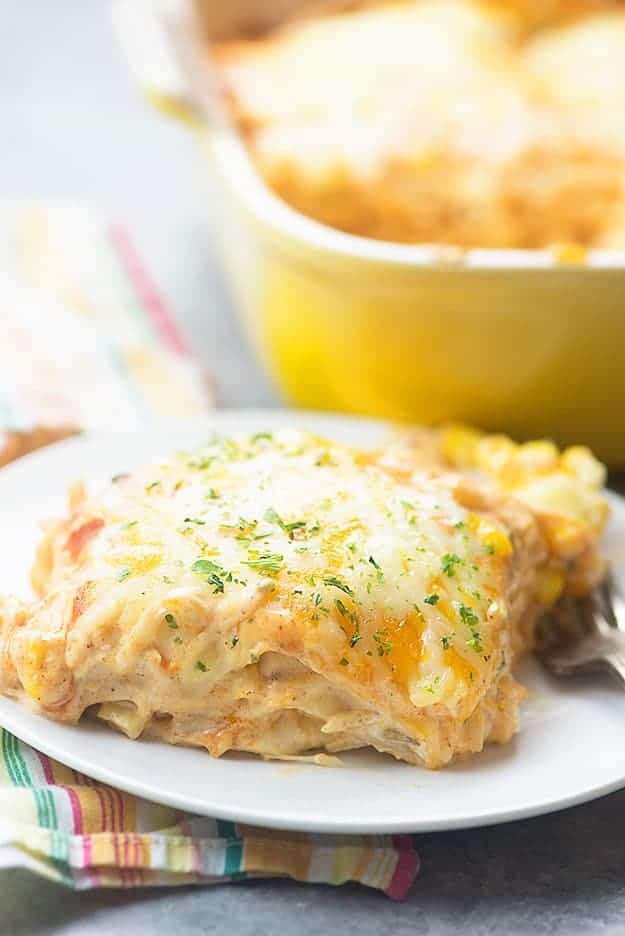 I also made a chicken enchilada casserole that is similar to this one.
Give this taco lasagna a try and let me know what you think!
Pretty sure it'll be a new family favorite in your house too!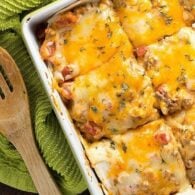 Taco Lasagna
Servings: 4 servings
Course: Main Course
Cuisine: Mexican
Keyword: easy dinner recipes, kid-friendly recipes, weeknight dinner recipes
Calories: 795 kcal
Who wants a heaping slice of this taco lasagna? I do, I do! This taco casserole recipe just uses a handful of ingredients and it's a huge hit with the family!

Ingredients
1 pound ground beef 96/4
1 packet taco seasoning
1/4 cup water
1 can Ro*Tel diced tomatoes with chiles drained
1 can Nacho Cheese Soup
1/4 cup sour cream
1 cup grated cheddar
12 8- inch soft tortillas
Guacamole, cilantro, sour cream for topping, as desired
Instructions
Preheat oven to 350 degrees. Spray a 9x9 baking dish with non-stick spray.

Add the beef to a large skillet over medium heat and crumble as it cooks. Drain grease when cooked through.

Add the taco seasoning and water to the skillet and cook for 2 minutes.

Dump the tomatoes, cheese soup, and sour cream into a medium mixing bowl. Stir in the cooked meat.

Place 3 tortillas in the bottom of the prepared baking dish. Top with 1/3 of the meat mixture.

Repeat layers, ending with a layer of tortillas on the top. Sprinkle the cheese over the top.

Bake for 20 minutes or until hot and melty.

Serve sprinkled with chopped cilantro, guacamole, and extra sour cream, as desired.
Nutrition Facts
Taco Lasagna
Amount Per Serving
Calories 795 Calories from Fat 378
% Daily Value*
Fat 42g65%
Saturated Fat 18g113%
Cholesterol 117mg39%
Sodium 1736mg75%
Potassium 715mg20%
Carbohydrates 66g22%
Fiber 5g21%
Sugar 9g10%
Protein 36g72%
Vitamin A 1315IU26%
Vitamin C 13.5mg16%
Calcium 388mg39%
Iron 7.6mg42%
* Percent Daily Values are based on a 2000 calorie diet.
Nutrition Disclaimer: All information presented on this site is intended for informational purposes only. I am not a certified nutritionist and any nutritional information shared on bunsinmyoven.com should only be used as a general guideline.