August 24, 2018
Burrito Pie
This burrito casserole is shaped like a pie for a fun twist on taco night!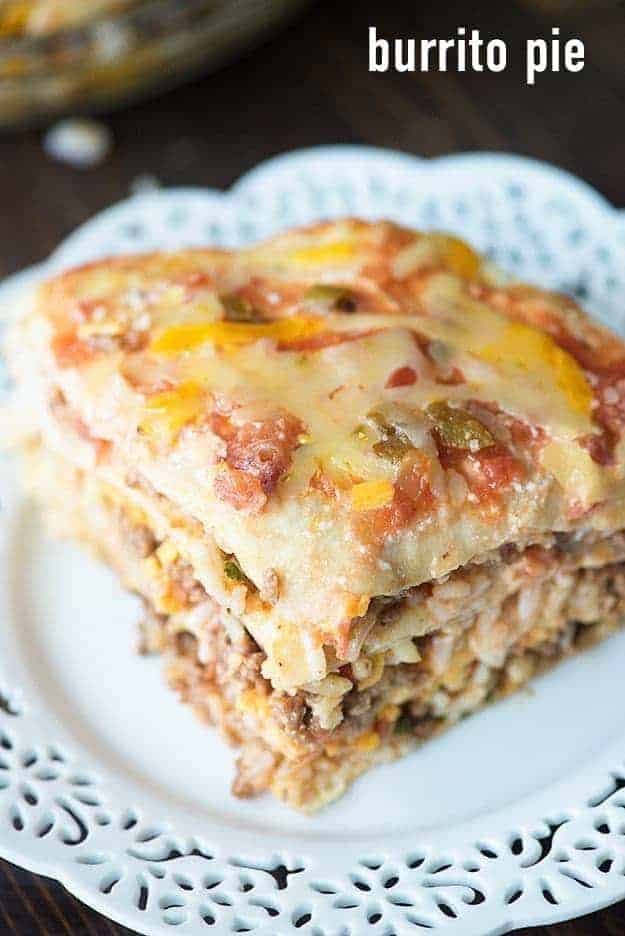 As you all might have noticed, I have a bit of a thang for American-ized Mexican food. I mean, don't get me wrong – I love REAL Mexican food too. It's just that I live in central Illinois and the real stuff can be hard to come by.
Also, I'm quite sure that the majority of the recipes I make at home are not super authentic considering I nearly always start with a packet of taco seasoning. If any of my readers are from Mexico, please answer the following question: Do y'all ever use the taco seasoning packets? Is this an American thing? I feel like it's an American thing.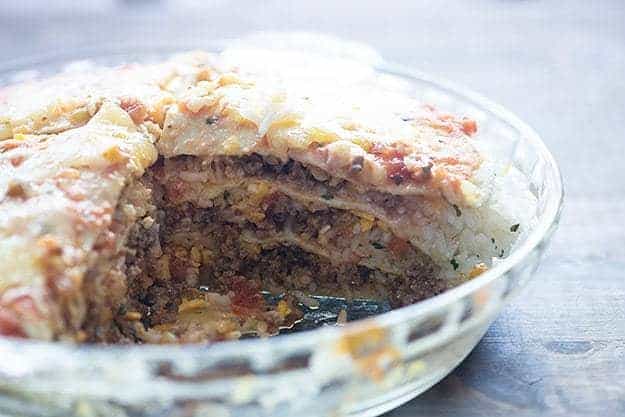 Anyway!
I do not promise to bring you authentic Mexican cuisine, but I do promise you that what I am about to share is freakin' amazing. My kids had to fight me to share this one with them.
I got the idea for this from my taco casserole. I figured, hey, a burrito casserole might be a good idea too. I was right. I was like the rightest I've ever been in my life.
This is perfect served alongside my restaurant style salsa. That salsa is a near perfect copycat of Chili's salsa, but I add cilantro because how could I not? 😉
Whenever we make tacos (once a week, at least), I always make double the amount of meat we'll use. We use the leftovers in taco salads, taco omelettes, or even in my fried tacos. It's also nice to have some extra meat on hand for my low carb taco bake.
Having the taco meat in the fridge and ready to go made this recipe super quick to whip up. This would be great with my barbacoa recipe too.
I made the rice in my Instant Pot, which I love. It makes perfect rice every time! I rinse my rice with water, drain well, and then do equal parts rice to water in the pot. I set the vent to sealing and cook on high pressure for 3 minutes. I let the pressure release naturally for 10 minutes and then open it up and stir. Perfectly fluffy rice every time! Here's the Instant Pot I use. 🙂
Burrito Pie
Servings: 4 servings
Course: Main Course
Cuisine: Mexican
Keyword: easy dinner recipes, kid-friendly recipes, weeknight dinner recipes
Calories: 788 kcal
This burrito casserole is shaped like a pie for a fun twist on taco night!

Ingredients
2 cups cooked white rice
1 tablespoon lime juice
1 tablespoon chopped cilantro
1 teaspoon salt
4 10-inch flour tortilla shells
1/2 cup sour cream
1/2 cup salsa
1 1/2 cups cooked taco meat
2 cups grated cheddar cheese
Instructions
Preheat oven to 350 degrees.

Add the rice, lime juice, cilantro, and salt to a medium mixing bowl and stir well to combine.

Place one flour tortilla in the bottom of a deep dish pie plate.

Spread tortilla with 2 tablespoons of sour cream.

Top with 1/2 cup of prepared rice and 1/2 cup of taco meat.

Spoon 2 tablespoons of salsa over the top.

Sprinkle on 1/2 cup of cheese.

Repeat layers 2 more times, pressing down the tortilla stack each time you add a new tortilla.

Add a final layer of tortilla, sour cream, salsa, and cheese to the top.

Bake for 20 minutes or until hot and melty.

Serve with all of your favorite taco toppings, such as diced tomatoes, guacamole, hot sauce, etc.
Nutrition Facts
Burrito Pie
Amount Per Serving
Calories 788 Calories from Fat 378
% Daily Value*
Fat 42g65%
Saturated Fat 21g131%
Cholesterol 131mg44%
Sodium 1721mg75%
Potassium 572mg16%
Carbohydrates 62g21%
Fiber 2g8%
Sugar 5g6%
Protein 38g76%
Vitamin A 900IU18%
Vitamin C 2mg2%
Calcium 543mg54%
Iron 4.8mg27%
* Percent Daily Values are based on a 2000 calorie diet.
Nutrition Disclaimer: All information presented on this site is intended for informational purposes only. I am not a certified nutritionist and any nutritional information shared on bunsinmyoven.com should only be used as a general guideline.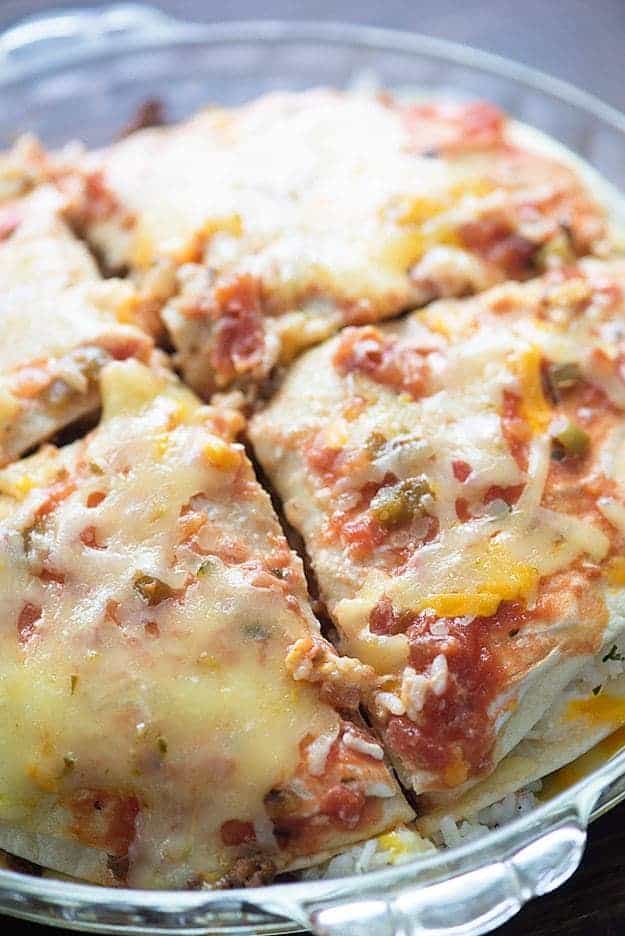 Check out my Dorito casserole for more Mexican casserole love!