This is a sponsored post written by me on behalf of Groupon Getaways for IZEA. All opinions are 100% mine.
If you're looking for a potato salad without mayo, this is the one for you! This recipe for potato salad has strong Mexican flavors for a light and bright tasting side dish that will be a hit at your next barbecue or taco night!
As you guys all know, I was recently in the Dominican Republic on a trip sponsored by Groupon! I'm so lucky to have such a fun job!
I'm home now (and so tan!) and I'm super excited to tell you all about my Groupon Getaways.
If you've never been to the Dominican, I'm going to make you want to change that. Sorry, not sorry! It's just a beautiful country and I believe it has something to offer anyone who enjoys travel and visiting new places.
I traveled with my mama, my aunt, and my cousin. We made it a girls' trip and it was awesome! We got off the plane into an open-air airport with a little band playing music for us. What a welcome! And open-air airports. Man, I need to live where those are an option!
Read below for more about our trip and to get the recipe for this AMAZING potato salad without mayo! Seriously, it's so good!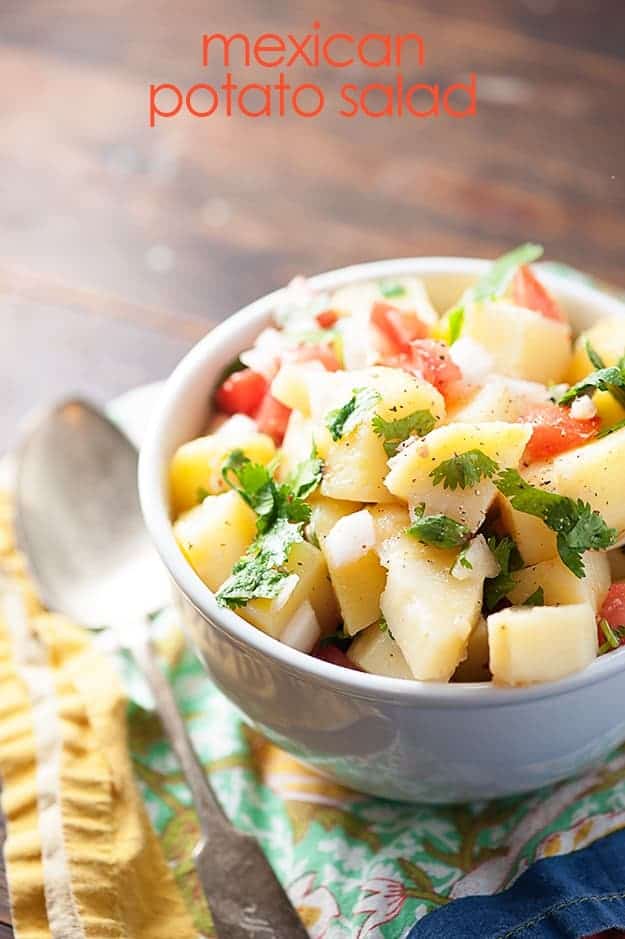 We snagged a taxi at the airport and went for one of the most terrifying taxi rides of our lives! People in the DR tend to take lanes as just a general guide and they weave in and out all over the place. The number of motorcycles was just astounding to me and they all drove on the shoulder of the road, unless they were weaving in between the lanes of traffic. It was really neat to see, but I couldn't imagine driving in it myself. No way would I have been comfortable if we had rented a car. We didn't see any speed limit or stop signs either. Everyone just sort of made it work, though.
If you visit Puerto Plata, I highly recommend travelling by cab and not driving yourself around. Truthfully, I felt safe with our driver – after all, this is what he did day in and day out and he knew what to expect. For us Americans who are used to a more controlled driving experience, it would have been so stressful!
We got to our resort and immediately headed off to check out the pools. You couldn't walk more than a couple of minutes without running into yet another amazing swimming pool. There were pools that were adults only, pools for children, and plenty of pools with swim up bars.
If you're visiting Puerto Plata with the hopes of sitting around in the sun, the Cofresi Palm Resort has a lot of options for you!
The resort was right on the ocean, and oh my. The Dominican waters are just breathtaking. The waves were fairly gentle and the water was the perfect temperature.
I spent so much time in a bed on the beach. I never wanted to get out!
The resort had 11 restaurants that were available to all guests staying on property. They do offer different levels of "all-inclusive" and some guests had even more restaurant options available to them, as well as extra bars and private beaches and pools.
The food at the specialty dining restaurants was always delicious, though you do have to schedule reservations in advance each day. If you're not into reservations, there were two large buffets. The staff at the buffets were very kind and always happy to refill your mimosa (or iced tea, but hey, it's vacation!).
There were always a ton of potato dishes on the buffet and they never disappointed. I knew that I had to come home and recreate the potato salad that I ate day after day! (And, yes, I'm calling it Mexican potato salad instead of Dominican potato salad, because it's basically potatoes tossed in pico de gallo and that sounds Mexican to me! Just let me be me, k?)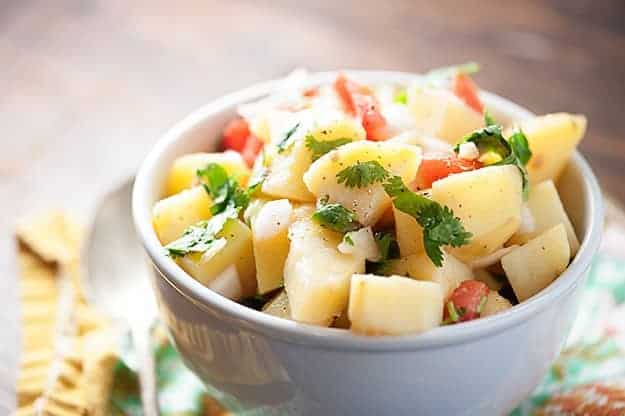 It's so bright and flavorful and light, which is not how I would normally describe potato salad. There is no mayo in this recipe, so you mayo haters will love this one!
I basically just whipped up a quick pico de gallo and tossed it with some cooked and cooled potatoes. So simple, but it's very refreshing and perfect for a day by the pool or as a side dish for tacos.
My favorite part of our whole trip was an ATV tour through the mountains and villages of Puerto Plato. You can read all about it right here!
I'm super thankful to Groupon for sponsoring this post and my travel so that I could spend some much needed bonding time with my ladies. We had a great time and I highly recommend checking out all of the available getaways going on right now! Travel doesn't have to be terribly pricey if you shop around and find a good deal. Some experiences are worth saving up for and I'd say that this was one of them! Including round-trip airfare for four and two rooms at an all-inclusive beach resort, this trip came in at right around $4,000.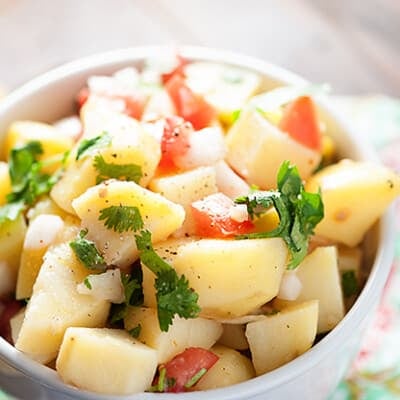 Mexican Potato Salad
If you're looking for a potato salad without mayo, this is the one for you! This recipe for potato salad has strong Mexican flavors for a light and bright tasting side dish that will be a hit at your next barbecue or taco night!

Prep15 minutes
Cook15 minutes
Total2 hours 30 minutes
Ingredients
2 pounds Yukon Gold potatoes
3 Roma tomatoes
1/4 sweet onion
1/4 cup chopped cilantro
1 jalapeno diced (more or less, to taste)
2 tablespoons lime juice
2 teaspoons salt
Instructions
Wash and peel the potatoes. Dice into 1 inch cubes and place in a large stock pot.

Add enough water to cover the potatoes by 1 inch and bring to a boil over medium heat.

Cook the potatoes for 10 to 15 minutes or until fork tender.

Drain and place in the refrigerator to cool completely.

Dice the tomatoes and onion. Add to a small bowl. Stir in the cilantro, jalapeno, lime juice, and salt. Stir to combine.

Add the tomato mixture to the cooled potatoes and toss to coat.

Taste and add more salt or lime juice if needed.

Serve cold or at room temperature.
Nutrition Information:
Calories: 49kcal (2%)| Carbohydrates: 10g (3%)| Protein: 2g (4%)| Sodium: 396mg (17%)| Potassium: 357mg (10%)| Fiber: 2g (8%)| Vitamin A: 165IU (3%)| Vitamin C: 13.3mg (16%)| Calcium: 26mg (3%)| Iron: 2.5mg (14%)