If you're looking for a potato salad without mayo, our Mexican potato salad is the way to go! Light, refreshing, and loaded with all the flavors of pico de gallo, mixed in a potato salad!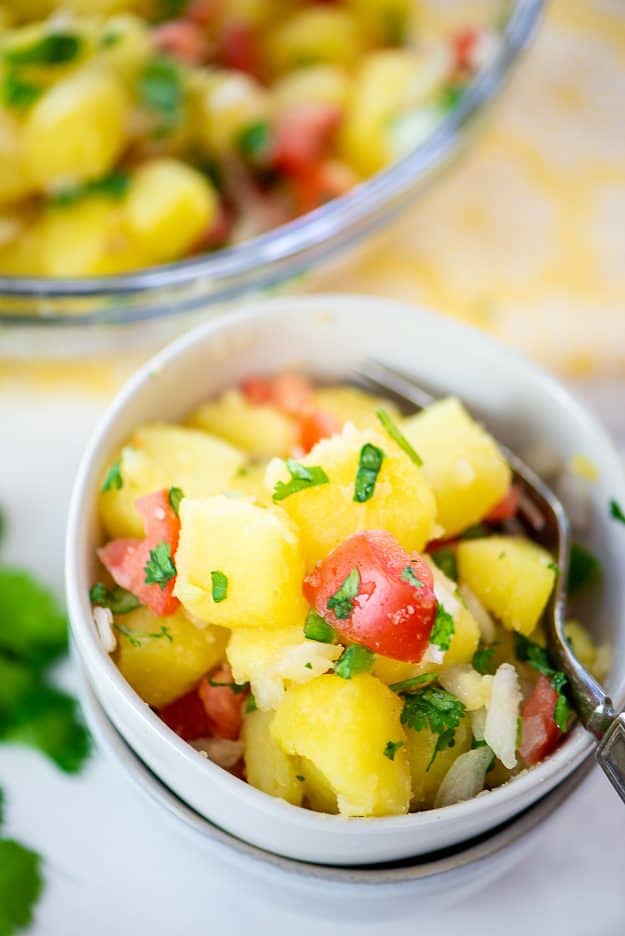 My family and I love to travel, but like most people, we don't seem to get the chance nearly often enough.
One of the things that I love about food is that it lets me travel back to the places I've visited without leaving my kitchen.
This Mexican potato salad takes me straight to Mexico, with the flavors of cilantro and lime, tender potatoes, and plenty of tomatoes and onion.
We basically just took our pico de gallo and mixed it up with some cooked potatoes. It couldn't be simpler and it's a really refreshing and light potato salad without mayo.
This potato salad also happens to be vegan, if you care about that sort of thing.
Yukon Gold Potatoes – Red potatoes also work.
Roma Tomatoes
Onion
Cilantro
Jalapeno
Lime Juice – The lime juice brightens up this dish, making it light and refreshing.
Salt
What Readers are Saying!
"As a super mayo hater, it's pretty obvious that my summer is going to contain SO MUCH OF THIS potato salad. Love it!"
-Joanne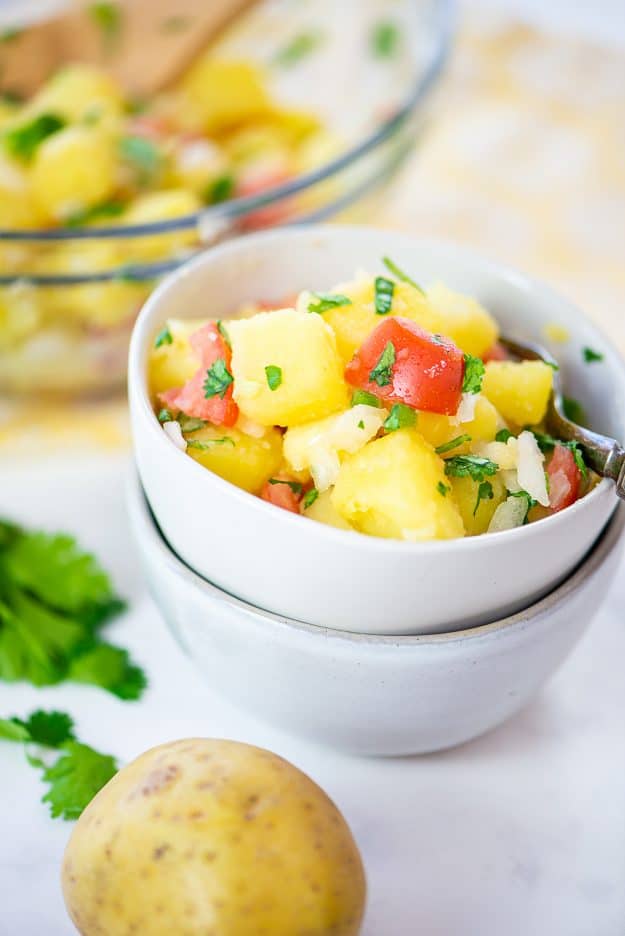 Potato Salad without Mayo:
You may have noticed that the ingredients list did not contain mayonnaise, which tends to be a staple in potato salads.
We left it out to keep this lighter and more refreshing, but it also works for those that just hate mayo.
Picky eaters unite!
How to Make Mexican Potato Salad:
Potatoes: We'll start with the main ingredient! We love the flavor of the Yukon Gold variety, but if you don't have any the red skinned potatoes should work well for this too. Wash and peel the potatoes and dice them into 1 inch bite-sized cubes.
Boil the potatoes in a large pot of water until they are fork tender. You'll need to let them cool down first so go ahead and drain them and place in the refrigerator until they have chilled.
Dice: You can now move on to the remaining ingredients for this potato salad recipe! Go ahead and dice up the tomatoes, onion, and jalapeno. Since we aren't using mayo, we'll need something else to make this dish happen. That would be the lime juice!
Add the diced ingredients to a small mixing bowl along with the lime juice, the salt, and the cilantro. The lime juice will really brighten this dish up and it is so flavorful! Stir until it is well combined.
You've just made pico de gallo. This is delicious as a dip for tortilla chips, but don't eat too much or you'll ruin the potato salad. 😉
Serve: Finally you can go ahead and add the pico de gallo to the potatoes and stir again until they are well combined and the lime juice has coated the potatoes. Feel free to add more lime juice or salt to suit your tastes. And that's all there is to it!
Variations!
There are lots of ways you could modify this recipe, here are a few:
Instead of boiling the potatoes, roast them in the oven first for a different flavor!
Add extra jalapeno for more spice.
Grilled corn would make a tasty addition to this recipe!
Chunks of avocado would be delicious stirred into this dish just before serving.
MORE POTATO RECIPES:
Mexican Potato Salad
If you're looking for a potato salad without mayo, this is the one for you! This recipe for potato salad has strong Mexican flavors for a light and bright tasting side dish that will be a hit at your next barbecue or taco night!

Prep15 minutes
Cook15 minutes
Chill Time2 hours
Total2 hours 30 minutes
Ingredients
2 pounds Yukon Gold potatoes
3 Roma tomatoes
1/4 sweet onion
1/4 cup chopped cilantro
1 jalapeno diced (more or less, to taste)
2 tablespoons lime juice
2 teaspoons salt
Instructions
Wash and peel the potatoes. Dice into 1 inch cubes and place in a large stock pot.

Add enough water to cover the potatoes by 1 inch and bring to a boil over medium heat.

Cook the potatoes for 10 to 15 minutes or until fork tender.

Drain and place in the refrigerator to cool completely.

Dice the tomatoes and onion. Add to a small bowl. Stir in the cilantro, jalapeno, lime juice, and salt. Stir to combine.

Add the tomato mixture to the cooled potatoes and toss to coat.

Taste and add more salt or lime juice if needed.

Serve cold or at room temperature.
Nutrition Information:
Calories: 49kcal (2%)| Carbohydrates: 10g (3%)| Protein: 2g (4%)| Sodium: 396mg (17%)| Potassium: 357mg (10%)| Fiber: 2g (8%)| Vitamin A: 165IU (3%)| Vitamin C: 13.3mg (16%)| Calcium: 26mg (3%)| Iron: 2.5mg (14%)