This AMISH POTATO SALAD starts off with a sweet, creamy dressing that gets drizzled over all the potato salad classics – celery, boiled eggs, onions, and sweet pickle relish. This is a great summer side dish and a nice change from the usual. That sweet dressing is a bit different, but oh so good!
The first time I had Amish potato salad was not at an Amish person's house or restaurant, although we used to LOVE going to the Amish buffet when I was younger.
No, the first time I had it was at my in-laws house when they served up the Walmart potato salad.
The first bite sorta threw me for a loop, if we're being honest. It was SWEET and I just didn't expect that when I bit into it.
I stuck it out though and by the time I was a few bites in, I loved it!
I've recreated the Walmart potato salad here – it's just a version of Amish potato salad! As always, homemade is better and I think you're going to love this one!
How to Make:
Start by peeling and dicing your potatoes.
Place them in a pot, cover with water, and bring to a boil.
Drain the water and add the potatoes to a mixing bowl. Let the cool for about 10 minutes before adding in your chopped celery, boiled eggs, diced onion, and sweet pickle relish.
Whisk together the ingredients for the dressing – mayonnaise, sugar, mustard, apple cider vinegar, salt, celery seed, and pepper.
Pour the dressing over the potato salad and stir to coat.
Helpful Tip!
Perfectly Cooked Potatoes
Peel the potatoes.
Dice into bite-sized chunks.
Add to a pot and cover with cold water.
Bring to a boil, reduce to a simmer, and cook for about 10 minutes.
Potatoes should pierce easily with a fork, but not fall apart.
Adding sugar to potato salad honestly seems a little nuts to me every time I do it, but just like my Amish macaroni salad, IT WORKS, JUST TRUST ME.
This Amish potato salad recipe is always a hit with friends and family and I get asked for the recipe pretty often.
Give it a try at your next barbecue and let me know what you think!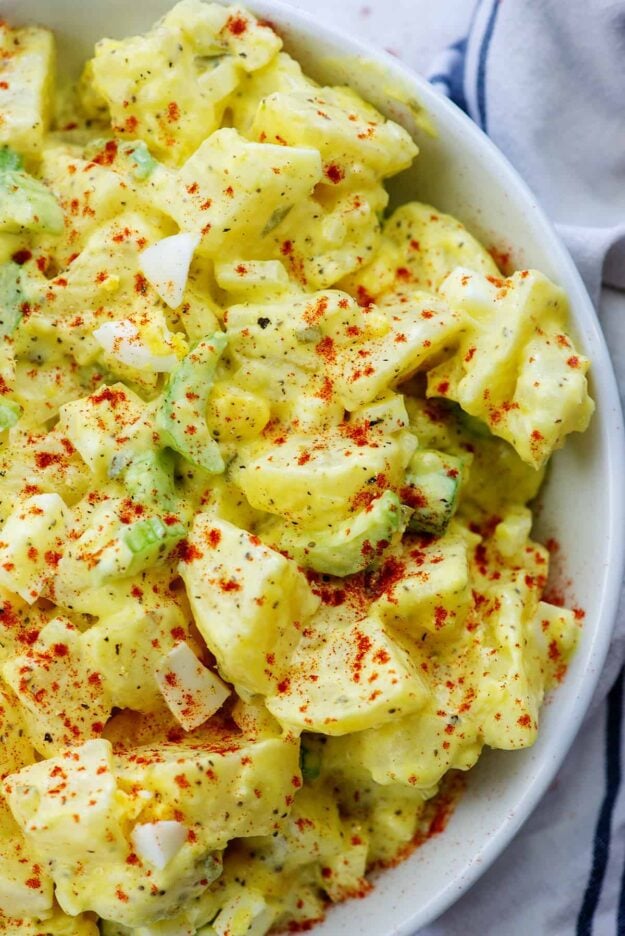 More summer salads!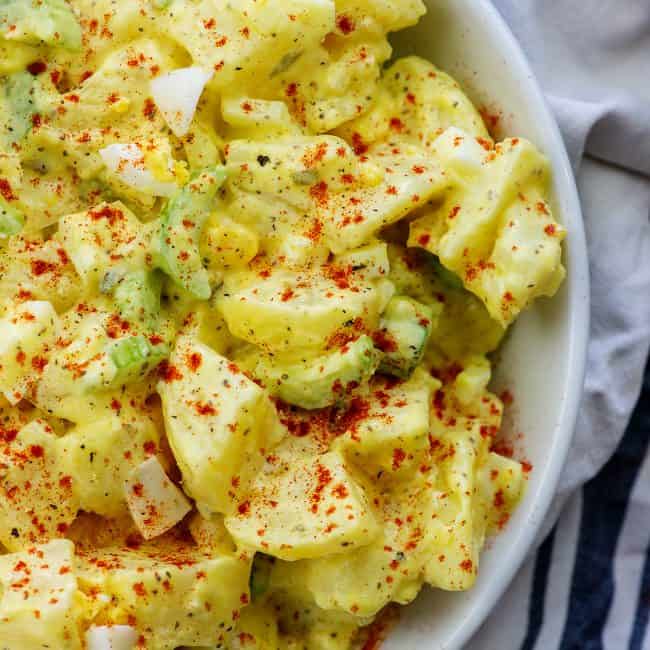 Amish Potato Salad
This potato salad recipe has a sweet, creamy dressing poured over boiled potatoes, crunchy celery and onions, boiled eggs, and sweet pickle relish. It's a staple at all of our summer barbecues.
Prep10 minutes
Cook25 minutes
Chill Time1 hour
Ingredients
2 pounds Yukon Gold potatoes
1 cup mayonnaise
¼ cup sugar
2 tablespoons yellow mustard
1 tablespoon apple cider vinegar
1 teaspoon salt
1 teaspoon cracked pepper
¾ teaspoon celery seed
2 large hard boiled eggs chopped
1/2 cup chopped celery
1/2 cup chopped yellow onion
¼ cup sweet pickle relish
Paprika for garnish
Instructions
Peel the potatoes and slice into ¾ inch chunks. Add to a large pot and cover potatoes with water.

Bring to a boil, reduce to a simmer, and cook until potatoes are tender, about 10 minutes.

Drain potatoes and cool for 10 minutes.

Add the mayonnaise, sugar, mustard, vinegar, salt, pepper, and celery seed to a large bowl and whisk to combine.

Add the cooked potatoes, eggs, celery, onion, and pickle relish to a bowl and top with the dressing. Stir to coat.

Refrigerate for at least 1 hour or longer before serving.

Stir before serving and sprinkle with paprika.
Tips & Notes:
You may use Miracle Whip in place of mayonnaise for a sweeter and tangier dressing, if preferred.
Nutrition Information:
Calories: 341kcal (17%)| Carbohydrates: 31g (10%)| Protein: 5g (10%)| Fat: 23g (35%)| Saturated Fat: 4g (25%)| Cholesterol: 58mg (19%)| Sodium: 601mg (26%)| Potassium: 535mg (15%)| Fiber: 3g (13%)| Sugar: 11g (12%)| Vitamin A: 205IU (4%)| Vitamin C: 23mg (28%)| Calcium: 32mg (3%)| Iron: 1mg (6%)