This Amish Potato Salad starts off with a sweet, creamy dressing that gets drizzled over all the potato salad classics – celery, boiled eggs, onions, and sweet pickle relish. This is a great summer side dish and a nice change from the usual. That sweet dressing is a bit different, but oh so good!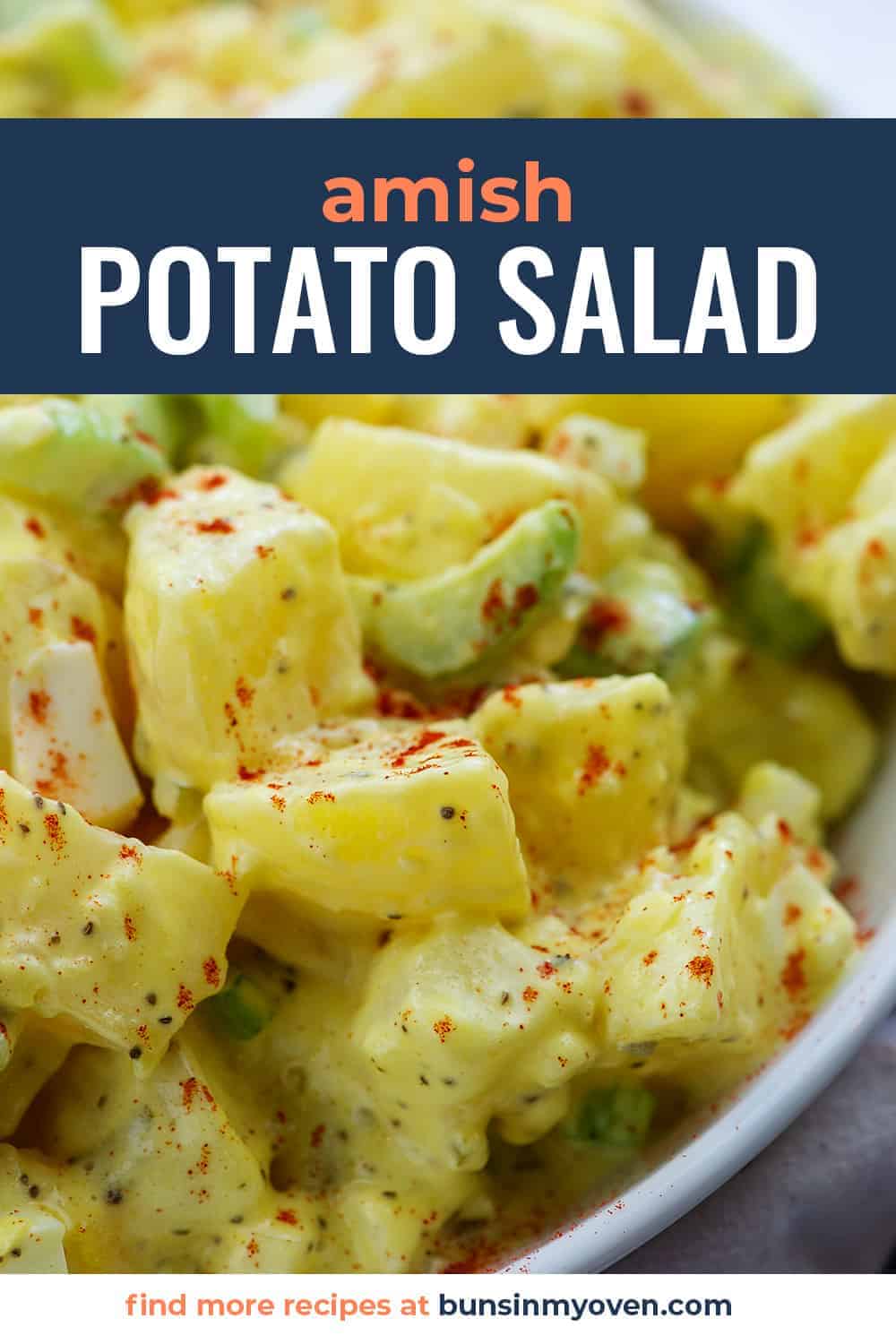 The first time I had Amish potato salad was not at an Amish person's house or restaurant, although we used to LOVE going to the Amish buffet when I was younger.
No, the first time I had it was at my in-laws house when they served up the Walmart potato salad.
The first bite sorta threw me for a loop, if we're being honest. It was SWEET and I just didn't expect that when I bit into it. I'm used to my Instant Pot potato salad that's made with dill pickles and no sugar at all.
I stuck it out though and by the time I was a few bites in, I loved it!
I've recreated the Walmart potato salad here – it's just a version of Amish potato salad! As always, homemade is better and I think you're going to love this one!
This is such a unique recipe. You really have to try it!
Ingredient Notes:
This post contains affiliate links. As an Amazon associate and member of other qualifying programs, I earn from qualifying purchases.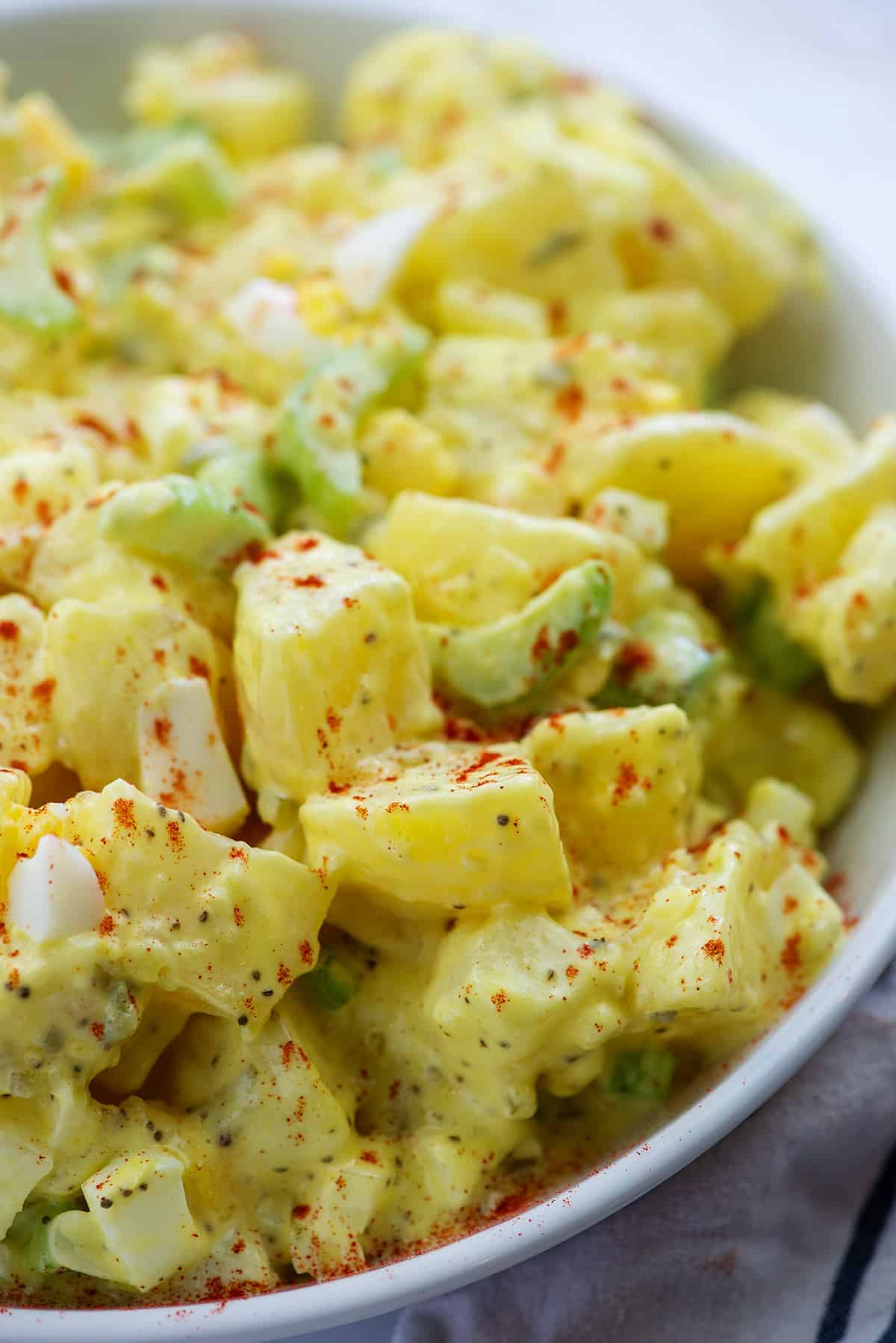 Potatoes – I'm using peeled Yukon Gold potatoes for this recipe but you could also use other varieties such as red skinned.
Mayo & Mustard – The sweet, creamy, and tangy dressing for this Amish potato salad starts with a mix of mayonnaise and yellow mustard.
Sugar – This will sweeten up the dressing and balance out the stronger flavors from the mustard and the tangy vinegar.
Apple Cider Vinegar – You could use white distilled vinegar here but I like the flavor of the apple cider vinegar. It adds just the right amount of tanginess to the dressing.
Seasoning – You'll mix in some salt, pepper, and celery seed with the dressing to add flavor.
Hard Boiled Eggs – Potato salad just wouldn't be the same without hard boiled egg! It adds some savory protein to the dish and it tastes so good with the creamy sweet dressing.
Celery & Onion – Some chopped celery and onion will add some crunchy textures to the potato salad!
Sweet Pickle Relish – I love the sweet and tangy flavors in the relish, they go so well with the other ingredients! Plus it'll add more crunchy goodness.
Paprika – Just a bit for garnish. The bright red color also makes for a nicer presentation! You could also use smoked paprika to add a little smoky flavor.
What We Love About This Recipe:
There is so much flavor in this Amish potato salad and we love the creamy, sweet, tangy and crunchy mix!
We love to serve this dish at parties or potlucks. It's always popular and people always ask for the recipe.
Amish food is a favorite in my family, since we grew up going to the local Amish buffet quite often.
How To Make Potato Salad:
Start by peeling and dicing your potatoes.
Place them in a pot, cover with water, and bring to a boil.
Drain the water and add the potatoes to a mixing bowl. Let the cool for about 10 minutes before adding in your chopped celery, boiled eggs, diced onion, and sweet pickle relish.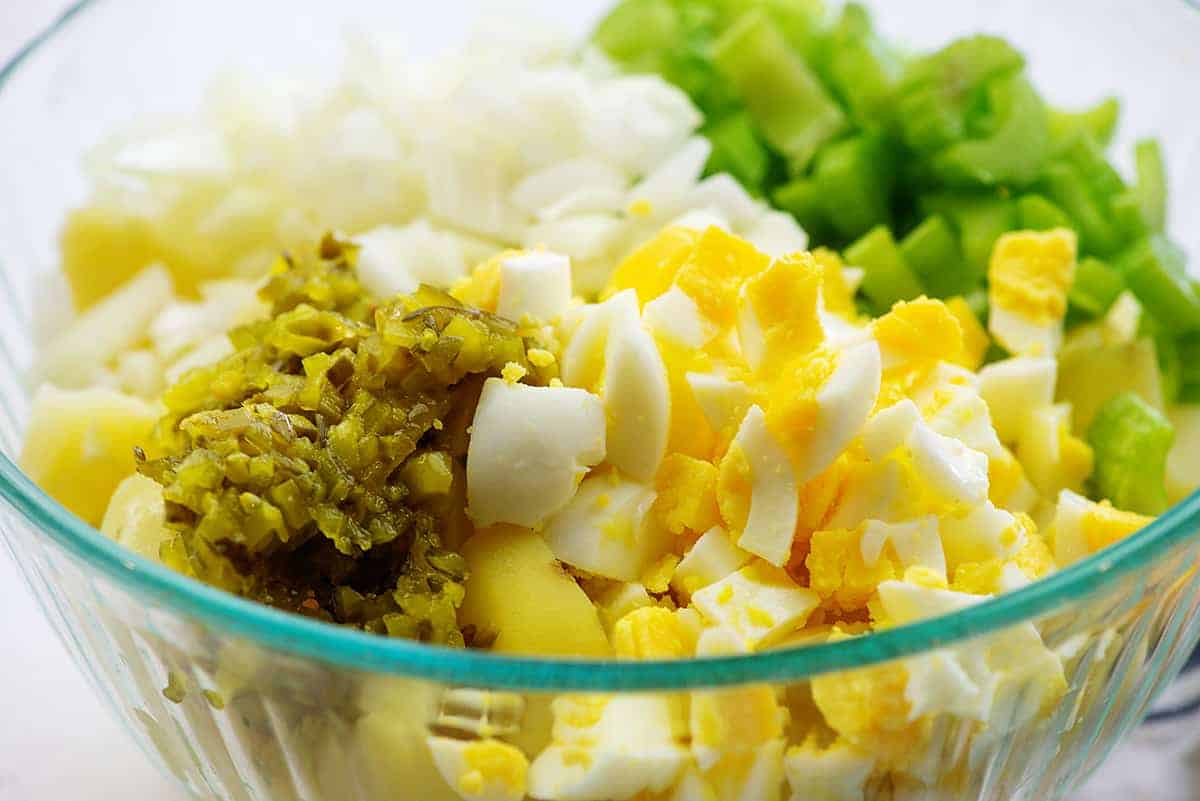 Whisk together the ingredients for the dressing – mayonnaise, sugar, mustard, apple cider vinegar, salt, celery seed, and pepper.
Pour the dressing over the potato salad and stir to coat.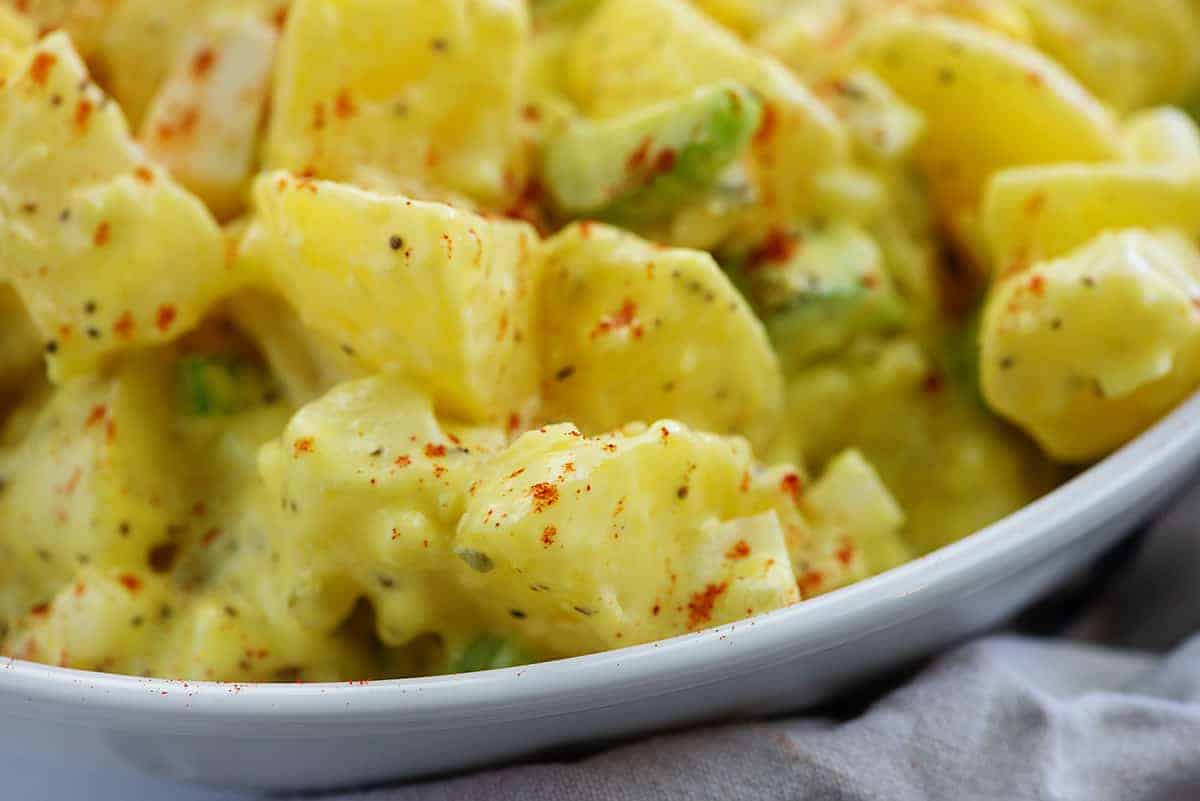 Helpful Tip!
Perfectly Cooked Potatoes
Peel the potatoes.
Dice into bite-sized chunks.
Add to a pot and cover with cold water.
Bring to a boil, reduce to a simmer, and cook for about 10 minutes.
Potatoes should pierce easily with a fork, but not fall apart.
It's Sweet?!
Adding sugar to potato salad honestly seems a little nuts to me every time I do it, but just like my Amish macaroni salad, IT WORKS, JUST TRUST ME.
This Amish potato salad recipe is always a hit with friends and family and I get asked for the recipe pretty often.
If you have tried and love the Walmart potato salad, I know you'll love this. It's even better.
Give it a try at your next barbecue and let me know what you think!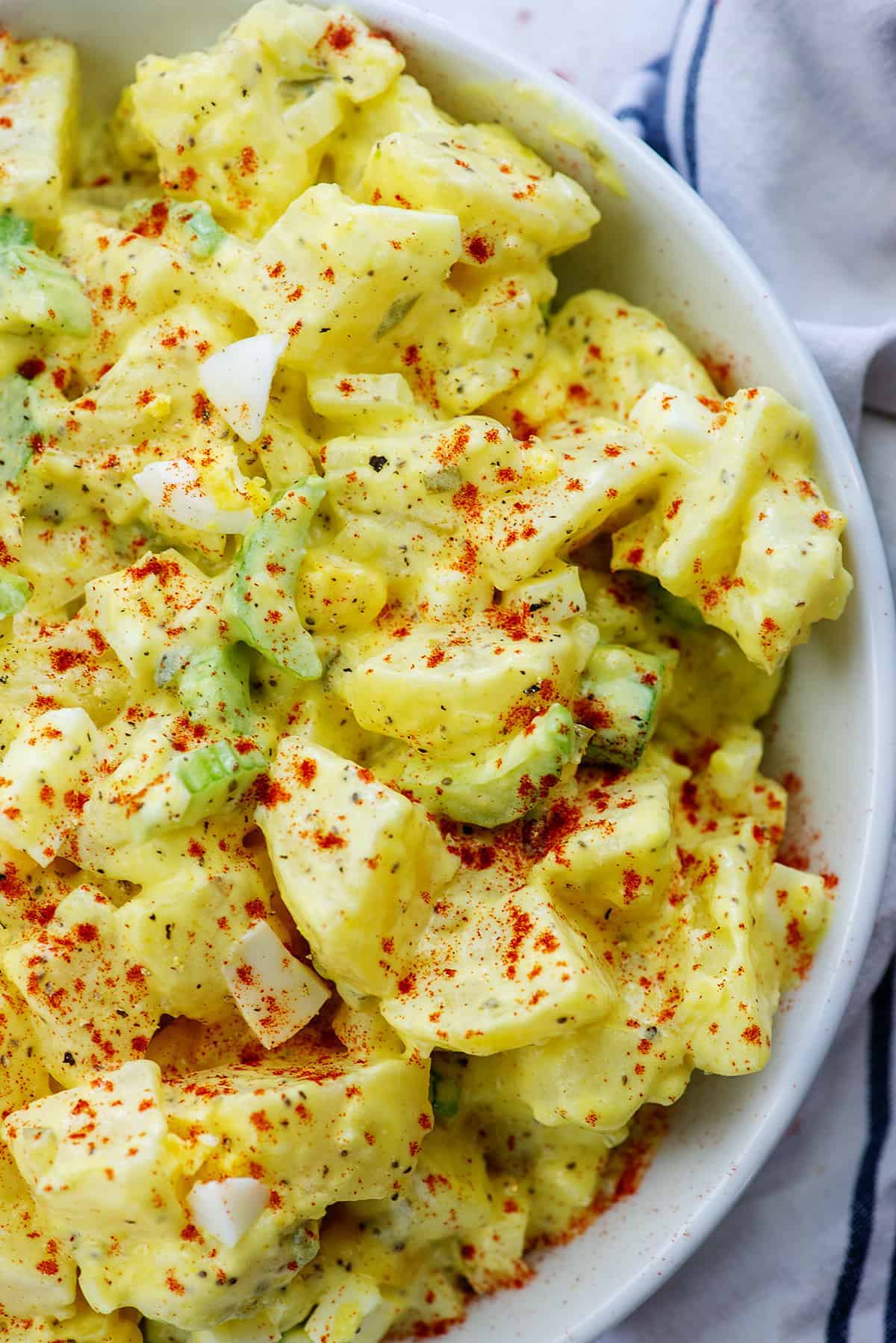 FAQ's:
What is Amish potato salad?
It's a lot like a classic potato salad recipe but sweeter and tangier with the addition of sugar and vinegar.
Can I make potato salad in advance?
Yep! In fact, this Amish potato salad will taste better after it's had some extra time to chill in the fridge and for the dressing to set.
How to store potato salad?
Keep any leftovers stored in an airtight container or covered bowl in the fridge for about 4 to 5 days!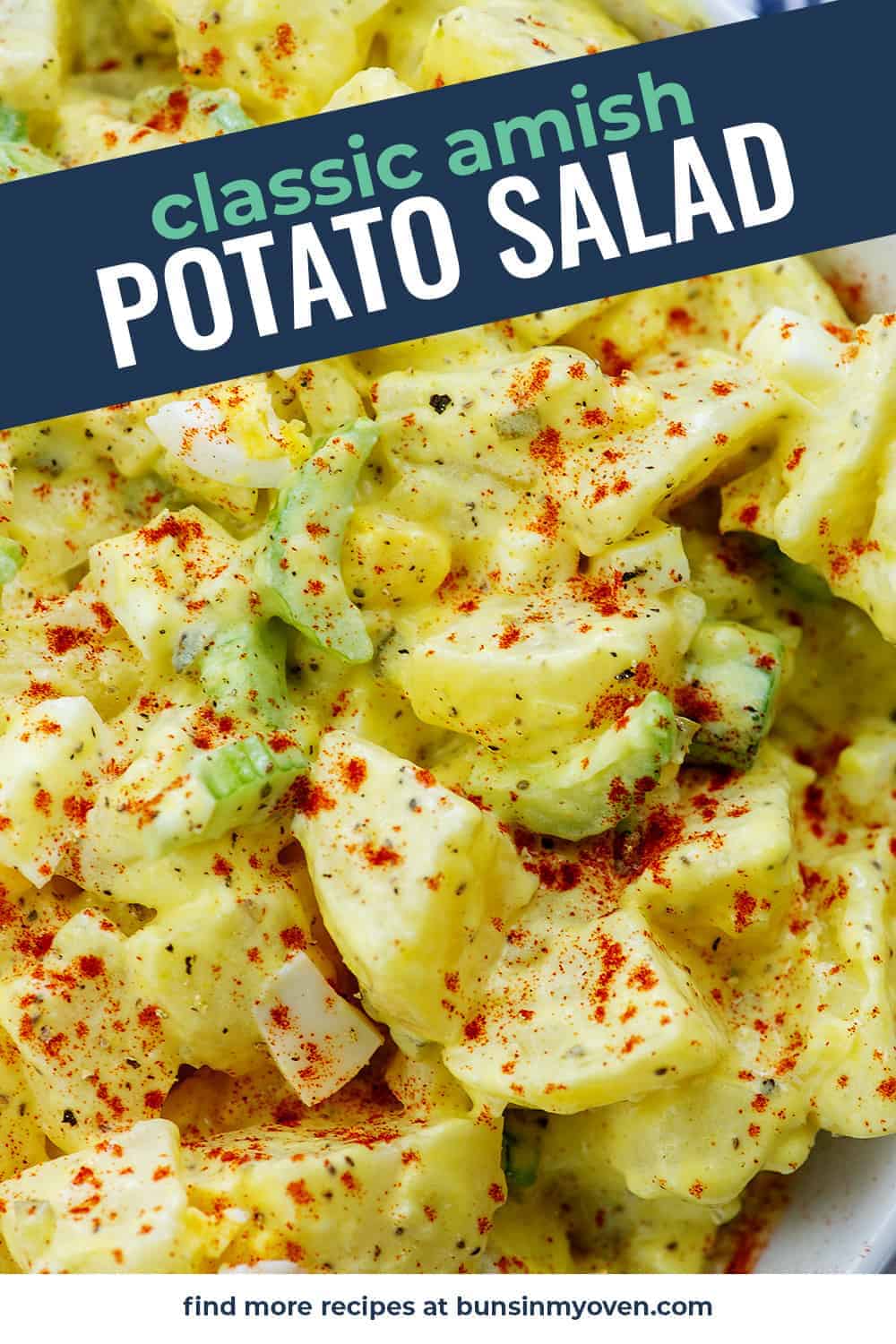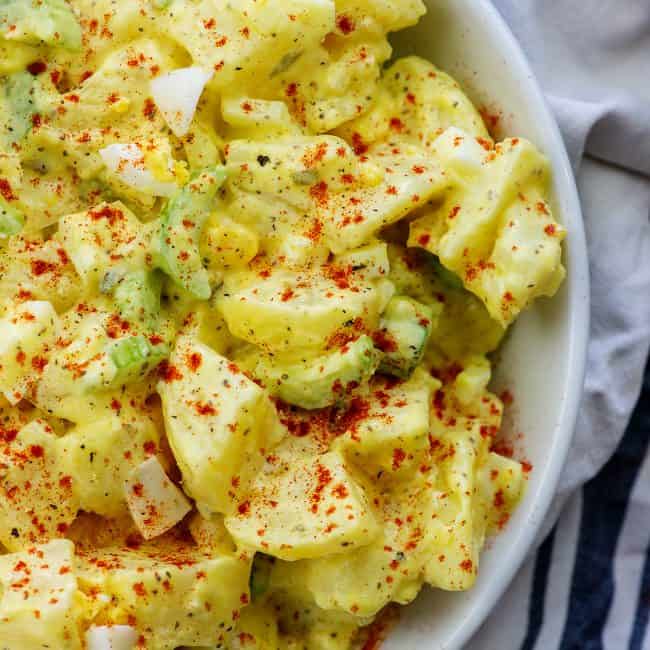 Amish Potato Salad
This potato salad recipe has a sweet, creamy dressing poured over boiled potatoes, crunchy celery and onions, boiled eggs, and sweet pickle relish. It's a staple at all of our summer barbecues.
Prep10 minutes
Cook25 minutes
Chill Time1 hour
Ingredients
2 pounds Yukon Gold potatoes
1 cup mayonnaise
¼ cup sugar
2 tablespoons yellow mustard
1 tablespoon apple cider vinegar
1 teaspoon salt
1 teaspoon cracked pepper
¾ teaspoon celery seed
2 large hard boiled eggs chopped
1/2 cup chopped celery
1/2 cup chopped yellow onion
¼ cup sweet pickle relish
Paprika for garnish
Instructions
Peel the potatoes and slice into ¾ inch chunks. Add to a large pot and cover potatoes with water.

Bring to a boil, reduce to a simmer, and cook until potatoes are tender, about 10 minutes.

Drain potatoes and cool for 10 minutes.

Add the mayonnaise, sugar, mustard, vinegar, salt, pepper, and celery seed to a large bowl and whisk to combine.

Add the cooked potatoes, eggs, celery, onion, and pickle relish to a bowl and top with the dressing. Stir to coat.

Refrigerate for at least 1 hour or longer before serving.

Stir before serving and sprinkle with paprika.
Tips & Notes:
You may use Miracle Whip in place of mayonnaise for a sweeter and tangier dressing, if preferred.
Nutrition Information:
Calories: 341kcal (17%)| Carbohydrates: 31g (10%)| Protein: 5g (10%)| Fat: 23g (35%)| Saturated Fat: 4g (25%)| Cholesterol: 58mg (19%)| Sodium: 601mg (26%)| Potassium: 535mg (15%)| Fiber: 3g (13%)| Sugar: 11g (12%)| Vitamin A: 205IU (4%)| Vitamin C: 23mg (28%)| Calcium: 32mg (3%)| Iron: 1mg (6%)