PINEAPPLE PRETZEL SALAD is the perfect sweet treat to serve up at holiday gatherings. Our family serves it with the main dish, but it could also go on the dessert table. Either way, it's so flavorful and tastes so fresh thanks to the pineapple.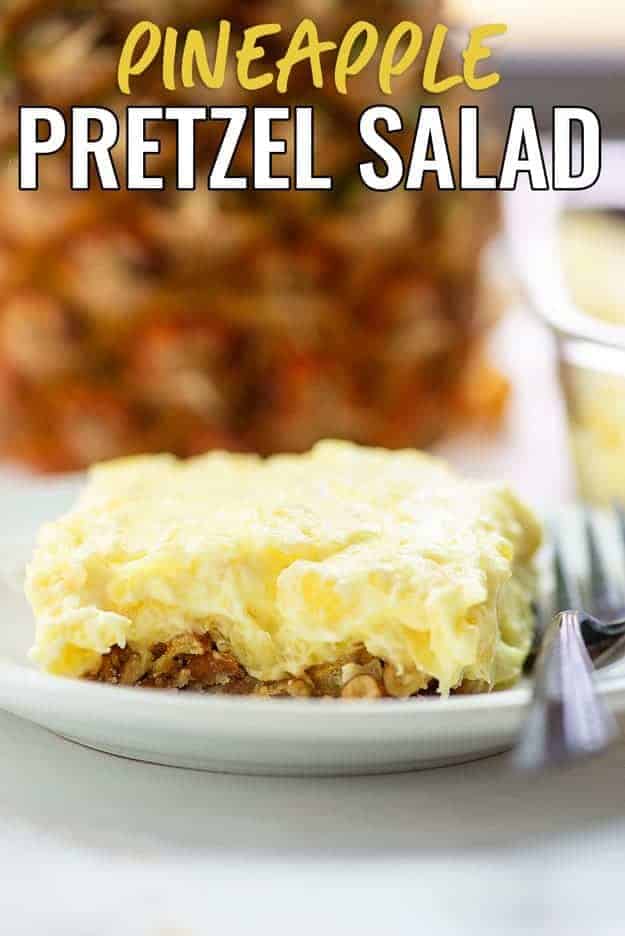 I'm so sad, you guys.
My entire life I thought I hated pineapple.
I think I'd only ever had the canned stuff maybe?
But then I went on a trip to Mexico with my family and, while on the way to a tour of some ruins, the van stopped at this little roadside stand where they were selling freshly sliced pineapple from their farm.
Y'all, I nearly died and went to heaven.

My entire family and I are now pineapple obsessed. I think I buy a fresh pineapple every time we go to the grocery store!
Now that I've gone on and on about my love of fresh pineapple, let me share with you a recipe featuring canned pineapple.
I know, I know. It's just that the canned stuff works so well when it's mixed in things. If you're eating pineapple plain, get fresh! If you're mixing it up with other goodies, canned works great!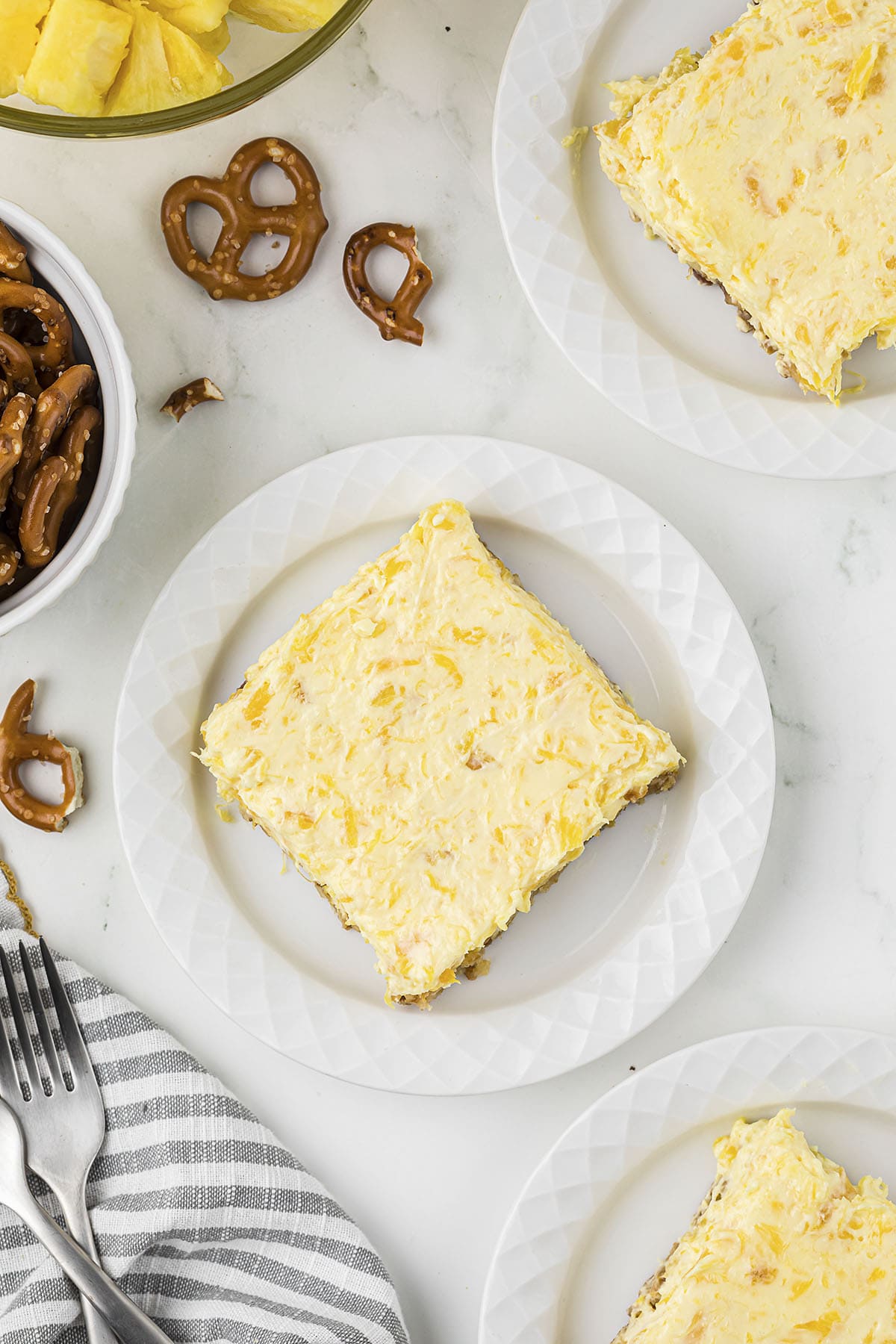 What is pineapple pretzel salad?
The name is pretty weird and, if you've never had this, you're probably imagining some horrific combination of lettuce, pretzels, and pineapple.
I have no idea why this is called a salad, because there is really nothing salad-y about it!
This is sliced and served in squares. The base is made of buttery baked pretzels and the topping is this glorious mix of pineapple, Cool Whip, cream cheese, pudding mix, and sugar.
Because this is called a salad, it's completely acceptable to serve it as a side dish at Midwestern holiday meals. I'm not sure what kind of response you'll get elsewhere in the country. 😉
This easily doubles as a dessert, if you don't think it's a great option as a side dish, but I've gotta tell you – a plate full of ham, hashbrown casserole, jiffy corn casserole, and this pineapple pretzel salad is what Easter dreams are made of.
How to make:
For the base, you'll want to grab a bag of pretzels and crush them up to equal 2 cups. You can do this by hand or you can pop them in a food processor or blender to blitz them up.
Stir together the pretzels, butter, and sugar and then smooth that out into a 9×13 baking dish and bake for 10 minutes to form a bit of a crust.
For the topping, stir together some cream cheese, whipped topping, sugar, and pudding mix until it's nice and creamy.
Fold in crushed pineapple and spread the whole mixture over the cooled crust.
These needs to chill in the fridge for at least an hour to firm up and then it's time to dig in!
We absolutely love this simple recipe and look forward to eating the leftovers for breakfast the next. (Don't judge me – it's fruit!)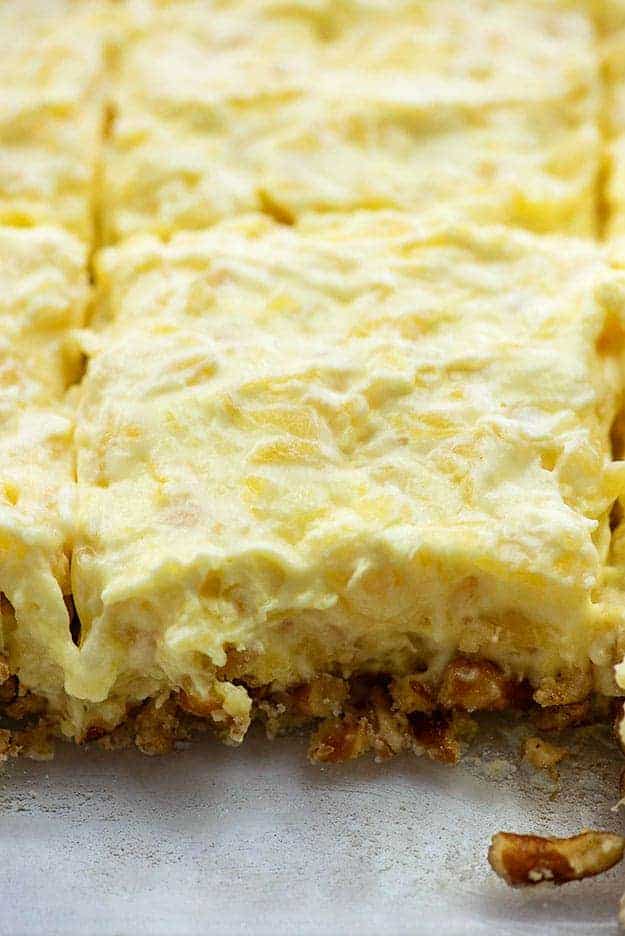 More pineapple recipes:
This pineapple casserole is a bit different, but it's definitely worth trying. So good!
My pineapple coleslaw is the perfect topping for your pulled pork.
It's hard to go wrong with this zucchini bread with pineapple. So moist and tasty.
My baked coconut shrimp has the most amazing pineapple dipping sauce to go with it.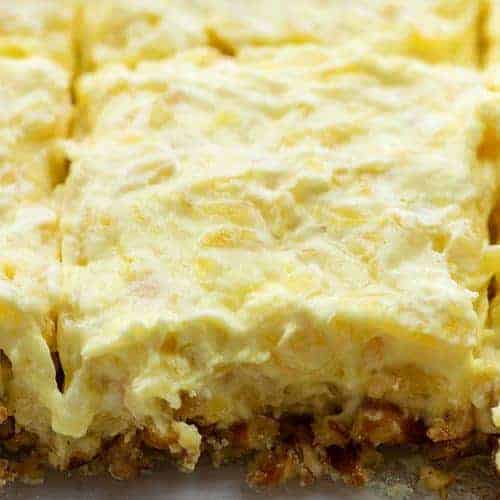 Pineapple Pretzel Salad
The crunchy pretzel bottom is the perfect mix of sweet and salt and it pairs perfectly with the sweet pineapple topping!
Prep10 minutes
Cook10 minutes
Chill Time1 hour
Total1 hour 20 minutes
Ingredients
For the crust
2 cups crushed pretzels
1 cup butter, melted
2 tablespoons sugar
For the topping
8 ounces cream cheese, room temperature
8 ounces frozen whipped topping, thawed
1 cup white sugar,
40 ounces canned crushed pineapple well drained
3.4 ounce package instant vanilla pudding
Instructions
Preheat oven to 350 degrees.

Stir together the pretzels, melted butter, and sugar in a small bowl until well combined.

Press pretzels into a 9x13 baking dish to form a crust on the bottom of the pan.

Bake for 10 minutes. Let cool.

Add the cream cheese, whipped topping, sugar, and vanilla pudding (dry mix only - do not prepare pudding) to a large mixing bowl and beat with an electric mixer until smooth and creamy. Fold in the pineapple.

Spread the pineapple mixture over the cooled crust and place in the refrigerator, covered, for at least 1 hour before serving.
Nutrition Information:
Calories: 329kcal (16%)| Carbohydrates: 43g (14%)| Protein: 3g (6%)| Fat: 17g (26%)| Saturated Fat: 10g (63%)| Cholesterol: 48mg (16%)| Sodium: 323mg (14%)| Potassium: 140mg (4%)| Fiber: 1g (4%)| Sugar: 32g (36%)| Vitamin A: 605IU (12%)| Vitamin C: 7mg (8%)| Calcium: 46mg (5%)| Iron: 1mg (6%)