Zucchini Pineapple Bread is a sweet, moist quick bread that's full of good stuff! This post is sponsored by Princess.
My son and I were strolling through Costco the other day when I got a whiff of pineapples. I started looking around for the bin, because I knew at least one was going home with me.
When you can smell fresh fruit before you see it, chances are it's perfectly ripe and juicy.
I snagged a pineapple and commented that we hadn't had fresh pineapple in awhile.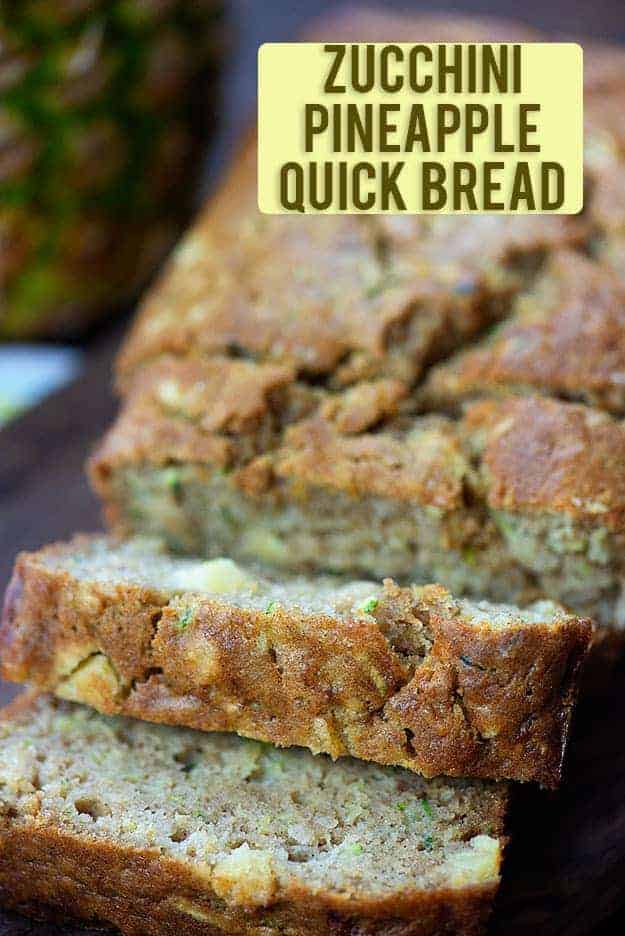 "Mom, we've had more pineapple since we got back from our cruise than we've had ever before in our entire lives."
He's totally right.
We had the freshest, most perfect pineapple during a stop in Mexico on our Caribbean cruise with Princess earlier this summer. It has seriously sparked an intense love of pineapple within my family. We're obsessed.
Every time I bring another pineapple home from the grocery store, someone brings up a memory from our vacation.
Isn't that just the best part about vacation? Yes, they're relaxing or fun or romantic or whatever it may be you're looking for, but it's the way the trip comes home with you and connects you that I love best.
It can be hard and scary to drop a bunch of cash on a week long trip, but really, that trip lives on with your family. <3
Anyway, our Princess cruise to the Caribbean sparked a lot of new loves for us.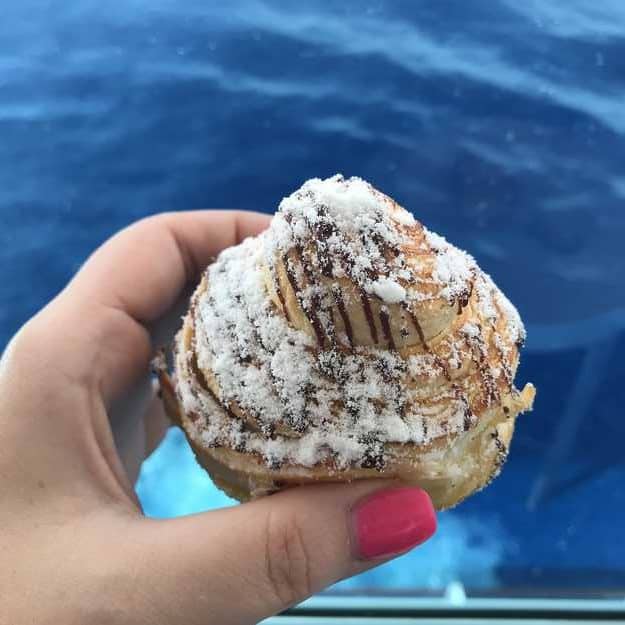 We all fell in love with fresh pasta after dining at Sabatini's (can you believe EVERYTHING is made from scratch on the ship?). We also fell in love with Grand Cayman after taking a tour of the island as an excursion. We most definitely fell in love with all of the pastries for breakfast every day.
And pineapple. It's basically all we eat these days. 😉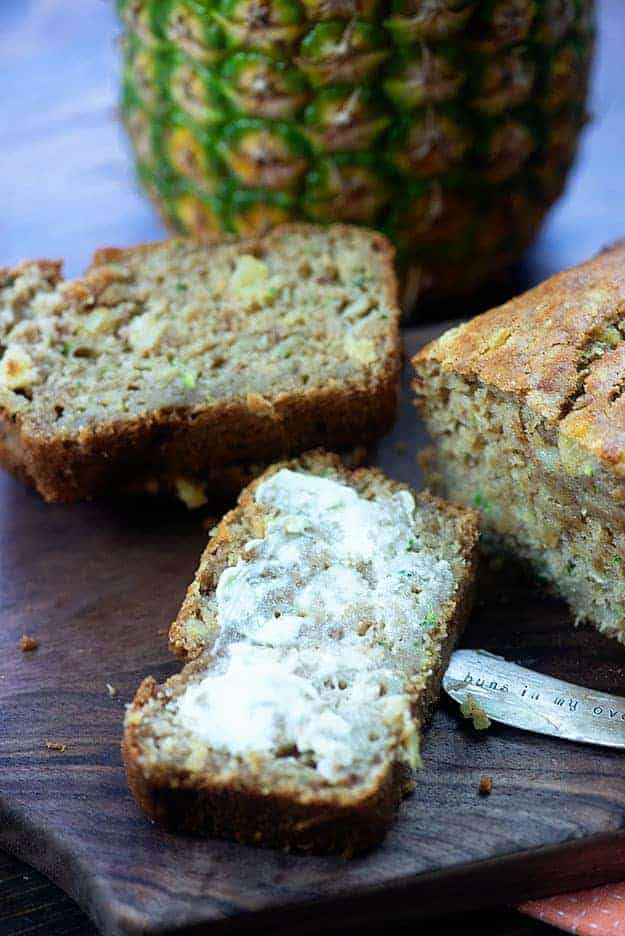 Anyway, this pineapple zucchini bread recipe is a sweet, moist quick bread made with freshly grated zucchini and crushed pineapple.
I did use canned pineapple in this recipe, but I imagine crushed fresh pineapple would work just as well.
How to make zucchini pineapple bread:
This pineapple zucchini bread recipe starts with combining oil, applesauce, eggs, brown sugar, white sugar, and vanilla. Whisk it all together well.
Fold in grated zucchini and crushed pineapple.
This batter is so tasty and I love the little flecks of green and chunks of sweet pineapple.
Stir in your dry ingredients until everything is just combined.
Pour the batter into a greased loaf pan and pop it in the oven for about 60 minutes. The bread is done when the top springs back after you press it lightly.
We like to serve this bread warm with a thick layer of salted butter. So delicious for breakfast or an afternoon snack.
More recipes you might like:
Moist pumpkin bread: This bread is PACKED with as much pumpkin as possible so it has almost a fudge-like texture!
Chocolate Zucchini Bread: The chocolate hides the flecks of green, so your kids will never know. 😉
Blueberry Bread: We love to munch on slices of this for breakfast.
Chocolate Banana Bread: Loads of chocolate inside plus chocolate chips sprinkled on top!
If you enjoy this recipe, be sure to follow my Facebook page as well! I share new recipes and videos there each day.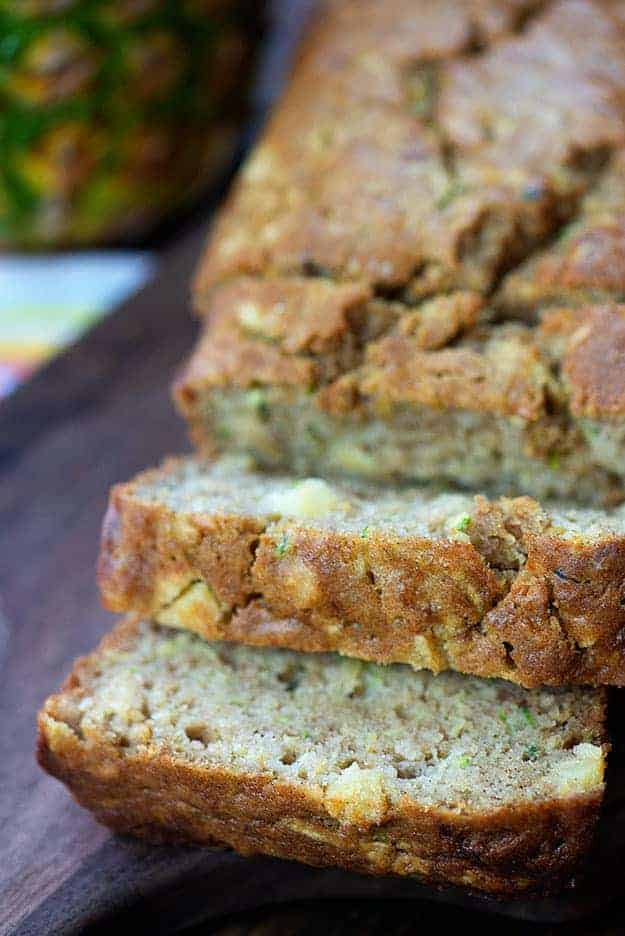 Zucchini Pineapple Bread
This quick bread is so moist and super simple to make! Recipe makes 1 loaf.
Prep10 minutes
Cook1 hour
Total1 hour 10 minutes
Ingredients
½ cup vegetable oil
½ cup unsweetened applesauce
2 eggs
1/3 cup brown sugar
¼ cup white sugar
2 teaspoons vanilla
4 ounces crushed pineapple drained
1 cup grated zucchini
1 ½ cups flour
1 teaspoon ground cinnamon
¾ teaspoon baking powder
¾ teaspoon baking soda
½ teaspoon salt
Instructions
Preheat oven to 350 degrees. Spray a 9x5 loaf pan with non-stick spray.

Beat together the oil, applesauce, eggs, brown sugar, white sugar, and vanilla in a large bowl.

Fold in the pineapple and zucchini.

Add the flour, cinnamon, baking powder, baking soda, and salt to the bowl and stir together until just combined.

Pour the batter into the prepared loaf pan and bake for 60 minutes or until a tester comes out clean.

Cool on a wire rack before slicing and serving.
Tips & Notes:
Add a 1/2 cup of chopped pecans while folding in the pineapple and zucchini for a little crunch!
Nutrition Information:
Serving: 1slice| Calories: 348kcal (17%)| Carbohydrates: 39g (13%)| Protein: 4g (8%)| Fat: 19g (29%)| Saturated Fat: 11g (69%)| Cholesterol: 40mg (13%)| Sodium: 269mg (12%)| Potassium: 224mg (6%)| Fiber: 2g (8%)| Sugar: 19g (21%)| Vitamin A: 125IU (3%)| Vitamin C: 6.8mg (8%)| Calcium: 48mg (5%)| Iron: 1.7mg (9%)