This Zucchini Pineapple Bread is a sweet, moist quick bread that's full of shredded zucchini and sweet pineapple chunks.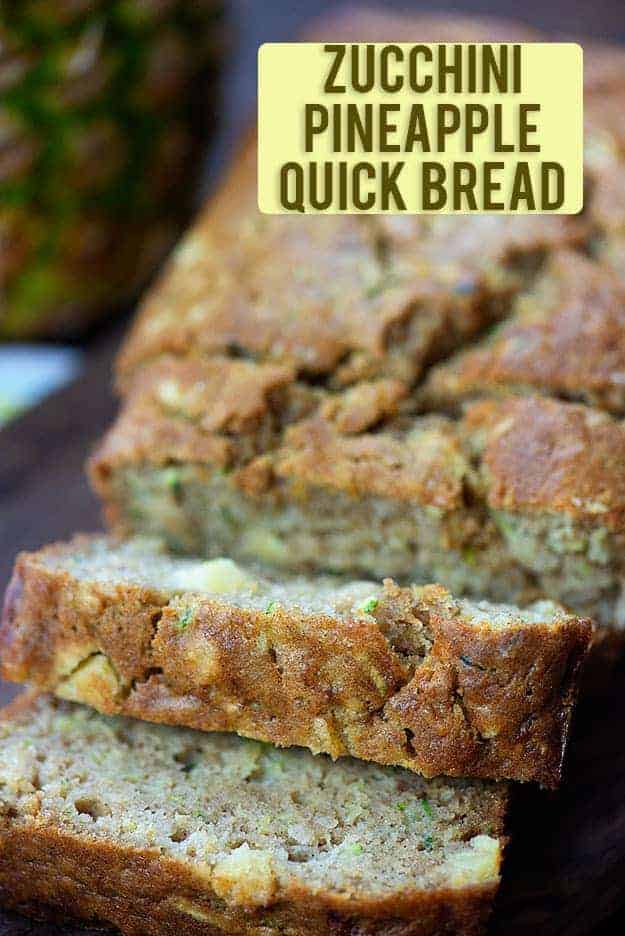 My son and I were strolling through Costco the other day when I got a whiff of pineapples. I started looking around for the bin, because I knew at least one was going home with me.
When you can smell fresh fruit before you see it, chances are it's perfectly ripe and juicy.
We love fresh pineapple and eat it often.
This pineapple zucchini bread has all that pineapple flavor we love, but we start with a can of crushed pineapple. It's easier since it's already crushed and the flavor is so fresh – works perfect!
Plus the zucchini adds loads of moisture so your bread is sweet, tender, and moist!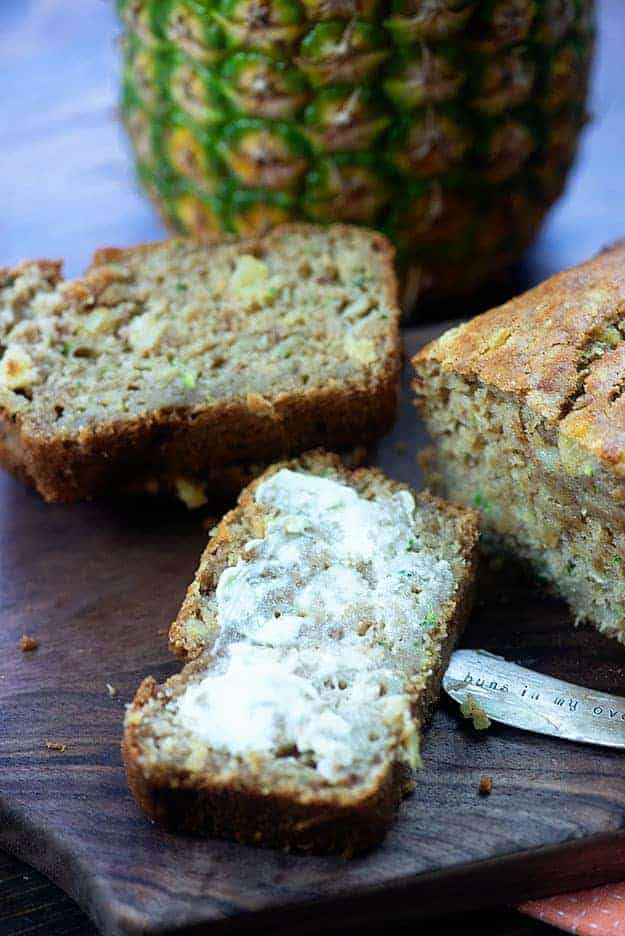 Ingredients for Zucchini Bread with Pineapple: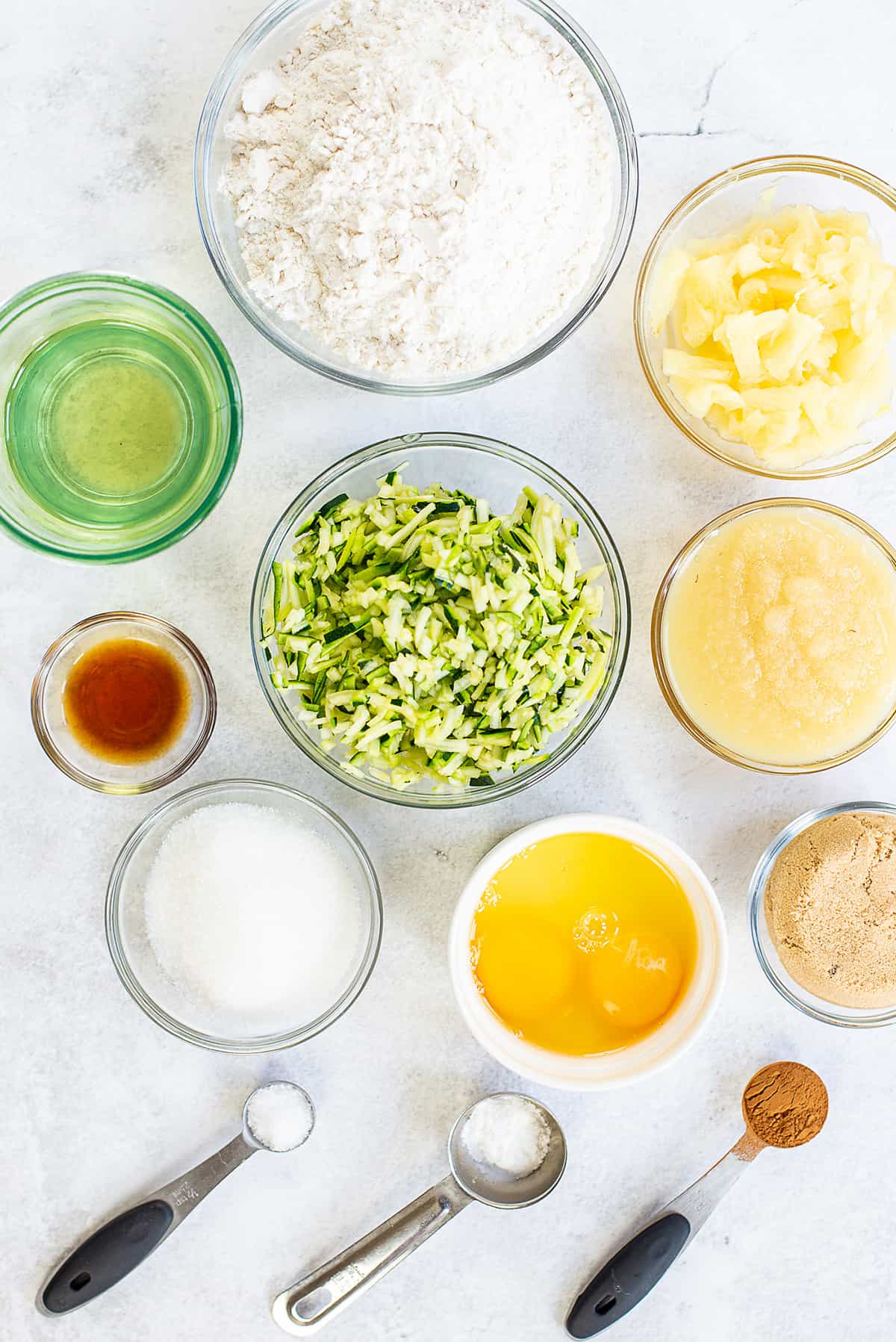 Batter – We're using the standard bread making ingredients to make the bread batter – flour, sugar, eggs, oil, etc.
Pineapple – You'll want canned crushed pineapple in this recipe. Fresh will work as well but you'll have to crush it yourself.
Applesauce – This is what helps keep the bread moist and it adds some flavor! I used unsweetened since we're already adding sugar to the batter.
Zucchini – Finely grated fresh zucchini doesn't really add flavor, but it adds moisture and nutrients to the bread.
What Readers are Saying!
"Made it, ate it, hubby loved it!! Excellent." – Maggie
How to Make Zucchini Pineapple Bread: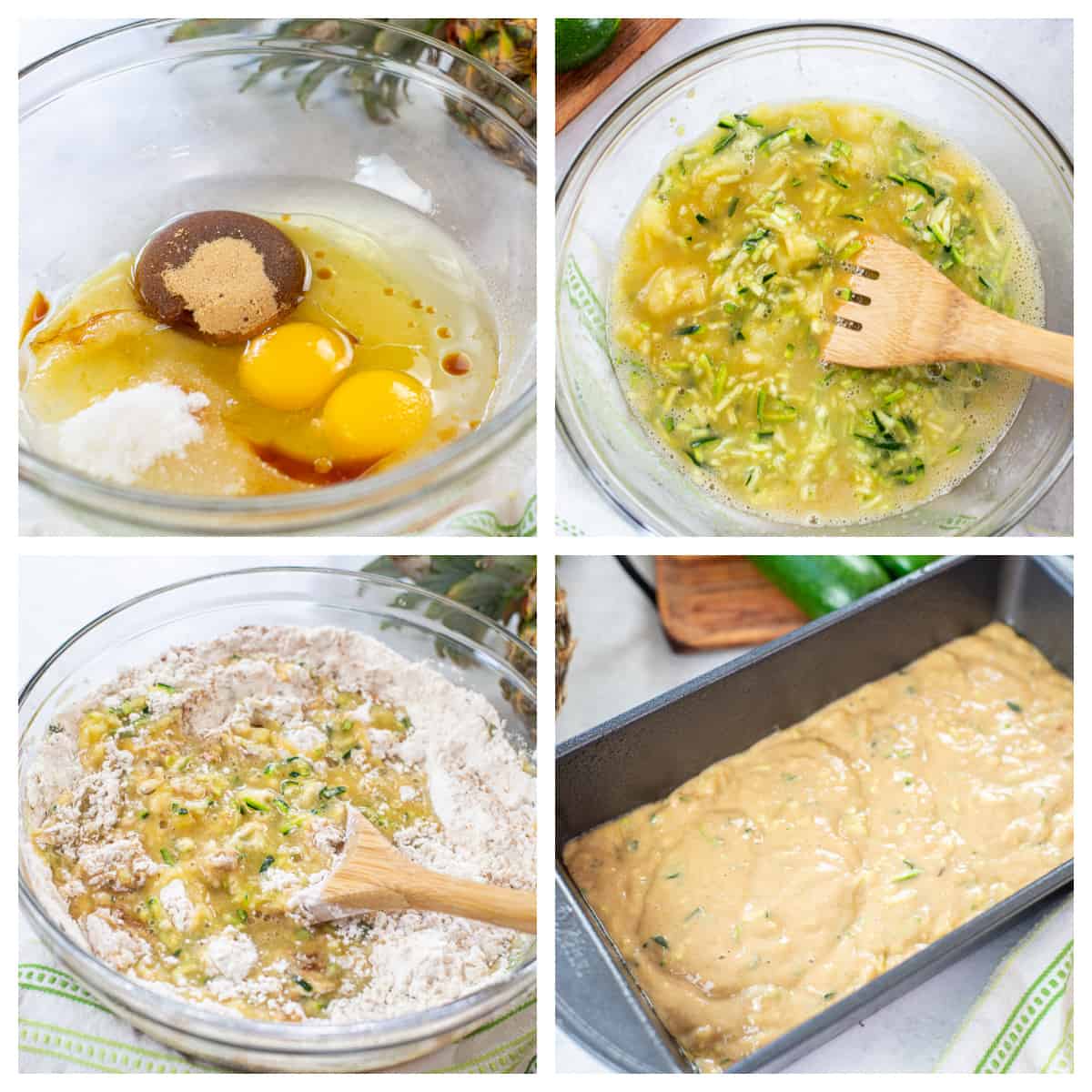 Wet Ingredients: This zucchini bread with pineapple recipe starts by combining oil, applesauce, eggs, brown sugar, white sugar, and vanilla.
Whisk it all together in a large mixing bowl while your oven is pre-heating.
Zucchini & Pineapple: Grate the zucchini and stir that into the batter along with the crushed pineapple.
Helpful Tip!
If you want a little crunch in your bread try adding half a cup of chopped pecans with the zucchini and pineapple.
Dry Ingredients: Finally you can stir in the remaining dry ingredients including the flour, cinnamon, and baking powder/soda until everything is just combined.
Bake: Pour the batter into a greased loaf pan and pop it in the oven for about 60 minutes. The bread is done when the top springs back after you press it lightly.
We like to serve this bread warm with a thick layer of salted butter. So delicious for breakfast or an afternoon snack.
FAQs:
Do I need to peel the zucchini for bread?
There is no need to peel the zucchini before grating it into zucchini bread. However, the peel is bright green and you will see flecks of green in the finished product. If you'd like to hide the zucchini, peel it before grating.
Does this bread need to be refrigerated?
Yes, it will definitely keep longer if you refrigerate it an airtight container.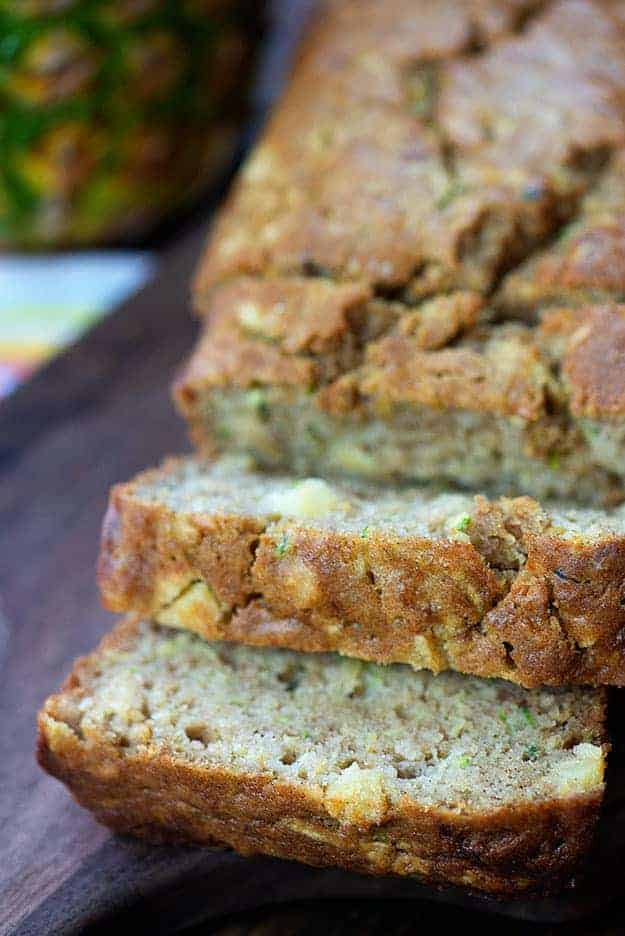 MORE BREAD RECIPES!
Moist Pumpkin Bread: This bread is PACKED with as much pumpkin as possible so it has almost a fudge-like texture!
Nutella Swirled Banana Bread: Everything tastes better with Nutella, especially this banana bread!
Chocolate Zucchini Bread: The chocolate hides the flecks of green, so your kids will never know. 😉
Blueberry Bread: We love to munch on slices of this for breakfast.
Chocolate Banana Bread: Loads of chocolate inside plus chocolate chips sprinkled on top!
If you enjoy this recipe, be sure to follow my Facebook page as well! I share new recipes and videos there each day.
Zucchini Pineapple Bread
This quick bread is so moist and super simple to make! Recipe makes 1 loaf.
Prep10 minutes
Cook1 hour
Total1 hour 10 minutes
Ingredients
½ cup vegetable oil
½ cup unsweetened applesauce
2 large eggs
1/3 cup brown sugar
¼ cup white sugar
2 teaspoons vanilla
4 ounces crushed pineapple drained
1 cup grated zucchini
1 ½ cups flour
1 teaspoon ground cinnamon
¾ teaspoon baking powder
¾ teaspoon baking soda
½ teaspoon salt
Instructions
Preheat oven to 350 degrees. Spray a 9×5 loaf pan with non-stick spray.

Beat together the oil, applesauce, eggs, brown sugar, white sugar, and vanilla in a large bowl.

Fold in the pineapple and zucchini.

Add the flour, cinnamon, baking powder, baking soda, and salt to the bowl and stir together until just combined.

Pour the batter into the prepared loaf pan and bake for 60 minutes or until a tester comes out clean.

Cool on a wire rack before slicing and serving.
Tips & Notes:
Add a 1/2 cup of chopped pecans while folding in the pineapple and zucchini for a little crunch!
Nutrition Information:
Serving: 1slice| Calories: 348kcal (17%)| Carbohydrates: 39g (13%)| Protein: 4g (8%)| Fat: 19g (29%)| Saturated Fat: 11g (69%)| Cholesterol: 40mg (13%)| Sodium: 269mg (12%)| Potassium: 224mg (6%)| Fiber: 2g (8%)| Sugar: 19g (21%)| Vitamin A: 125IU (3%)| Vitamin C: 6.8mg (8%)| Calcium: 48mg (5%)| Iron: 1.7mg (9%)