This chocolate banana bread recipe is seriously packing the chocolate flavor! It's super moist and those chocolate chips all over the top just make it fun to eat!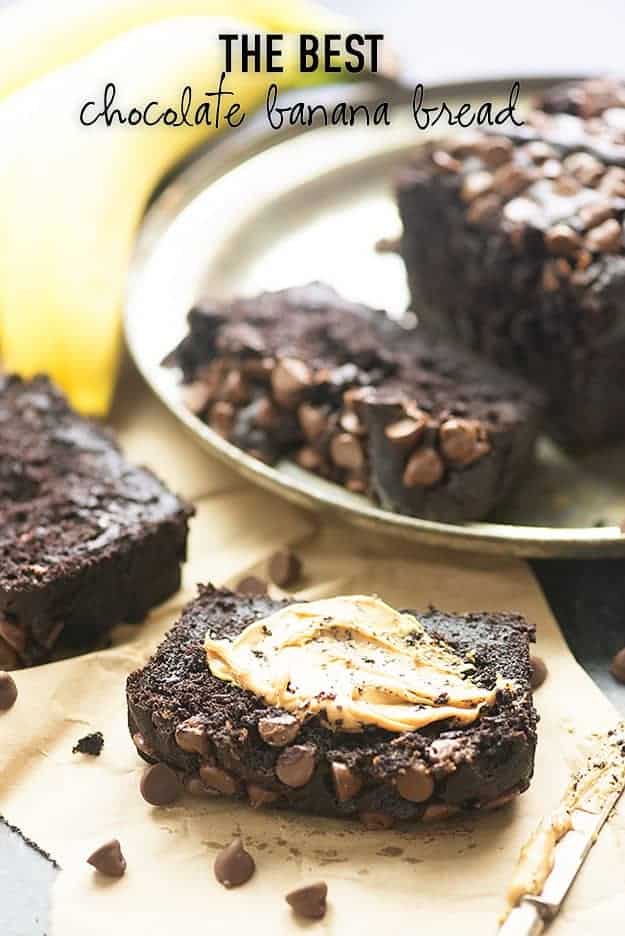 I made you guys some banana bread! Then I ate it all for breakfast the next day. My husband was very judgy about the whole thing.
I think the chocolate in the banana bread confused him and made him consider this a dessert.
So, seeing me stuff my face with "chocolate cake" at 8am was concerning to him, apparently. Not sure why. We've been married for almost 20 years. I can assure you that he's seen worse.
Also, I don't care how rich and chocolatey this looks right now. This is breakfast food. I will fight you on that.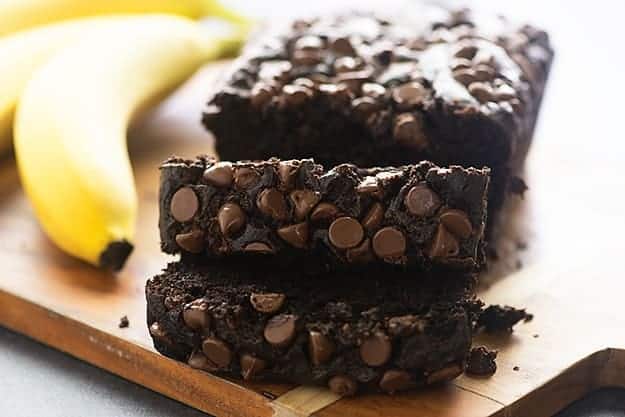 I don't need you judging me.
Stop telling me that something that is covered in chocolate chips is a dessert.
I don't tell you how to live your life, you don't tell me how to live mine.
This is breakfast food and I will eat it all morning long with a big cup of coffee and I will be happy and fulfilled and that is the end of this discussion.
I mean, yeah. I realize that maybe this is a teensy bit more decadent than a traditional banana bread.
But it's still full of fruit and fruit equals breakfast, apparently.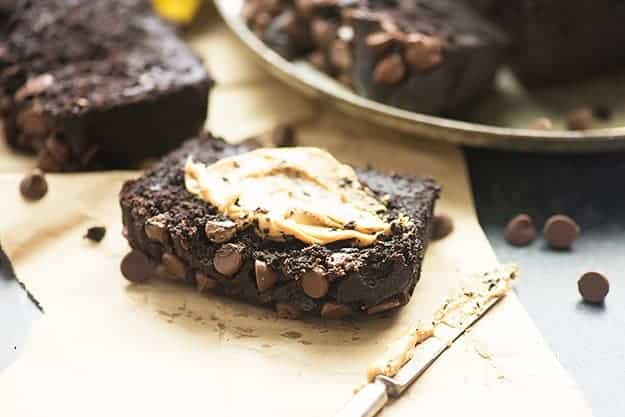 Also, if you're like me, you'll slather a thick slice of this chocolate banana bread with some creamy peanut butter and peanut butter = protein. Look at me being all healthy and making smart breakfast choices!
Ugh. Husbands.
Why are they always so judgy? I mean, he eats cookies for breakfast and I don't say a word.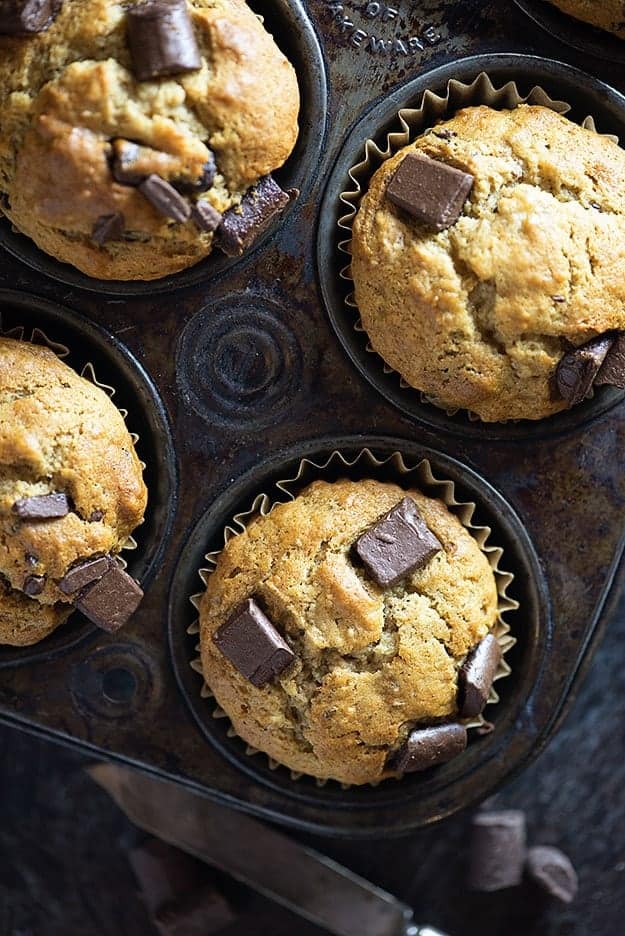 Check out my classic banana bread, chocolate chunk banana muffins, and fluffernutter banana bread too!
Anyway, you guys, I don't care what time of day you eat this chocolate banana bread, but I really hope you take the time to make it and give it a try.
It is seriously good bread.
It's so moist (sorry about that word) and just bursting with both chocolate and banana flavor.
This one is really easy to make too.
Plus, who can resist a bread covered in chocolate chips? NOBODY.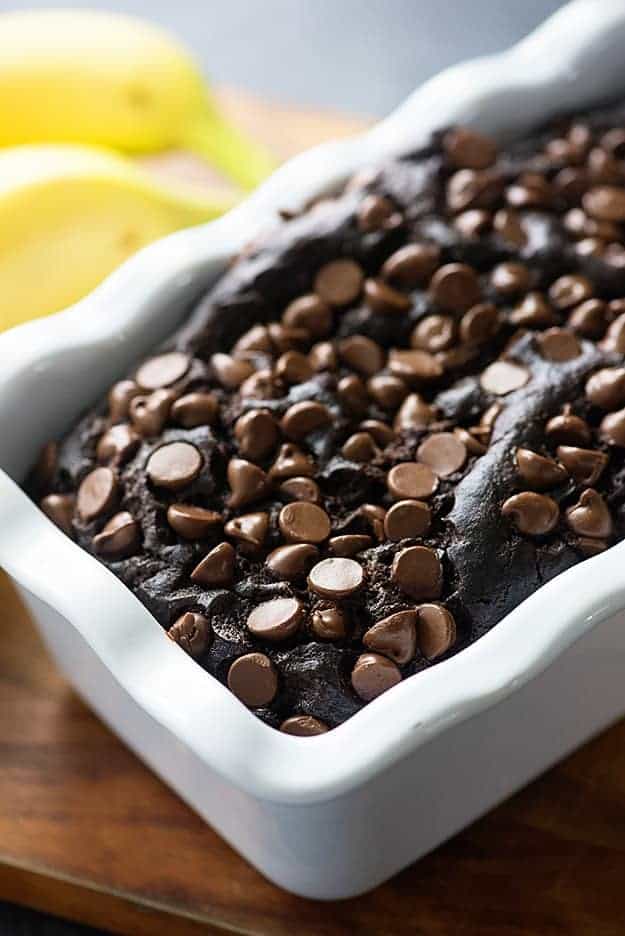 This chocolate banana bread recipe is loaded with double the chocolate and tons of bananas!
This post contains affiliate links. As an Amazon Associate, I earn from qualifying purchases.
I always get comments asking about my loaf pan, so I'll link you to it here! I have a range of colors of these pans and LOVE them.
Just note that ceramic pans can bake a little different than the traditional metal loaf pan, so you may need to adjust your bake time accordingly.
And, for those of you asking what brand cocoa powder I use, it's Hershey's Special Dark. I love the rich flavor it gives and I really like how intensely chocolate the bread looks when you bake with it.
So pretty and tasty, which is a win-win! 🙂
You can buy it through that link on Amazon or just grab it at your local grocery store near the rest of the cocoa powder. I love that it's readily available.
UPDATE: I'm getting a lot of comments that your loaves are sinking in the center. I'm updating the recipe a bit to help with this. You'll also want to be sure your bread is baked through – the time listed is a guideline – every oven is different. Be sure to check this with a tester to ensure it's baked through.
UPDATE #2: By popular request, I turned this recipe into banana bread muffins!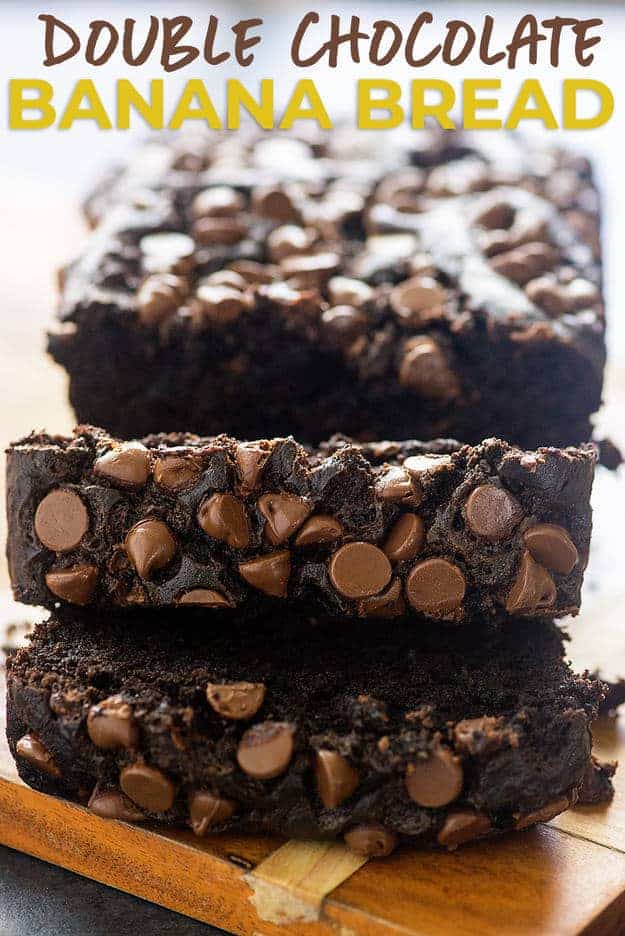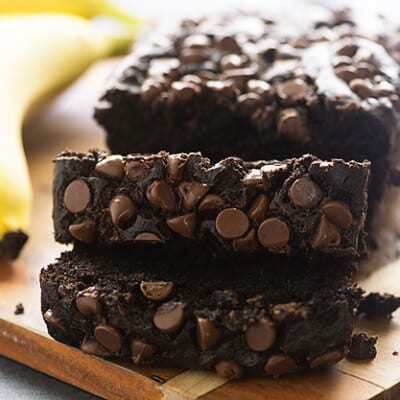 Double Chocolate Banana Bread
Prep10 minutes
Cook1 hour
Total1 hour 10 minutes
Ingredients
1/2 cup butter, softened
1/2 cup brown sugar
1/4 cup white sugar
1 large egg
2 teaspoons vanilla extract
3 medium bananas, mashed - about 1 cup
1/4 cup sour cream
1 cup all-purpose flour
1/2 cup cocoa powder
1 teaspoon baking soda
1/2 teaspoon salt
1 cup milk chocolate chips
Instructions
Preheat oven to 350 degrees. Spray a 9x5x3 loaf pan with non-stick spray.

Add the butter and sugars to a mixing bowl and mix until well combined.

Beat in the egg, vanilla, banana, and sour cream.

Stir in the flour, cocoa powder, baking soda, and salt.

Pour mixture into prepared loaf pan.

Sprinkle the top with chocolate chips and gently press them into the batter.

Bake for 70 minutes or until a tester comes out clean. If you under bake this, the center will sink upon cooling.

Let bread cool completely before cutting and serving.

PLEASE NOTE: I baked this bread in a ceramic loaf pan. If you're using a glass or metal pan, your baking times may vary. Keep an eye on the bread and check with a tester before removing from the oven.
Nutrition Information:
Calories: 425kcal (21%)| Carbohydrates: 60g (20%)| Protein: 5g (10%)| Fat: 19g (29%)| Saturated Fat: 12g (75%)| Cholesterol: 60mg (20%)| Sodium: 273mg (12%)| Potassium: 294mg (8%)| Fiber: 3g (13%)| Sugar: 39g (43%)| Vitamin A: 510IU (10%)| Vitamin C: 4mg (5%)| Calcium: 64mg (6%)| Iron: 2.1mg (12%)