These chocolate chip scones are one of my favorite treats for breakfast or an afternoon snack. They're simple to make and they turn out so moist every time!
The first scone I ever ate was bought from the grocery store bakery. It was pumpkin. It was also hard and crumbly and really dry. I don't think I finished it.
Then someone came along and introduced me to proper scones and now…well. I am hooked.
These chocolate chip scones soft, buttery, and delicious. I can never resist them.
These are a cream scone, meaning they're made with heavy cream rather than butter. The result is a rich, moist scone that practically melts in your mouth!
Ingredient Notes:
This post contains affiliate links. As an Amazon associate and member of other qualifying programs, I earn from qualifying purchases.
Dry Ingredients – To prepare the dough for these scones you'll start with some dry ingredients including flour, sugar, baking powder, and salt.
Dark Chocolate Chips – I love the rich chocolate flavor that you get from the dark chocolate chips, but you could also use milk chocolate or semisweet.
Cold Whipping Cream – This is what makes these scones so rich and moist.
Topping – You'll brush the tops of the scones with some melted butter and sprinkle on some sugar before baking them! This adds a rich flavor and a little hint of texture on the tops. So good!
What Readers are Saying!
"Never made scones before, but these are amazingly good and easy and definitely not too crumbly! I'll probably do it with mini chocolate chips next time, but may try almond flavoring and a little frosting and almond slivers too sometime…the possibilities are endless!" – Jackie
How To Make Chocolate Chip Scones:
Mix: You will start this recipe by mixing in the flour, sugar, baking powder, salt, and chocolate chips in a large bowl. Use a wooden spoon to stir this together.
Cream: Stir in the heavy cream to form a thick dough.
Roll: Put plenty of flour on a clean working surface to help prevent the dough from sticking and then divide the dough into 3 even balls. Press each ball out into a disc about 1 inch thick and 7 inches around.
Cut: Cut each circle of dough into eight triangles like you would a pizza.
Top: Place each of the scones onto a cookie sheet about 1-2 inches apart. Brush the tops of each scone with melted butter, and then sprinkle on some sugar!
Bake: These chocolate chip scones will take about 15 to 20 minutes to bake, or until they are lightly browned on the edges. Don't overbake these!
How do you serve scones?
Scones are typically served with butter, jam, or clotted cream. Clotted cream is majorly delicious, but quite difficult to find in the United States. If you spot it, grab some! Otherwise, you'll want to plan a trip abroad. 😉
Scones are also delicious served with honey, whipped cream, or even lemon curd!
We often enjoy these chocolate chip scones with tea or coffee in the morning or as an afternoon snack.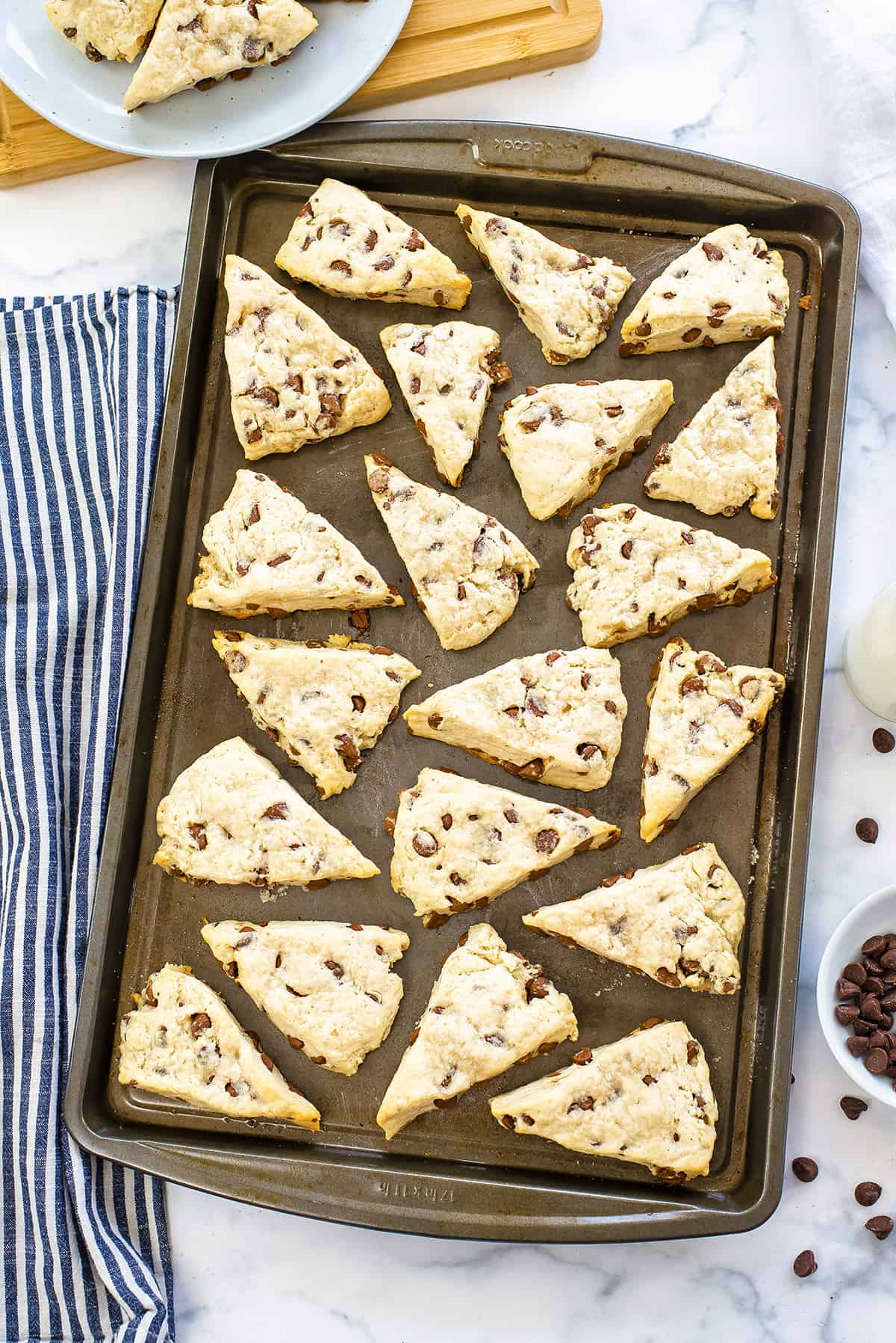 Tips For Baking Scones:
Don't skip preheating your oven. It is a common baking mistake that people make often, but it really does make a difference!
Place your scones on a cookie sheet one to two inches apart from each other and two inches from any edge. This will allow them to spread a bit and keep the heat moving around them.
Before baking, be sure to brush with butter and sprinkle on some sugar. This adds a richness to the tops and a little texture.
Scones are best served warm, so try to have them ready shortly before serving. You can always pop them in a warm oven for a couple of minutes to warm them back up if needed.
Nobody likes dry scones. We add heavy cream to our recipe to keep them super moist, but overbaking will dry them out every time. The bottoms should just be turning golden when you pull these from the oven.
FAQs about scones:
Can scone dough be frozen?
Prepare the dough and place on the baking sheet. Prior to adding the butter or sugar, place the baking sheet in the freezer for an hour. Then remove the scones and place them in a freezer-safe bag. They will need to cook about 5 extra minutes if you are baking them from frozen.
Can I make scones the night before?
Sure! Prep your scones and get them on the baking sheet. Pop the sheet in the fridge overnight. They may require a couple extra minutes of baking, but otherwise just proceed as directed.
How To Store Scones:
You may store your scones in an airtight container on the counter for about 3 days or refrigerate your scones for 5-6 days.
For longer storage, place your completely cooled scones in a freezer safe bag, remove as much air as possible when sealing, and freeze for up to 3 months.
MORE FAVORITE SCONE RECIPES!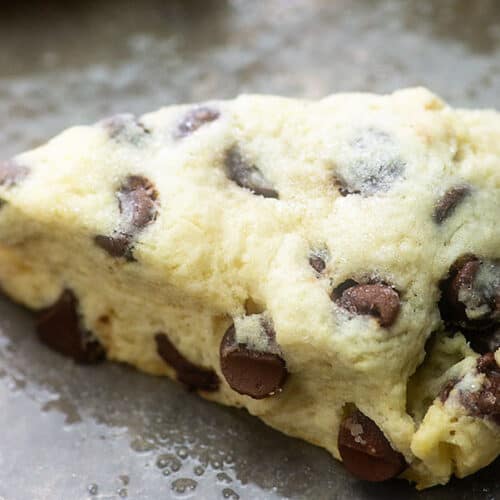 Chocolate Chip Scones
These chocolate chip scones are one of my favorite snacks. They're simple to make and always a hit!

Prep15 minutes
Cook20 minutes
Total35 minutes
Ingredients
3 1/4 cups all-purpose flour
1/2 cup granulated sugar
1 tablespoon plus 1 teaspoon baking powder
1/4 teaspoon salt
2 cups dark chocolate chips
2 cups cold whipping cream
2 tablespoons butter melted
Extra sugar for sprinkling
Instructions
Heat oven to 375 degrees. Lightly grease two cookie sheets.

Mix together first five ingredients. Pour in cream and stir with a wooden spoon until the flour mixture is moistened.

Turn mixture out onto a lightly floured surface and knead gently until a soft dough forms, about 2 minutes. Don't overmix the dough.

Divide dough into three equal sized balls.

Flatten dough into a seven inch circle (use your hands to flatten the dough out) and cut each dough circle into eight triangles.

Place on cookie sheets about two inches apart. Brush tops with melted butter and sprinkle with sugar.

Bake for 15-20 minutes or until lightly browned on the bottom edges. Do not overbake or scones will be dry.

Serve warm.
Tips & Notes:
Adapted from Hershey's
Nutrition Information:
Serving: 1scone| Calories: 236kcal (12%)| Carbohydrates: 26g (9%)| Protein: 3g (6%)| Fat: 13g (20%)| Saturated Fat: 9g (56%)| Cholesterol: 29mg (10%)| Sodium: 56mg (2%)| Potassium: 178mg (5%)| Fiber: 1g (4%)| Sugar: 9g (10%)| Vitamin A: 320IU (6%)| Vitamin C: 0.2mg| Calcium: 83mg (8%)| Iron: 1mg (6%)
This post was originally written February 2010. It was updated in February 2023.