April 15, 2019
Chocolate Chip Scones
These chocolate chip scones are one of my favorite snacks. They're simple to make and always a hit!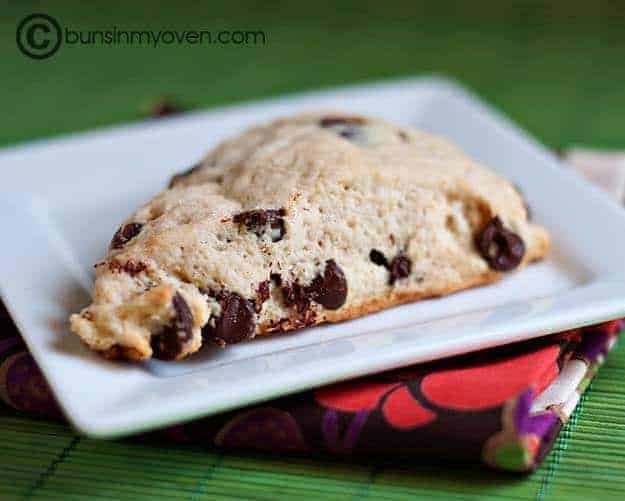 My first scone was bought from the grocery store bakery. It was pumpkin. It was also hard and crumbly and really dry. I don't think I finished it.
My second scone was a chocolate chip scone that I made myself. It was soft, buttery, and delicious. I ate three.
Yes, it's true. Scones are new to me, but that doesn't mean that I don't know a good scone when I taste one. Anything this fluffy and delicious is good food. It's a fact.
I don't know about you, but I generally avoid recipes that require me to spread flour on my counter tops. It's just so messy and I always get icked out thinking that my counters aren't really clean enough to be smooshing food around on them, no matter how much I wipe them down. Having said that, the minute I saw that this recipe called for 2 cups of heavy cream I completely forgot about the fact that I'd have to make a big floury mess. Heavy cream will make me do crazy things.
This dough comes together pretty easily. Dump everything into a bowl, give it a stir to make sure all the flour is moist, and then dump it out onto a floured countertop. Knead it for a few minutes and then seperate it into three balls of dough.
The dough balls easily smoosh out into circles that you can then cut with a pizza cutter. Brush the tops of the scones with melted butter and sprinkle with a bit of sugar before baking.
These chocolate chip scones are serious perfection, my friends.
These scones were just delicious. They were nice and moist and all that heavy cream really gave them a great texture and flavor. These weren't too sweet at all and I think they'd go perfect with a nice hot cup of coffee or tea or a big ol' glass of icy cold milk.
Chocolate Chip Scones
Servings: 24 scones
Course: Breakfast
Cuisine: American
Keyword: brunch recipes, easy breakfast recipes, kid-friendly recipes
Calories: 236 kcal
These chocolate chip scones are one of my favorite snacks. They're simple to make and always a hit!

Ingredients
3 1/4 cups all-purpose flour
1/2 cup granulated sugar
1 tablespoon plus 1 teaspoon baking powder
1/4 teaspoon salt
2 cups dark chocolate chips
2 cups cold whipping cream
2 tablespoons butter melted
Extra sugar for sprinkling
Instructions
Heat oven to 375 degrees. Lightly grease two cookie sheets.

Mix together first five ingredients. Pour in cream and stir until the flour mixture is moistened.

Turn mixture out onto a lightly floured surface and knead gently until a soft dough forms, about 2 minutes.

Divide dough into three equal sized balls.

Flatten dough into a seven inch circle (use your hands to flatten the dough out) and cut each dough circle into eight triangles.

Place on cookie sheets about two inches apart. Brush tops with melted butter and sprinkle with sugar.

Bake for 15-20 minutes or until lightly browned.

Serve warm.
Recipe Notes
Adapted from Hershey's
Nutrition Facts
Chocolate Chip Scones
Amount Per Serving
Calories 236 Calories from Fat 117
% Daily Value*
Fat 13g20%
Saturated Fat 9g56%
Cholesterol 29mg10%
Sodium 56mg2%
Potassium 178mg5%
Carbohydrates 26g9%
Fiber 1g4%
Sugar 9g10%
Protein 3g6%
Vitamin A 320IU6%
Vitamin C 0.2mg0%
Calcium 83mg8%
Iron 1mg6%
* Percent Daily Values are based on a 2000 calorie diet.
Nutrition Disclaimer: All information presented on this site is intended for informational purposes only. I am not a certified nutritionist and any nutritional information shared on bunsinmyoven.com should only be used as a general guideline.