These WHITE CHOCOLATE CRANBERRY SCONES are so tender and moist thanks to the heavy cream. They're loaded with sweet white chocolate and tart cranberries.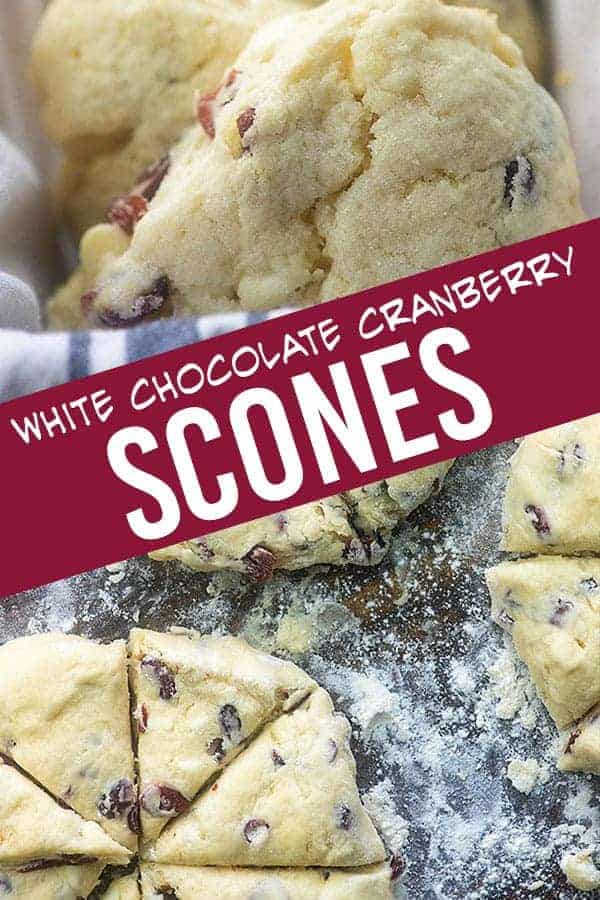 If you've been around for a hot minute, you've probably noticed I do a fair bit of baking and I often toss in some chocolate chips. I love chocolate chips! I mean, I looooove chocolate chips.
My husband though? Not so much.
I know what you are thinking, and I don't know what is wrong with him either.
White chocolate chips on the other hand…he's a fanatic. I recently made some chocolate chip scones that I loved, and that motivated me to make some white chocolate scones for the husband.
He was a happy guy.
These white chocolate scones are so moist and tender thanks to the dough being made with heavy cream. This is seriously just the best scone dough recipe!
How to make cream scones:
This dough comes together really easily! You'll just mix together the flour, sugar, salt, baking powder, and cream with some white chocolate chips and dried cranberries.
As you are mixing these together, it will seem like there isn't enough liquid, but stick with it. As you continue to mix it will all work out.
Separate your dough into 3 even-sized balls, smoosh 'em down, and cut them into triangles.
Quick tips for easy homemade scones: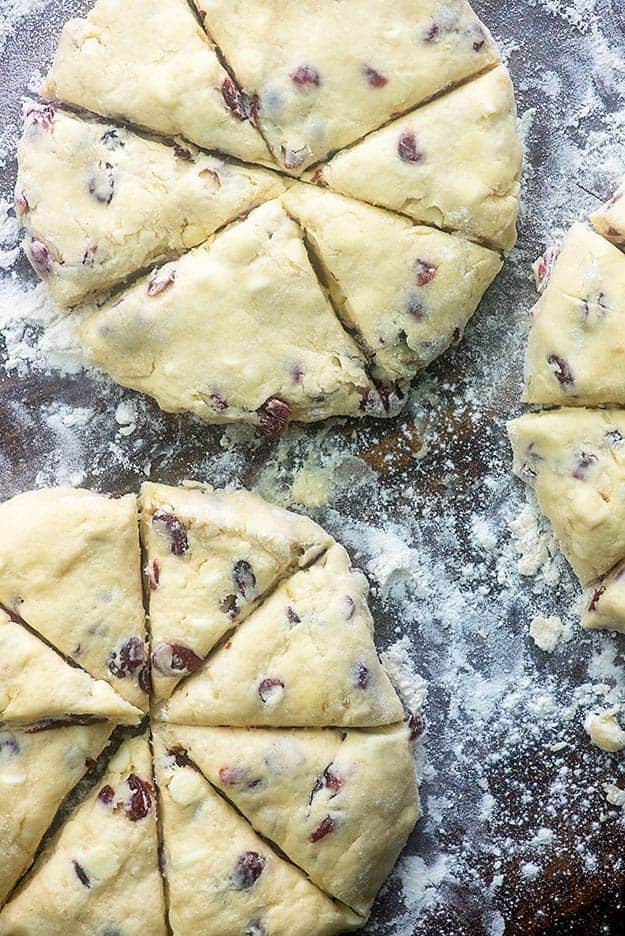 Shaping: Be sure that you divide the dough into equal sized portions and then press those portions into equal sized circles so that everything bakes evenly.
Rolling the dough: Don't be shy with the flour! A well-floured surface will keep your scones from sticking as you cut them.
Sizing: As directed, this recipe makes 24 average sized scones. Feel free to make them mini by separating the dough into 6 balls instead of 3. Adjust bake time down to 10-15 minutes.
How to store and serve scones: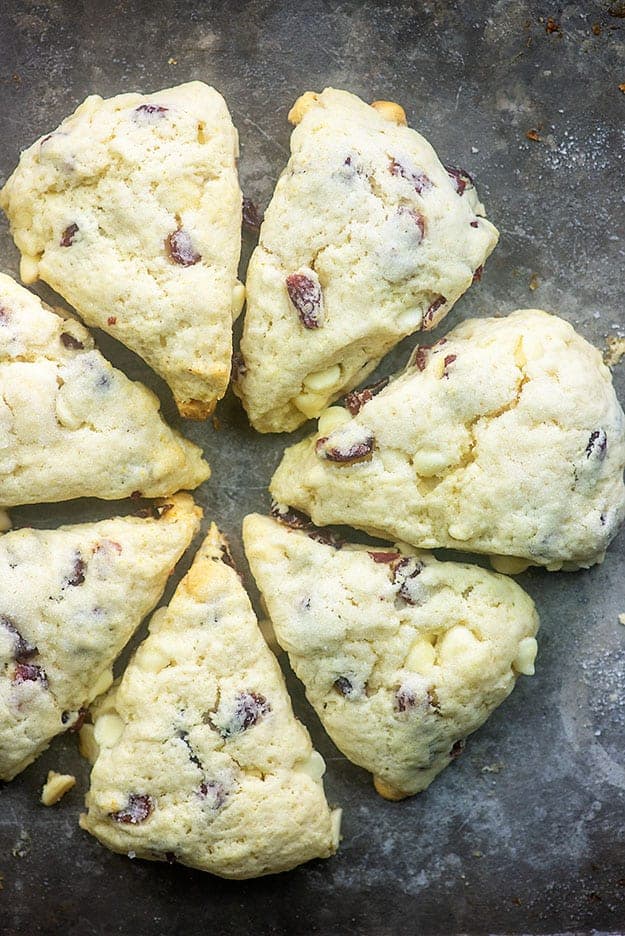 My homemade scone recipe makes 24 servings. Unless you are feeding a large group, you will have some leftovers.
Feel free to freeze these guys, before cooking them, until you are ready to serve. Just know when you cook the frozen scones they will take about 5 minutes longer to cook.
Store any leftover baked scones in an air-tight container on the counter for 3-4 days.
They are magnificent with a cup of hot coffee!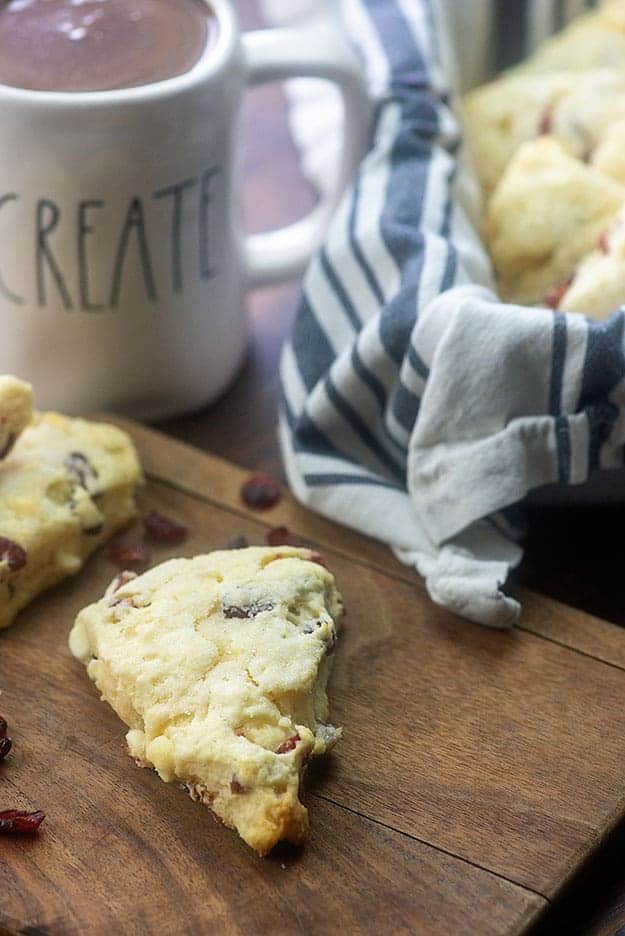 More cranberry recipes to try:
Cranberry oatmeal bars are always a hit.
Cranberry cream cheese dip is delicious with your favorite cracker!
Cranberry bread is a great light breakfast snack.
And, of course, this perfect crust cranberry apple pie recipe is great for that pie craving we all get!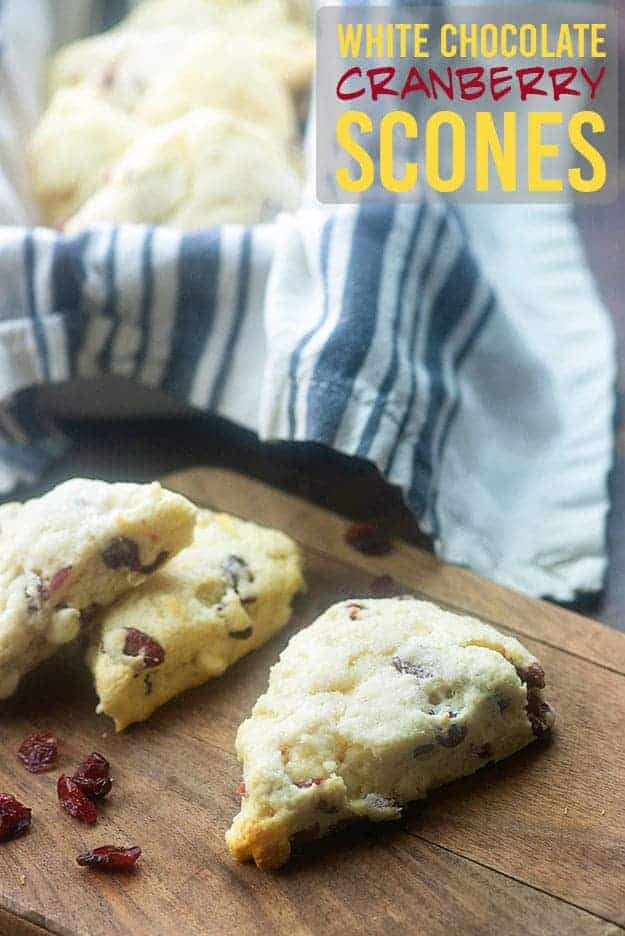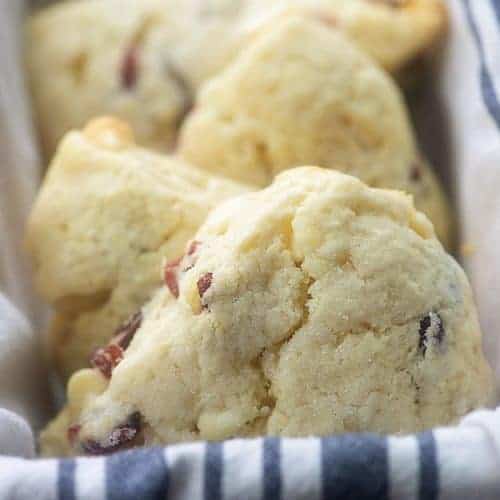 White Chocolate Cranberry Scones
Soft, tender scones packed with white chocolate and dried cranberries! These make waking up on a chilly morning totally worth it.
Prep20 minutes
Cook20 minutes
Total40 minutes
Ingredients
3 1/4 cups all-purpose flour
1/2 cup sugar
4 teaspoons baking powder
1/4 teaspoon salt
1 cup dried cranberries
1 cup white chocolate chips
2 cups cold whipping cream
2 tablespoons butter melted
Extra sugar for sprinkling
Instructions
Heat oven to 375 degrees. Lightly grease two cookie sheets or line with parchment paper.

Mix together first 6 ingredients. Pour in cream and stir until the flour mixture is moist.

If freezing, place the unbaked scones on a cookie sheet and place in the freezer for 30 minutes. Remove to a freezer bag and freeze until ready to bake. Place frozen scones on a baking sheet and bake at 375 degrees for 20 minutes or until lightly browned.

Turn mixture out onto a lightly floured surface and knead gently just until a soft dough forms, about 2 minutes.

Divide dough into three equal-sized balls. Flatten each dough ball with your hands into a seven-inch circle and cut each dough circle into eight triangles.

Place scones on prepared baking sheets about two inches apart. Brush tops with melted butter and sprinkle with sugar.

Bake for 15-20 minutes or until bottoms and edges are lightly browned. Serve warm or at room temperature.

Store tightly covered on the counter for 3-4 days.
Tips & Notes:
To freeze: Prepare the recipe up until baking and then place the unbaked scones on a cookie sheet in the freezer for 1 hour. After 1 hour, remove scones to a freezer safe plastic bag and freeze until ready to bake, up to 3 months. Bake scones directly from the freezer as directed above. Frozen scones will need an extra few minutes in the oven to cook completely.
Nutrition Information:
Serving: 1scone| Calories: 211.16kcal (11%)| Carbohydrates: 26.55g (9%)| Protein: 2.61g (5%)| Fat: 10.93g (17%)| Saturated Fat: 6.65g (42%)| Cholesterol: 31.25mg (10%)| Sodium: 47.97mg (2%)| Potassium: 123.79mg (4%)| Fiber: 0.77g (3%)| Sugar: 11.93g (13%)| Vitamin A: 322.95IU (6%)| Vitamin C: 0.16mg| Calcium: 59.74mg (6%)| Iron: 0.88mg (5%)
This post was originally published January 2012. It was updated with new photos October 2019.