These oatmeal bars are packed with white chocolate and dried cranberries. They're soft, chewy, and completely addicting.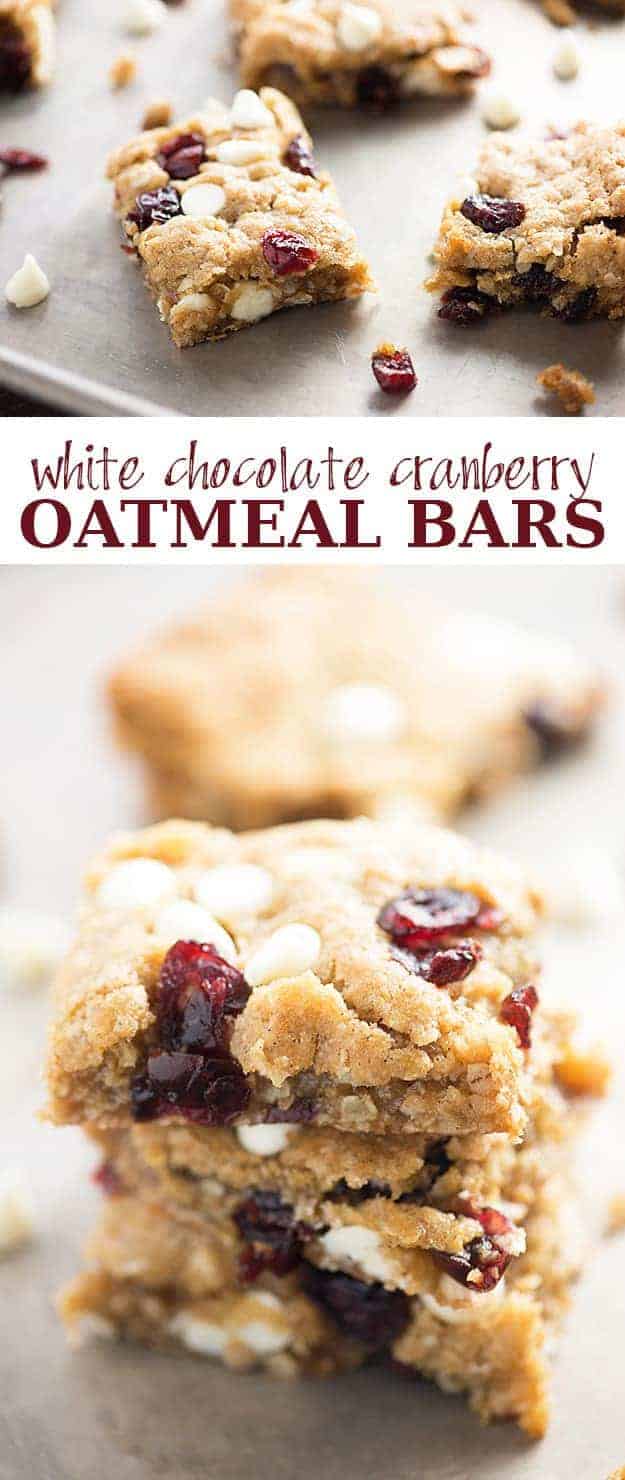 Did y'all have a fabulous Thanksgiving?
I don't know about you, but I am still super thankful for the amount of sausage dressing, sweet potato casserole, and green bean casserole with bacon that I was able to consume. My brother smoked the turkey and I ate a boatload of that too. Smoked turkey is way mo' bettah than a traditional roasted turkey if you ask me.

Anyway! It's officially Christmas season, my friends.
I'm so glad. I've been decorated for weeks. I've been baking Christmas cookies for months. My kids have been begging me to stop threatening them with Santa all year.
Christmas is basically a year 'round thing in this house, so I'm glad to finally be where the rest of the world is in terms of celebrating. Woohoo!
Today I'm bringing you these oatmeal bars that are fully loaded with white chocolate chips and dried cranberries.
I am kind of anti raisins in baked goods, but that doesn't translate over to dried cranberries for some reason. Cranberries somehow get even better when they're all shriveled up and pitiful looking. Grapes…not so much, if you ask me.
These oatmeal bars are super soft. You're going to love adding these to your Christmas cookie trays! And, since they're bars, they're really easy to make. None of that scooping 50 balls of cookie dough and then baking 13 different pans of cookies. You'll just spread the cookie dough in a 9×13 baking dish, pop it in the oven, and you're practically done.
If you love oatmeal cookies, be sure to check out my oatmeal chocolate chip bars. They're one of my favorite cookie recipes on this site, and that's saying a lot. Other favorites include my monster cookies and perfect chocolate chip cookies.
White Chocolate Cranberry Oatmeal Bars
These oatmeal bars are packed with white chocolate and dried cranberries. They're soft, chewy, and completely addicting.

Prep5 minutes
Cook25 minutes
Total30 minutes
Ingredients
2 1/2 cups old fashioned oats
2 cups flour
1 1/2 cups brown sugar
1 teaspoon baking soda
1 teaspoon salt
1 tablespoon vanilla
2 large eggs
1 1/4 cups butter melted
1 cups white chocolate chips
1 cup dried cranberries
Instructions
Heat oven to 350 degrees. Spray a 9x13 baking dish with non-stick cooking spray or line the pan with parchment paper.

Add everything but the white chocolate chips and cranberries to the bowl of a stand mixer and beat until just combined.

Stir in the white chocolate chips and cranberries by hand.

Spread the batter into the prepared baking dish.

Bake for 25 minutes or until a tester comes out with just a few moist crumbs. Bars should look slightly underdone.

Let cool 1 hour before cutting into bars.
Nutrition Information:
Calories: 540kcal (27%)| Carbohydrates: 71g (24%)| Protein: 6g (12%)| Fat: 26g (40%)| Saturated Fat: 15g (94%)| Cholesterol: 84mg (28%)| Sodium: 488mg (21%)| Potassium: 184mg (5%)| Fiber: 2g (8%)| Sugar: 42g (47%)| Vitamin A: 640IU (13%)| Vitamin C: 0.1mg| Calcium: 76mg (8%)| Iron: 2.1mg (12%)