September 12, 2018
Best Ever Sweet Potato Casserole
Sweet potato casserole made simple and delicious! This is my all time favorite sweet potato casserole recipe and it starts with canned sweet potatoes to keep things extra easy. The sweet pecan topping on top gets so crunchy in the oven and is just the perfect way to top off this easy sweet potato casserole!
I'm curious, do your kiddos like sweet potatoes?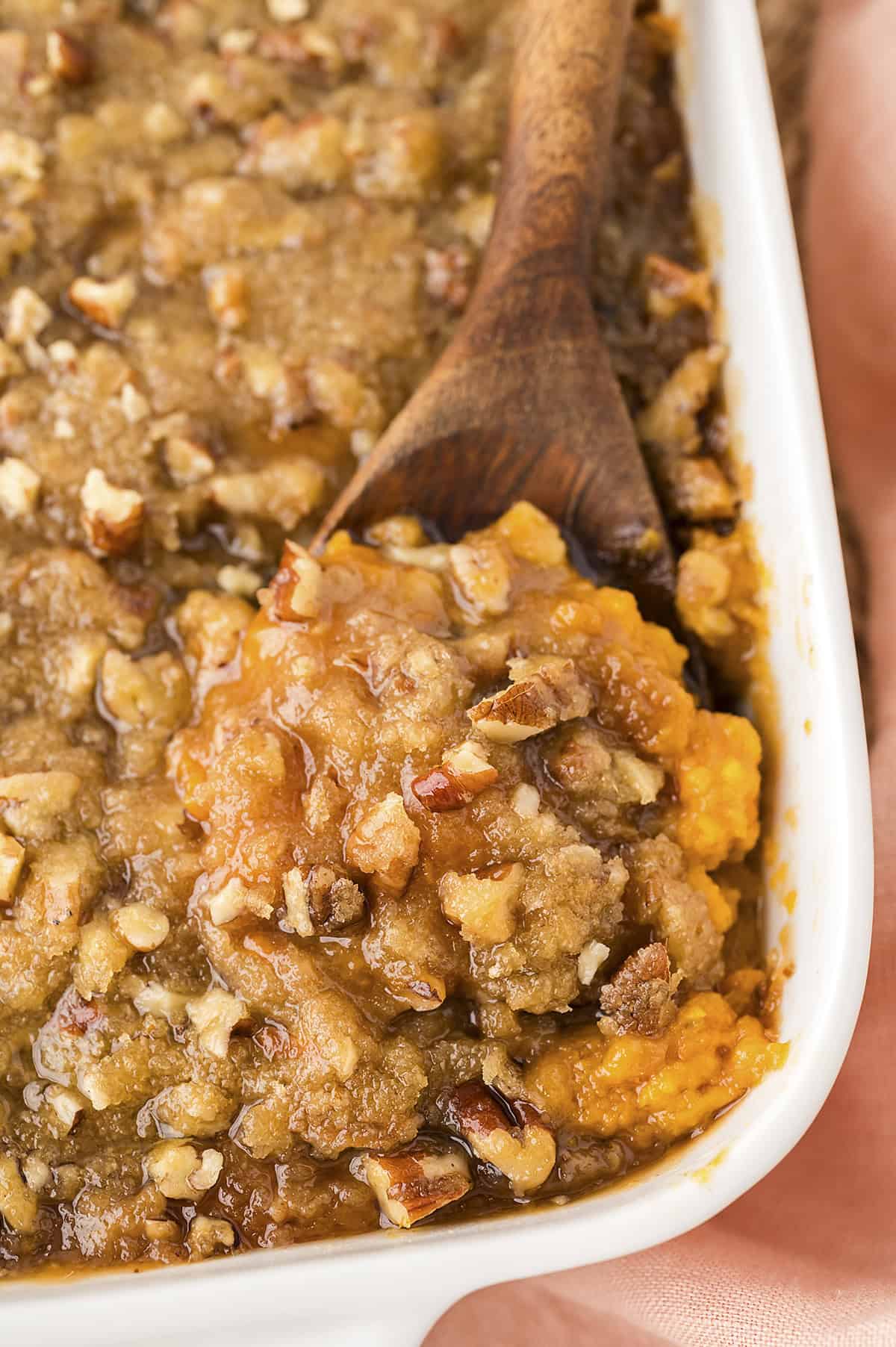 I know that as a kid, I definitely did NOT like them. They were orange, which means that no way are they similar to a regular potato and also sweet vegetables are not sweet like dessert is sweet, you know? As a kid, I though sweet potatoes were a cruel joke.
Aaaaaand, now my kids feel the same way.
Now that I'm an adult, I just don't get it. How could anyone dislike their earthy, sweet flavor? The creamy texture? The gorgeous color?
I'm sweet potato obsessed these days.
This sweet potato casserole recipe is my all time favorite way to eat sweet potatoes, aside from maybe sweet potato fries – the real sweet potato fries that are deep fried and not baked. 😉
This recipe for sweet potato casserole is actually Ruth's Chris sweet potato casserole recipe and it's perfection.
Ruth's Chris Sweet Potato Casserole:
This recipe comes from the famous Ruth's Chris Steak House.
I've sadly never had the pleasure of eating at Ruth's Chris, but I've eaten their recipe for sweet potato casserole more times than I can count.
It's a favorite side dish at holiday meals and I've been known to eat the leftovers cold from the fridge for breakfast.
Normally, I'd take a few liberties with a recipe and doctor things up. Literally nothing needs changed in Ruth's Chris sweet potato casserole. It is as good as it can possibly get. Trust me.
How to make sweet potato casserole:
To start, you'll need 3 cups of mashed sweet potatoes. You can peel and boil fresh sweet potatoes or you can grab a couple of cans of sweet potatoes. Drain the liquid from the can and dump the sweet potatoes into a large mixing bowl and mash with a potato masher.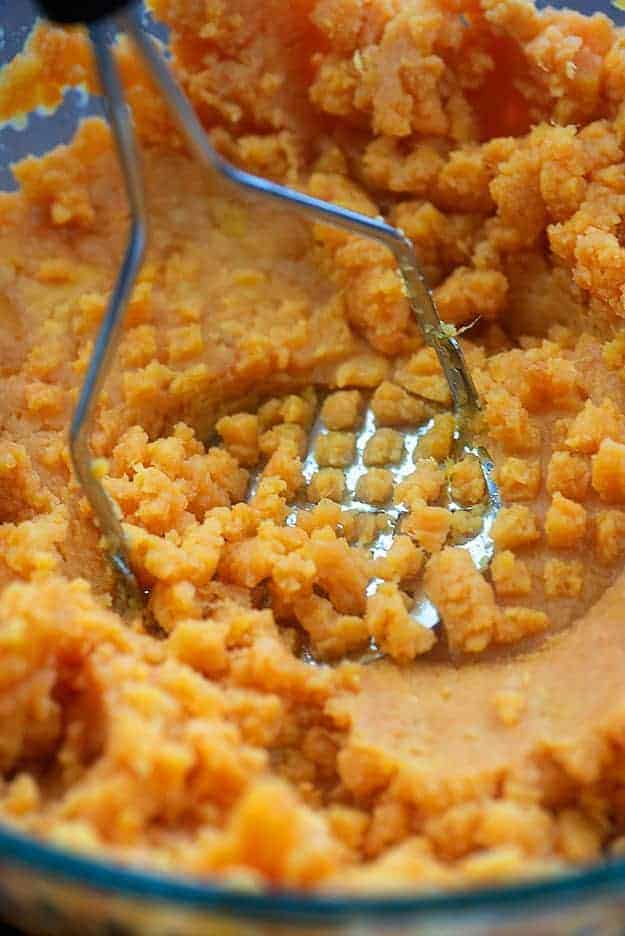 I always use canned potatoes in this recipe and it turns out great every time, but if you're feeling extra, go ahead and cook your own.
Next, you'll add a couple of beaten eggs, some sugar, melted butter, vanilla, and salt to the mashed sweet potatoes and stir well to combine.
Spread this into a greased 2 quart baking dish.
The crunchy topping seriously takes this sweet potato casserole to the next level. You won't even be thinking about marshmallows – promise!
In a small bowl, stir together brown sugar, flour, pecans, and melted butter.
Spoon that over the sweet potato mixture and spread it out evenly.
Pop this casserole into a hot oven and bake for 30 minutes.
You'll want to let this set for about 20 minutes before serving.
Make ahead sweet potato casserole: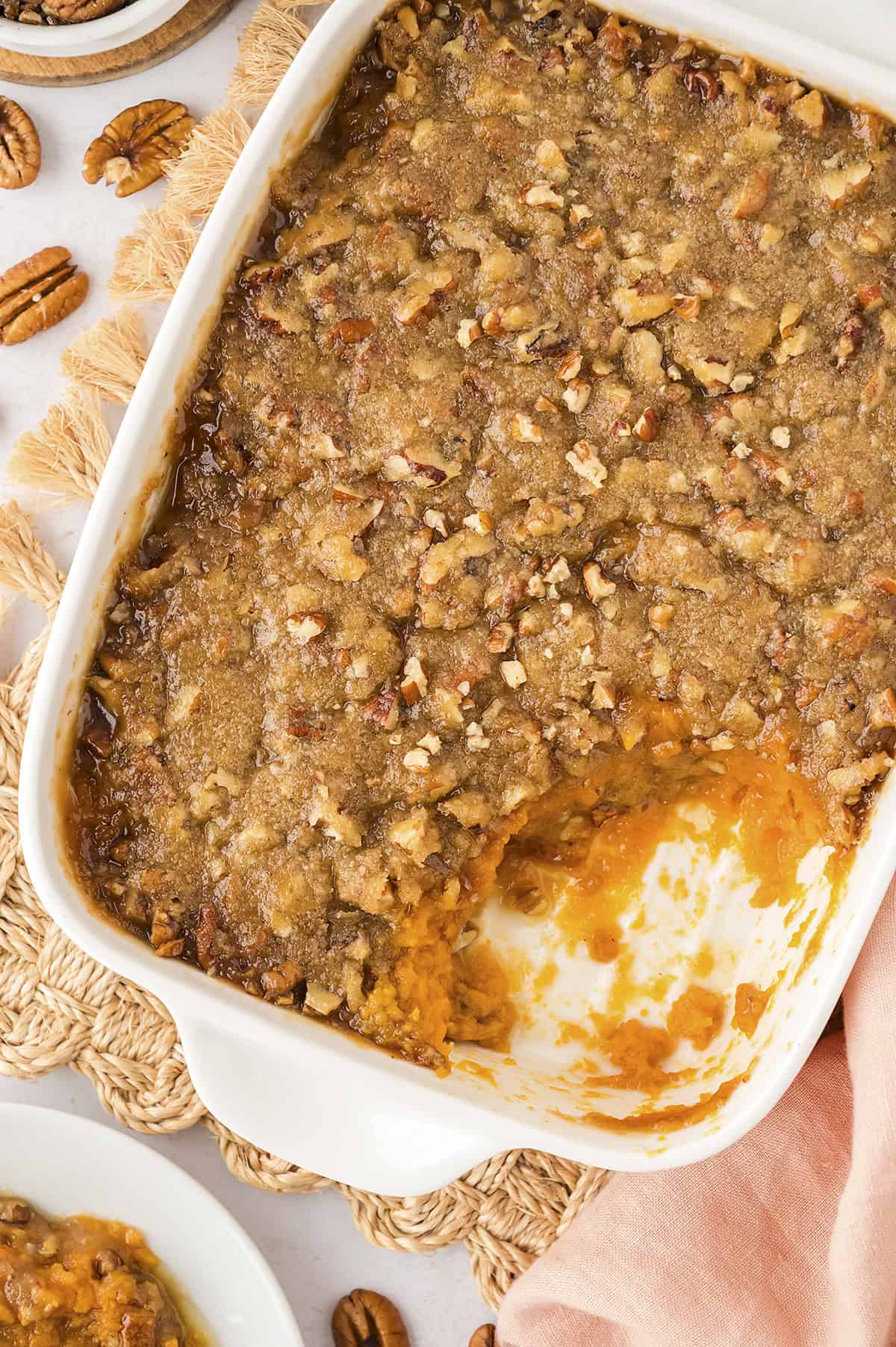 If you'd like to prep this in advance, prepare the recipe as directed, but cover tightly with plastic wrap just before baking.
Store in the fridge for up to 2 days before baking.
Remove from the fridge and allow it to come to room temperature before baking as directed.
Sweet Potato Pie Recipe: A nice change from pumpkin!
Sweet Potato Casserole
Servings: 8
Course: Side Dish
Cuisine: American
Keyword: thanksgiving, vegetables
Calories: 527 kcal
The most perfect sweet potato casserole recipe EVER! That crunchy topping is divine!
Ingredients
For the sweet potatoes
3 cups mashed sweet potatoes
1 cup sugar
2 eggs beaten
1/4 cup melted butter
1 teaspoon vanilla
1/2 teaspoon salt
For the topping
1 cup brown sugar
1 cup chopped pecans
1/2 cup melted butter
1/3 cup flour
Instructions
For the sweet potato casserole filling
Preheat oven to 350 degrees.

Add the mashed sweet potatoes, sugar, eggs, butter, vanilla, and salt to a mixing bowl and stir well to combine.

Spread mixture into a greased 2 quart baking dish.
For the topping
Stir together the brown sugar, pecans, butter, and flour until well combined.

Spoon pecan mixture over the sweet potato casserole and smooth out to cover the entire casserole.

Bake for 30 minutes. Remove from oven and let set for 20 minutes before serving.
Recipe Notes
To make mashed sweet potatoes, you can either used canned or fresh sweet potatoes.
If using canned sweet potatoes, drain all liquid from the can and mash immediately.
If using fresh sweet potatoes, peel and cube the sweet potatoes and boil for 20-30 minutes or until fork tender and easily mashed.
Nutrition Facts
Sweet Potato Casserole
Amount Per Serving
Calories 527 Calories from Fat 252
% Daily Value*
Fat 28g43%
Saturated Fat 12g75%
Cholesterol 86mg29%
Sodium 348mg15%
Potassium 281mg8%
Carbohydrates 68g23%
Fiber 2g8%
Sugar 54g60%
Protein 4g8%
Vitamin A 7675IU154%
Vitamin C 1.3mg2%
Calcium 59mg6%
Iron 1.3mg7%
* Percent Daily Values are based on a 2000 calorie diet.
Nutrition Disclaimer: All information presented on this site is intended for informational purposes only. I am not a certified nutritionist and any nutritional information shared on bunsinmyoven.com should only be used as a general guideline.