This vegetarian sweet potato puff casserole is absolutely bursting with fresh veggies!
Spring is finally (FINALLY) in the air. It's warming up. Birds are chirping outside my window right now.
The neighbors are mowing their grass, because they are in the midst of some vicious competition with each other to see who can mow the most often and currently we're at every other day and holding, but I have real fear that it's going to become a daily thing.
And also, the sun is shining and flowers are juuuuuuust beginning to think about blooming.
So, Spring. Finally.
This time of year is so full of possibilities and excitement and I just love it. I love the way grass clipping smell, which is good. Because did you read the part about my neighbors?
I really love the way the produce at the grocery store starts looking more fresh and flavorful while the prices simultaneously start going down, down, down. It's like magic.
This Spring, I've teamed up with Alexia Foods to bring you a recipe that is bursting with all those fresh veggies! And, since I'm me, I knew I had to do this in casserole form. I love casseroles. It's been well documented, as seen in my cheeseburger casserole, chicken parmesan meatball casserole, Doritos chicken casserole, and my jiffy corn casserole!
This time around though, I wanted a childhood classic casserole. With a twist. A sweet potato twist! Because mama loves her some of those Alexia sweet potato puffs! They're delightfully crunchy on the outside and fluffy on the inside, just the way they're meant to be.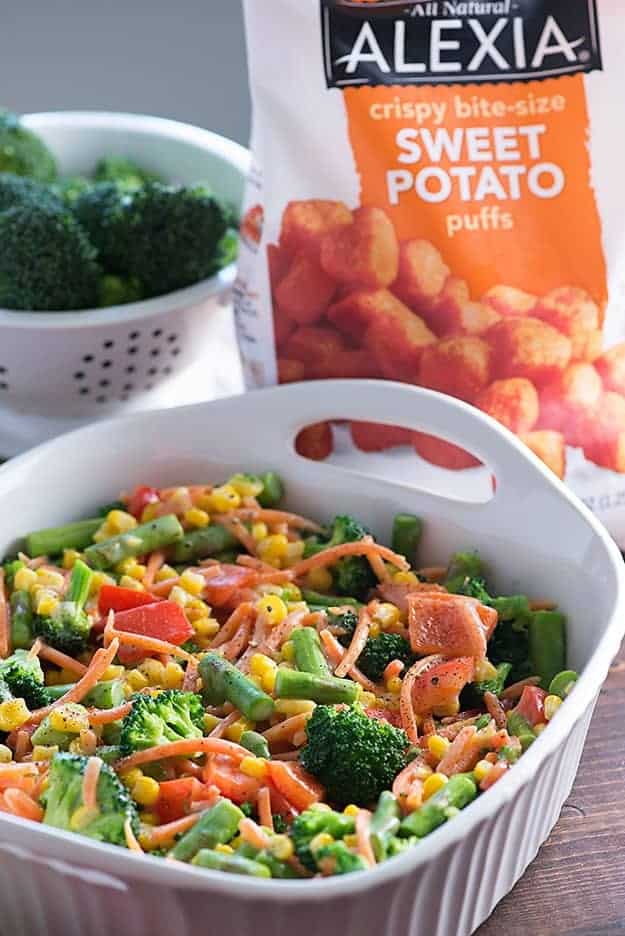 The sweet potato adds the perfect earthiness to this dish! I love how light it is for a casserole recipe! No canned soups or any other weird ingredients either! I wanted to keep it simple and natural, just like Alexia does!
This sweet potato puff casserole is super versatile too. I started with 7 cups of freshly chopped vegggies and you can switch them around and swap them out for whatever you have on hand and love most. Some other vegetables that would work great here are green beans, zucchini, and peas.You can even trade in a cup or two of veggies for some cooked, shredded chicken if you wanted to up the protein factor.
I hope you love this lightened up casserole as much as my family does. (Okay, so not my daughter. She hates all veggies, as 11 years do.)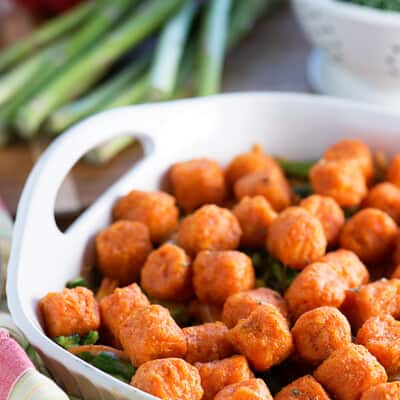 Vegetarian Sweet Potato Puff Casserole
This vegetarian caserole is packed full of fresh veggies and the sweet potato tots on top are the perfect finishing touch.
Prep10 minutes
Cook30 minutes
Total40 minutes
Ingredients
1 teaspoon olive oil
1 1/2 cups chopped asparagus
1 1/2 cup chopped broccoli
1 cup chopped bell peppers
1 cup corn fresh or frozen
1 cup diced onion
1 cup shredded carrots
1 clove garlic minced
1 teaspoon salt
2 tablespoons butter
2 tablespoons flour
1 cup vegetable broth
1/4 cup sour cream
1/4 cup grated cheddar
2 cups Alexia Sweet Potato Puffs frozen
Instructions
Preheat oven to 400 degrees.

Heat a large skillet over medium heat. Add the olive oil to the skillet.

Dump all of the vegetables into the skillet and cook, stirring often, for 5 minutes. Season with salt.

Remove pan from heat and set aside.

Add the butter to a small saucepan over medium heat and let melt.

Once melted, whisk in the flour and cook 1 minute, whisking constantly.

Slowly whisk in the vegetable broth and continue whisking until mixture has thickened to the consistency of a gravy.

Remove from heat and whisk in sour cream.

Pour sauce over vegetables and stir to combine. Pour mixture into 8x8 baking dish.

Top with shredded cheddar and sweet potato puffs.

Bake for 30 minutes. Serve immediately.
Nutrition Information:
Calories: 302kcal (15%)| Carbohydrates: 37g (12%)| Protein: 7g (14%)| Fat: 15g (23%)| Saturated Fat: 7g (44%)| Cholesterol: 29mg (10%)| Sodium: 1074mg (47%)| Potassium: 672mg (19%)| Fiber: 6g (25%)| Sugar: 13g (14%)| Vitamin A: 7665IU (153%)| Vitamin C: 88mg (107%)| Calcium: 117mg (12%)| Iron: 2.1mg (12%)