November 19, 2018
Homemade Sloppy Joes
Homemade sloppy joes are nearly as easy as using the canned sauce, but they taste oh so much better! Kids and adults both love this sloppy joe recipe with my sweet and tangy sauce. Pile on some pickles and serve alongside some potato chips. 
I'm a sloppy joe fanatic. I make them just about every week for either lunch or dinner and I'll probably never get tired of it.
Same with tacos. We could eat sloppy joes and tacos every week and no one would ever complain! Is the same true in your house?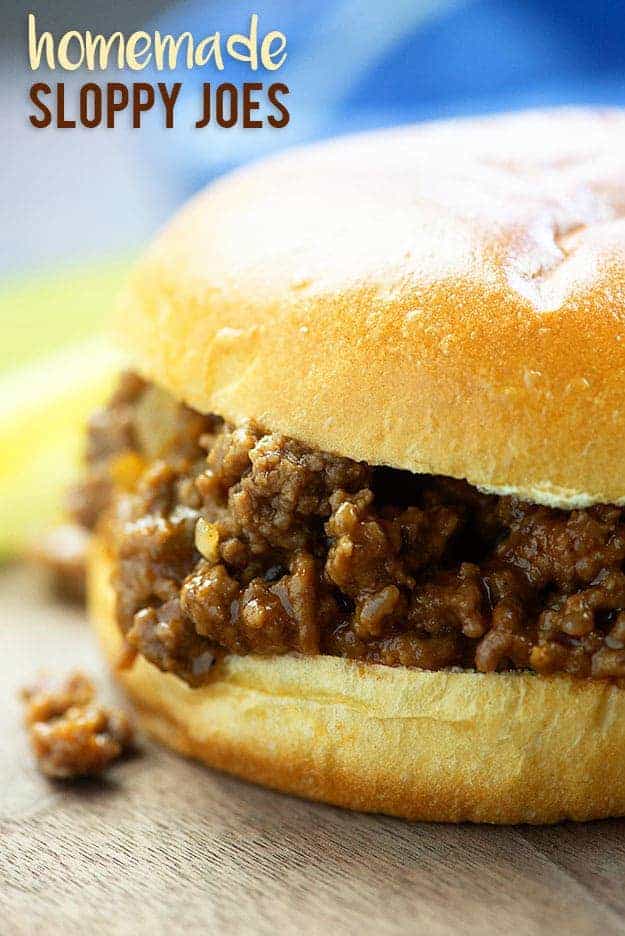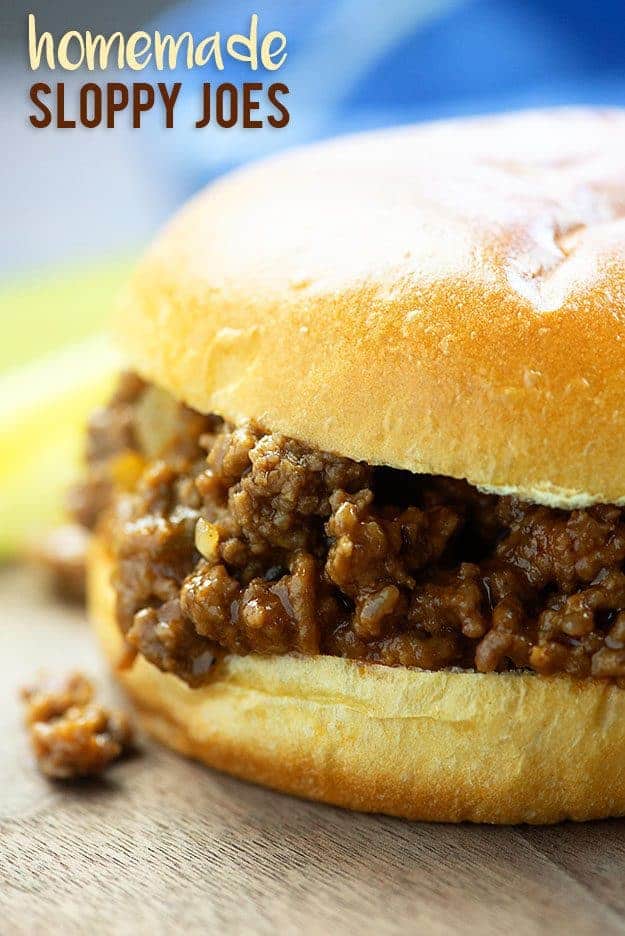 My homemade sloppy joe recipe is nearly as easy as the kind that comes in a can, but woah. So much tastier!
This homemade sloppy joe sauce is just the right amount of sweet with a bit of vinegar and mustard to balance it out with some tanginess.
You ready to do this?
Homemade sloppy joe sauce:
Let's start with the most important step! The sauce.
This is seriously so easy.
You'll just whisk together ketchup, mustard, brown sugar, vinegar, Worcestershire sauce, salt, and pepper in a small bowl or mason jar.
Once the mixture is well combined, set it aside and get started on the beef.
How to make homemade sloppy joes:
Brown a pound of ground beef in a large skillet, breaking it up as it cooks.
When the meat is about halfway cooked through (you should still have lots of pink throughout), add in some chopped onion, bell pepper, and garlic.
If you have picky kids (or a picky husband, like I do) you can 100% omit the onions and peppers.
Anytime I make this for dinner (meaning my husband is home to eat it), I leave the onions out. If I make this for lunch while he's at work, I leave the onions in. Totally works both ways!
Continue cooking and stirring until the meat is cooked through and the veggies have softened. Drain off the fat.
Pour that homemade sloppy joe sauce right over the meat and stir it all up.
Simmer this mixture for about 5 minutes.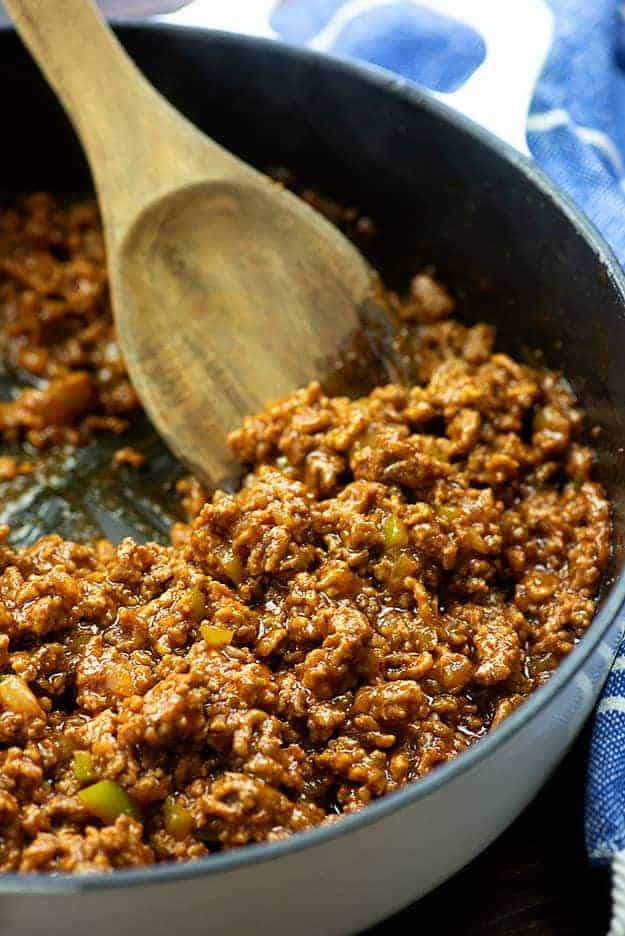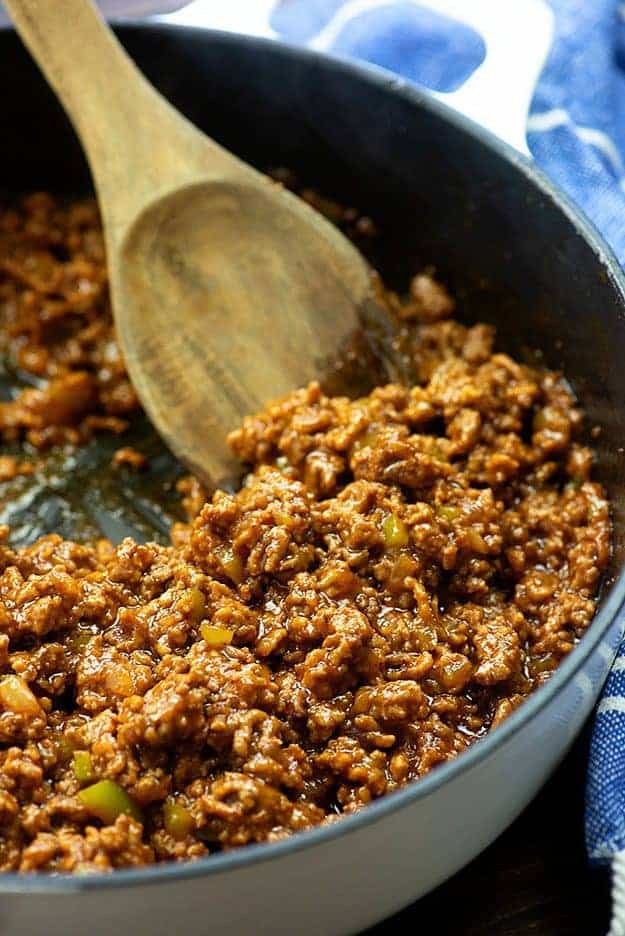 Spoon this mixture into your sandwich rolls.
So easy and always a kid-pleaser!
I like to top mine with dill pickle slices or some dill pickle slaw, but you can keep things simple and just serve as is, if you like.
These go great with a pile of potato chips on the side.
Can you use turkey or chicken instead of beef? 
Absolutely!
Heat a couple teaspoons of oil in the skillet, add your ground turkey or chicken, and cook just like you would beef.
More family friendly recipes: 
Potato Soup: The kids love topping their soup off with extra cheese and bacon and I love how easy it is to throw this in the crockpot.
Fried Tacos: We eat soft tacos about once a week, but everyone cheers when they see me making their beloved fried tacos!
French Dip: This sandwich is beyond easy to make in the crockpot and the kids are happy to eat the leftovers for days!
Crockpot BBQ Chicken: If there is one thing my whole family loves, it's BBQ!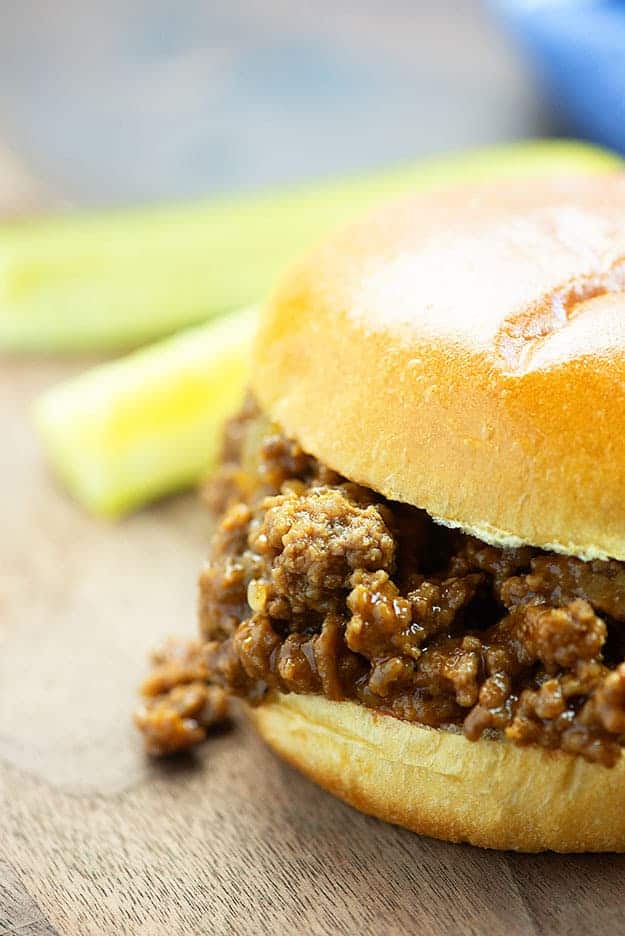 Homemade Sloppy Joes
Servings: 4 sandwiches
Course: Main Course
Cuisine: American
Keyword: kid-friendly recipes, sandwich
Calories: 557 kcal
Homemade sloppy joes are nearly as easy as using a can of sauce, but oh so much tastier!
Ingredients
1 pound ground beef
½ sweet onion chopped
1 bell pepper chopped
2 cloves garlic minced
¾ cup ketchup
2 tablespoons brown sugar
1 tablespoon mustard
1 tablespoon white distilled vinegar
1 teaspoon Worcestershire sauce
1 teaspoon salt
½ teaspoon pepper
4 sandwich rolls
Instructions
Brown the ground beef over medium heat, breaking it up as it cooks.

When beef is partially cooked through, add the onion, pepper, and garlic to the pan and continue cooking and stirring until meat is fully cooked and vegetables have softened. Drain grease and return to the pan.

Add the ketchup, mustard, vinegar, brown sugar, Worcestershire sauce, salt, and pepper to a small bowl and whisk well to combine.

Pour the sauce over the ground beef and stir to coat.

Simmer the meat mixture for 5 minutes before spooning onto sandwich rolls.
Recipe Notes
Use any color bell pepper you prefer or leave it out entirely if you have picky eaters. 
Nutrition Facts
Homemade Sloppy Joes
Amount Per Serving (1 sandwich)
Calories 557 Calories from Fat 225
% Daily Value*
Fat 25g38%
Saturated Fat 9g56%
Cholesterol 80mg27%
Sodium 1439mg63%
Potassium 633mg18%
Carbohydrates 53g18%
Fiber 2g8%
Sugar 20g22%
Protein 26g52%
Vitamin A 1160IU23%
Vitamin C 42.3mg51%
Calcium 98mg10%
Iron 4.6mg26%
* Percent Daily Values are based on a 2000 calorie diet.
Nutrition Disclaimer: All information presented on this site is intended for informational purposes only. I am not a certified nutritionist and any nutritional information shared on bunsinmyoven.com should only be used as a general guideline.