This sloppy joe casserole is such an easy twist on a childhood favorite! The whole family loves this one at my house! Check out my video below and see how easy this is to make, too!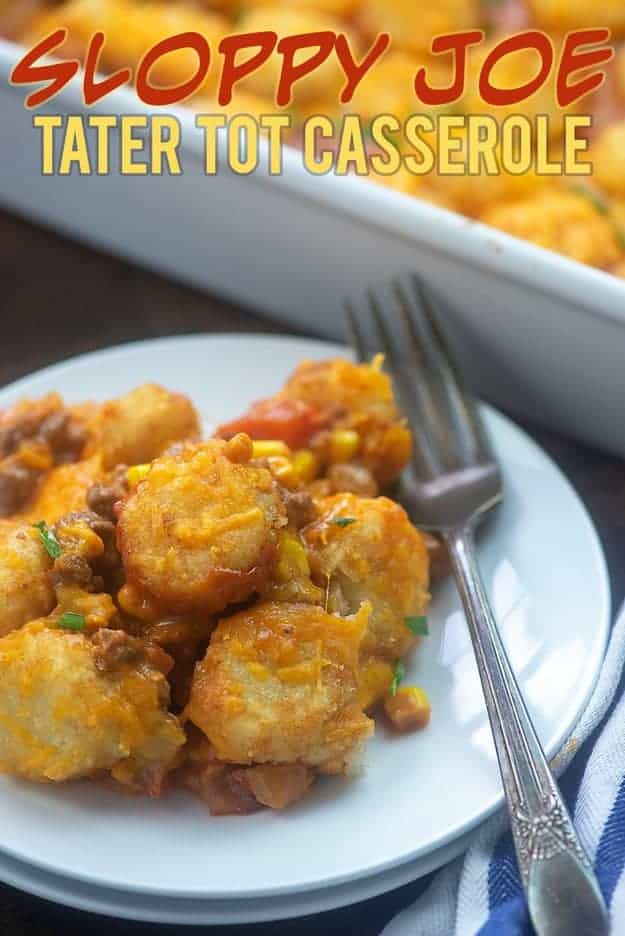 What is it about this time of year that makes me want to throw open my windows, decorate with pumpkins, and start baking all manner of casseroles and comfort foods?
Fall is my thang, man. I love it. Mostly because it means that I can bust out all of my favorite recipes that require cranking up the oven. Nobody likes a hot oven in summer. Nobody.
You're probably going to want to bust out your elastic pants because this Sloppy Joe Tater Tot Casserole is going to make your tummy very happy. We couldn't get enough of this one.
What is a Sloppy Joe?
Okay, if you don't already know what a sloppy joe, is I feel very sad that you've been missing out on them your whole life! Here goes: a sloppy joe is traditionally known as a sandwich made of ground beef that's seasoned and tossed in a tomato sauce with onions and other spices.
The origin of the sloppy joe seems to date back to a restaurant in Sioux City, Iowa where a cook named Joe sold "loose meat sandwiches" which eventually were called sloppy joes.
Some people say the sloppy joe dated back before that, it just didn't go by that particular name. The name really took off in the 1960s when Manwhich started selling a prepackaged sloppy joe sauce at stores. The rest is history, as the sloppy joe has become a household name, allowing me to bring this amazing sloppy joe tater tot casserole into your life.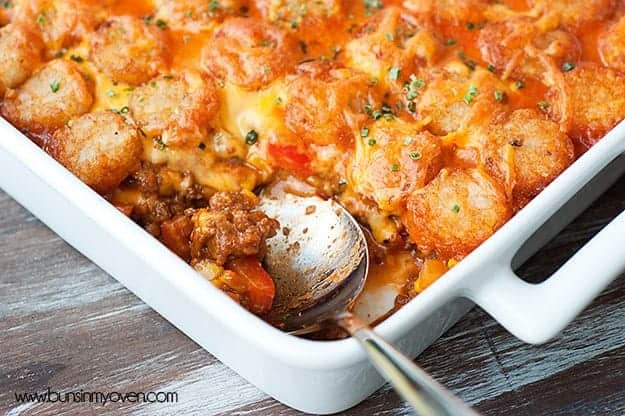 How To Make A Sloppy Joe Tater Tot Casserole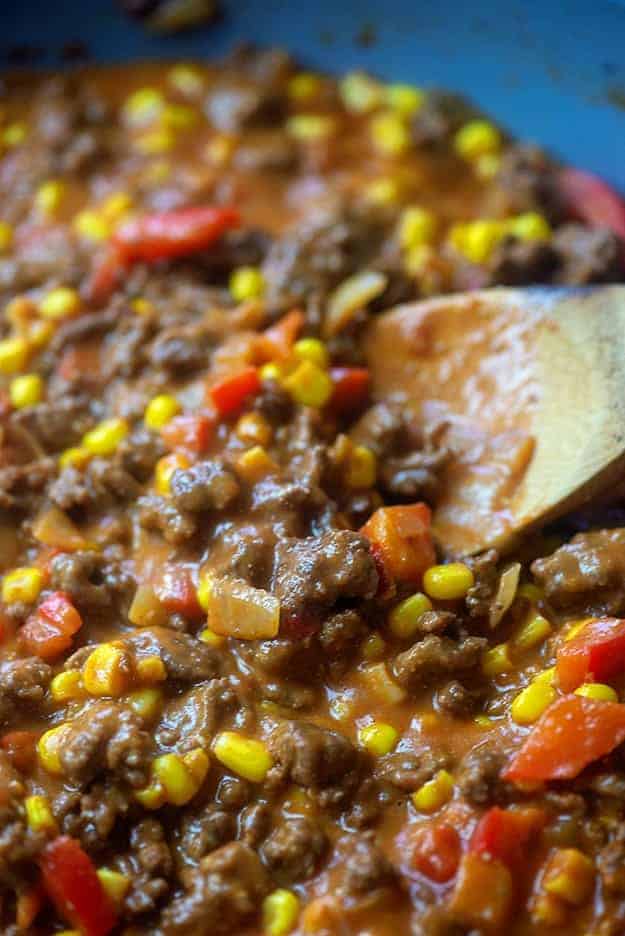 Over medium-high heat, brown beef until cooked, drain any fat, remove and set aside. Then, in the same pan, saute onions and garlic until translucent. Next, you'll add red bell pepper and corn and cook until soft. Add beef, Sloppy Joe sauce, cream cheese, paprika and salt and pepper to taste and stir to combine.
To keep things extra easy, this recipe uses canned sloppy joe sauce. Try it with my homemade sloppy joe recipe instead if you have a little extra time!
You'll then simmer over medium-low heat for a few minutes. Once done simmering, pour the beef mixture in a 9×13 baking dish and spread evenly. Top it off with a layer of cheese, arrange the tater tots and sprinkle with remaining cheese.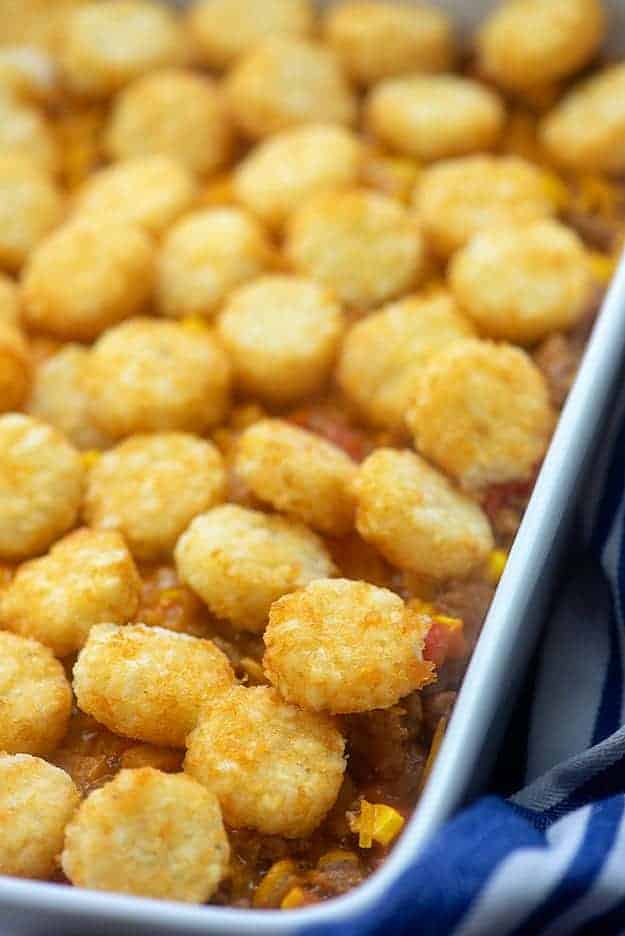 Lastly, bake until the tater tots are crispy and golden, dish and serve hot. Enjoy!
(Full recipe and instructions in the recipe card below)
What to Serve With A Tater Tot Casserole
Want to know the best thing about casseroles? You can pair them with almost anything, and serve them for almost any occasion. Whether, you're making a weeknight dinner, or have a potluck to go to, this tater tot casserole has you covered.
It can be served up along with some classic dinner table sides, like baked asparagus and a salad with honey mustard dressing.
Or it can be served on the main dish table at a party, with more of your favorite party staples like Italian pasta salad and crockpot mac and cheese. The gist of it is, that you can serve this casserole with anything your heart desires.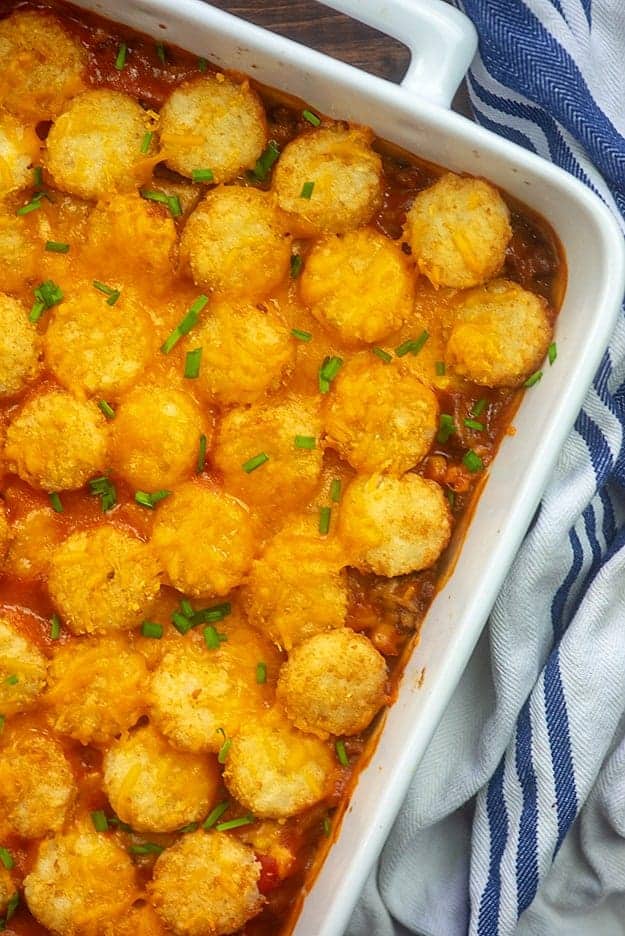 You'll Love The Ease of This Tater Tot Casserole
My entire family gobbles this up, which is saying something because my daughter and husband are two of the pickiest people I've ever met.
Depending on whose around to complain, I sometimes leave out the onions. My husband will flat out refuse his dinner if he sees a chunk of onion. It's ridiculous. A good compromise is a hefty sprinkling of onion powder. A lot of times people don't mind the flavor, as long as they don't have the crunch. Weirdos, right?
This comes together quickly for those busy nights when you're going every which direction and just want to get something hearty and delicious on the table! Check out my video above to see just how fast you can whip this up and get your family fed.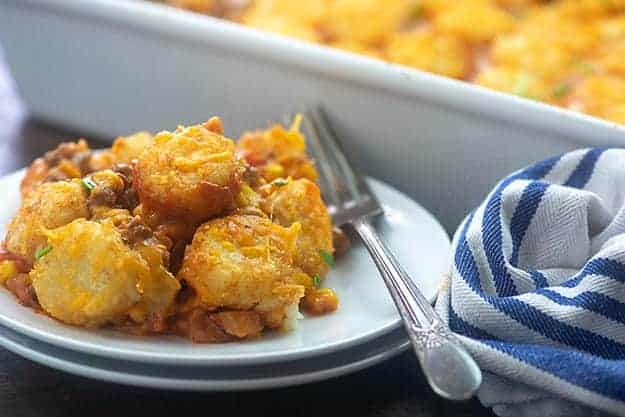 More Easy Dinner Ideas
I love dinner's that can come together in a flash, and I'm sure you do too, because honestly, who doesn't love easy dinners? Since I love making my life easier, and yours too, here are a few of my favorite quick and simple dinners the whole family will love.
Crockpot Chicken and Dumplings
Instant Pot Chicken Burrito Bowl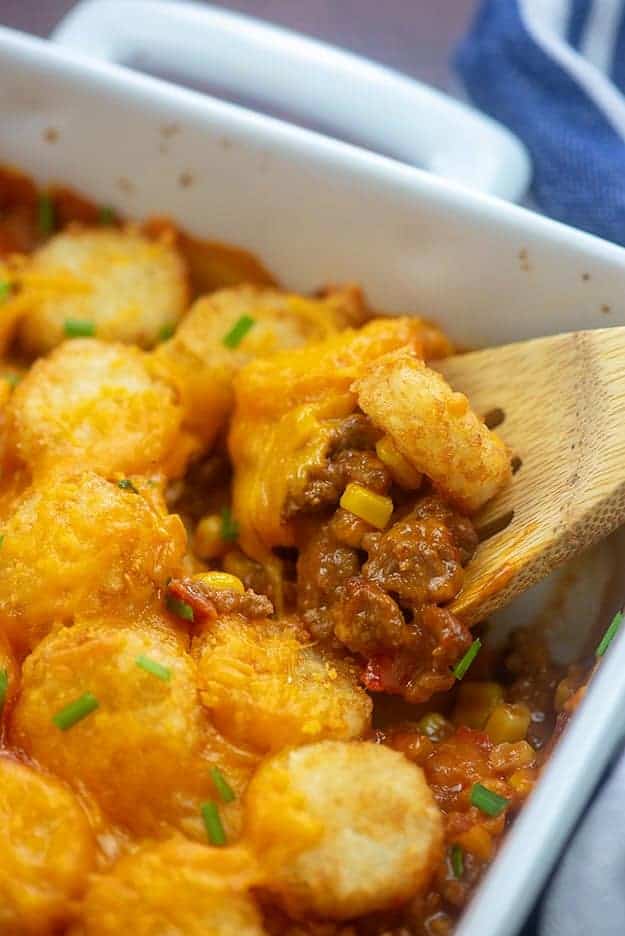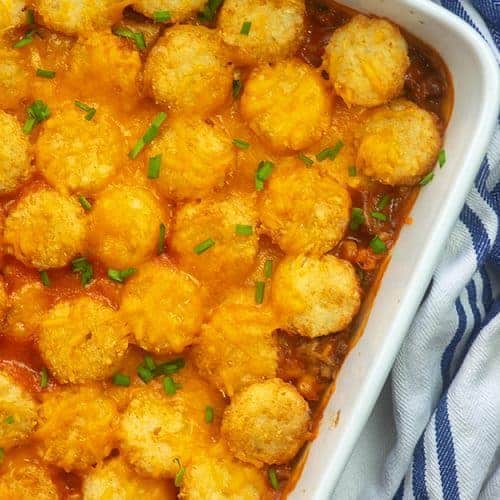 Sloppy Joe Tater Tot Casserole
This sloppy joe casserole is such an easy twist on a childhood favorite! The whole family loves this one at my house! Check out my video below and see how easy this is to make, too!

Prep15 minutes
Cook30 minutes
Total45 minutes
Ingredients
1 pound ground beef
1 red bell pepper diced
1/2 sweet onion diced
15 ounces canned corn drained
15 ounces sloppy joe sauce
2 ounces cream cheese
8 ounces cheddar cheese grated
16 ounces tater tots
Chives for sprinkling on top as desired
Instructions
Preheat oven to 450 degrees.

In a large skillet, brown the ground beef with the peppers and onions until the meat is cooked through. Drain the fat and return to the heat. Stir in the corn, sloppy joe sauce, and cream cheese. Cook over low heat until the cream cheese is melted.


Pour the sloppy joe mixture into a 9x13 baking dish. Top with half of the grated cheese.


Arrange the tater tots in a single layer over the top of the cheese. Sprinkle the top with the remaining cheese.


Bake for 20 minutes. Remove from the oven and sprinkle with chopped chives if desired. Serve immediately.

Nutrition Information:
Calories: 578kcal (29%)| Carbohydrates: 32g (11%)| Protein: 26g (52%)| Fat: 38g (58%)| Saturated Fat: 16g (100%)| Cholesterol: 103mg (34%)| Sodium: 759mg (33%)| Potassium: 611mg (17%)| Fiber: 2g (8%)| Sugar: 2g (2%)| Vitamin A: 1125IU (23%)| Vitamin C: 33.5mg (41%)| Calcium: 311mg (31%)| Iron: 2.5mg (14%)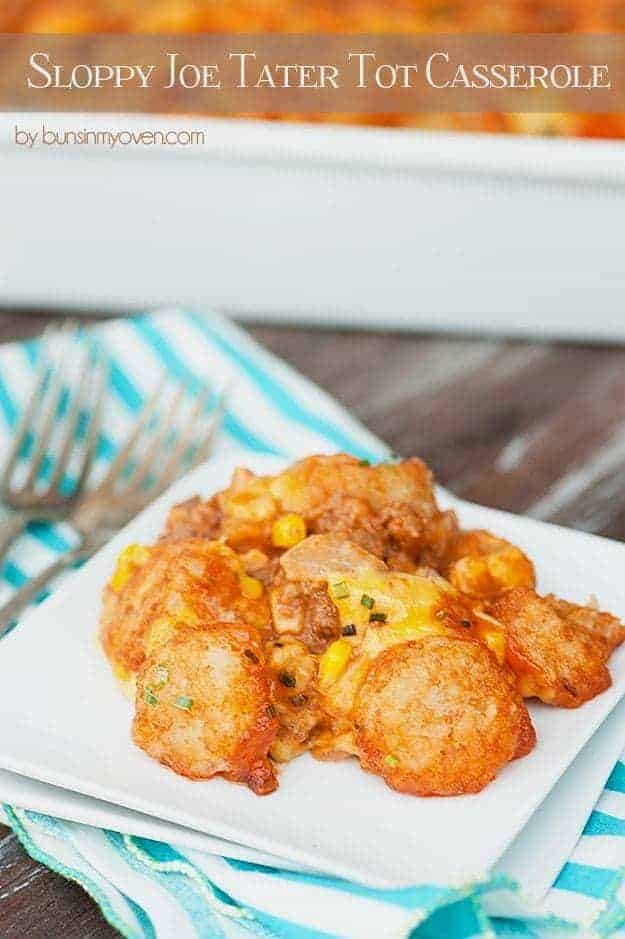 This post was originally published in August 2013 and has been updated in 2019 with new photos. Original photo above.
Follow along on Pinterest! I pin good food all day long!