Italian pasta salad is packing a punch of flavor with a homemade Italian dressing. This pasta salad is bursting with goodness – salami, pepperoni, mozzarella, tomatoes, spinach, and pepperoncini!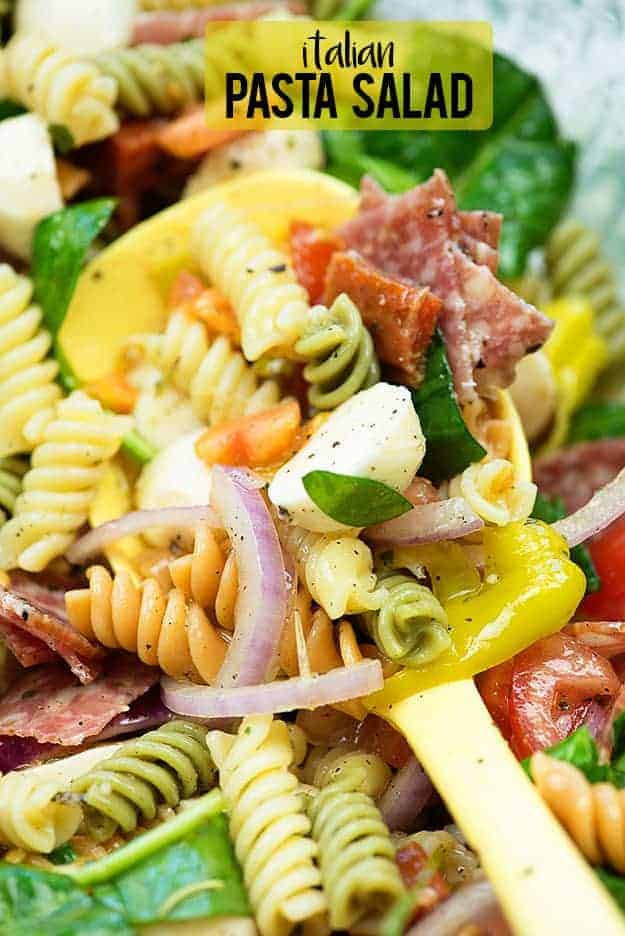 I have been a long time lover of the cold pasta or vegetable salad.
I think my husband was a little shocked and dismayed the first time he came to a family dinner at my parent's house. Everyone brings sides and the majority of those sides are cold salads.
My broccoli salad with bacon has been a favorite forever. So is my mama's classic macaroni salad.
He is not much for these types of salads. They usually have onion and he's not a fan of that. He's also weird about cold pasta and potatoes, so you can imagine his struggle.

For my Italian pasta salad recipe, keep scrolling down to the recipe card.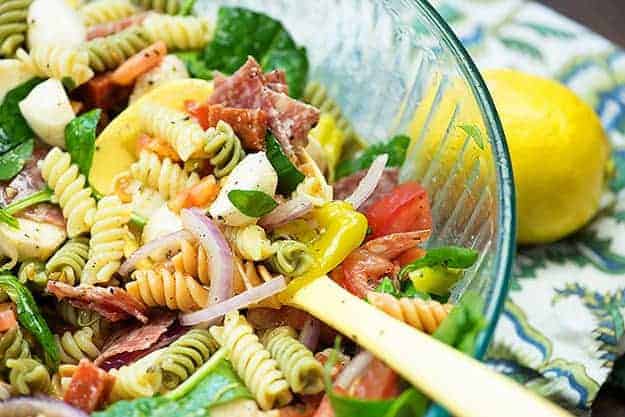 Luckily for him, I love this type of side dish and am happy to eat his portion for him. 😉
This pasta salad with Italian dressing is basically a big ol' bowl full of heaven. There is SO much good stuff packed into one pasta salad. I bet you won't want to share!
How to make pasta salad:
First, you have to boil up some pasta. Don't overcook it, because pasta salad needs a more firm pasta.
You'll want to let your pasta cool before adding in all the goodies, so drain and rinse under cold water. <— If you have strong feelings about rinsing pasta, go ahead and stick it in the fridge rather than rinsing under cold water, but know that it's going to stick together a bit when you go to mix it up.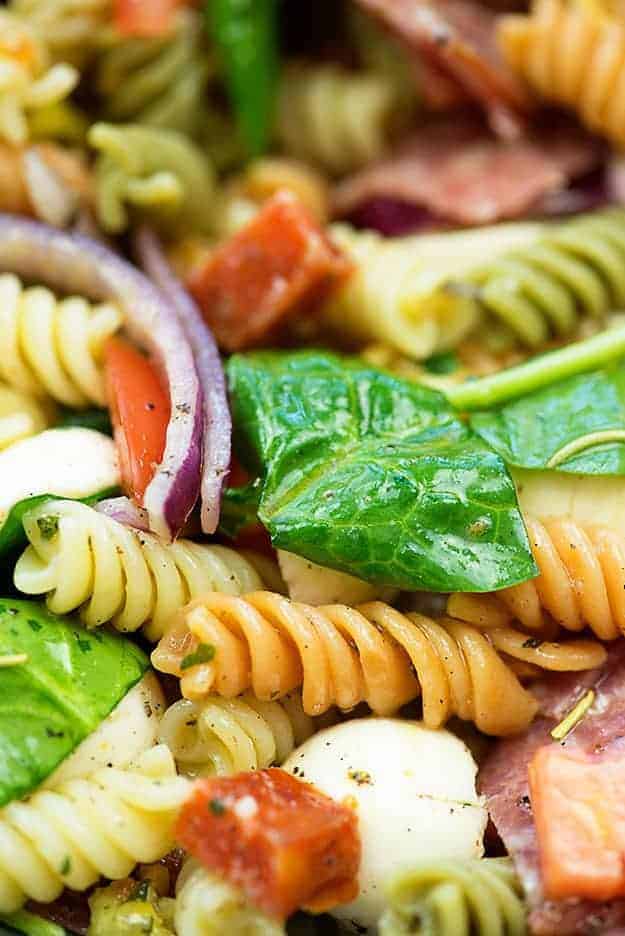 Next, you'll dice up all the goodies going inside.
For this Italian pasta salad recipe, we're using a big mix of things – fresh mozzarella, pepperoni, salami, cherry tomatoes, fresh baby spinach, red onion, and pepperoncini. You can adjust these ingredients to fit your tastes with no problem.
Skip the pepperoni for extra salami. Swap the pepperoncini for mild banana peppers. Use grated mozzarella instead of fresh mozzarella. It's hard to mess this one up, though in my opinion, the recipe is perfect as written. 😉
Stir all that goodness into the pasta and move on to the dressing.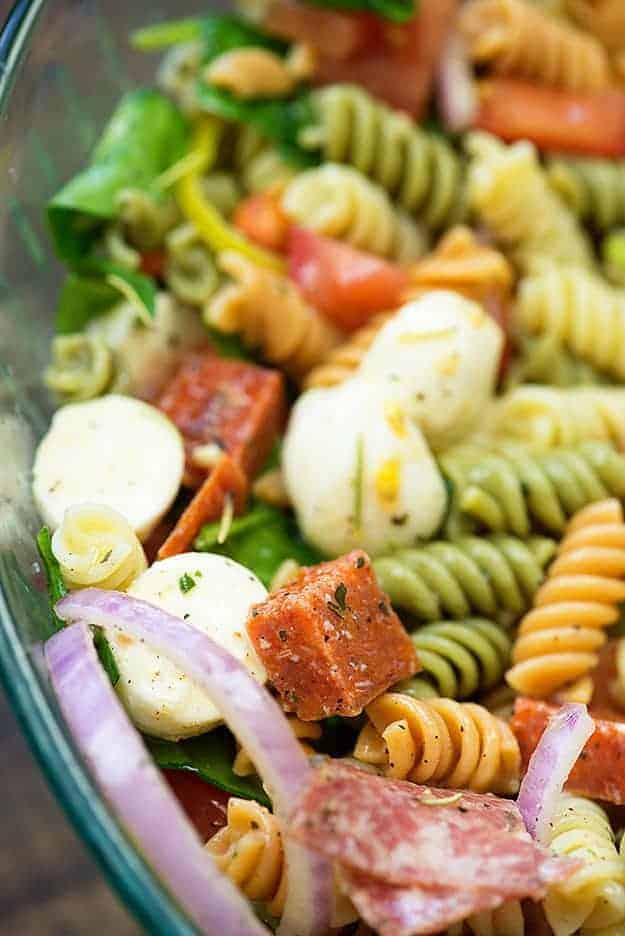 Pasta salad dressing:
If you love Italian dressing (I do!!), you're going to love my homemade version! It's perfect for coating the pasta salad.
You're going to need some olive oil, fresh lemon juice, minced garlic, salt, sugar, oregano, basil, and rosemary.
The sugar does not make this sweet – it's just a bit to balance out the acidity. I don't know about you, but in my opinion, sweet Italian dressing is from the devil. I feel the same way about sweet pickles. 😉
Everything just gets whisked together really well. Easy as pie.
Pour the dressing right over your pasta salad, stir to coat, and taste for seasoning. I usually add a bit more salt, but taste it and see what you think.
There you have it – pasta salad with Italian dressing! Easy, right?
I told you this one was simple!
It's a hearty and filling recipe too. So many things packed into one little side dish. You have to make this for your next get together, friends! You won't regret it.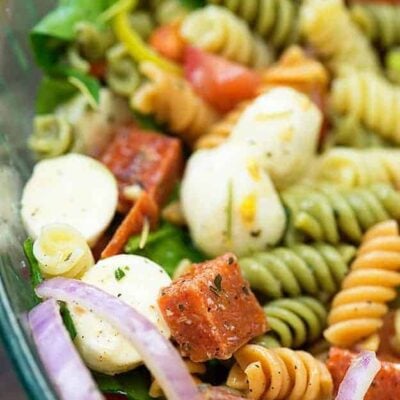 Italian Pasta Salad
This Italian pasta salad is bursting with flavor from the pepperoni, salami, mozzarella, and veggies! The homemade Italian dressing is perfect for this salad!
Prep10 minutes
Cook8 minutes
Total18 minutes
Ingredients
For the pasta salad
1 pound tri-colored rotini
8 ounces mozzarella balls
8 ounces salami
8 ounces pepperoni
2 cups cherry tomatoes
1 cup spinach
1/2 cup sliced red onion
1/2 cup pepperoncini
For the dressing
3/4 cup olive oil
Juice of 1 lemon
1 teaspoon salt
1 teaspoon sugar
1 teaspoon oregano
1 teaspoon basil
1 teaspoon rosemary
1 clove garlic minced
Instructions
To make the pasta salad, bring a large pot of water to a boil. Add the rotini and cook until al dente. Drain and rinse under cold water until pasta is cool.

While the pasta is cooking, cut the mozzarella balls in half. Cut the salami and pepperoni into small pieces. Halve the cherry tomatoes and roughly chop the spinach. Dice the peperoncini into small pieces.

Add the pasta to a large mixing bowl with the prepared mozzarella, salami, pepperoni, tomatoes, spinach, onion, and pepperoncini.

To make the dressing, whisk together all of the ingredients until well combined.

Pour the dressing over the pasta salad and stir well to coat.

Refrigerate for at least 30 minutes prior to serving.

Taste and add additional seasoning as desired.
Nutrition Information:
Calories: 586kcal (29%)| Carbohydrates: 37g (12%)| Protein: 20g (40%)| Fat: 39g (60%)| Saturated Fat: 10g (63%)| Cholesterol: 49mg (16%)| Sodium: 1635mg (71%)| Potassium: 359mg (10%)| Fiber: 2g (8%)| Sugar: 2g (2%)| Vitamin A: 450IU (9%)| Vitamin C: 13.6mg (16%)| Calcium: 110mg (11%)| Iron: 1.7mg (9%)