This Southwest Pasta Salad recipe is bursting with bold flavors and fresh veggies, all combined with a creamy chipotle ranch dressing! The colorful mix of ingredients make this recipe a summer favorite!
Summer is my favorite time of year for many reasons, but mostly because it's the time for pasta salad!
I definitely eat pasta salad all year long, but summer seems to be peak pasta salad season and I am here for it!
This Southwest pasta salad has loads of goodies mixed in with the pasta, like black beans, creamy avocado, crisp corn, red onion, and lots of cilantro.
We toss it all in our homemade chipotle ranch dressing, which is creamy and tangy with just the right amount of heat.
The dressing is good on a taco salad too, so don't limit it to just this Southwest pasta salad. It also makes a great dip for our air fryer waffle fries and is tasty drizzled on our fried tacos!
Ingredient Notes:
This post contains affiliate links. As an Amazon associate and member of other qualifying programs, I earn from qualifying purchases.
For the pasta salad:
Rotini – This pasta salad recipe starts with rotini pasta! You can use plain or the tri-color type. Fusilli is a similar shaped pasta that would also work for this recipe, or even penne would be fine.
Black Beans – I'm keeping this easy by using canned black beans. You'll need to drain and rinse them.
Southwest Style Corn – You should be able to find a can of this at your local grocery store. It's just corn mixed with peppers.
Fresh Veggies – In addition to the canned veggies you'll need some fresh cherry tomatoes, an orange bell pepper, and a red onion. They'll add crisp fresh flavor and some crunch to the pasta salad.
Avocado – A fresh diced avocado will add rich, creamy texture and flavor that will pair perfectly with the other Southwest-style pasta salad ingredients.
Cilantro – We love cilantro and like to use plenty of it. Some people don't enjoy it at all though so it is optional if you have any cilantro haters. Parsley would make a fine substitute.
For the Chipotle Ranch Dressing:
Mayo – This Southwest pasta salad dressing starts with some creamy and tangy mayo for the base of the dressing.
Sour Cream – In addition to the mayo the sour cream will make up most of the rest of the dressing and it will add more creamy, tangy flavor.
Chipotle Pepper – These spicy peppers in adobo sauce pack so much flavor! You can add as much minced chipotle pepper as you can handle! Which is only one pepper for a wimp like me. 😉
Lime – We always prefer fresh squeezed lime juice, but the bottled stuff will work if that's what you have.
Garlic – A couple cloves of minced garlic is an easy way to add flavor to this creamy, spicy Southwest dressing. Use garlic powder if you prefer.
Herbs & Seasoning – This creamy dressing is seasoned with salt and onion powder along with dill and chives. You'll also mix in some cilantro.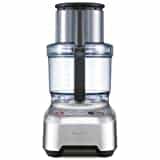 Food Processor
We use our Breville food processor in all kinds of recipes! It makes short work of chopping veggies and many other other tasks. This is our favorite food processor because it is so heavy duty and it will last!
What We Love About This Recipe:
Bold Flavors: This Southwest style salad has lots of great spicy and creamy flavors that are a great twist on the usual Italian style pasta salad.
Versatile: This is the kind of versatile side dish that can be paired with just about anything, thanks to the mix of veggies and textures.
Vibrant: We eat with our eyes first and the vibrant colors in this pasta salad make it very appealing!
Easy: This recipe is quick and easy to make, so you can enjoy a delicious and satisfying meal in no time.
Healthful: Packed with nutrient-rich vegetables and protein-rich beans, this pasta salad is a healthful choice that will leave you feeling energized and satisfied.
How to Make Pasta Salad:
Veggies: Drain the canned beans and corn, slice the tomatoes and chop up the bell pepper and onion. Those will go in a large mixing bowl.
Combine: Stir in cooked rotini (or whatever shape of pasta you prefer). Give everything a big stir to combine it all. If you intend to serve this pasta salad immediately you can go ahead and dice up and add the avocado. If you're refrigerating and serving later, wait to add the avocado just before serving to prevent any browning.
Dressing: Add the dressing ingredients to a food processor or blender and process until smooth and creamy. Pour that goodness all over the pasta salad and give it a good stir to combine.
Helpful Tip!
If you don't have a blender or food processor you can still prepare this recipe by hand! It'll just take a little more effort. Finely mince the garlic and pepper and stir the dressing together well by hand.
Serve: We prefer this served nice and cold and like to let it chill in the fridge for a couple of hours before serving. Right before serving we dice up the avocado and gently stir that in. You can serve it right away, if preferred.
What To Serve With Southwest Pasta Salad:
The spicy flavors in this Southwest pasta salad will go well with just about any Mexican inspired recipe and plenty of other summer favorites, too. Try serving this salad with some of my other favorite recipes:
Swaps & Substitutions:
Chipotle Ranch Dressing: Our homemade chipotle ranch dressing is rich, creamy, and just a bit spicy. You can easily add more spice by mixing in another chipotle pepper or you can skip the pepper altogether and make a more traditional ranch dressing.
Veggies: Feel free to get creative and only use the veggies and mix-ins that you like! Swap the red onion for green, use any color bell pepper you like, use pinto beans in place of black beans, and feel free to stir in some black olives!
Protein: We generally serve this as a side dish, but if you stir some cooked, chopped chicken into the mix you've got a tasty main dish!
Cheese: We left the cheese out, but cubed or shredded cheddar or pepperjack would make a great addition!
FAQ's:
How to store pasta salad?
You can keep any leftovers stored in the refrigerator in a covered container for about 2 to 3 days. Just keep in mind the avocado may brown the longer it sits.
Can I make this salad ahead of time?
Yes, this pasta salad is perfect for making ahead. We try to stir the avocado in just before serving so that's it's still nice and fresh.
MORE PASTA SALAD RECIPES!
Southwest Pasta Salad
This pasta salad makes a great summer side dish for a potluck or barbecue. You can stir in chopped, cooked chicken to turn it into a quick main dish as well.
Prep20 minutes
Cook8 minutes
Total28 minutes
Ingredients
For the Pasta Salad:
16 ounces rotini pasta
15 ounces canned black beans rinsed and drained
15 ounces canned Southwest style corn drained
2 cups halved cherry tomatoes
1 medium orange bell pepper chopped
1 small red onion chopped
1/3 cup chopped cilantro
1 avocado diced
For the Chipotle Ranch Dressing:
½ cup mayonnaise
1/2 cup sour cream
1 chipotle pepper in adobo more to taste
1 lime juiced
2 cloves garlic chopped
2 tablespoons dill
1 tablespoon cilantro
1 teaspoon chives
1 teaspoon onion powder
1 teaspoon salt
Instructions
To make the salad:
Boil the pasta according to package directions. Rinse pasta under cold water to cool.

Add the cooled pasta to a large bowl along with the beans, corn, pepper, onion, tomatoes, and cilantro. If you'll be serving right away, add the avocado. If you're refrigerating and serving later, add the avocado just before serving to prevent browning.

Pour the dressing over the pasta and stir to coat.

Serve immediately or refrigerate until ready to serve.
To make the dressing:
Add all of the ingredients for the dressing to a small blender or food processor and process until smooth and creamy.

Store dressing in an airtight container in the fridge for up to 5 days if you won't be using it right away.
Tips & Notes:
We like the dressing to have just a little kick to it, so we only use one chipotle pepper. If you'd like a spicier dressing, use more peppers. If you don't have a blender, finely mince the pepper and garlic and stir the dressing together by hand. You can add cooked, shredded or chopped chicken to this pasta salad if desired. We prefer to chill this salad for a couple of hours to allow the flavors to meld before serving. If you do chill the salad first, wait to chop and add the avocado until right before serving to prevent it from turning brown. It's fine to serve right away, if preferred.
Nutrition Information:
Calories: 330kcal (17%)| Carbohydrates: 47g (16%)| Protein: 9g (18%)| Fat: 13g (20%)| Saturated Fat: 3g (19%)| Polyunsaturated Fat: 5g| Monounsaturated Fat: 4g| Trans Fat: 0.02g| Cholesterol: 10mg (3%)| Sodium: 400mg (17%)| Potassium: 467mg (13%)| Fiber: 7g (29%)| Sugar: 5g (6%)| Vitamin A: 661IU (13%)| Vitamin C: 26mg (32%)| Calcium: 43mg (4%)| Iron: 2mg (11%)