This Greek Orzo Pasta Salad is full of fresh veggies and pasta that have been tossed in a flavorful Greek dressing and topped with feta cheese! Perfect for a hot summer night.
We've been on a Greek kick lately, and the family loves it! Greek food can be so fresh and flavorful and the bright flavors are perfect as it starts to warm up outside!
Our Greek chicken kabobs, Greek cucumber salad, and Greek rice are always on repeat in our house. The family loves them and they're all simple enough to make.
Today I'm sharing a recipe for this Greek orzo salad.
Orzo is a small pasta, shaped like a grain of rice. We love it in this pasta salad, paired with cucumbers, tomatoes, bell peppers, and onions. And of course we drizzle it with our Greek dressing recipe to make the flavors pop.
Highly recommend you give this one a try the next time you need something fresh and flavorful to serve to friends and family. It's always a huge hit!
Ingredient Notes:
This post contains affiliate links. As an Amazon associate and member of other qualifying programs, I earn from qualifying purchases.
Pasta – We love orzo in this pasta salad, but you can also ditalini or even rotini or bowtie pasta if that's what you have on hand.
Greek Dressing – While store-bought is fine in a pinch, we definitely recommend our Greek dressing recipe. Fresh is always best, right? 🙂
Fresh Veggies – You're going to add plenty of fresh veggies to mix in with that Greek dressing and pasta! You'll want fresh diced tomatoes, red onion, bell peppers, English cucumber, and some black olives.
Cheese – My favorite part of Greek cuisine is the feta. Don't skimp!
Tzatziki Sauce – We add a touch of creaminess to our Greek orzo pasta salad by stirring in a bit of our tzatziki sauce. You're welcome to make your own (our recipe is my favorite!) or you can purchase this in the deli at the grocery store.
What We Love About This Recipe!
This Greek Orzo Salad is fresh and flavorful, with loads of different textures from the tender pasta to the crisp veggies, and the Greek dressing really brightens everything up. This dish is perfect for potlucks or just a family dinner.
How to Make Greek Orzo Salad:
Veggies: Finely dice the red onion and chop up the tomatoes, bell peppers, and cucumber. These fresh veggies are going to taste great with the pasta and dressing!
Helpful Tip!
Raw red onion can definitely be a bit overpowering for some people. If you're worried that might be you, dice the onion up but then add it to a bowl of ice cold water while you prepare the pasta. This will help take some of the "bite" out of the red onion.
Pasta: Boil the orzo in salted water until al dente – this normally takes about 8-9 minutes. Rinse the pasta to remove the excess starch.
Toss: Add the orzo to a large bowl and then pour in half of the Greek dressing and give it a good stir. This will help season the pasta as it will soak up a bit of that dressing.
Combine: Add all of the remaining ingredients, including the rest of the Greek dressing, and stir to combine. Give it a taste and adjust the seasonings as needed. We often add a bit more salt and pepper until it's just where we want it.
Refrigerate: Pop this in the fridge for a few hours to let the flavors meld together, and then stir and adjust seasoning once more before serving. We almost always sprinkle a bit of extra feta on top, because feta is basically my favorite food. 😉
FAQs:
How to store Greek orzo pasta salad?
You can keep this Greek orzo pasta salad in the refrigerator for 3 to 4 days.
Why salt the pasta water?
Salting the pasta water is your best chance at seasoning the pasta itself. We generally add about 1 tablespoon of salt to our water.
What goes in a Greek orzo salad?
You'll find tender orzo and plenty of crisp veggies, like cucumbers, bell peppers, and red onion in a Greek orzo salad. There are also tomatoes, olives, and creamy feta cheese.
More Cold Summer Salad Recipes: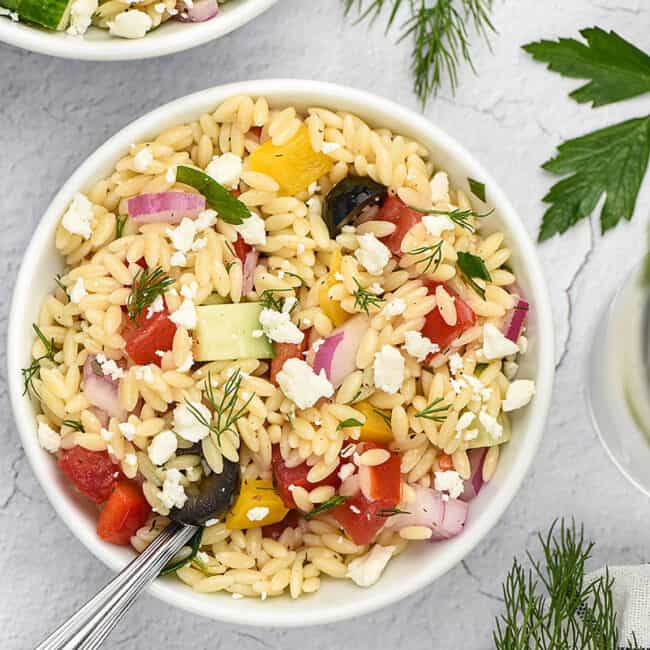 Greek Orzo Pasta Salad
The bold, fresh flavors of Greek food are my favorite for a hot summer night and this Greek Orzo Salad does the trick nicely. Loaded with tender orzo and crisp veggies, dressed with a tangy and bright dressing, this is one of our go-to side dishes.
Prep15 minutes
Cook10 minutes
Chill Time2 hours
Total2 hours 25 minutes
Ingredients
8 ounces orzo pasta
3/4 cup prepared Greek dressing divided
½ cup prepared tzatziki sauce
½ large red onion finely diced
1 large tomato chopped
1/2 English cucumber chopped
1 red bell pepper chopped
1 yellow bell pepper chopped
½ cup crumbled feta cheese
½ cup black or kalamata olives sliced
¼ cup fresh dill roughly chopped
1 teaspoon kosher salt
1 teaspoon cracked black pepper
Instructions
Bring a medium pot of generously salted water to a boil. Add orzo pasta and cook according to package directions, about 9 minutes. Drain pasta and rinse under cold water until pasta is mostly cooled, but still slightly warm.

Add cooked orzo to a large bowl. Add 1/2 cup of the dressing while pasta is still a bit warm. Toss to coat.

Add all of the remaining ingredients and stir well to combine.

Taste and adjust seasoning if needed.

Refrigerate for at least 2 hours. Toss just before serving, adding extra dressing if needed.
Tips & Notes:
Ditalini, rotini, or bowtie pasta would all make a fine substitute for the orzo. To make for a more mellow flavored onion, soak the diced red onion in ice water for 10 minutes before adding to the pasta salad. We prefer our homemade Greek dressing, but store-bought will work fine as well. Just taste and adjust seasonings as needed. We're using black olives here, but kalamata olives are a more traditional option. We've just been having a hard time finding them lately. We usually end up adding a bit more dressing and feta after chilling in the fridge. The orzo soaks up some of the dressing as it chills and we like lots of feta.
Nutrition Information:
Calories: 338kcal (17%)| Carbohydrates: 37g (12%)| Protein: 9g (18%)| Fat: 18g (28%)| Saturated Fat: 5g (31%)| Polyunsaturated Fat: 6g| Monounsaturated Fat: 5g| Cholesterol: 14mg (5%)| Sodium: 811mg (35%)| Potassium: 323mg (9%)| Fiber: 3g (13%)| Sugar: 5g (6%)| Vitamin A: 1255IU (25%)| Vitamin C: 69mg (84%)| Calcium: 120mg (12%)| Iron: 1mg (6%)