This Greek Rice Recipe will quickly become a family favorite! The lemon flavor shines through and brightens the whole dish up. Stir in a bit of parsley or dill for even more flavor!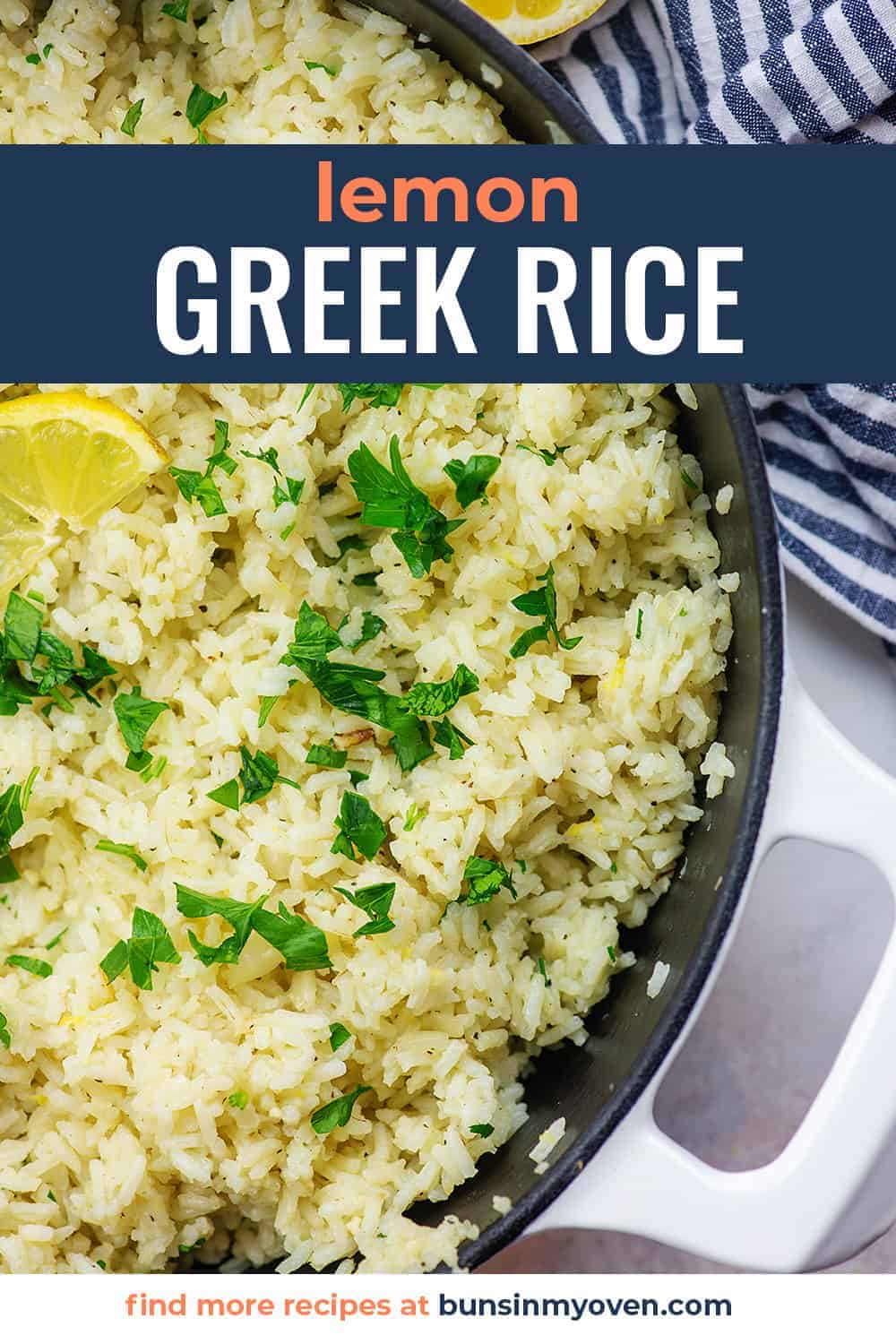 As a kid, we ate Minute Rice pretty often.
I was never the biggest fan of rice, but that may have something to do with the fact that I squirted ketchup on it? (I'm sorry, please forgive me, I was a child.)
As an adult, we eat rice pretty regularly – the 'real' stuff more often than the instant stuff.
My rice pilaf is on repeat week after week and no one ever complains. Add a little bit of butter, some salt, and serve it up with literally any protein. It's a go-to!
Lately, though, we've been into Greek flavors and this Greek lemon rice is seriously just SO GOOD. The pop of flavor from the lemon, the fresh herbs…it's a favorite side dish around here.
We're all about the Greek flavors lately, as seen with our Greek pasta salad, Greek dressing, and Greek chicken kabobs!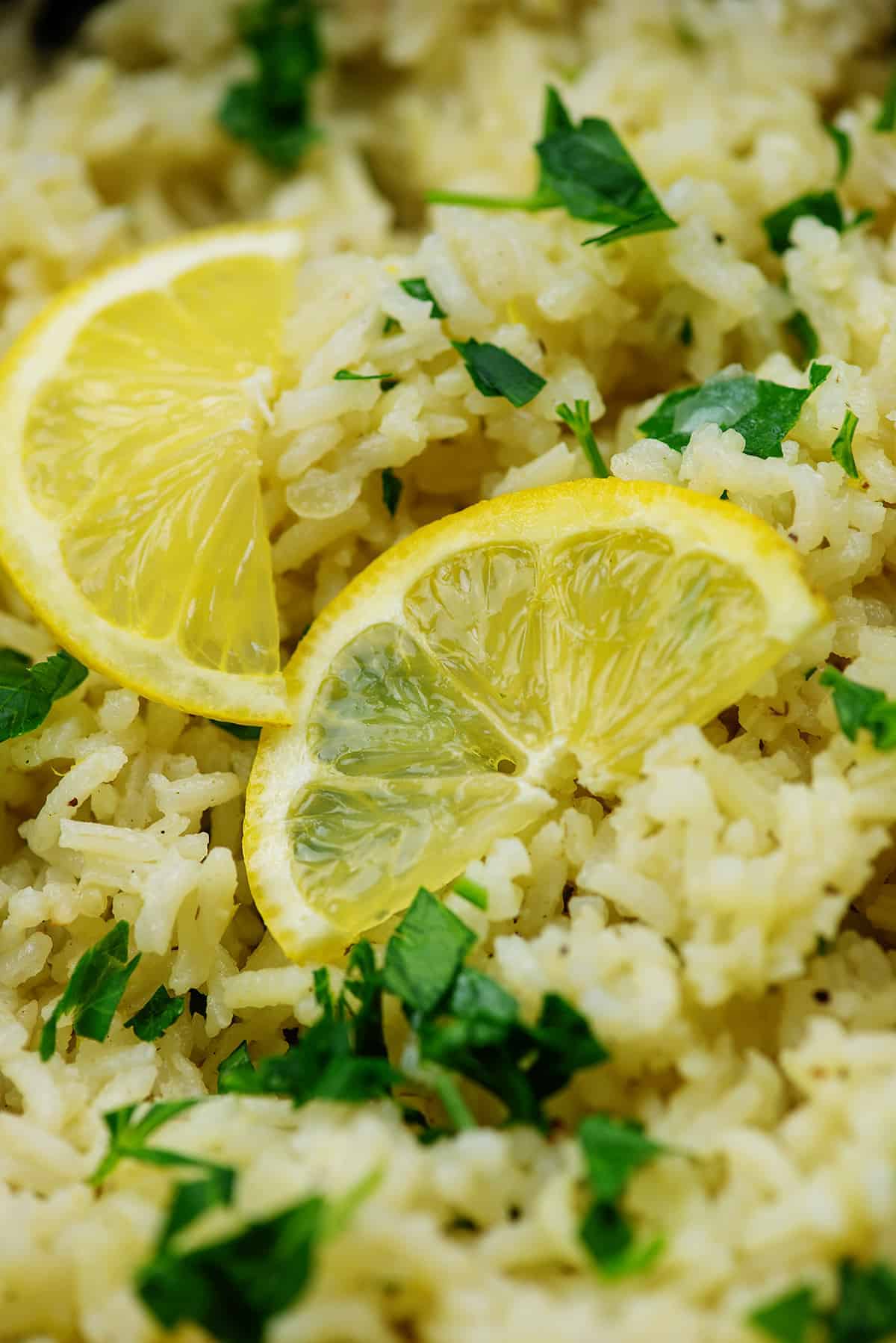 Ingredient Notes:
This post contains affiliate links. As an Amazon Associate and member of other affiliate programs, I earn from qualifying purchases.
Rice – For this lemon Greek rice recipe I'm using long grain white rice.
Chicken Broth – You'll cook the rice in the chicken broth, which means it is going to soak up all that wonderful flavor! You could also substitute this with vegetable broth if you want a purely vegetarian dish.
Lemon – A fresh lemon is going to really take this Greek rice to the next level. You'll use both the fresh squeezed lemon juice and grate some lemon zest for the ultimate lemon rice.
Garlic & Onion – A little minced garlic and onion will help to balance out the flavors in the lemon rice.
Greek Seasoning – Greek seasoning is a mixture of salt, pepper, garlic, oregano and more. We think Cavender's makes the best!
What Readers are Saying!
"Started making this rice a couple of months ago on a whim for something different (I'm not a big instant rice fan). Since then every time I'm doing skewers or lamb my wife insists that I do my now famous Greek rice. Thanks for the recipe and helping elevate my status even further. Cheers." – Berton R.
How to Make Greek Rice:
Start this lemon rice recipe by toasting your rice in a bit of oil in a skillet with some onions and garlic.
This only takes a couple of minutes, but it adds a richer, nutty flavor to the grain and softens up the onions and garlic a bit.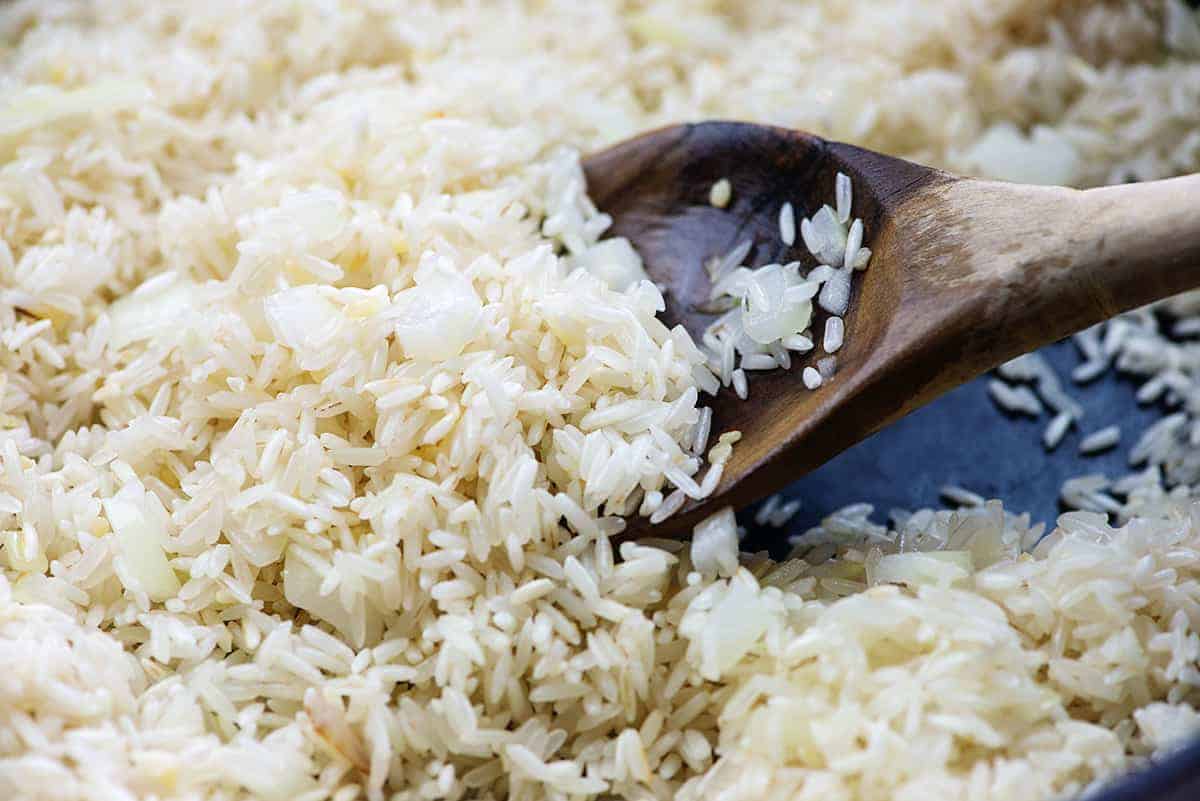 Add in some chicken broth and Greek seasoning.
We use and love Cavender's Greek Seasoning in this recipe and in many others – it's perfect just sprinkled over chicken or pork chops before grilling.
Bring the liquid to a boil, reduce to a simmer, and cover the pan.
You'll want to let the rice cook, undisturbed (don't open the pan or stir the pot!) for 15 minutes. Then you'll just turn off the heat and let the rice set for another 10 minutes. No peeking or cracking the lid – resist the urge!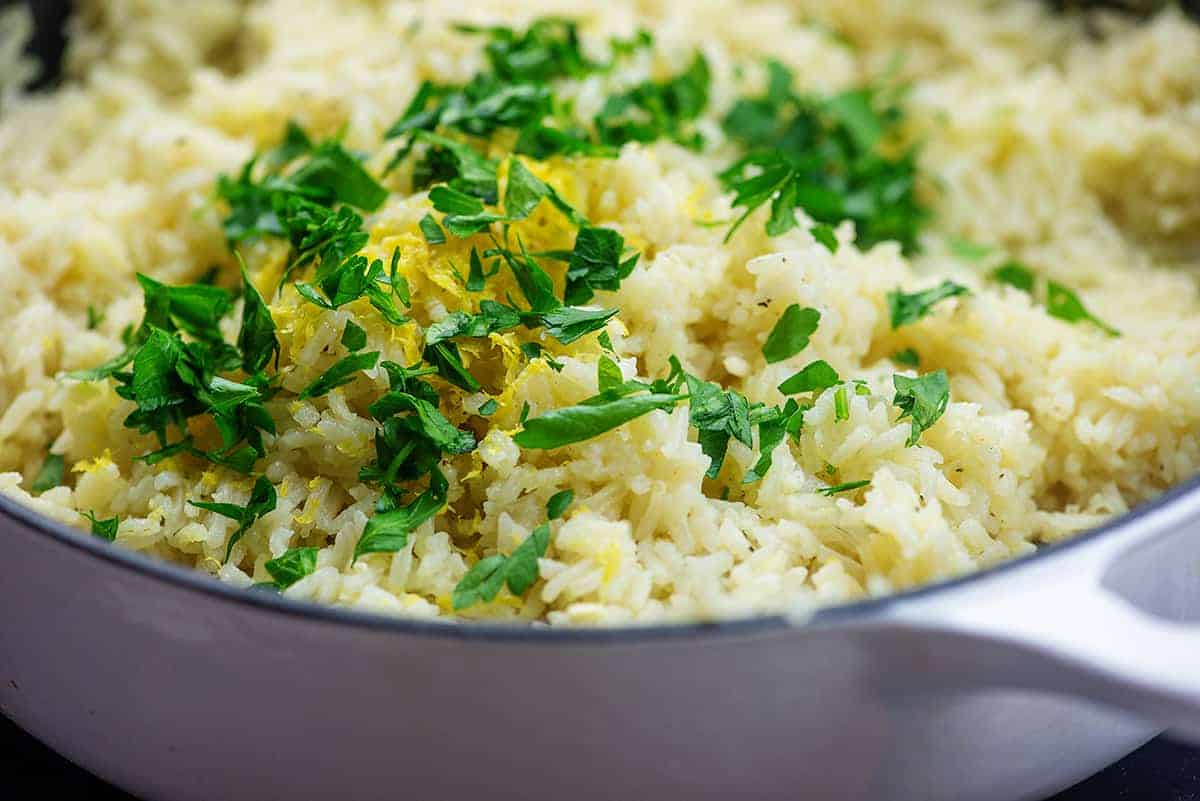 When the rice is done, remove the lid and fluff with a fork.
Use a microplane grater to zest a lemon into the rice and then squeeze in the lemon juice. Stir in some parsley (or dill!) and get ready for the best lemon Greek rice of your life!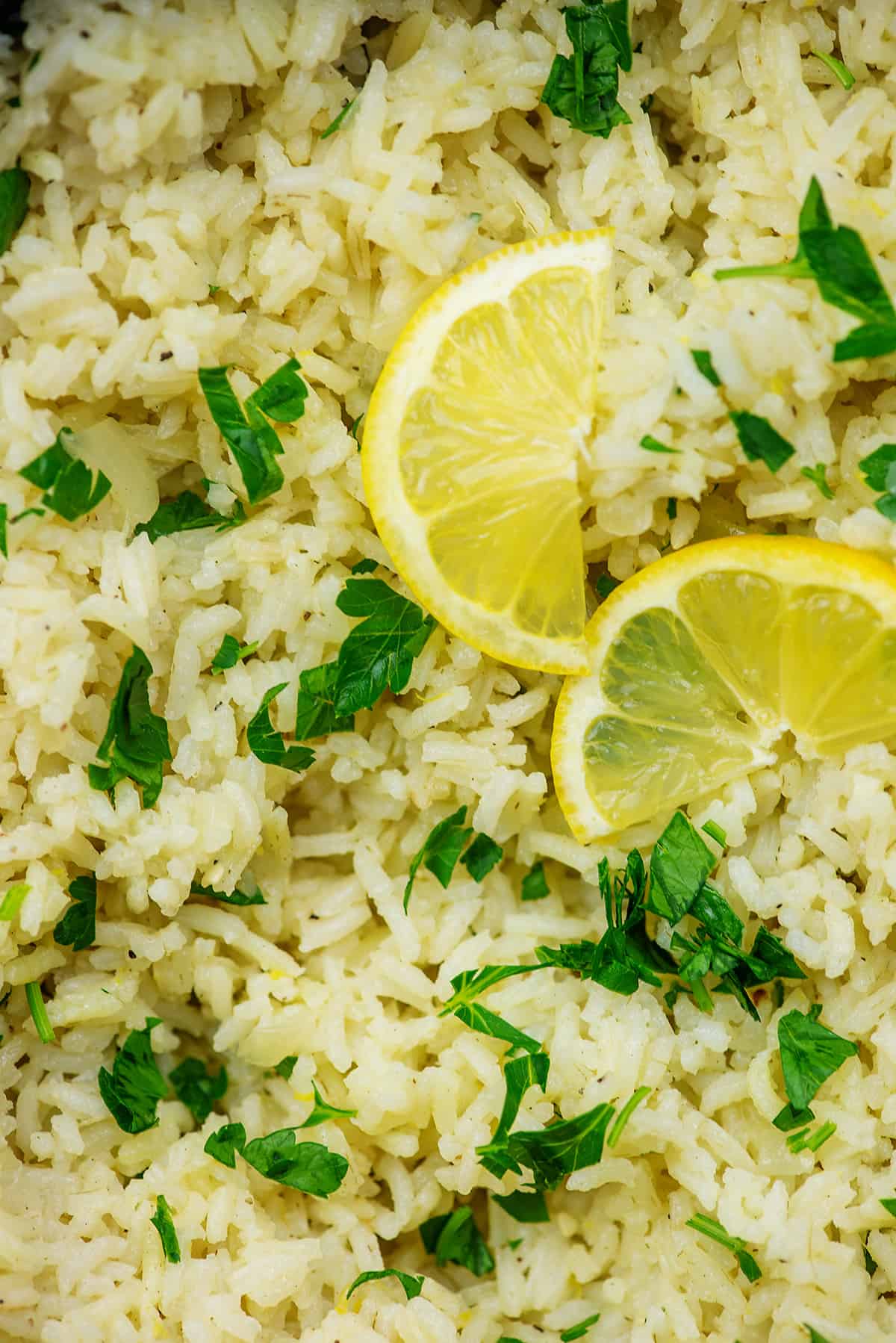 Helpful Tip!
How To Cook Perfect Rice Every Time
Long grain white rice should have a 1:2 ratio of rice to liquid.
Simmer the rice, covered, for 15 minutes. No peeking!
Turn off the heat and let the pan sit (still covered!) for 10 more minutes.
Fluff with a fork and season before serving.
FAQs:
How to store Greek rice?
This lemon rice will store well in the refrigerator for at least 3 days in an airtight container. Let it cool first before storing.
What is rice pilaf?
It generally means rice that has been toasted, contains garlic and onion or other veggies, and is cooked in broth or stock.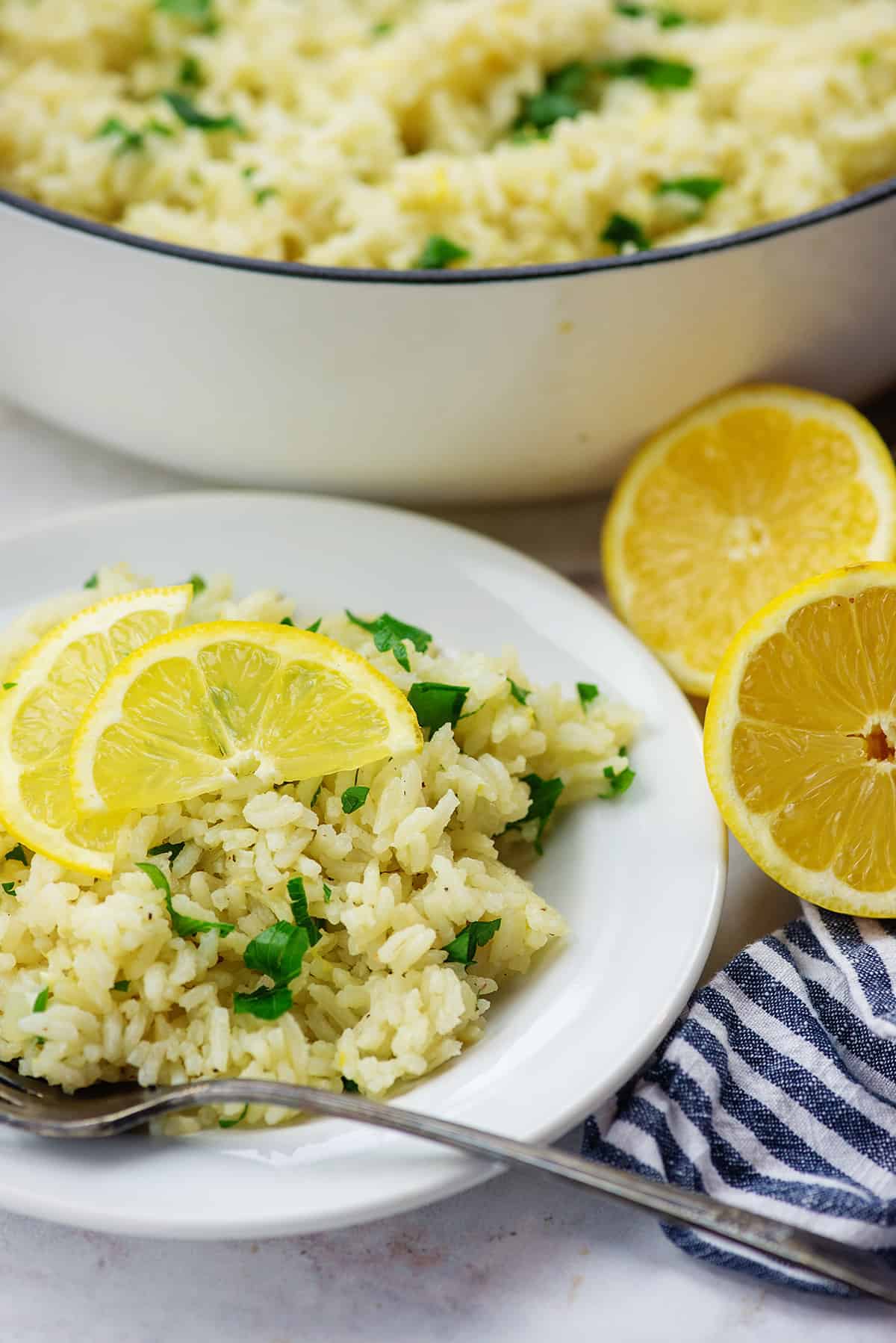 Leftover Hack!
Add leftover grilled chicken to a bowl of this leftover Greek rice, top it all with a squeeze of lemon, some halved cherry tomatoes, and a dollop of tzatziki.
We make this Chicken Soulvak just about once a week. It's quickly become a favorite recipe in our house and it pairs perfectly with this Greek rice pilaf!
More rice recipes: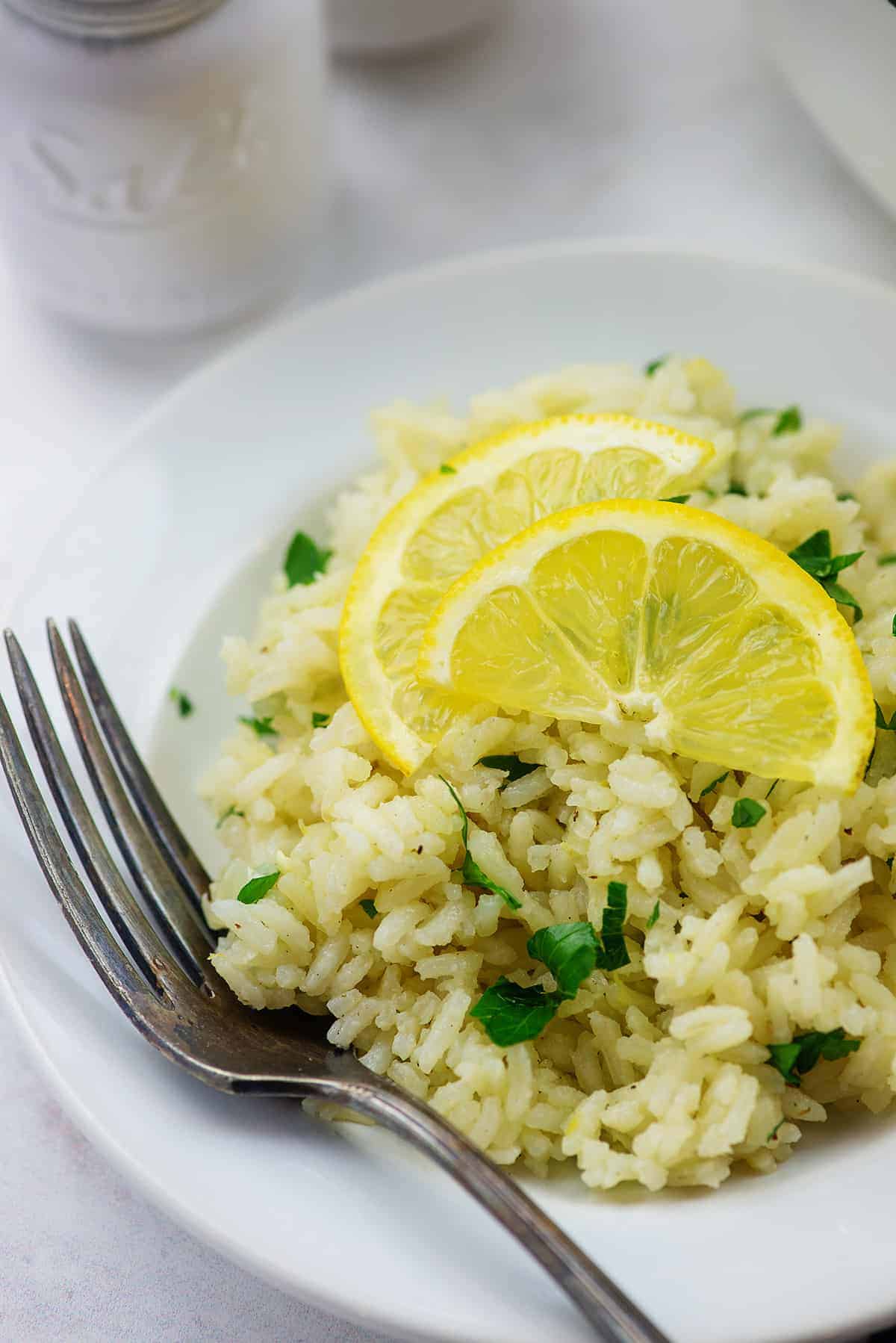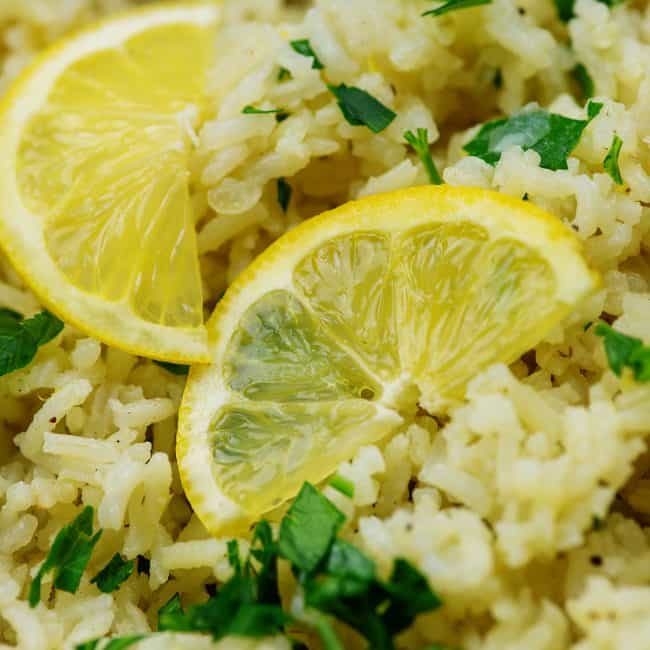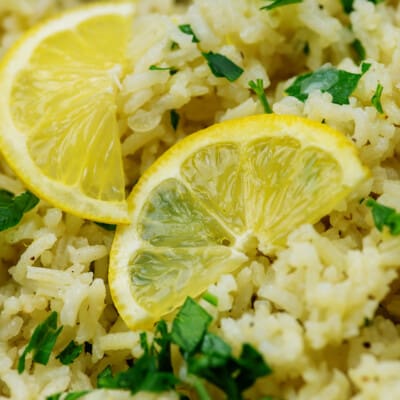 Greek Rice
This Greek rice recipe just needs about 5 minutes of hands on time and it turns out so fresh and flavorful, thanks to the lemon and fresh herbs. We serve this up often and it's a huge hit with my family.
Prep5 minutes
Cook20 minutes
Total35 minutes
Ingredients
1 teaspoon olive oil
2 cups long grain white rice
½ medium onion minced
2 cloves garlic minced
4 cups chicken broth
1 tablespoon Greek seasoning
1 lemon
2 tablespoons minced parsley
Instructions
Heat the oil in a large sauce pan over medium heat.

Once hot, add the rice, onion, and garlic and cook, stirring often, until the rice is lightly golden at the tips and the onions have softened.

Add the chicken broth and Greek seasoning to the pot and stir to combine. Bring to a boil, reduce to a simmer, cover, and cook for 15 minutes over medium low heat.

Turn off the heat and let the pan set, covered, for 10 minutes.

Remove the lid from the pan and fluff rice with a fork.

Use a microplane grater to zest the lemon and add to the rice. Cut the lemon in half and squeeze the lemon juice into the rice. Add the parsley and stir.

Serve hot.
Tips & Notes:
This recipe is easily halved, but we like having the leftovers on hand to pull out on busy nights. Fresh or dried dill is also delicious stirred in with the parsley.
Nutrition Information:
Serving: 0.5cup| Calories: 125kcal (6%)| Carbohydrates: 26g (9%)| Protein: 3g (6%)| Fat: 1g (2%)| Saturated Fat: 1g (6%)| Sodium: 289mg (13%)| Potassium: 121mg (3%)| Fiber: 1g (4%)| Sugar: 1g (1%)| Vitamin A: 56IU (1%)| Vitamin C: 12mg (15%)| Calcium: 19mg (2%)| Iron: 1mg (6%)