Our Spam Fried Rice is the perfect way to use up leftover rice to create a flavorful, budget-friendly meal the whole family will love. Loaded with crispy bits of Spam, fluffy scrambled eggs, and plenty of veggies, this spam fried rice recipe is always a hit with my kids.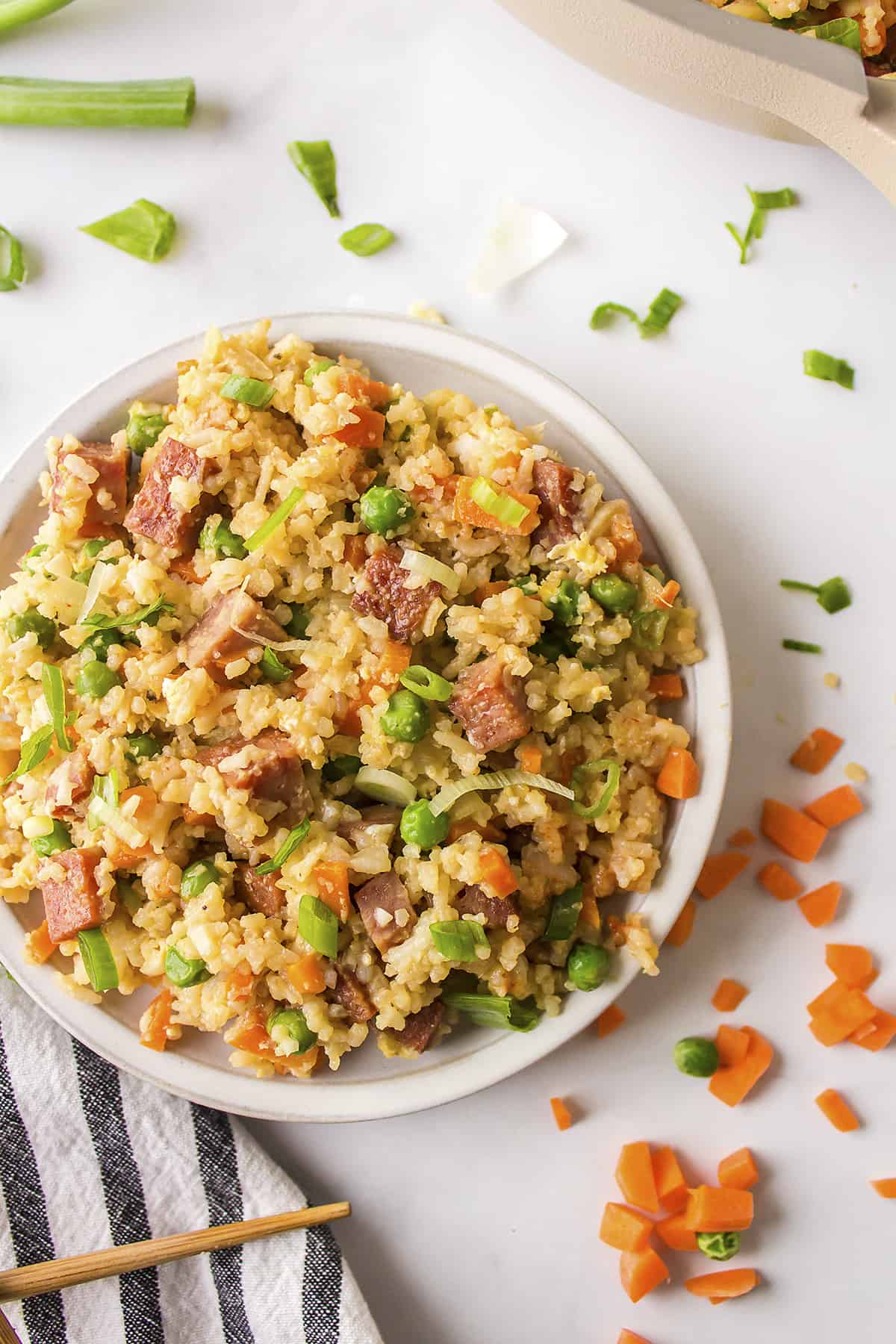 Friends, my kids have been obsessed with take out lately.
I think it's because I've been kind of obsessed with not getting take out. We were in a slump there for awhile where we were eating out 3 or 4 times a week.
I mean, I homeschool my kids so we're all here for 3 meals a day, 7 days a week. I guess 3 or 4 out of 21 meals isn't terrible, but it's not great and it was sure getting expensive.
I've been trying to come up with creative and easy lunch ideas because that's where I usually get stuck.
When the kids asked to hit up our local Asian joint, I compromised with this easy spam fried rice recipe instead. It was a hit!
Homemade fried rice is so darn easy and my kids LOVE it. We usually go for Bacon Fried Rice, or even my cauliflower chicken fried rice, but I'll be honest…I'm having a moment with Spam lately. Weird, but true.
Let me show you how we do this!
Fried Rice Ingredients:
This post contains affiliate links. As an Amazon associate and member of other qualifying programs, I earn from qualifying purchases.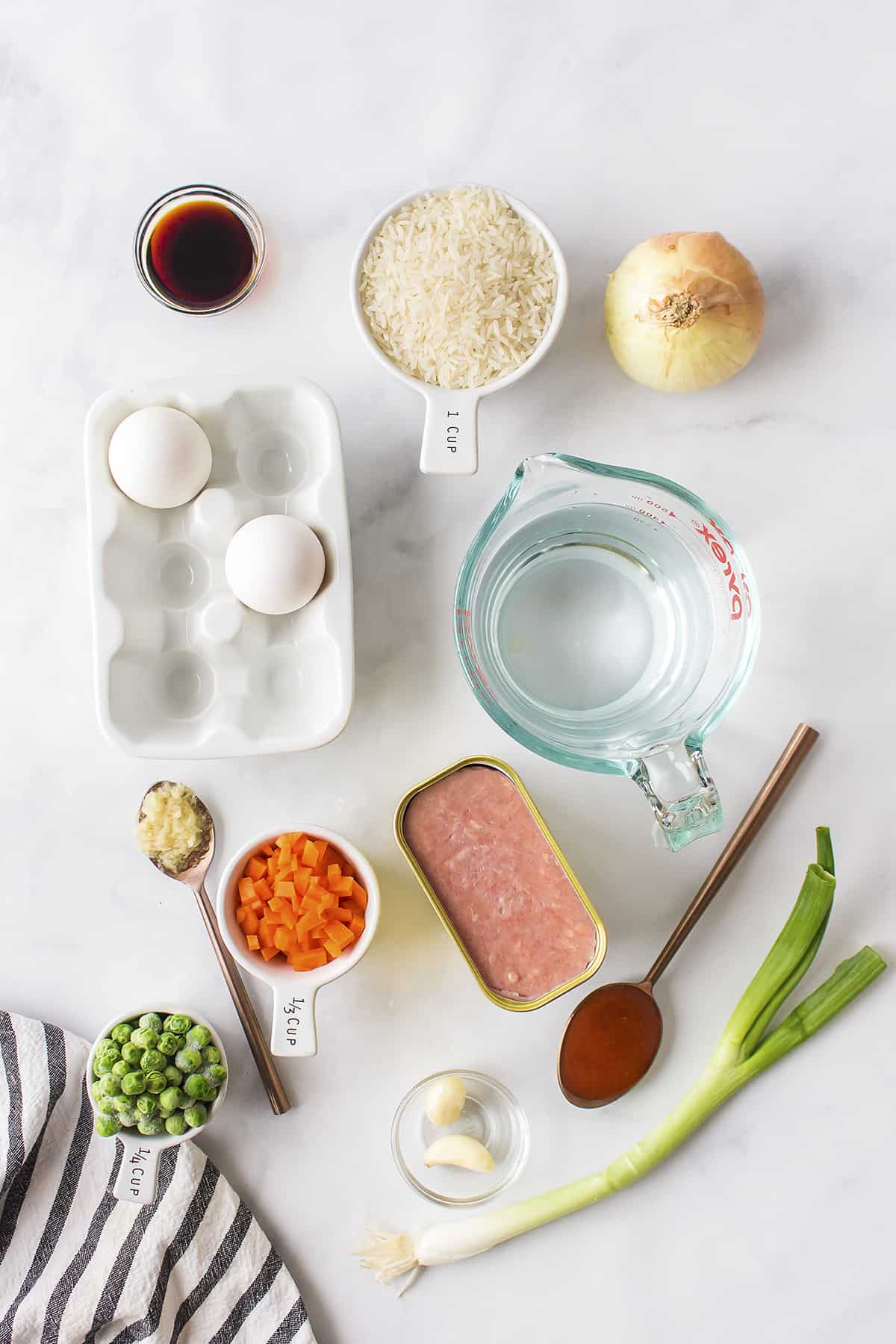 Rice – Use a medium or long grain rice. See the FAQs below for more info!
Spam – I like Spam because of how crispy the outsides get, it's cheap, and I can always keep a can in the pantry so it's ready to go when I need it! You can absolutely swap in ham if you have it on hand. Smoked sausage would work here too!
Onion – We like adding diced onion to our fried rice, but you can leave it out if it's not something you enjoy.
Garlic & Ginger – Some minced garlic and ginger will add loads of flavor. Use fresh or buy the squeeze tube in the produce section – either works.
Peas & Carrots – Highly recommend using frozen over canned veggies in your fried rice. The flavors are more fresh and the colors are more vibrant.
Soy Sauce – You'll use some of this for cooking with the rice and veggies, but we also stir a bit into the raw egg to add loads of savory flavor there.
Egg – We usually go for 2 large eggs, but you can easily stretch this dish further or up the protein by cracking in additional eggs.
Scallions – Some chopped scallions/green onion adds a nice touch of flavor to the dish.
Sriracha – This is totally optional but we love to drizzle some Sriracha sauce on our spam fried rice before serving!
What Readers are Saying!
"This was delicious! The kids and I had never had spam before. Even my picky eater wanted more spam! Everyone in the family loved it. I will be making this again." – Cindy
How To Make Fried Rice with Spam: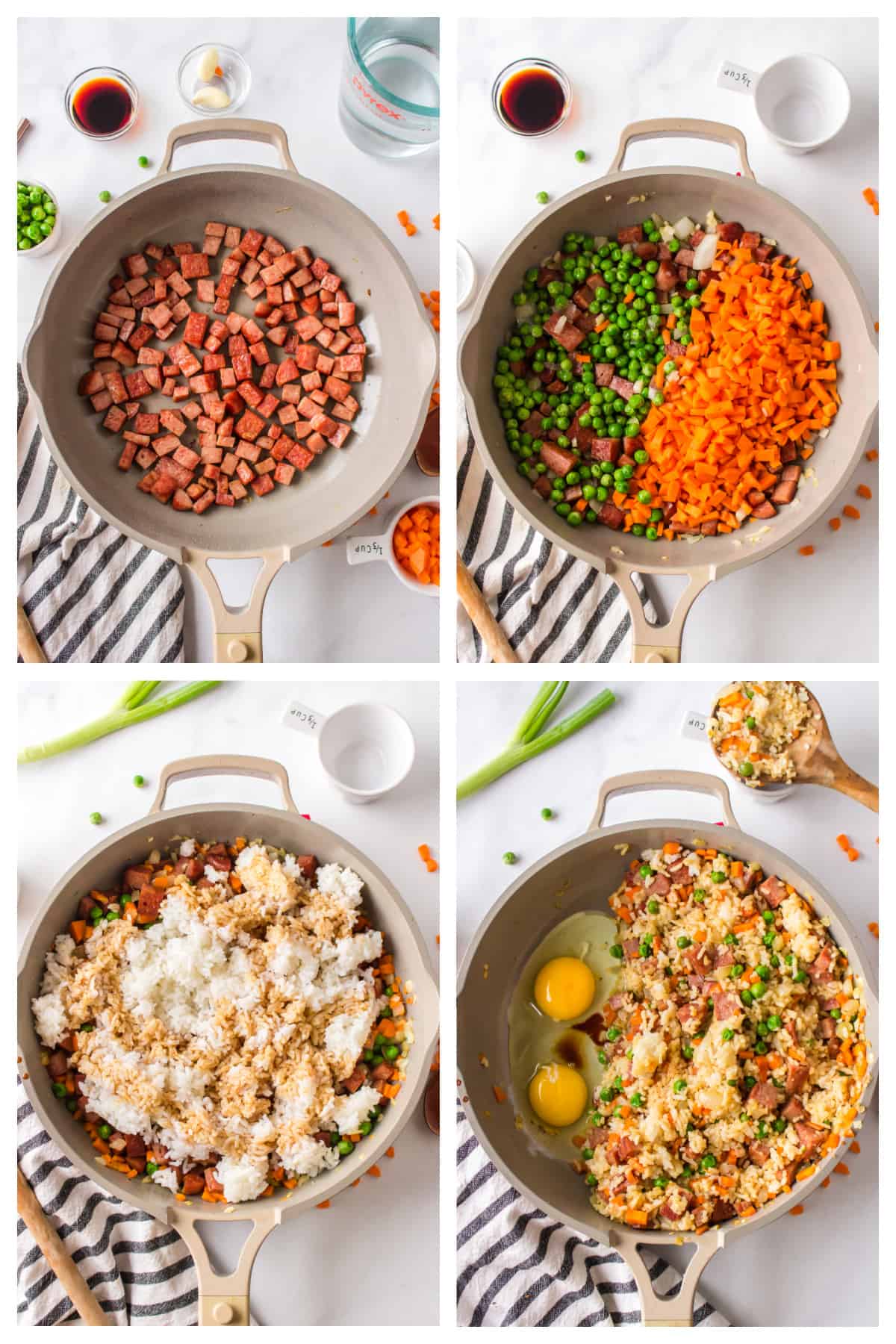 Spam: To start, you'll want to heat a wok or large, deep skillet. Add a little oil and your diced Spam. Cook until the outsides are crispy.
Veggies: Stir in the onions and cook those until softened, along with a little garlic and ginger. Next, I like to add frozen peas and carrots. Once they have cooked down a bit, it's time for rice.
Rice: Add the rice and stir fry with the vegetables in a little soy sauce until good and hot.
Eggs: Push everything in the pan off to one side and add a little bit of oil to the pan. Break your eggs in, hit them with a little soy sauce, and start scrambling.
Finish: When the eggs are cooked through, stir everything back together, sprinkle on some chopped scallions, squirt on some sriracha and serve!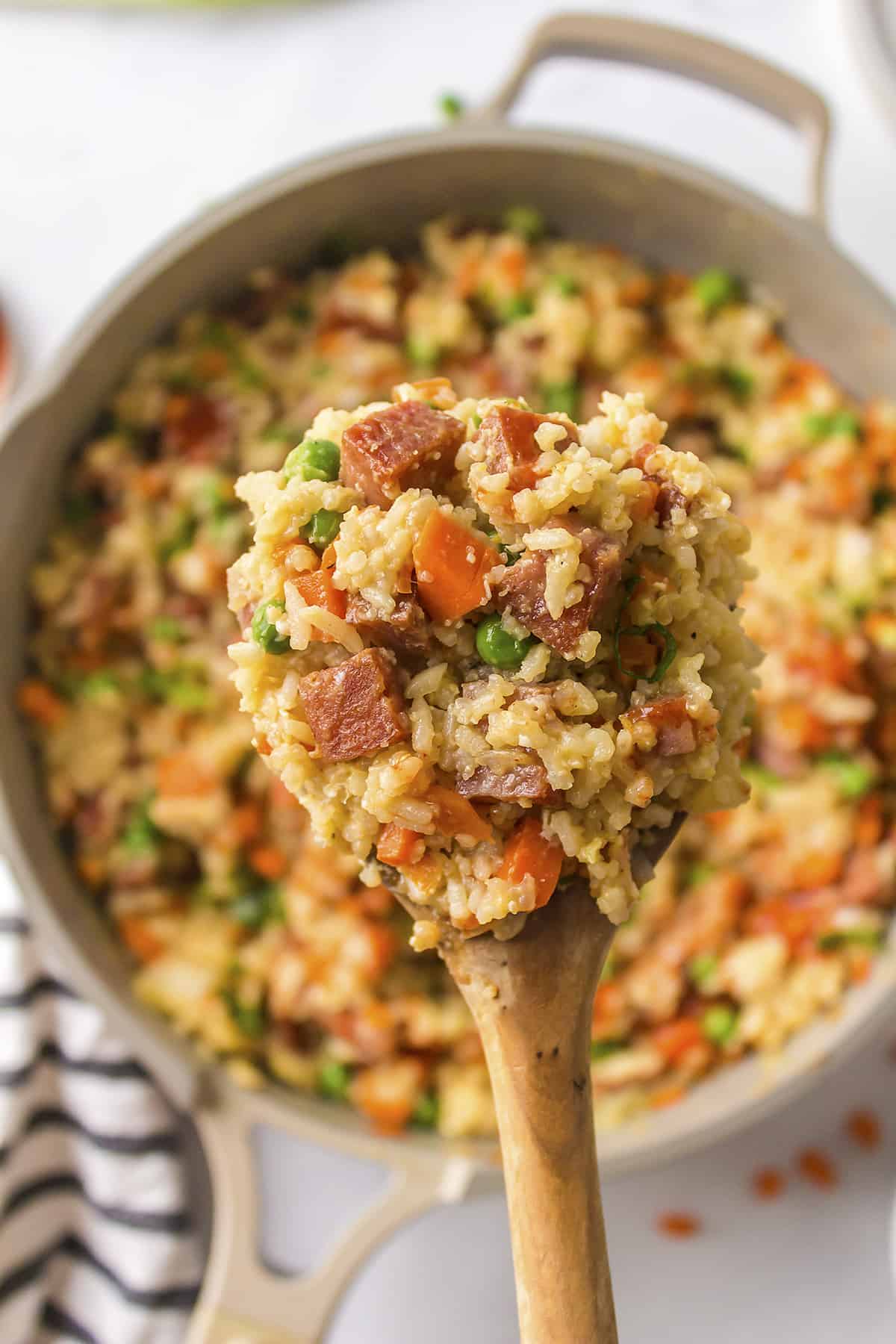 What To Serve With Fried Rice:
Homemade egg rolls, of course!
Korean BBQ Pork Chops go great with fried rice, and so does this pork stir fry!
If you're looking for a low carb main dish to go along with your fried rice, try this chicken stir fry.
Some air fryer orange chicken or air fryer Mongolian beef are also solid choices for a main dish. I hope you'll give this easy fried rice recipe a try! I know Spam fried rice might seem a little out there, but it's seriously so good!
FAQ's:
Which rice is best for fried rice?
Be sure to grab either medium or long grain rice. Jasmine rice works really well in fried rice too! Pretty much any variety of medium or long grain will work.
Can fried rice be made with fresh rice?
Yes, it CAN be made with fresh rice, but you'll need to give it a little love first.

I take my freshly made rice and spread it out on a sheet pan and let it cool down for 30 minutes or so at room temperature. This allows some the moisture to evaporate and helps keep your rice from turning to mush.

If you'd prefer to use day old rice, that works great too and is my preferred method. I just don't always have day old rice on hand when the craving hits.
How to store fried rice?
If you've got leftovers you can keep them stored in an airtight container in the fridge for about 3 days. The rice will dry out even more in the fridge so you may need to add a little water when reheating.
MORE ASIAN INSPIRED RECIPES!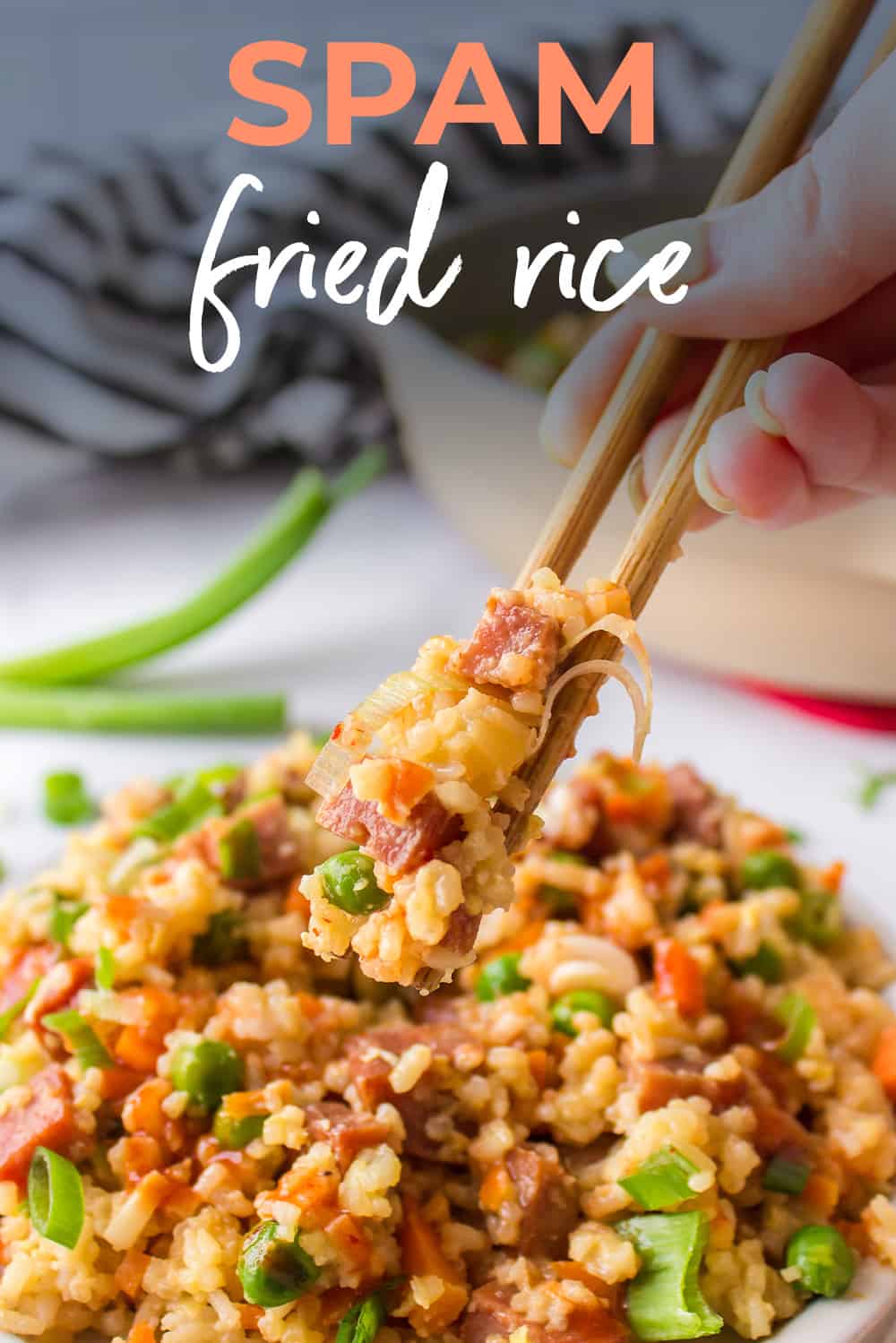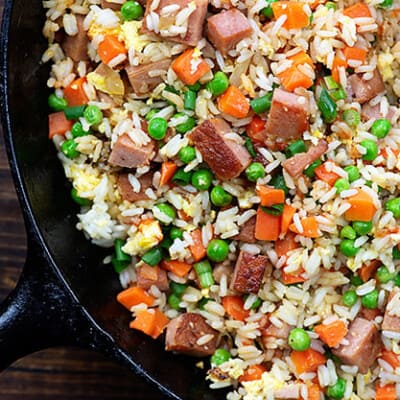 Spam Fried Rice
Spam fried rice is a great, economical meal that makes an easy weeknight dinner or quick lunch! The spam gets nice and crispy, the eggs are fluffy, and the veggies add the perfect pop of sweetness and color.
Prep5 minutes
Cook40 minutes
Total45 minutes
Ingredients
3 cups cold, cooked white rice medium or long grain
1 tablespoon olive oil
12 ounces Spam diced
1/2 cup diced onion
3 cloves garlic minced
2 teaspoons minced ginger
1 1/2 cups frozen peas and carrots
3 tablespoons soy sauce divided
2 large eggs
2 tablespoons chopped scallions
1 tablepoon sesame oil optional
1 tablespoon sriracha optional
Instructions
Heat the oil in a large deep skillet or wok over medium high heat.

Add the Spam to the skillet and cook, stirring often, until browned, about 5 minutes.

Add the onions and cook for 2 more minutes.

Add the garlic and ginger and continue cooking for 30 seconds.

Add the peas and carrots to the skillet and cook, stirring often, for 5 minutes.

Add rice to the skillet, sprinkle with 2 tablespoons of soy sauce, and cook for 3 minutes, stirring often.

Push everything in the pan off to the side and crack the eggs into the empty space of the pan. Sprinkle with remaining tablespoon soy sauce and stir to break up the eggs. When eggs are cooked through, stir them into the rice mixture.

Remove from the heat and top with scallions. Add a drizzle of sesame oil and sriracha, if desired.
Tips & Notes:
We love the flavor of sesame oil and sriracha drizzled over our fried rice, but these are optional.
Nutrition Information:
Serving: 4servings| Calories: 553kcal (28%)| Carbohydrates: 50g (17%)| Protein: 20g (40%)| Fat: 29g (45%)| Saturated Fat: 9g (56%)| Cholesterol: 153mg (51%)| Sodium: 1852mg (81%)| Potassium: 626mg (18%)| Fiber: 3g (13%)| Sugar: 3g (3%)| Vitamin A: 4380IU (88%)| Vitamin C: 17.2mg (21%)| Calcium: 53mg (5%)| Iron: 2mg (11%)
This recipe was originally published in April 2018. It was updated with new photos in June 2023. Original photos below.