These honey garlic chicken tenders are made with flavorful seasoned chicken tenders and an Asian inspired sweet and spicy honey garlic sauce!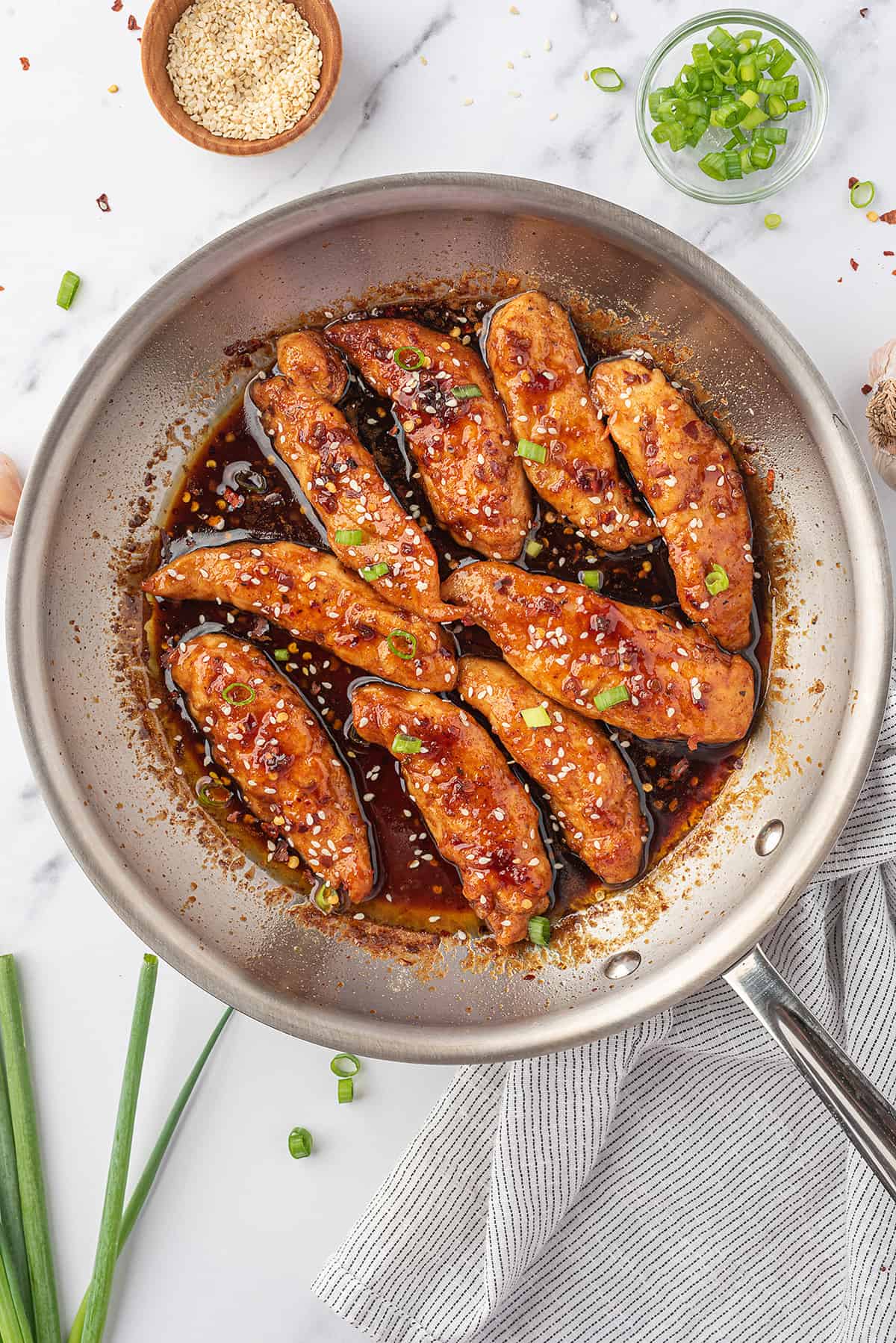 These Honey Garlic Chicken Tenders are not your usual chicken tenders that you eat with your hands! Instead, these are coated in a sweet, spicy, sticky sauce that is honestly so good you won't be able to get enough of it!
We love to serve these chicken tenders over white rice with a side of veggies on the side. The sweet and spicy honey garlic sauce has Asian vibes (not claiming this is authentic at all, just that it reminds me of some of my favorite Asian take away) and makes for a flavorful dinner.
Our Crockpot Honey Garlic Chicken has been a long time favorite, so we put a little spin on it with this recipe! This version is ready in less than 30 minutes, making it perfect for a busy weeknight!
Serve with some white rice, or try it with our vegetable rice or over our Spam fried rice.
Any extra sauce is so good drizzled over the rice!
Ingredient Notes:
This post contains affiliate links. As an Amazon associate and member of other qualifying programs, I earn from qualifying purchases.
For the chicken tenders:
Chicken Tenderloins – We use tenderloins as they're already in strips, but you can also cut breasts into strips or use thighs.
Flour & Seasoning – You'll dredge the chicken strips in a mixture of flour and seasoning that includes paprika, dried oregano, salt, and black pepper. It's a simple but flavorful mix that'll go well with the honey garlic sauce.
Butter & Oil – We'll pan fry the chicken in this.
What We Love About This Recipe:
You can use the honey garlic sauce in lots of different recipes! It's great as a dipping sauce too.
The chicken tenders are easy to prepare and they cook quickly, but you can use any cut of chicken.
For the honey garlic sauce:
Light Soy Sauce – You'll want to use a less sodium soy sauce or your dish will be quite salty.
Unsalted Butter – There will be plenty of salt in the soy sauce so I'd recommend using unsalted butter when preparing the honey garlic sauce.
Minced Garlic – Some freshly minced garlic is going to add lots of flavor to the sauce.
Honey – We love raw honey. Local is great, if you have some on hand.
Sriracha Sauce – A must, for adding heat and even more garlic flavor.
White Vinegar – The acidity helps balance out the other flavors in the sauce.
Red Chili Flakes – This is an optional ingredient and will add more spicy heat to the sauce. Add as much or as little as you like.
Garnish – We like to garnish the honey garlic chicken tenders with some sesame seeds and chopped green onion before serving!
Soy sauce adds so much flavor to dishes, but can often be a bit too salty. This less sodium option works well in sauces where you want to better control the salt.
How to Make Chicken Tenders:
Dredge: To get started you'll prepare the seasoning for the chicken. Mix together the flour, paprika, salt, pepper and oregano in a shallow dish and then start dredging the chicken tenders in the mix until fully coated.
Pan Fry: Heat the butter and olive oil in a large skillet. Add the chicken tenders to the pan and fry them until they are golden on each side, about 3 to 5 minutes or until the chicken is cooked through.
When you've finished cooking the seasoned chicken strips remove them to a plate and set it aside for now.
How to Make Honey Garlic Sauce:
Garlic: Add the butter and garlic to the same skillet you cooked the chicken in, letting the butter melt and the garlic cook until fragrant, about one minute.
Sauce: Mix in the honey, soy sauce, sriracha and white vinegar. Let the sweet and spicy sauce simmer for a couple of minutes, stirring, until it is well combined and has thickened. Finally, sprinkle on the red pepper flakes to add some extra spicy heat! It's optional if you prefer a milder taste.
Combine: You can now return the cooked chicken tenders to the skillet with the honey garlic sauce. Toss the chicken in the sauce to coat it well on all sides. Let it cook for another minute or two to reheat the chicken and then sprinkle with sesame seeds and green onions.
More Uses for Honey Garlic Sauce:
You can use this sauce in lots of different ways! It's great as a dipping sauce, and it also works on other meats besides chicken. Try it with: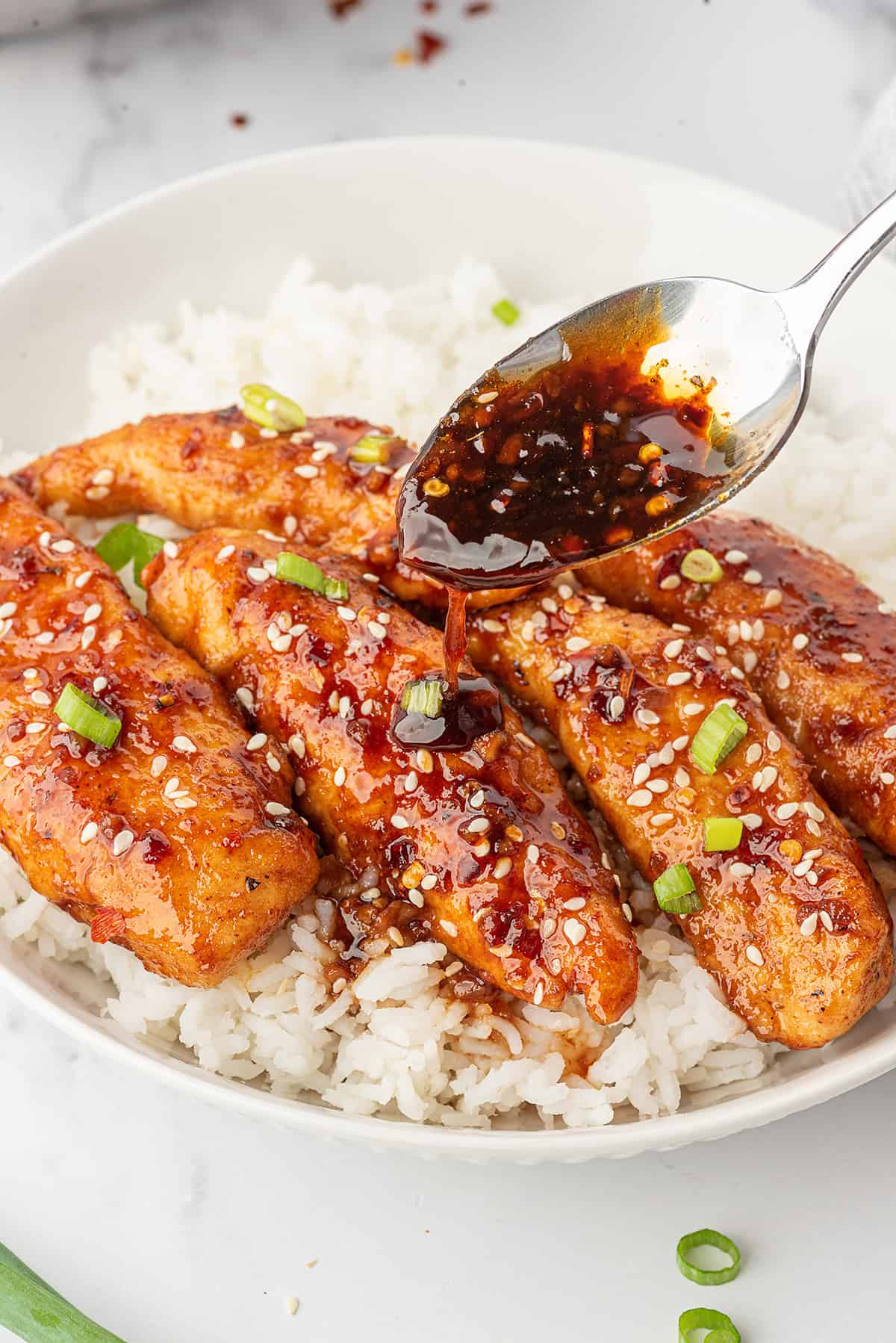 FAQs:
Can I make this with chicken breast?
Sure! We like tenders for this recipe but the honey garlic sauce will taste just as good on chicken breast or chicken thighs. See the section above for some more suggestions on how to use the sauce!
Why use less sodium soy sauce?
Using less sodium soy sauce allows you to have better control over the flavor of the sauce. If you like things on the saltier side, sprinkle in some salt or regular soy sauce.
MORE ASIAN INSPIRED RECIPES!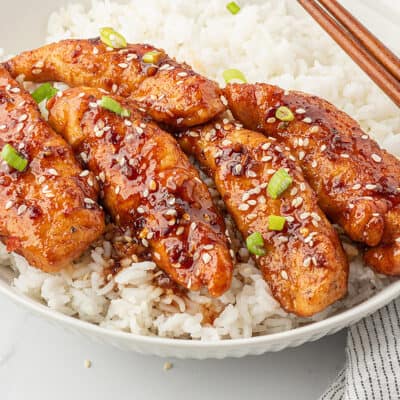 Honey Garlic Chicken Tenders
Quick and delicious chicken tenders with flavorful sauce to enjoy with hot rice!
Prep10 minutes
Cook15 minutes
Total25 minutes
Ingredients
For the chicken
1 pound chicken tenderloins
¼ cup flour
1 teaspoon paprika
½ teaspoon dried oregano
½ teaspoon salt
½ teaspoon ground black pepper
1 tablespoon olive oil
1 tablespoon unsalted butter
For the sauce
2 tablespoons unsalted butter
1 tablespoon minced garlic
2 tablespoons less sodium soy sauce
2 tablespoons honey
1 tablespoon sriracha
1 tablespoon white vinegar
½ teaspoon red chili flakes
1 teaspoon sesame seeds
2 tablespoons green onions chopped
Instructions
To make the chicken:
Pat dry the chicken with a paper towel.

In a shallow dish, combine flour, paprika, oregano, salt, and pepper. Dredge the chicken tenders in the flour mixture and coat evenly on both sides.

Heat a large skillet with oil and butter, add the chicken tenders and sear the chicken to golden on both sides for about 3-5 minutes.

When chicken is cooked through, remove to a plate and set aside.
To make the sauce:
Add the butter to the same skillet you cooked the chicken in and let melt.

Add the minced garlic and cook for a minute. Stir in the soy sauce, honey, sriracha, and white vinegar. Allow the sauce to simmer for 1-2 minutes until it thickens. Sprinkle the sauce with red chili flakes.

Transfer the chicken tenders back to the skillet and toss the chicken to coat in the sauce. Cook for 1 minute to reheat the chicken.

Garnish the chicken tenders with sesame seeds and chopped green onions.
Tips & Notes:
To make a saucier garlic chicken add ¼ cup of water while making the sauce. The same recipe can be used to make chicken thighs and breasts. We like to serve these chicken tenders over rice and spoon any extra sauce over the top.
Nutrition Information:
Calories: 297kcal (15%)| Carbohydrates: 19g (6%)| Protein: 28g (56%)| Fat: 13g (20%)| Cholesterol: 78mg (26%)| Sodium: 763mg (33%)| Fiber: 1g (4%)| Sugar: 10g (11%)