CROCKPOT HONEY GARLIC CHICKEN is a simple meal that you can toss in the slow cooker for any night of the week. Serve this shredded chicken over rice with a side of steamed vegetables for a complete meal or stick the shredded chicken in a sandwich roll and top with coleslaw for a tasty sandwich!
Honey garlic chicken! Doesn't the name alone just make you drool?
Let's talk about this crockpot chicken recipe, shall we?
This is an Asian–ish tasting recipe, but I hesitate to actually call it Asian food. Does authentic Asian food contain ketchup? I feel like no, but I could totally be wrong.
I'm not the source for authentic Asian cuisine, but I'm here with a tasty meal nonetheless!
What Readers are Saying!
"This chicken was delicious and is officially a new staple in my house!! I shredded it and then served it in Boston lettuce leaves, topped with cole slaw and slivered almonds. These 'Asian lettuce wraps' were fabulous!!! Then I used the leftover chicken the next day, served on hamburger buns (and again topped with cole slaw). Sooooo GOOD!!!" – Nicole
Either way, this reminds me of my favorite Chinese take-out joint.
The sauce is sweet, salty, and full of garlic.
Served over rice, with a side of steamed broccoli, it's hard to go wrong with this slow cooker meal!
Be sure to serve this up with our favorite air fryer egg roll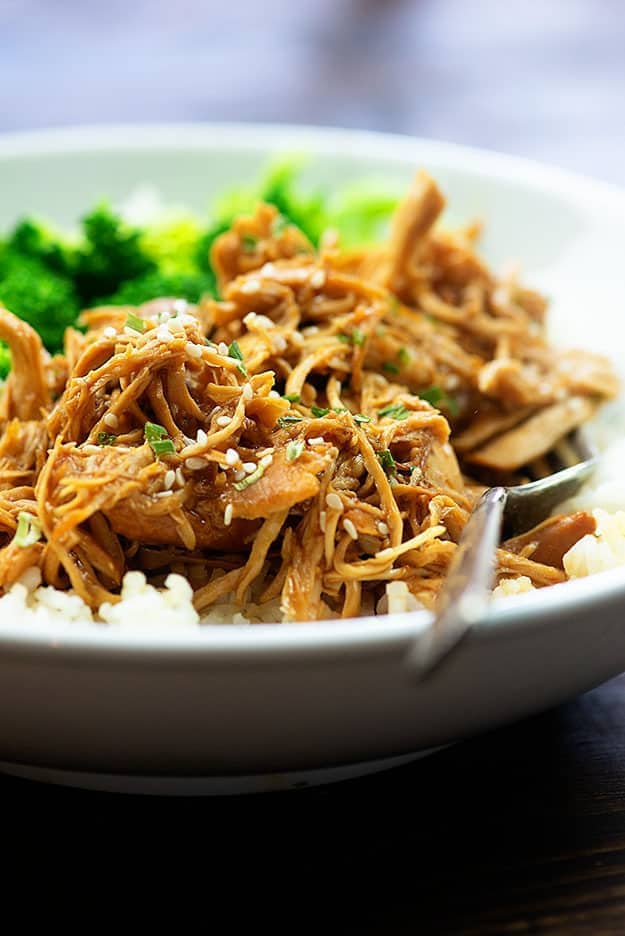 How to make slow cooker honey garlic chicken:
This post contains affiliate links. As an Amazon associate and member of other qualifying programs, I earn from qualifying purchases.
Get out a 5 to 6 quart slow cooker. The Ninja Foodi is my new to go-to. It's a slow cooker, air fryer, and pressure cooker all in one.
Grab a couple of pounds of chicken breasts. Add those guys to the slow cooker.
In a small bowl, whisk together some ketchup, reduced sodium soy sauce, honey, minced garlic, and red pepper flakes.
Helpful Tip!
Selecting your soy sauce
Do be sure to use reduced sodium soy sauce or your chicken will come out quite salty! I love salty flavors, but it's too much to use the regular soy sauce.
Pour the sauce over the chicken, give it a quick toss to coat the chicken in the sauce, and then cover your slow cooker and cook on low for 3-4 hours, depending on your crockpot. We're looking for tender, easily shreddable chicken.
When the chicken is cooked through, remove it from the slow cooker and shred with a couple of forks. You can also use a hand mixer or stand mixer to shred chicken! Just toss the chicken in and use the whisk or beater blade attachment on low speed. Magical!
At this point, you can return the chicken to the sauce and then serve. Alternately, if you'd like your sauce a bit thicker, go ahead and add 2 teaspoons of cornstarch to 1 tablespoon of water and stir to combine. Whisk that into the sauce well, set the crock pot to high, and return the chicken to the sauce. Cover and cook for 30 minutes to 1 hour, to thicken the sauce a bit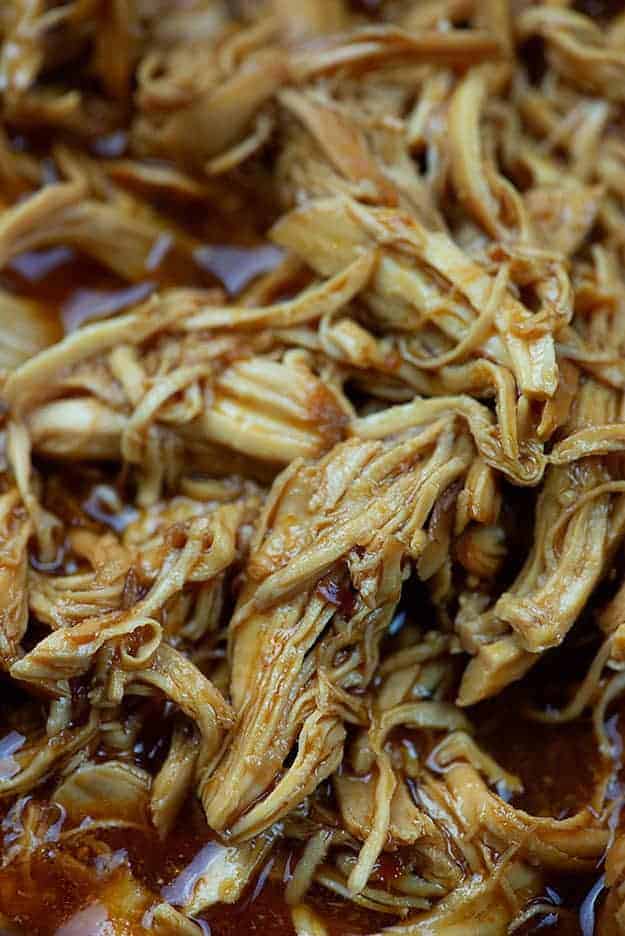 Honey garlic chicken thighs:
If you're a dark meat person, go ahead and swap chicken thighs for the chicken breasts in this recipe. No other adjustments needed.
If you'd prefer not to shred the meat, no problem! Just remove the chicken from the slow cooker and serve!
Freezer Hack!
Making this for dinner tonight? Make double and put one half into a zip top freezer bag and freeze for another night. When ready to cook, just dump the bag into the slow cooker on cook low for 8 hours.
More Asian flavors you might like to try:
Asian Chicken Lettuce Wraps: If you're watching carbs, these lettuce wraps are keto friendly!
Spam Fried Rice: I'm not much of a Spam person, but even I have to admit that it's delicious in fried rice!
Korean BBQ Sauce: Slather this Korean BBQ sauce on pork chops and grill 'em up!
Pork Stir Fry: Such an easy recipe for busy nights and it sure beats take-out!
Cauliflower Chicken Fried Rice: Another low carb favorite in our house – skip the rice and use cauliflower crumbles!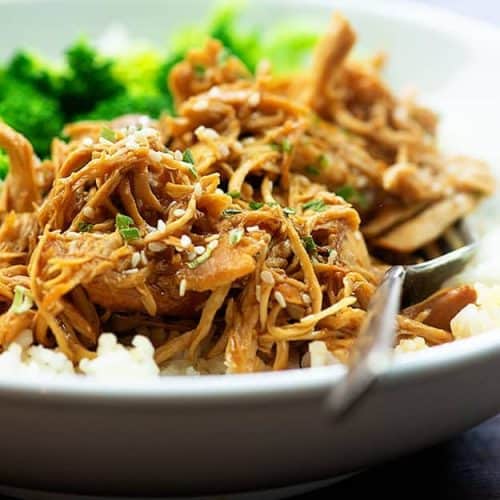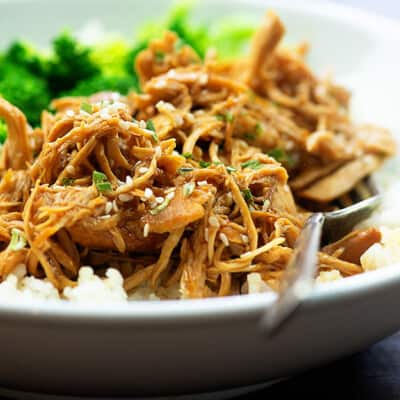 Crock Pot Honey Garlic Chicken
This simple honey garlic sauce is full of flavor that soaks into the chicken as it cooks. Serve over rice with some steamed veggies for a complete meal.
Prep5 minutes
Cook4 hours
Total4 hours 5 minutes
Ingredients
1 1/2 pounds boneless skinless chicken breasts
1/2 cup ketchup
1/2 cup reduced sodium soy sauce
1/4 cup honey
4 cloves garlic minced
1 teaspoon red pepper flakes
1 tablespoon water
2 teaspoons cornstarch
Instructions
Add the chicken to a 5 quart slow cooker.

Add the ketchup, soy sauce, honey, garlic, and red pepper flakes to a small bowl and whisk well to combine.

Pour the sauce over the chicken and stir to coat.

Cover the slow cooker and cook on low for 3 1/2 hours or until the meat is cooked through and easily shreds.

Remove the chicken from the slow cooker and shred the meat with a fork.

Stir together the water and cornstarch and whisk into the sauce. Set slow cooker to high and return the chicken to the sauce.

Continue cooking for 30 minutes to thicken the sauce slightly.
Tips & Notes:
This dish will turn out too salty if you use regular soy sauce. Reduced sodium soy sauce is required. Adjust the amount of red pepper flakes to taste.
Nutrition Information:
Calories: 319kcal (16%)| Carbohydrates: 30g (10%)| Protein: 38g (76%)| Fat: 5g (8%)| Saturated Fat: 1g (6%)| Cholesterol: 109mg (36%)| Sodium: 1542mg (67%)| Potassium: 814mg (23%)| Fiber: 1g (4%)| Sugar: 25g (28%)| Vitamin A: 353IU (7%)| Vitamin C: 4mg (5%)| Calcium: 24mg (2%)| Iron: 2mg (11%)
This recipe was originally published in July 2018. The post was updated in 2020, though the recipe has not changed. It's just as perfect as it ever was. 😉