Crock pot honey garlic chicken is a simple meal that you can toss in the slow cooker for any night of the week. Serve this shredded honey garlic chicken breast over rice with a side of steamed vegetables for a complete meal or stick the shredded chicken in a sandwich roll and top with coleslaw for a tasty lunch!
I am the least chill person alive.
I have the biggest startle reflex of anyone I've ever met and it's honestly getting a little embarrassing.
When my kids walk into the room I am in, I am often so startled that I scream. They're not sneaking up on me, they just literally walk into the room.
This often even happens when I walk into a room they are in. Like, I am going to talk to my kids and walk into the family room to find them, see they are there, get startled, scream.
It's ridiculous.
The other day I was in the drive through (don't hate) and when the lady opened the window to take my money, it startled me and I screamed. It started her and she screamed back.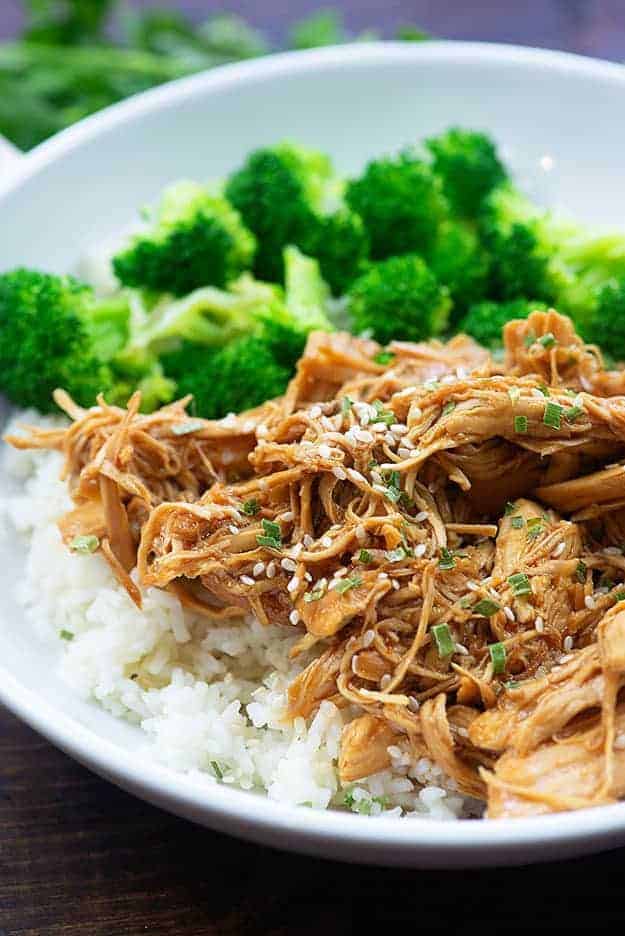 I could go on with stories like that for days.
That literally has nothing to do with this slow cooker honey garlic chicken recipe, but it was on mind when I sat down to write this recipe up for you, because my kid just scared the crap outta me. I watched her walk in the room, I knew she was there, but as soon as my brain processed that she was there, I jumped and screamed.
I might need to see a doctor about this?
Anyway, honey garlic chicken! Let's talk about this crockpot chicken recipe, shall we?
This is an Asian-y tasting recipe, but I hesitate to actually call it Asian food. Does authentic Asian food contain ketchup? I feel like no, but maybe I'm wrong!
Either way, this reminds me of my favorite Chinese take-out joint. The sauce is sweet and salty and full of garlic. Served over rice, with a side of steamed broccoli, it's hard to go wrong with this slow cooker meal!
How to make slow cooker honey garlic chicken:
You'll start with a couple of pounds of chicken breasts. Add those guys to a slow cooker.
I use this Ninja slow cooker (affiliate link) and love it, but any 5-6 quart slow cooker will work fine here.
In a small bowl, whisk together some ketchup, reduced sodium soy sauce, honey, minced garlic, and red pepper flakes.
Do be sure to use reduced sodium soy sauce or your chicken will come out quite salty! I love salty flavors, but it's too much to use the regular soy sauce – trust me on this. 😉
Pour the sauce over the chicken, give it a quick toss to coat the chicken in the sauce, and then cover your slow cooker and cook on low 3-4 hours, depending on your crockpot.
When the chicken is cooked through, remove it from the slow cooker and shred with a couple of forks.
At this point, you can return the chicken to the sauce and then serve.
Alternately, if you'd like your sauce a bit thicker, go ahead and add 2 teaspoons of cornstarch to 1 tablespoon of water and stir to combine. Whisk that into the sauce well, set the crock pot to high, and return the chicken to the sauce. Cover and cook for 30 minutes to 1 hour, to thicken the sauce a bit.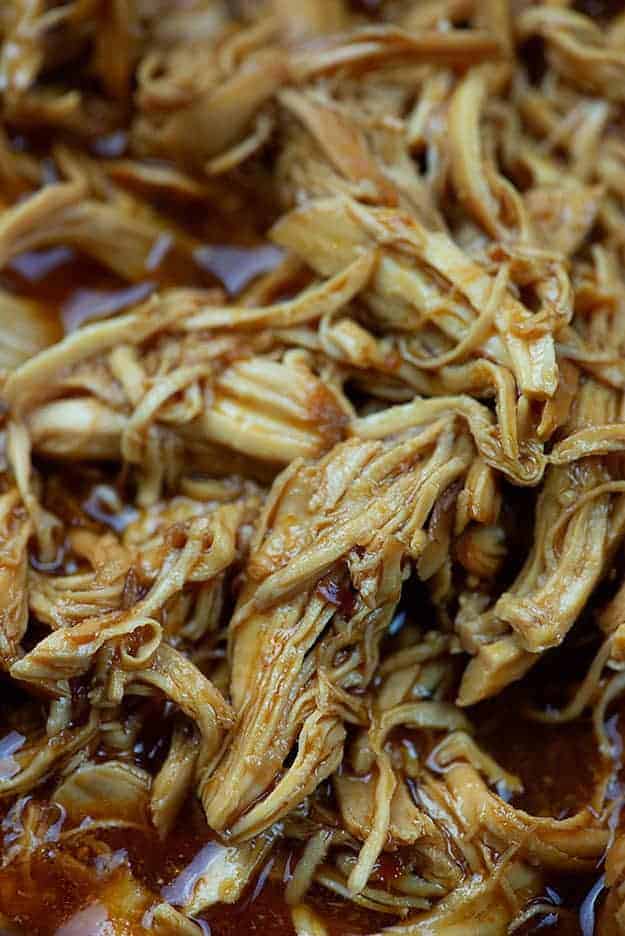 Honey garlic chicken thighs:
If you're a dark meat person, go ahead and swap chicken thighs for the chicken breasts in this recipe. No other adjustments needed.
If you'd prefer not to shred the meat, no problem! Just remove the chicken from the slow cooker and serve!
More Asian flavors you might like to try:
Asian Chicken Lettuce Wraps: If you're watching carbs, these lettuce wraps are keto friendly!
Spam Fried Rice: I'm not much of a Spam person, but even I have to admit that it's delicious in fried rice!
Korean BBQ Sauce: Slather this Korean BBQ sauce on pork chops and grill 'em up!
Pork Stir Fry: Such an easy recipe for busy nights and it sure beats take-out!
Cauliflower Chicken Fried Rice: Another low carb favorite in our house – skip the rice and use cauliflower crumbles!
Follow me on Pinterest for more easy weeknight recipe ideas! Click here to follow me!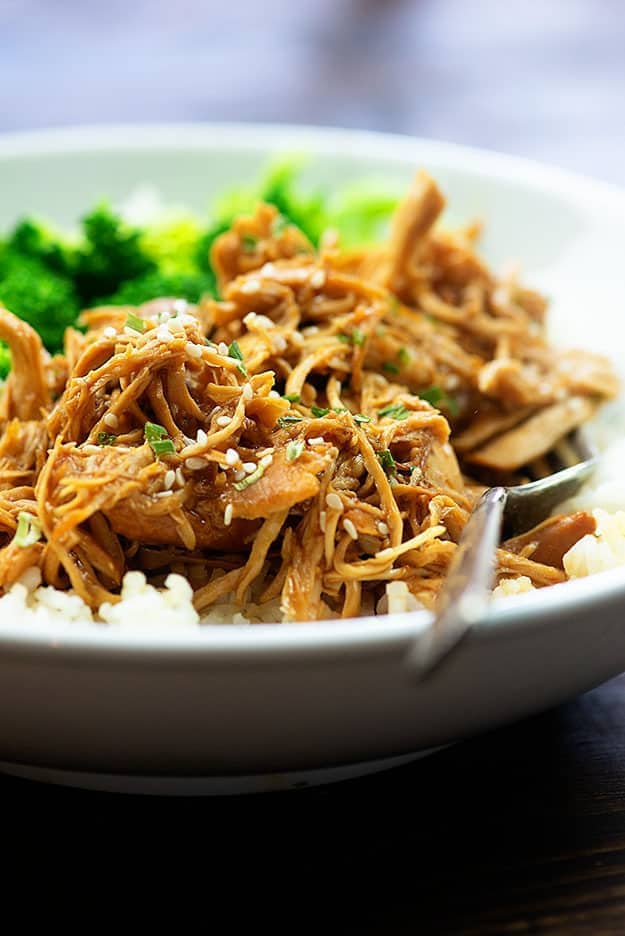 Crock Pot Honey Garlic Chicken
This simple honey garlic sauce is full of flavor that soaks into the chicken as it cooks. Serve over rice with some steamed veggies for a complete meal.
Prep5 minutes
Cook4 hours
Total4 hours 5 minutes
Ingredients
1 1/2 pounds boneless skinless chicken breasts
1/2 cup ketchup
1/2 cup reduced sodium soy sauce
1/4 cup honey
4 cloves garlic minced
1 teaspoon red pepper flakes
1 tablespoon water
2 teaspoons cornstarch
Instructions
Add the chicken to a 5 quart slow cooker.

Add the ketchup, soy sauce, honey, garlic, and red pepper flakes to a small bowl and whisk well to combine.

Pour the sauce over the chicken and stir to coat.

Cover the slow cooker and cook on low for 3 1/2 hours or until the meat is cooked through and easily shreds.

Remove the chicken from the slow cooker and shred the meat with a fork.

Stir together the water and cornstarch and whisk into the sauce. Set slow cooker to high and return the chicken to the sauce.

Continue cooking for 30 minutes to thicken the sauce slightly.
Tips & Notes:
This dish will turn out too salty if you use regular soy sauce. Reduced sodium soy sauce is required. Adjust the amount of red pepper flakes to taste.
Nutrition Information:
Calories: 212kcal (11%)| Carbohydrates: 20g (7%)| Protein: 25g (50%)| Fat: 3g (5%)| Cholesterol: 72mg (24%)| Sodium: 1027mg (45%)| Potassium: 542mg (15%)| Sugar: 16g (18%)| Vitamin A: 235IU (5%)| Vitamin C: 2.8mg (3%)| Calcium: 16mg (2%)| Iron: 1.1mg (6%)