Rice Pilaf is a staple in our house! Makes a great side dish, easy enough for busy nights, and even the pickiest of eaters will gobble this one up!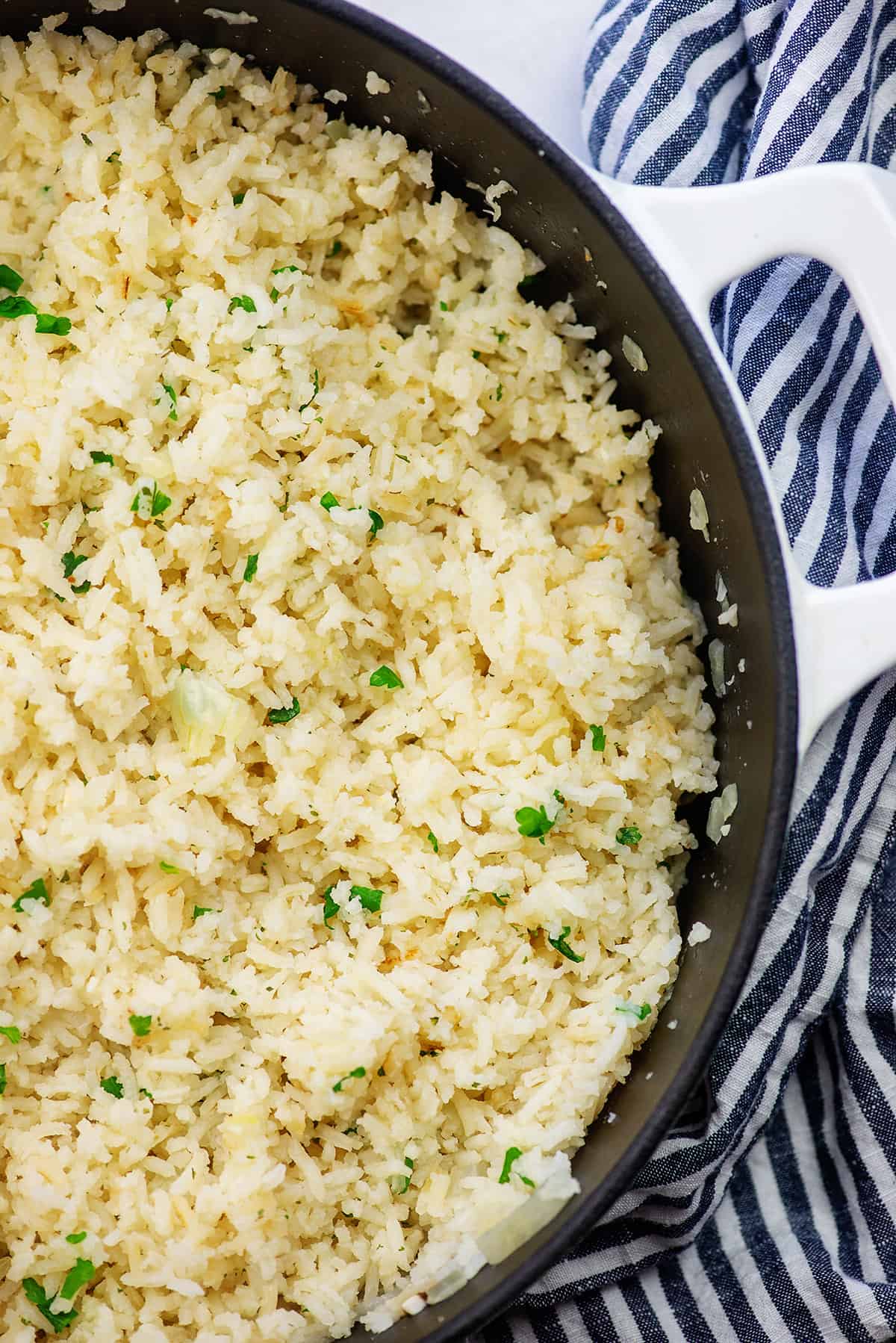 My husband was going through a phase where he'd request I buy the bags of frozen steamable rice with mixed veggies and then he'd eat them as a snack with a half stick (or more, let's be honest) of butter melted on top.
It was probably not the healthiest snack the man has ever eaten, but it had veggies in there and that's a win, right? Haha!
I took the hint that the man needs more rice (and butter, apparently) in his life and I've been making this rice pilaf or this rice and vegetables at least once a week for a few years now.
The leftovers reheat beautifully and it's easy to make into a main dish by stirring in some leftover chicken and veggies.
Plus, this easy rice pilaf recipe goes well with everything from garlic butter shrimp to grilled bbq chicken to bacon cheeseburger meatloaf to baked chicken legs.

We're pretty in love with this rice side dish and I think you will be too!
What is rice pilaf?
Rice pilaf is just a method of cooking rice in stock with spices or vegetables that leaves you with grains of rice that don't stick together.
If you've ever struggled to get rice the correct consistency or cooked through, this method works beautifully and it's pretty hard to mess up.
Plus, cooking the rice in broth or stock gives the rice a richer flavor.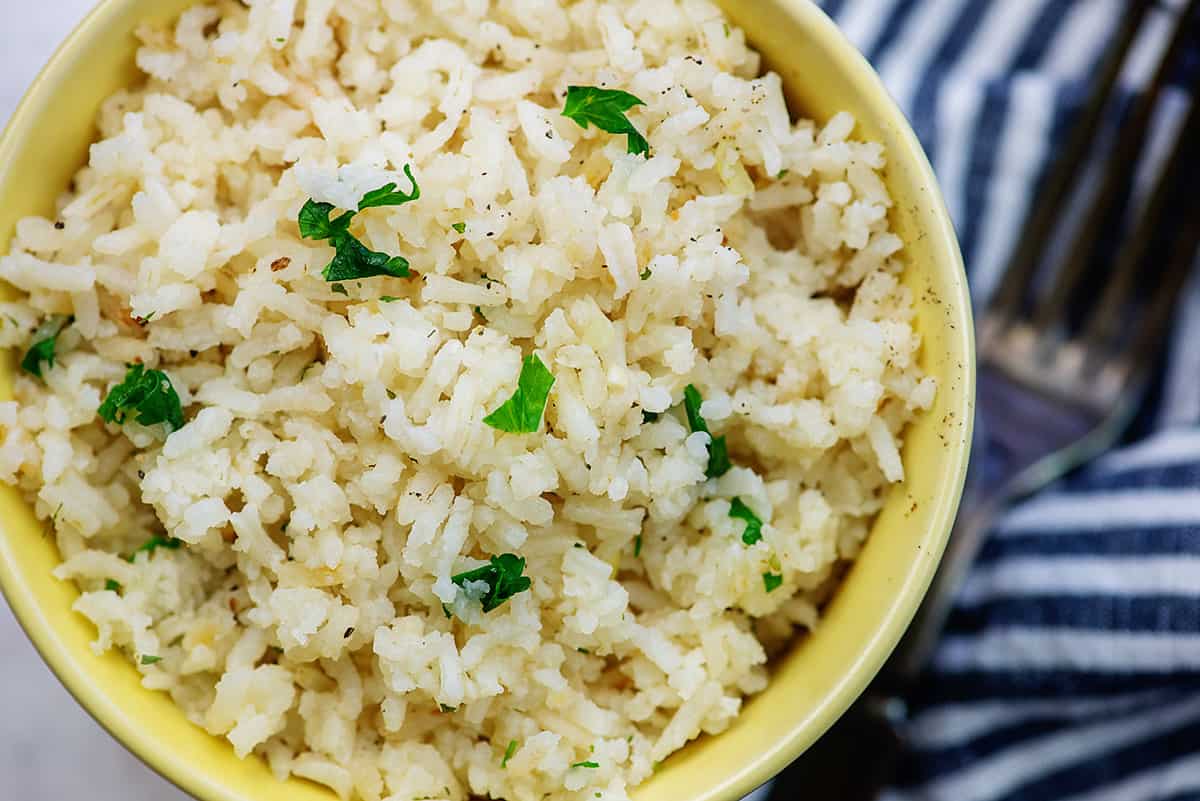 What Readers are Saying!
"It was easy to make and delicious. I had everything in my pantry needed for this rice pilaf recipe. This one's a keeper!"
-Mitzi
Rice Pilaf Ingredients:
Long Grain White Rice – This is NOT the same as Instant Rice!
Olive Oil – For toasting the recie.
Seasoning – We're adding flavor to this rice pilaf with onion, garlic, salt, and pepper. We sprinkle fresh parsley on before serving, but any herb will do.
Chicken Stock – The rice will soak this up and add a ton of flavor!
How to Make Rice Pilaf:
Rice: There are a few methods to making this rice dish and some of them use the oven. I like the stove top version myself, because it's quicker and there's no need to heat up the kitchen by turning on the oven.
To start, you'll add a bit of oil to a sauce pan or Dutch oven and, once hot, add in your rice.
You want to get the rice nice and toasty, so let it cook in the oil for a few minutes to brown a bit. Stir in the garlic and onions and let those cook for a few minutes as well.
Simmer: Pour in the chicken broth, salt, and pepper and bring this to a simmer. Cover the pan and let the rice cook for 15 minutes over low heat.
Steam: Remove from the heat and let the pan sit, still covered, for 10 more minutes.
Fluff: Once the timer has gone off, remove the lid, fluff the rice with a fork, and taste for seasoning. You may need a bit more salt and pepper.
We made this rice pilaf without butter, but we inevitably stir a pat or two in before serving. Butter really does make everything better, but it's not necessary here if you want to skip it!
TIPS & TRICKS!
Helpful tips to make the perfect rice:
It's important to use long grain white rice here. The cook times and amount of liquid may vary if you use another variety of rice.
Do NOT use instant rice in this recipe.
It's crucial that you do not open the lid during the cooking process. Just trust the magic and let the rice do it's thing.
More side dish recipes:
Cheesy Hashbrown Casserole: Everyone loves a good cheesy potato recipe.
Instant Pot Sweet Potatoes: We top these with cinnamon honey butter.
Crock Pot Mac and Cheese: This makes the creamiest macaroni and cheese!
Broccoli Cheese Casserole: Easiest way to get my kids to eat broccoli.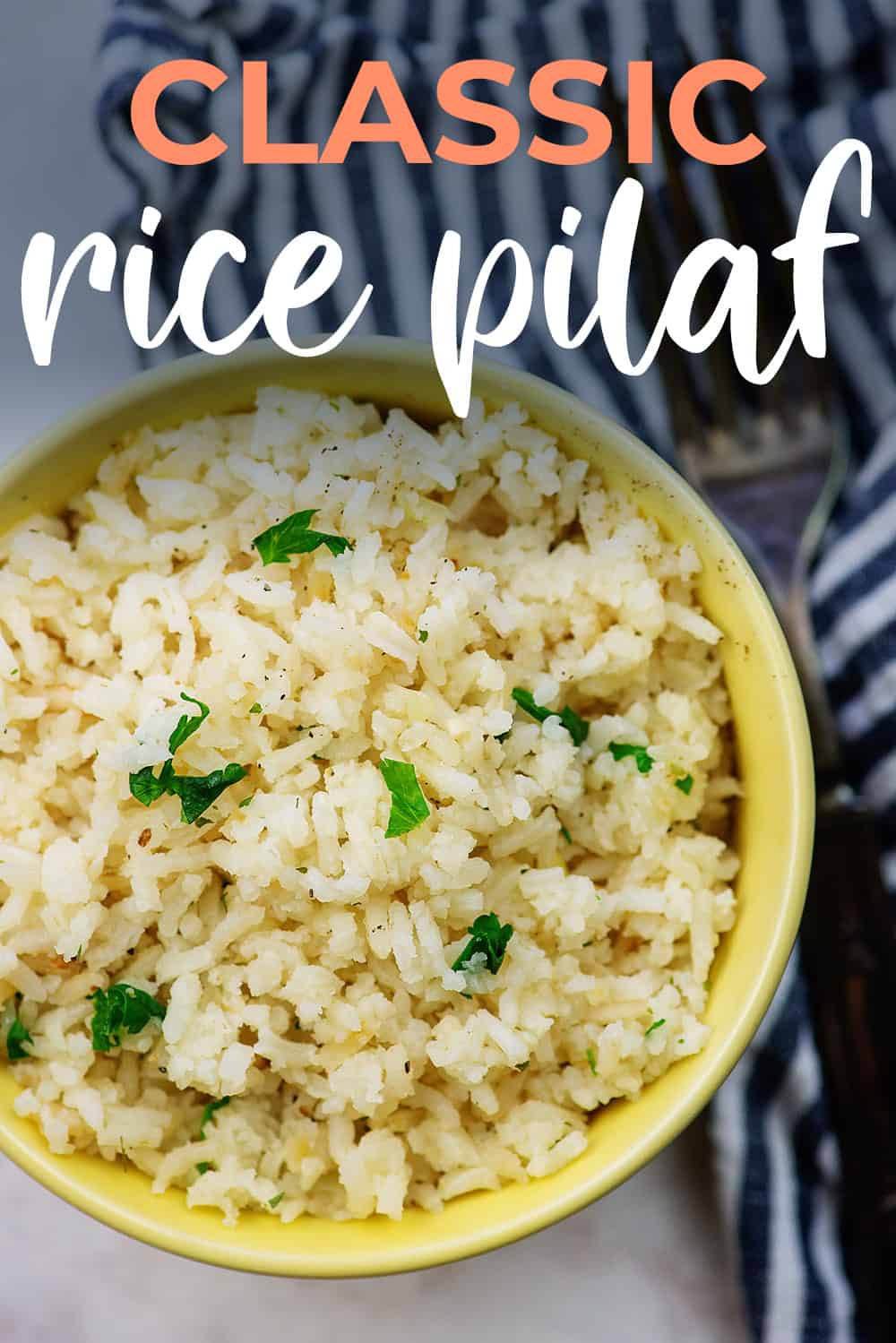 Rice Pilaf
This rice pilaf is ready in about 30 minutes and it's super easy to customize. Stir in whatever fresh veggies you have on hand, add your favorite seasonings, and serve it up with just about anything!
Prep8 minutes
Cook15 minutes
Resting Time10 minutes
Total33 minutes
Ingredients
2 cups long grain white rice
1 tablespoon olive oil
½ cup chopped onion
2 cloves garlic, minced
4 cups chicken stock
1 teaspoon salt
1 teaspoon cracked pepper
¼ cup fresh minced parsley
Instructions
Heat the oil in a large sauce pan over medium heat.

Once hot, add the rice and cook, stirring often, until browned. Stir in the onion and garlic and continue cooking for 2-3 minutes to soften the onions.

Add the chicken stock, salt, and pepper to the pot and stir to combine. Bring to a simmer, cover, and cook for 15 minutes over medium low heat.

Turn off the heat and let the pan set, covered, for 10 minutes.

Remove the lid from the pan and fluff rice with a fork.

Stir in the parsley and serve.
Tips & Notes:
You may swap the stock for any flavored broth or stock you prefer. Adding frozen vegetables with the stock is a great way to amp up the nutrition and stretch this dish further. Be sure to use long grain white rice for this recipe. Using a different type of rice may affect cook times.
Nutrition Information:
Serving: 0.75cups| Calories: 234kcal (12%)| Carbohydrates: 43g (14%)| Protein: 7g (14%)| Fat: 4g (6%)| Saturated Fat: 1g (6%)| Cholesterol: 4mg (1%)| Sodium: 466mg (20%)| Potassium: 204mg (6%)| Fiber: 1g (4%)| Sugar: 2g (2%)| Vitamin A: 158IU (3%)| Vitamin C: 4mg (5%)| Calcium: 23mg (2%)| Iron: 1mg (6%)