Our CHEESEBURGER MEATLOAF is loaded with bacon and cheddar and has an easy ketchup and mustard topping! It's the only meatloaf recipe our family eats!
Do you guys want to hear a sob story?
My parents never, not once, fed me meatloaf as a child. How dare they! What kind of parents were they, anyway?!
I mean, sure, most kids hate meatloaf and yes, I absolutely would have whined about it had my parents dared to serve me a hunk of loaf shaped meat full of who knows what.
But, still. It's the principle of the matter.
Anyway, I make up for lost time by feeding my kids this cheeseburger meatloaf every chance I get.
It's so moist and tender, loaded with flavor from bacon and cheddar, and it's simple enough to whip up.
This meatloaf goes great with my green bean casserole and mashed cauliflower or some crockpot mashed potatoes.
Meatloaf Ingredients:
Ground Beef – We go for a 90/10 beef here. There is plenty of fat from the bacon, cheddar, and mayo.
Bacon – Fry it up and crumble it or dice it before you fry.
Cheddar Cheese
Rolled Oats
Stove Top Stuffing OR Panko Bread Crumbs – Either one will work, but we always have Stove Top on hand and love using it in meatloaf.
Mayonnaise
Egg
Salt
Ketchup
Yellow Mustard
Brown Sugar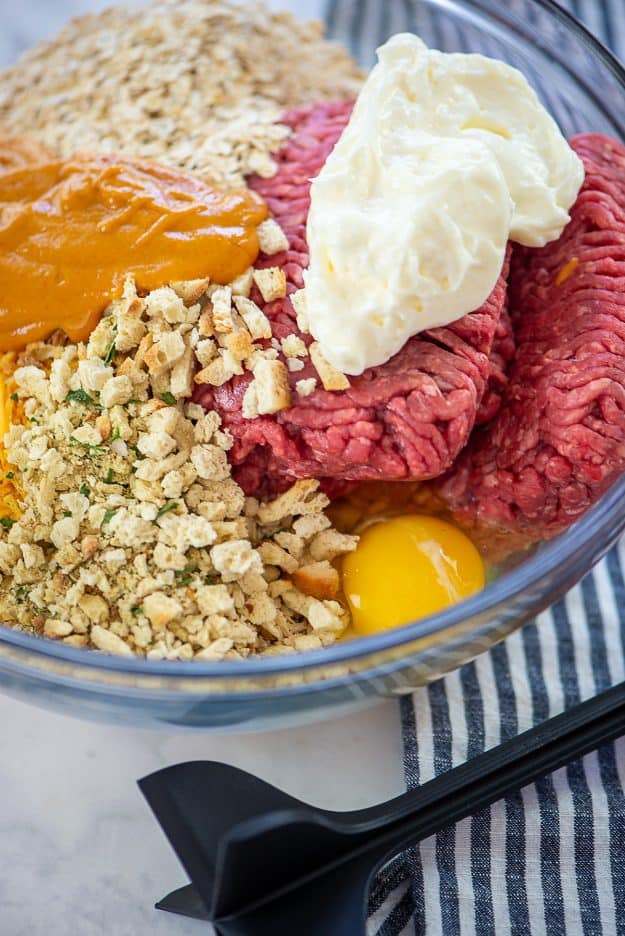 Helpful Tip!
Meatloaf in a Hurry!
To make this even faster for busy weeknights, I like to portion this out into 12 balls and bake it in a muffin tin! It'll bake in about 15-20 minutes but check the temp with a thermometer to be sure.
What Readers are Saying!
"This is now my favorite meatloaf recipe! Well done Karly!"
-Lori
How To Make Bacon Cheeseburger Meatloaf:
Bacon: The first step to making this meatloaf recipe is the most difficult. That's because you have to resist eating all of the bacon by itself. So you should probably just make extra!
Start by chopping the bacon into bite sized pieces and then fry in a skillet until they are just about crispy. Drain the grease and add the pieces of bacon that you didn't eat to a large mixing bowl.
Mix: Next you'll want to add the ground beef and all of the remaining ingredients except the ketchup, mustard, and brown sugar to the same mixing bowl that you put the bacon in.
In a separate bowl, mix together the ketchup and mustard. Pour half of this mixture into the bowl with the bacon and other ingredients. Set aside the other half for now.
Now for the fun part! Mix the meatloaf ingredients together and shape it into a loaf that will fit into a large baking dish. For best results, use your hands!
Helpful Tip!
Stove top stuffing or Panko bread crumbs works best for this recipe, but there are other options too!
Crushed pork rinds and almond flour also work and make a good low carb option!
Potato flakes can work as a good binder, and so can cooked rice!
If you don't have any of that but you do have the oats, just use more oats.
Bake: Almost done! Add the brown sugar to the remaining half of the ketchup and mustard that you set aside, and mix until combined.
Spread it over the top of the meatloaf and finally you can begin baking. It'll should take about 45 minutes. Finally, you can slice and serve!
VARIATIONS!
Meatloaf is one of those recipes that you can easily add to or subtract ingredients from. Below are a few options:
Some diced onions are a common addition to meatloaf, and are good with the bacon cheeseburger flavor!
Pickles are another hamburger topping that could be added to this meatloaf.
Mix in some Worcestershire sauce for extra flavor!
Bacon Cheeseburger Meatloaf
Meatloaf is pure comfort food and it doesn't get better than this bacon cheeseburger version. We use oats and stuffing mix as the binder, so the meatloaf is nice and moist every time.
Prep10 minutes
Cook45 minutes
Total55 minutes
Ingredients
1 1/2 pounds ground beef 85-90% lean
8 slices bacon
1 1/2 cups shredded cheddar cheese
1 cup rolled oats
1 cup dry Stove Top Stuffing mix
1/2 cup mayonnaise
1 large egg
1 teaspoon salt
1 cup ketchup
1/3 cup prepared yellow mustard
1 tablespoon brown sugar
Instructions
Preheat oven to 350 degrees.

Chop the bacon into bite sized pieces and place in a hot skillet over medium heat. Fry until just about crisp. Drain and add bacon to a large bowl.

Add the beef, cheese, oats, stuffing mix, mayonnaise, egg, and salt to the bowl with the bacon.

In a small bowl combine the ketchup and mustard. Add half of the mixture to the meatloaf mixture. Add the tablespoon of brown sugar to the remaining ketchup and mustard and set aside.

Use your hands to combine the meatloaf mixture until well mixed. Dump into a large baking dish and shape into a loaf about 8 inches long and 4 inches thick.

Spread the ketchup and mustard mixture over the meatloaf.

Bake for 45 minutes or until a thermometer inserted in the center reads 160 degrees.
Nutrition Information:
Serving: 1slice| Calories: 835kcal (42%)| Carbohydrates: 30g (10%)| Protein: 35g (70%)| Fat: 63g (97%)| Saturated Fat: 22g (138%)| Trans Fat: 1g| Cholesterol: 168mg (56%)| Sodium: 1644mg (71%)| Potassium: 629mg (18%)| Fiber: 3g (13%)| Sugar: 12g (13%)| Vitamin A: 670IU (13%)| Vitamin C: 2mg (2%)| Calcium: 266mg (27%)| Iron: 4mg (22%)