Our Cheeseburger Soup recipe is thick, creamy, and loaded with the flavors of our favorite dinner: cheeseburgers with corn on the cob and potatoes! This is a family favorite that we make anytime the weather gets a bit cool.
"Mom, what's for dinner?"
Seriously. How many times have I heard that in my life? Many times. Too many times, some might say.
Well, we were wandering through the grocery store this afternoon when my daughter asked that very question.
"Cheeseburger Soup," I replied.
Oh, you guys. She was not amused. Cheeseburgers. In soup. This kind of crazytalk must be dealt with swiftly and severely. Off with my head.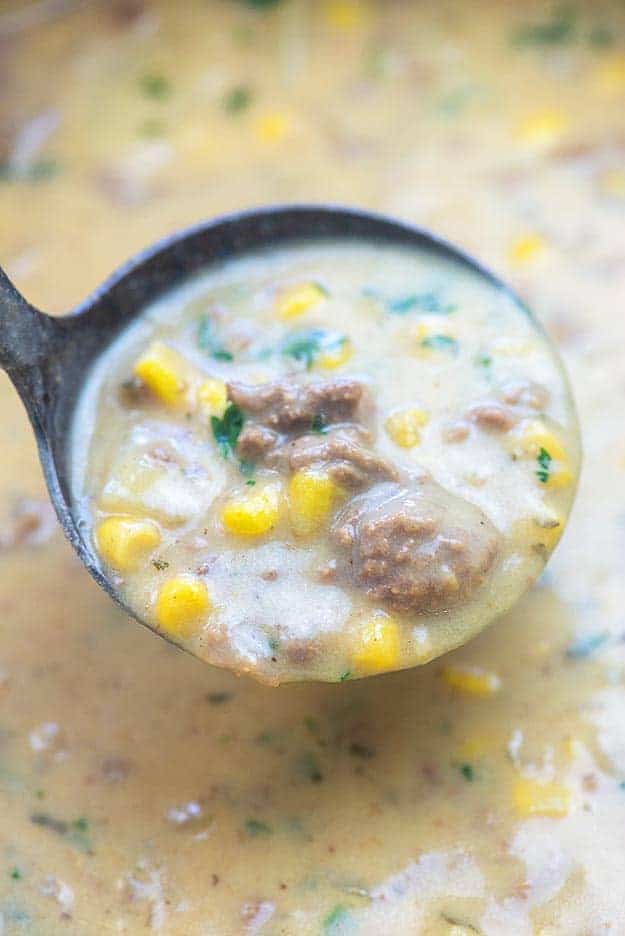 After answering at least 673 questions about how exactly I was going to turn cheeseburgers into soup, I gave up and shouted "Just wait! Just you wait! It's going to be fabulous soup and you're going to love it!" Then I stomped off. Like a child. Because, why not?
I've really got this parenting thing down.
Let's do this!
Ingredient Notes:
This post contains affiliate links. As an Amazon associate and member of other qualifying programs, I earn from qualifying purchases.
Ground Beef – This cheeseburger soup starts with ground beef. You can use a lean ground beef or a fattier blend. You'll drain the grease either way.
Veggies –We'll need peeled and diced potatoes, canned corn, diced sweet onion, and minced garlic.
Chicken Stock – This will make up the base of the soup and add plenty of flavor. Beef stock would also work, but I like chicken broth.
Flour & Milk – You'll melt some butter and then whisk in some flour and milk to make a roux that will help thicken up the soup and add flavor!
Sharp Cheddar – I'd recommend starting with a block of good quality sharp cheddar and dicing it into small cubes or shredding it.
Seasoned Salt – You'll add this to the ground beef while it cooks for some extra flavor. We like Lawry's but you can use any brand you want!
What We Love About This Recipe:
With lots of ground beef, potatoes, corn, and cheese you can make this soup into a whole meal!
This cheeseburger soup is just as good, if not better, when serving leftovers. It'll thicken up even more in the fridge, but can be thinned out with milk while reheating, if desired.
One of our favorite meals is cheeseburgers, corn on the cob, and french fries – this has all the components in one pot!
How to Make Cheeseburger Soup Recipe: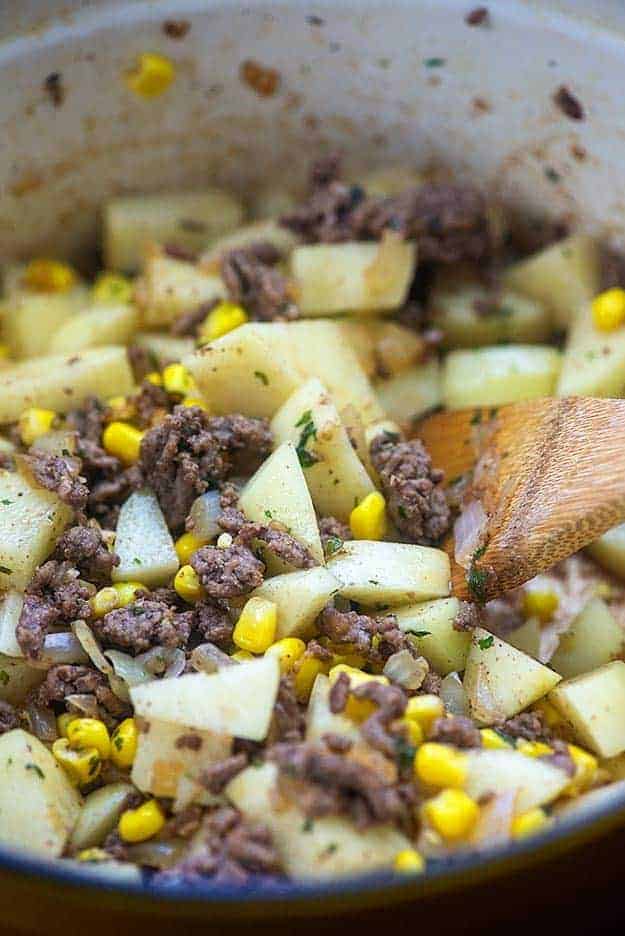 Ground Beef: To start, you'll want to brown some beef and onions in a stock pot until the meat is cooked through.
Potatoes & Corn: Then you'll want to toss in some diced potatoes and frozen corn. I know what you're thinking – I've never had corn or potatoes in a cheeseburger and you're right!
But, I'll bet you've served corn on the cob alongside some french fries with cheeseburgers many times. That's the vibe I'm going for here. 😉
Chicken Broth: Add in your broth and let your cheeseburger soup simmer away until the potatoes are nice and tender.
Flour & Milk: Add some butter to a small pot and melt. Whisk in some flour and then add in some milk. Let that cook until thickened a bit and then add it to your soup.
Cheese: Mix in the shredded or cubed cheddar cheese. Stir well and let the cheese melt and the soup thicken a bit.
Serve: That's all there is to it…this cheeseburger soup recipe is super easy and ready in about 40 minutes! Total win in my house.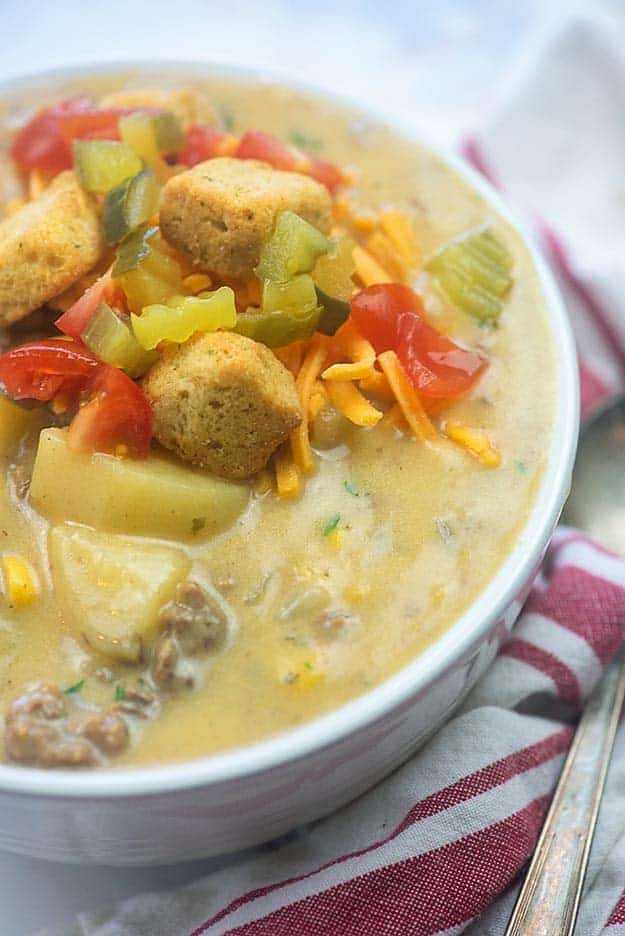 Cheeseburger Soup Toppings:
A bowl of soup is great and all, but it's the toppings that really make soup special, in my opinions!
For our cheeseburger soup recipe, we recommend adding the following toppings to your bowl of soup:
Air Fryer Croutons (so simple!)
Diced Tomato
Chopped Pickles
Green or Yellow Onions
Shredded Cheddar
Crumbled Bacon
Serving Suggestions:
We love to serve this cheeseburger soup with a side salad topped with our Greek dressing or this keto ranch dressing!
If you'd like a bread on the side, our beer bread is so simple to whip up!
Of course, we also love our quick dinner rolls, sweet cornbead recipe, and my dad's famous homemade biscuits.
FAQs:
How to store cheeseburger soup?
You can keep any leftover soup stored in an airtight container in the fridge for 4-5 days.
Can you freeze cheeseburger soup?
Yes! You can freeze leftover soup in a freezer safe container or ziplock bag for up to a few months.
Why are there potatoes and corn in cheeseburger soup?
Those aren't normal cheeseburger ingredients, but you've probably enjoyed burgers served up with fries and corn on the cob. It all comes together in this cheesy soup!
MORE HOMEMADE SOUP RECIPES TO TRY:
Don't forget to use my Cream of Chicken Soup in the next casserole that calls for the canned stuff!
Cheeseburger Soup
Around here, cheeseburgers are always served with french fries and corn on the cob. I took those flavors and added them all to this hearty and filling soup!
Prep10 minutes
Cook30 minutes
Total40 minutes
Ingredients
1 pound ground beef
1 teaspoon seasoning salt
5 tablespoons butter divided
15 ounces canned corn drained
1 medium sweet onion diced
1 tablespoon dried parsley flakes
4 cloves garlic minced
4 cups chicken stock
4 medium russet potatoes peeled and diced into bite sized chunks
1/3 cup all-purpose flour
2 cups milk
8 ounces sharp cheddar diced into small cubes or shredded
Instructions
In a large stock pot, brown the ground beef over medium heat until cooked through. Drain the fat, stir in the seasoning salt to coat the beef, and set the beef aside.

Add 1 tablespoon of butter to the bottom of the stock pot set over medium heat. Once melted, add the onions and cook for 5 minutes or until translucent.

Stir in the garlic and parsley and cook 1 more minute.

Add the corn, potatoes, cooked ground beef, and chicken stock to the pan.

Bring to a boil, reduce heat to medium-low, and cover. Cook for 10-15 minutes or until the potatoes are tender.

In a small saucepan, melt the remaining 4 tablespoons of butter.

Whisk in the flour and cook for 2 minutes, whisking constantly.

Whisk in the milk and cook until thickened to consistency of a thin gravy.

Add the flour mixture to the pot of soup, along with the cheddar.

Stir to combine and continue cooking over medium-low heat until the cheese has melted and the soup has thickened, stirring occasionally.

Serve with croutons, diced tomatoes, and green onions, as desired.
Tips & Notes:
We use seasoned salt to flavor our burgers, but any burger seasoning blend will work great in this soup! I prefer this soup made with chicken stock, but beef stock will work just as well!
Nutrition Information:
Calories: 714kcal (36%)| Carbohydrates: 46g (15%)| Protein: 35g (70%)| Fat: 42g (65%)| Saturated Fat: 22g (138%)| Cholesterol: 131mg (44%)| Sodium: 1155mg (50%)| Potassium: 1267mg (36%)| Fiber: 4g (17%)| Sugar: 9g (10%)| Vitamin A: 800IU (16%)| Vitamin C: 21mg (25%)| Calcium: 443mg (44%)| Iron: 7.4mg (41%)
This recipe was originally published in October 2013. It's been updated with new photos in January 2023.